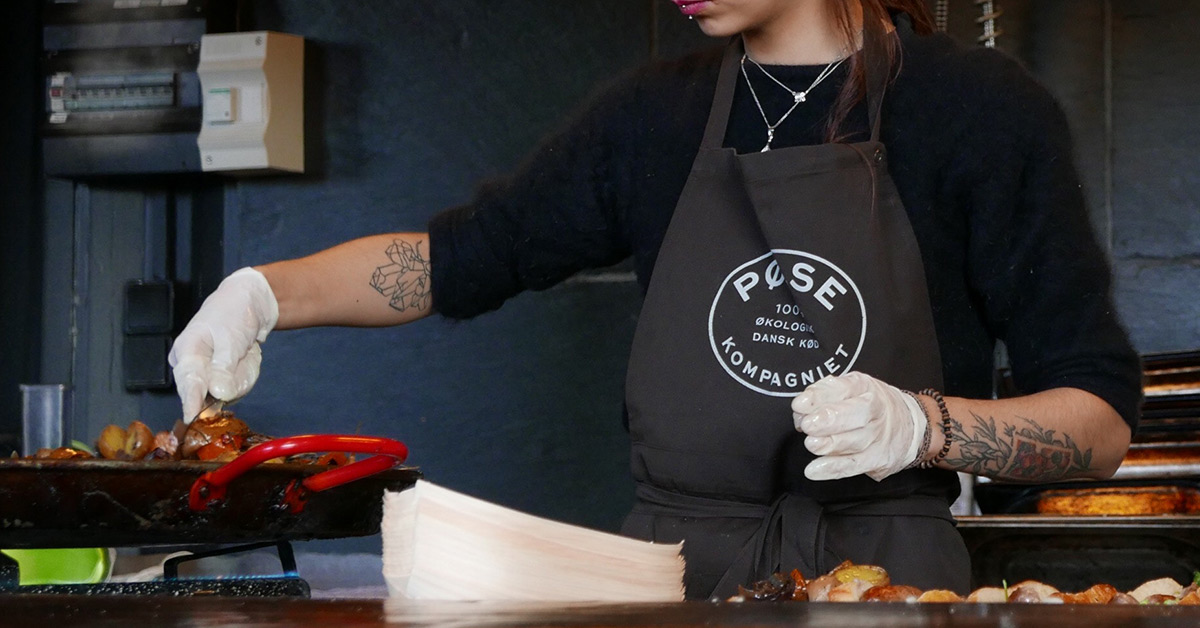 When customers come to your restaurant, make sure your brand constantly surrounds them, from the food to the views to their interactions with personnel. This way, when they begin enjoying your delicious menu items, they immediately associate their positive experience with your brand.
Who's constantly surrounding and catering to your customers as they slurp noodles, sip cocktails, and munch on greens? Your waitstaff.
Not only should your waitstaff create an exceptional atmosphere for customers with proper manners and a friendly demeanor, but they can also become visual representations of your restaurant's brand by sporting branded merchandise.
In this post, we'll cover:
Let's get started!
Why should you incorporate employee merchandise?
Branded employee merchandise acts as a marketing tool for your restaurant, and there are many ways to use it. Your branded merch can be used as a uniform, a way to promote new dishes, or even as a promotional piece for the restaurant.
The first step to ensuring you're making the best use of employee merchandise is to decide what your end goal is. Think about how your restaurant will benefit the most from your merch and how it will fit into your overarching goals.
Consider the following ways to market your restaurant using your employee uniforms:
Customize merchandise to incorporate your logo on apparel to market your restaurant.

This is the first step when branding uniforms to represent your restaurant. Your logo is the symbol of your restaurant's reputation in the community, it precedes you and makes an impression on those who see it. For instance, consider the McDonald's golden arches. Whenever anyone sees this logo, they know exactly what experience to expect.

Offer your branded apparel for sale to customers.

Many restaurants have made merchandise a large piece of their marketing strategy by having a section of their location devoted to branded merch.

Bonus tip

: Provide products to employees to wear around while working. When your customers like

branded t-shirts

, hats, and other merchandise sported by your employees, they can easily find where to get one of their own.

Highlight signature dishes on merchandise to promote an individual dish. Make sure your customers' mouths are watering as your staff approach the table because your tasty dish is represented on their t-shirt or apron. Whether it's a well-designed cake or signature pasta, you're sure to sell more of that item when the picture is everywhere.
D
on't know which of your menu items have the highest profit margins? Read our
ultimate guide to menu design and learn how to pinpoint the dishes that are best for your bottom line.
How should you incorporate employee merchandise?
When you decide to create employee merchandise, you have a lot of decisions to make. It's likely your restaurant will run into the same questions every restaurant faces when creating and incorporating employee merchandise into their restaurant strategy.
Some of the common questions that restaurants ask include:
What types of merchandise should my restaurant create?

This largely depends on the type of restaurant you run. A more casual restaurant, such as a sports bar, may create custom t-shirts or hats for their employees to wear while serving. They may also think about custom pins, coasters, and other trinkets to further the visual brand. Meanwhile, a more upscale establishment may decide to brand server aprons or button-downs.

What should the merchandise look like?

Make sure the design you choose is eye-catching and aligns with the branding and tone of your restaurant. The colors, fonts, and visuals you use should match your restaurant's brand, interior design, and general atmosphere.

What materials should restaurants use to create such products?

There are plenty of custom merchandise providers out there. However, your restaurant should only work with a

custom apparel company

that uses

the best materials

for their products

.

Look for a company that offers sturdy but soft 100% cotton styles, with sleeves that will stay out of the way of food and flames.
Think about what makes your restaurant special
Once you know what your leading goal of employee merchandise is, make sure your merch is aligned with your already-defined strengths. Consider the memorable aspects of your restaurant and use them to your advantage when it comes to customizing merchandise.
Consider the following examples:
If your restaurant

supports the local community

, consider highlighting that on t-shirt apparel worn by staff members once every week or month. If you help raise money for a local nonprofit through restaurant giving nights and portion shares, you can sell these shirts to community members for an additional fundraising opportunity. This also supports your brand name as a charitable and socially responsible restaurant.

If you own a

themed restaurant

, you can highlight that on your merchandise to market to audiences attracted to that theme. For example, a restaurant with a rainforest theme should incorporate that theme across their merchandise and try to appeal to nature enthusiasts in the area. You might even decide to partner with an environmentally-conscious nonprofit to show your support for saving the rainforests.

If your restaurant has a

deliciously unique menu

, highlight these unique dishes on your merchandise to appeal to your more adventurous customer base. Maybe you feature images of these dishes on your latest t-shirts or you can design an animation of your main ingredient.

Engage with local history, landmarks, or icons:

Zack's Oak Bar & Restaurant

in Hoboken, New Jersey commemorates its location's history. In 1892, the location was a tavern. Zack's maintained the building's old-world charm by preserving the original ceilings, oak bar, and walls lined with scenes of Old Hoboken.

Promote local artists. Rather than commission an artist you don't know or, worse, settle for a generic design straight out of a catalog, working with local artists is a great way to establish your establishment with the local community and get a. really cool, one-of-a-kind graphic for your merchandise at the same time. Who knows, maybe even one of your restaurant staff has a penchant for art and is willing to help.
An example of a restaurant that does branded merchandise right is Montreal's Elena, who works with local chefs, artists and other home-grown brands like Ciele for their branded merch. The result? T-shirts that are actually cool.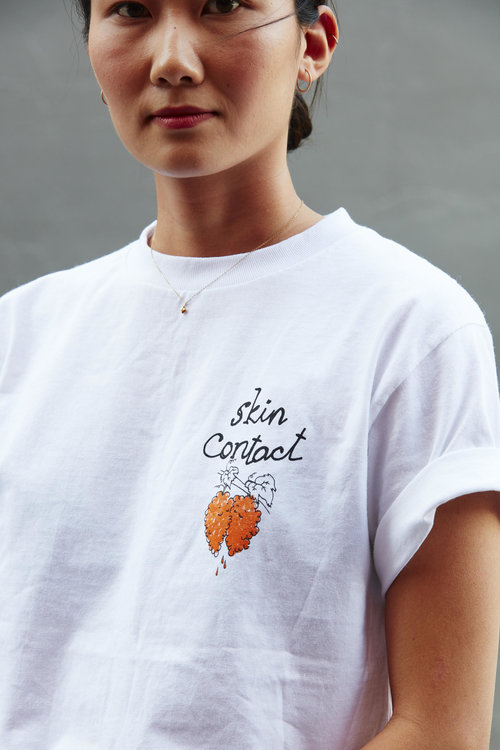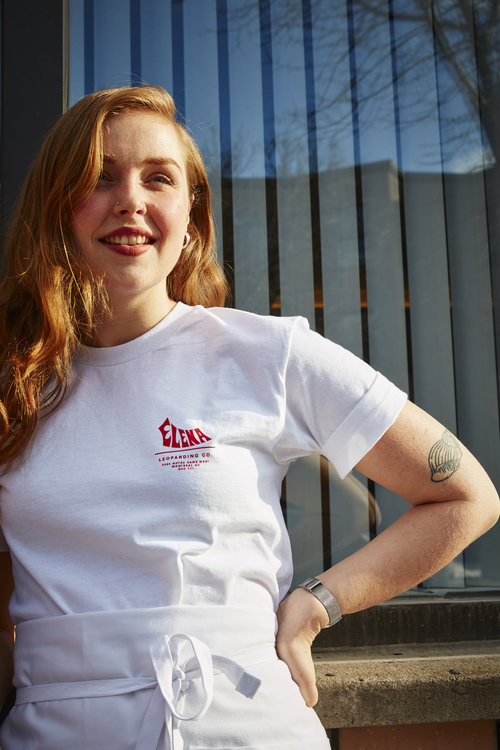 Your employee merchandise should play off of your restaurant's natural strengths. Not only does this further appeal to your original audience, but it also better highlights the specific brand of your nonprofit.
Strengthen your restaurant's brand
Highlighting the things that make your restaurant special in your merchandise is the first step to strengthening your brand. The next step? Get the word out about your restaurant using this merchandise.
Take lots of pictures of your staff members in their custom employee merchandise. Then, post those pictures to your website and social media accounts, especially Instagram. 200 million According to Hootsuite, Instagram users visit at least one business profile daily. Investing in your branding and image makes your restaurant far more likely to get discovered.
Consider the following ways to use your merchandise for digital marketing:
Snap a picture at a specialized event. If your restaurant offers pasta-making lessons or a wine tasting event, take photos of these events. Then, post them online to promote the next one as well as show your customers and staff enjoying themselves.
Gather your staff together and highlight them online. When you highlight a staff member online (sporting your branded apparel, of course), your customers will feel as though there's a friendly face already at the restaurant when they arrive to eat.
Show off your food. This may seem obvious, but people expect restaurants to show off their food, not just their merchandise. If one picture of a signature dish seems to get a lot of attention online, you might consider putting it on your next shirt. A lot of attention online generally means that your audience finds it visually appealing.
Cross-promote with other local businesses: consider bringing other local businesses together by promoting one another. word-of-mouth goes a long way in the restaurant business. Promoting each other is a great way to get the ball rolling.
Get involved with local fundraisers:

try partnering with other local businesses to

host fundraiser events. Serve some great food and donate the proceeds to a great cause. It shows that you care about the community's wellbeing.
When you create employee merchandise, there's no limit on how you can market it. Get creative and combine your online and in-person marketing strategies to get the most from your investment.
The benefits of branded employee merchandise
As your restaurant creates merchandise and incorporates its use in your marketing strategies, remember that your staff members are the face of the organization. They're the ones who have the most contact with customers, and should, therefore, be your first resource when it comes to brand recognition and marketing.
Although digital and traditional marketing is incredibly important, you should put an equal effort into assuring that your restaurant's brand is cohesive. From your employee uniforms to your decor, everything needs to be aligned. When they are, your restaurant's brand becomes crystal clear to your customers and your community.
Try these tips and take advantage of the merchandise your employees wear—you'll soon be on your way to propelling your restaurant forward!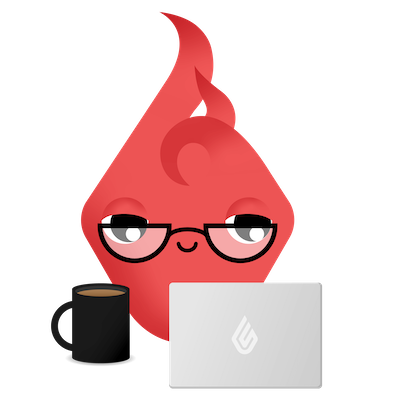 News you care about. Tips you can use.
Everything your business needs to grow, delivered straight to your inbox.