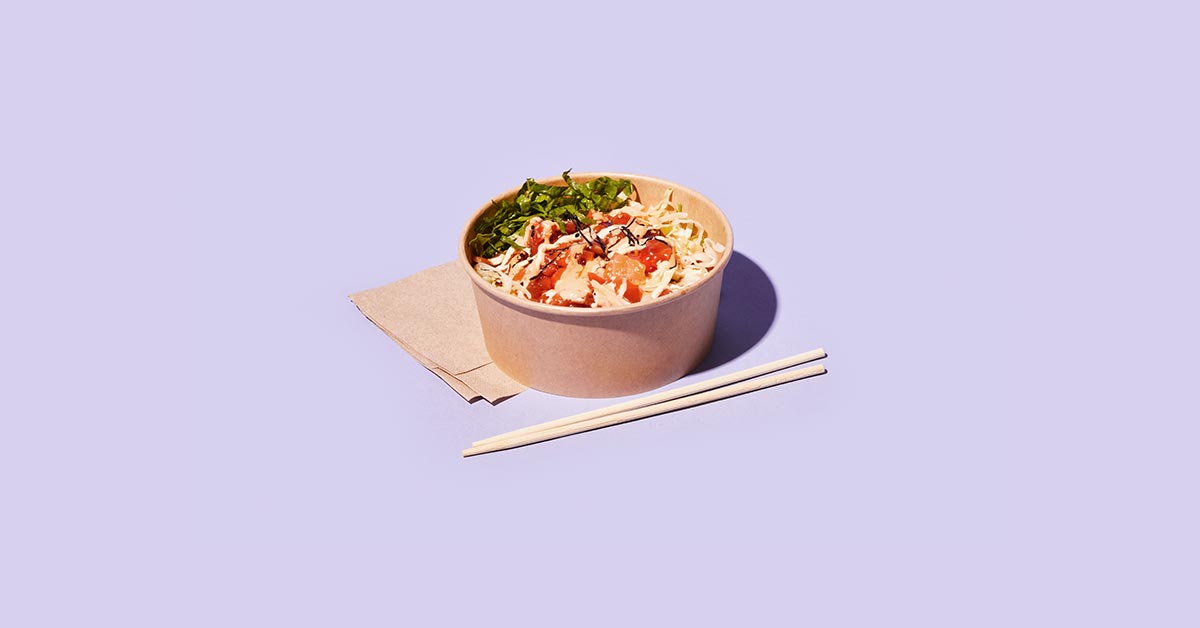 When you're planning the launch of a new quick-service restaurant, there are more than a few boxes you need to check to ensure your venture has the best shot at success.
Despite the ever-increasing popularity of quick-service restaurants, sometimes referred to as fast food restaurants or fast casual restaurants, making it big isn't a sure thing. At a minimum, you need a great restaurant concept and an undaunted passion to guarantee even a taste of success.
While that might seem intimidating, this guide will give you a head start so that you can get into the world of running a restaurant as efficiently as possible. It's not as simple as the dream makes it seem, but with our guide, and your hard work, you can approach opening your quick-service restaurant with newfound confidence.
In this post, we'll cover:
Get off to a great start in 2021
Make your first year a launchpad for long-term success by using the right technology and tactics to start your quick-service restaurant. Learn more in this guide.
Getting your business up and running successfully
Launching any kind of business requires you to put a few foundational pieces in place. Some of them might seem incredibly obvious, but that doesn't mean they're easy or something you should take lightly. The more work you put in up front, the easier launching and managing your business will be when you're ready to open your doors. With that said, let's take a look at your to-do list for the next few months to a year.
Writing a business plan
So many new restaurateurs don't bother writing down their business plan. Instead of methodically planning out their new restaurant venture, they march ahead, fueled more by passion than common sense, and then wonder why their business is failing. You don't want to find yourself in a situation where you're struggling to keep up with the day-to-day of running your restaurant, while also trying to solve problems that could have been easily addressed if you had just written a business plan. For example:
Trouble finding high-quality ingredients and

reliable suppliers

Needing funding without any idea how to find a source

An inability to attract diners to your restaurant
Even if you do know where to find funding, without a viable business plan, you'll struggle to find capital, whether it's from banks, venture capitalists or even family and friends. Nobody will want to invest in your restaurant if you can't answer the most basic questions about your target market, your strategy for the business's future or the brand you're hoping to craft.
It's outside of the scope of this post to take you through all of the ins and outs of writing a business plan. However, we will cover some of the bigger questions you'll want to address, starting with understanding your target market.
Know your target market
First things first, to give yourself the best shot at success, you need to know your target market. Why? To maximize your sales, you must provide your customers what they want. And the only way to do that is by understanding who they are and what they expect in a quick-service restaurant. If you can't provide the type of experience that your potential customers expect and love, your business won't be around for long. To help you get started, let's look at a few common characteristics of your typical quick-service restaurant customer.
The overarching point you need to know is that customers of quick-service restaurants aren't there for the ritzy, fine-dining experience that you get at exclusive full-service restaurants. They're there because they're hungry and they want food fast. Everyone takes advantage of the convenience that a quick-service restaurant offers from time to time. They're perfect for when you're in a rush or are trying to cram in some errands on your lunch break. That tells you one very important thing, in order to be successful, you'll need to get customers the food they want as quickly as possible.
While quick service restaurants appeal to a variety of target markets due to their fast, convenient nature, two demographic groups are generally the most valuable to quick-service restaurants: Millenials and parents. Take Millenials for instance, QSR Magazine estimates that the average Millennial will visit a fast food business at least 12 times a month and that they spend more of their income on food than any other generation previously.
The other big target market, parents, is looking for value, convenience and health. In traditional families, the mother is often the primary decision maker when it comes to food, and they're a large group. There are 32 million of them in the U.S. alone. So, in order to effectively serve this audience, you will want to emphasize health in addition to convenience.
If your quick-service restaurant can account for these two groups from the outset, you'll be off to a strong start. But that's only the beginning. You can get extremely granular when defining your target audience, and we recommend that you do so. Any extra work you put in here will pay dividends when the time comes to create your menu, decorate your restaurant, define your menu and more.
If you're looking for further guidance or inspiration, this guide from Inc.com will tell you everything you need to know about identifying your target market.
How do I market to my target audience?
While we'll get into the tactical side of executing a marketing plan later on the post, we do want to touch on marketing to your audience at a high level. Once you define who your audience is, and understand their key characteristics, you can take a very important step, creating your brand.
Generally speaking, your brand is the identity of your restaurant. Typically it includes assets like a name, logo, tagline and color scheme, but it's actually much more than that. A well-rounded brand identity is going to go beyond aesthetics and include concepts like a positioning statement, brand values and an overarching narrative. Essentially, when creating a brand, you're trying to define the ideas and emotions that you want your customers to feel when they think about your business.
You might be wondering how all of this relates to your target audience. Well, you don't want to create a brand that isn't going to resonate with your prospective customers, and defining your target audience is the key to ensuring that doesn't happen. Think about it for a minute, the type of brand that appeals to single adults aged 25–35 in an urban area is going to be far different than the brand that resonates with married adults in their 40s who have at least one child.
So, once you have a target audience, define your brand and ensure that the name, logo, values and overall identity that you assign to it align with the values and expectations of your target audience.
How to develop your restaurant menu
With your brand defined, one of the next big items to check off your list is your menu. Like most aspects of setting up your restaurant, your menu should be a product of your brand. If your brand is all about fast and healthy food, then a menu that's made up of fried food and desserts isn't going to make sense. Even if the food is excellent, the discrepancy will confuse diners, making it difficult to build a loyal customer base.
In addition to aligning with your brand, there are a few tried and true rules to follow when creating your menu:
Pick a focal point. A menu that tries to do everything likely does nothing well.

Choose your core ingredients. This will help you prepare foods faster and eliminate waste.

Understand costs.

Dishes should be priced

at a rate your customers expect and can afford. To do that you need a firm grasp on your

projected food costs

.
It goes without saying that other factors will also influence your menu. For example, you will want to understand the competitive landscape and ensure that your menu has a unique position within it. In short, don't open up a salad shop if the surrounding area already has several options under that umbrella. You'll also need to account for suppliers and the ingredients that they can reasonably provide you with. It makes no sense to put a dish on your menu that requires an ingredient you know you'll have trouble getting.
Finding restaurant equipment and food suppliers
With your menu in place, it's time to start stocking your restaurant with the food preparation equipment and other supplies you'll need to operate on a day-to-day basis. The specific equipment that you need will depend upon the type of dishes you want to serve and your budget for buying equipment.
Restaurant equipment isn't cheap and it's likely that you'll need a lot of it. Fortunately, this is one area where the high bankruptcy rate of the industry can work to your benefit. Look for going-out-of-business sales, as you might find equipment at greatly reduced prices. This will come in handy when you're looking to stretch your startup capital as much as possible. Many vendors also sell used equipment in addition to new appliances, so be sure to ask about that instead of assuming that they only sell new stock.
In addition to equipment, you'll also need to identify and secure relationships with restaurant suppliers that can sell you your ingredients. In many areas, there's a growing trend of preferring to eat locally grown fruit and vegetables. This is happening for a number of reasons, including environmental benefits, supporting local farmers and the perception that it results in fresher, higher-quality food. If this makes sense for your brand, customers and bottom line, try to source as much as possible from local growers and farmers. It can help your business stand out from the typical fast food joint, and it shows your commitment to the local community.
With your food forming the backbone of your restaurant, we recommend that you do your best to provide customers with the best quality that you can. However, at the end of the day, picking suppliers is about balancing cost, quality and reliability to deliver the end product that best meets the needs of both you and your customers.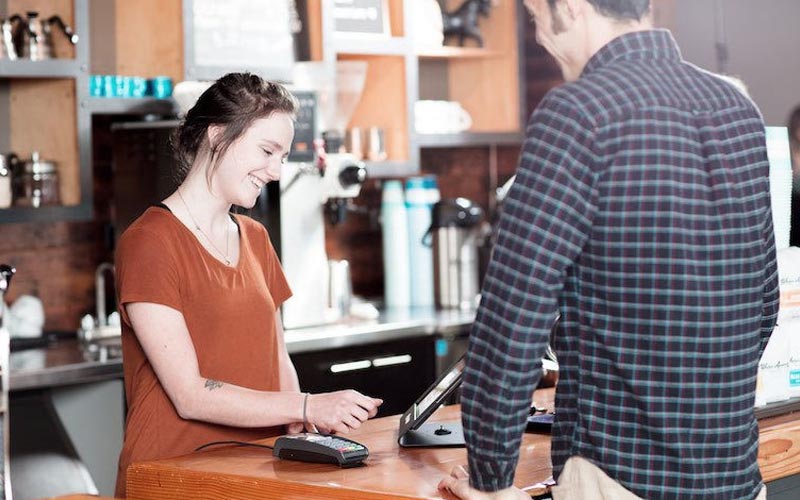 Hiring and training your team
A restaurant is only as good as the food it serves and the customer service it provides. To a degree, both of those things are a direct result of the team of employees that you hire to run your quick-service restaurant.
Regardless of the type of food that you serve, your restaurant is going to need at least a few different types of employees:
Head chef. This individual will develop your dishes, oversee food production and design the training curriculum for new kitchen staff.

Line cooks

. These will be the team members that prepare your dishes on a day-to-day basis.

Waitstaff and food runners. Depending on your order flow, you may have traditional waitstaff or food runners that bring orders out to diners.

Counter staff. These employees will perform some combination of taking orders and accepting payments from customers with your cash register or

point of sale (POS) system

.
You will likely also need to work with a variety of other professionals like a janitorial service, legal professionals and financial (tax and accounting) professionals to ensure your business runs smoothly and complies with all legal requirements for your industry and locality.
As far as training your team, there are almost too many methods to count. However, most quick-service restaurants hire a combination of experienced and inexperienced staff. The experienced staff typically oversee the training of the junior staff, and most of the time, training is "on-the-job." This means that the employees will learn as they go. Typically this allows a restaurant to train a new employee much faster and with fewer interruptions than a more traditional training method like classroom-based training.
Financing the business
Up until this point, we've spent time discussing the major things you'll need to put in place to open up a quick-service restaurant. But we've left one important thing out, money. There are typically three major ways that an entrepreneur funds a quick-service restaurant.
Self-funding. In this approach, the business owner(s) fund the restaurant with their own savings.

Investment funding. In this approach, the business is funded with a combination of the owners' money and outside funds from a group of investors or a bank.

Franchising. In this approach, the business owner runs a franchise of a larger business. As an example, this is how McDonald's operates. Because this approach is so different from the others, we aren't going to go into detail in this post, but it's something you should know is an option.
Self-funding
This approach to funding your quick-service restaurant can be a real challenge if you lack financial discipline. Not only will you need to save enough to pay rent, buy equipment and supplies, pay staff and take care of any licenses or legal fees needed to incorporate, but it's likely that you'll need to live on minimal or no income for at least a year after opening. Most small businesses don't earn a profit for at least a year, so during that time it's highly likely that you won't be able to pay yourself.
The positive side of this approach is that you truly are your own boss. Unlike businesses that have investors, there's no one to answer to but yourself. This can be a freeing experience that allows you to take the significant risks that can deliver big payoffs down the line.
Investment funding
This way of funding your business means that you go out to a group of investors, a bank or a combination of both to get the capital needed to open and run your restaurant until your profits start to kick in. The benefit to this approach is that if you have a solid business plan, you can often raise more money than you could realistically save. This gives you a longer runway for hitting profitability as a business. Plus you personally will not be as cash-strapped.
The negative is that you now have investors that you need to answer to. They can influence your decisions and have some control over how you run your business. For many entrepreneurs, this defeats the purpose of "being your own boss." With that being said, if you do it right, your investors will be successful industry professionals with years of experience that you can leverage to avoid making mistakes and increase the likelihood that you end up succeeding in the long run.
How much money do I need to start a quick-service restaurant?
Now that you know your funding options, you might be wondering how much it actually costs to start a restaurant. It isn't cheap. Depending on your market and the size of the venture, startup costs can range from the tens of thousands of dollars all the way to over one million dollars.
A survey from RestaurantOwner.com found that the median cost to open a restaurant is $275,000. The price, of course, varies depending on a number of factors, including what city you're in and the location in your city. Opening a restaurant is even more expensive if you plan on buying the building as well—that median cost rises to around $425,000. A business loan from a bank is often your best bet for acquiring the appropriate funding.
Executing your marketing strategy
With most of the foundational pieces in place and your restaurant about to open, it's time to turn your thoughts to marketing. Again, the tactics you use are going to be a product of your target audience. You will want to market to them through the channels they're most comfortable with. With that said, there are some common channels that most customers will be receptive towards.
Social media
Because of its visual nature, social media platforms like Instagram are a natural fit for restaurant marketing. Depending on the preferences of your target audience, you may see success with platforms like Facebook, Instagram, Twitter and TikTok as well. It's also important to consider whether you will use the paid advertising options that these platforms provide. For a new business that needs to generate awareness and grow its customer base in an affordable way, social media advertising is hard to beat due to its combination of affordability and precise targeting.
Email marketing
Despite its age, email is an exceptionally effective marketing channel. However, it isn't a great tool for reaching new customers. Instead, we recommend using email as a way to build loyalty with your existing customers. The general approach for doing this is to collect your customer's email address (your POS is a great tool for doing this) and then periodically sending them promotional emails with coupons and other offers designed to get them to eat at your restaurant again. You can also pair these promos with informational content like new menu items or events you're hosting as another way to keep them excited about your restaurant. Having a loyalty program for your restaurant is another great way of putting collected emails and customer contact information to good use. With a loyalty program customers will also get access to promotions and unique offers, but you get to benefit from a wealth of data and insights that you can use to incentivize purchases in the future.
Customer review sites
In this digital age, customer review sites are the new word of mouth marketing. Your customers are leaving reviews about your business whether you ask them to or not, so why not be proactive about it? Set up a presence on platforms like Yelp and Google My Business. Encourage customers to leave you positive reviews through in-store signage, social media posts and in marketing emails. Promptly respond to all negative reviews and put your best foot forward to resolve any issues that customers have as quickly as possible. By showing that you care about resolving customer complaints rapidly, you'll demonstrate your commitment to serving your customers, which is an incredibly powerful marketing tool on its own.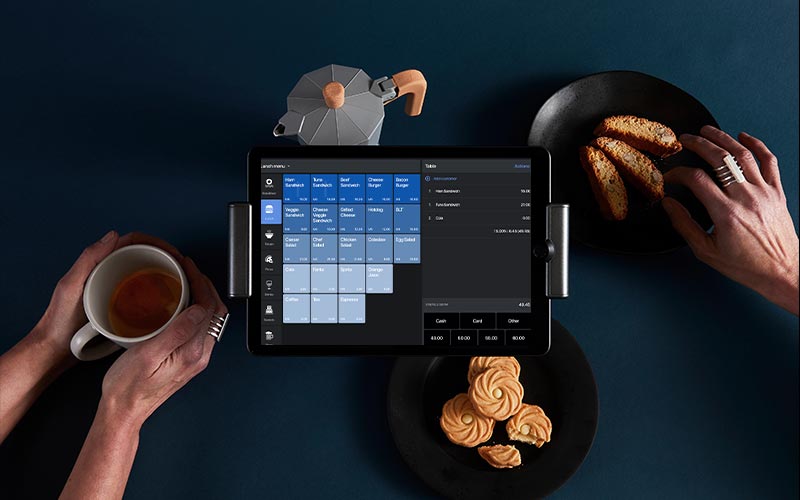 What tools and technologies do I need to accept payments in my business?
The last thing you'll need to set up when opening up a quick-service restaurant is a way to accept payments from your customers. For most restaurants, the only logical choice is a quick-service point of sale system. Not only does a POS system allow you to accept all manner of payment methods like cash, credit and smartphone payments, but it comes with a variety of other tools that will help you run a more efficient and productive restaurant.
For example, almost all POS systems will include inventory management capabilities that give you detailed insight into your stock levels, the performance of your inventory and your margins. With this info in hand, you can avoid out of stock issues, know which dishes need extra promotion and know where you need to negotiate with distributors.
Outside of inventory management, most POS systems are going to help you with some other common tasks.
Better manage your staff and track hours with built-in staff management tools

Execute marketing campaigns with email marketing and social media integrations

Stay on top of all aspects of your business with detailed analytics and reports

Improve customer service with tools that make it easier to accept custom orders and automatically split checks
By putting the right POS system in place, you're giving your quick-service restaurant the secret weapon it needs to run efficiently and beat your competition.
Succeeding as a quick-service restaurant
As you can see, starting a quick-service restaurant is anything but easy. However, with the right plan in place, a strong work ethic and a willingness to adapt to changing market conditions, you'll be poised to launch what is hopefully the first of many restaurant ventures.
Ready to put your plans into action? Talk to a quick-service restaurant expert to learn how Lightspeed can help.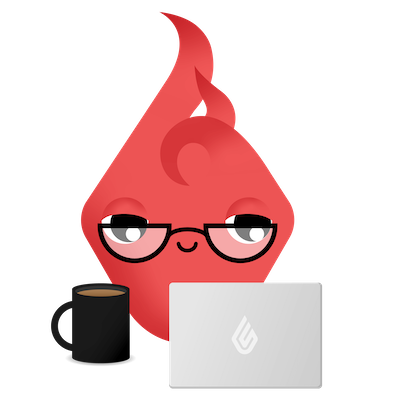 News you care about. Tips you can use.
Everything your business needs to grow, delivered straight to your inbox.