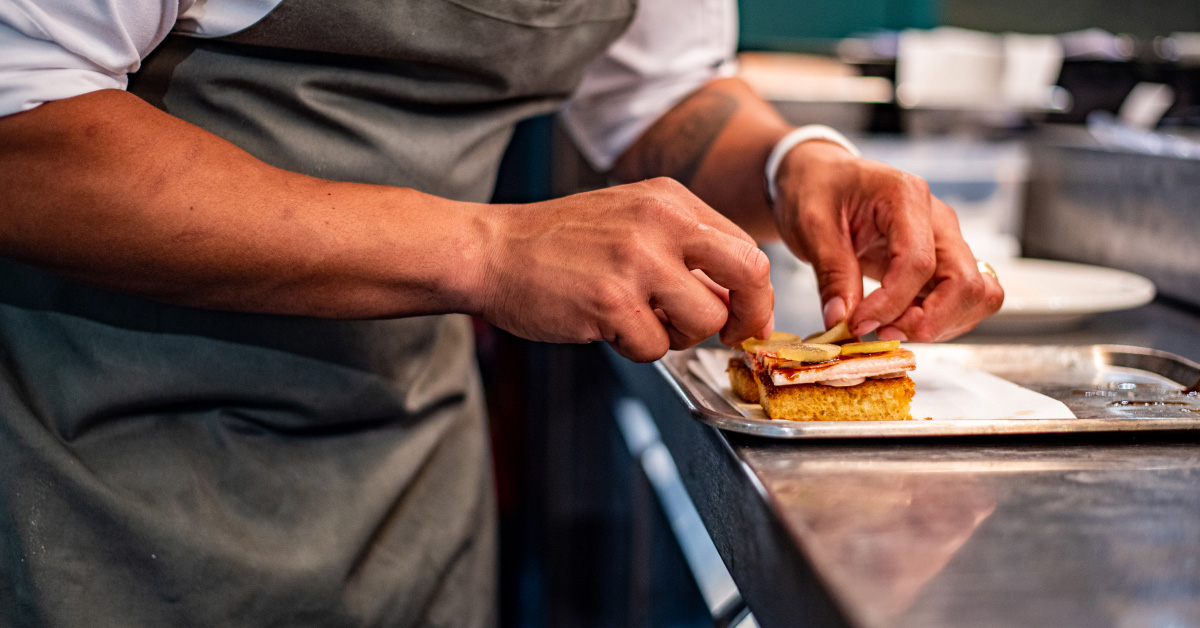 Running a successful restaurant means all hands on deck at all times. Line cooks are an essential part of the culinary dream team that keeps the engines of your restaurant running smoothly. Understanding what it is to be a line cook and what skills to look out for when hiring one will help you in your search to build an all-star staff.
We'll take a look at everything you need to know about working on the line and how to look for the best talent for your kitchen.
Are you ready for the future of dining?
Find out how you can prepare your restaurant for short and long-term success with our free guide.
Line cook meaning: What is a line cook?
Line cooks work on the kitchen line and are responsible for different areas of cooking through a specific shift. Also known as a station chef or a chef de partie, line cooks are part of your core restaurant team and are essentially in charge of getting things done in a specific station. A line cook makes sure that dishes are ready to go and the chef's instructions are followed to a T. Line cooks can come with different skill sets as they are each responsible for a particular station.
What's the difference between a prep cook and a line cook?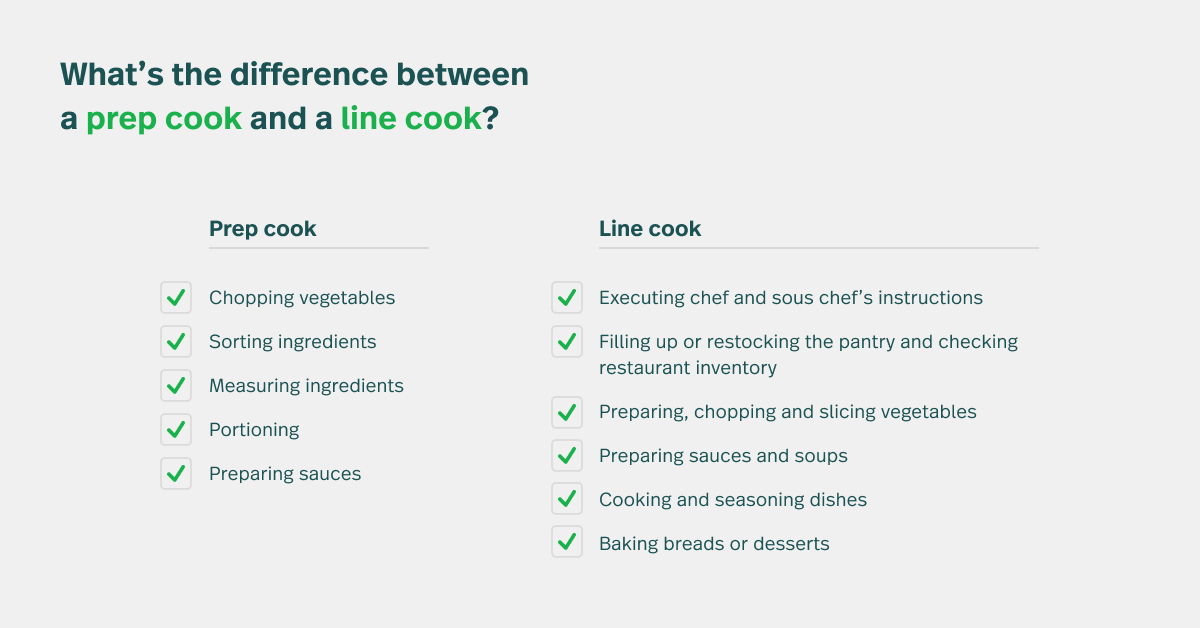 A prep cook and a line cook are key positions in a professional kitchen, but they have distinct roles and responsibilities.
Often an entry-level position, a prep cook is responsible for preparing and arranging the ingredients that will be used throughout the shift and assisting in the initial stages of food preparation. A prep cook will often works near the pantry area on tasks like:
Chopping vegetables

Sorting ingredients

Measuring ingredients

Portioning

Preparing sauces
The bulk of the work for prep cooks happens before the restaurant even opens its doors for customers, making sure that the kitchen is stocked with all the necessary ingredients and organized. This work is crucial in ensuring that the line cooks have everything they need to execute dishes efficiently.
On the other hand, a line cook works on the "line," which is the main cooking area in the kitchen. They are responsible for cooking and assembling dishes during service hours.
Line cooks work under the supervision of the head chef or sous chef and follow established recipes and plating guidelines to maintain consistency. They must be skilled in various cooking techniques, have a deep understanding of different flavor profiles, and possess excellent time management skills to ensure that orders are completed accurately and in a timely manner. Line cooks work in a fast-paced, high-pressure environment, collaborating with other team members to coordinate the flow of dishes and maintain the quality and presentation of the food being served.
While both these positions have very different tasks, they work together to ensure the smooth flow of work during a given service.
What does a line cook do?
As an integral part of your staff, line cooks are responsible for specific stations or areas of preparation of certain dishes. Line cooks work on everything from food prep and cooking, to cleaning and organizing. You might have a station chef that's in charge of entrees, and another that's in charge of all fish dishes or sauces, for example. Each kitchen will have its own kitchen brigade system in place or hierarchy when it comes to how they set up their line cooks.
Line cook tasks can include:
Executing chef and sous chef's instructions

Filling up or restocking the pantry and checking

restaurant inventory

Preparing, chopping and slicing vegetables

Preparing sauces and soups

Cooking and seasoning dishes

Baking breads or desserts

Creating recipes

Plating

Getting dishes out on time

Organizing stations and sanitizing
Line cook hierarchy
While a line cook might start out as an entry-level position, they can also move up the ranks depending on a restaurant's specific system. These positions might be labeled as first cook or cook 1, second cook or cook 2, and so on, and might have widely different tasks attributed to them based on seniority.
Ranks might also vary with the station. For example, in many restaurants, a sauce cook or saucier is one of the higher-ranking line cooks and works under the sous chef or chef.
Types of line cooks
Fish chef or poissonnier

Fry chef or friturier

Grill cook or grillardin

Sauce chef or saucier

Pantry chef or garde manger

Pastry chef or patissier

Roast chef or rotisseur

Butcher chef or boucher

Baker or boulanger

Confectioner or confiseur

Vegetable chef or entremetier (can also be potager for soups or legumier for vegetable dishes)

Relief cook or chef de tournant
How much does a line cook make?
A line cook's hourly wage will depend entirely on the type of restaurant and the seniority of the new hire. However, the average hourly wage for a line cook in the United States is approximately $13 and in Canada it's approximately $16. This can be much higher depending on the level of experience and how specialized the cook is.
What skills should you look for in the hiring process?
Due to the varied nature of their jobs, line cooks need to have a wide range of skills in order to succeed and move on up the kitchen brigade system. A lot of line cooks, however, start out in entry-level positions and might end up learning those skills on the job and through training. Many restaurants also prefer to train entry-level line cooks and show them the ropes their way.
Restaurants that are looking to hire an entry-level cook should look for soft skills that demonstrate that they are willing to learn and will have a good fit with the rest of the team as well as basic culinary skills. Are they able to handle working a busy shift? Working in a kitchen also means working in a fast-paced, high-energy environment, and you'll need a line cook that will be able to take on the pressure of working in the back of house and handle it in stride.
Having prior experience or schooling in hospitality is also a big plus and a necessity for senior positions. However, if a prospect is lacking this type of experience it might not be a deterrent for restaurants that are looking for someone that's just starting out.
The main skills you should look for in a line cook are:
Understands the basics of cooking

Has some level of knife skills, sauces and ingredients (level will be higher for more senior roles)

Attended culinary school or has prior experience in restaurants

Great communication skills

Creative

Reliable

Fast and excels at time management

Be able to use back-of-house technology like a

kitchen display system

Organized, clean and understands the importance of

safe food handling

Willing to do repetitive tasks

Passionate about cooking

Ready to learn, take on new challenges and different types of work in a fast-paced environment
Interviewing a line cook
Before embarking on the interview process (or even writing a job description) first take into consideration what your restaurant's needs are. Are you looking for someone that is starting out and that's looking to grow and learn on the job? Or are you looking for someone more experienced that will be able to jump in with two feet with minor training? Understanding what your requirements are will make the search easier and not as lengthy.
If you're looking for a more experienced cook, make sure to include years of experience and required education in your job listing.
During the interview make sure to ask prospects about the following:
Prior work experience

Certifications they've achieved

Positions they held

Names of the restaurants they've worked in

Challenges they've faced and how they overcame them

Contact information of previous employers
Contacting previous employers will help you get a great idea of how your interviewee fared working with others in fast-paced environments and how they got along with fellow staff. If you're on the hunt for someone that's just starting out, make sure to write a very clear description of the job, hours and responsibilities accompanied with any educational requirement you might have.
Training a line cook
Training a line cook requires a combination of hands-on experience, clear communication and a structured learning approach. Here are some key steps to effectively train a line cook.
Orientation
Begin by familiarizing the line cook with the kitchen layout, equipment and safety procedures. Provide an overview of the menu, including the various dishes and their ingredients.
Shadowing
Allow the line cook to observe experienced line cooks in action. This provides an opportunity to understand the workflow, timing and coordination required in a busy kitchen.
Practice
Gradually assign specific tasks to the line cook, starting with simpler ones and gradually increasing the complexity. Ensure they understand the proper techniques for various cooking methods, such as grilling, sautéing and baking.
Recipe training
Provide detailed training on each dish, including the ingredients, portion sizes, plating techniques and presentation standards. Walk them through the recipe step-by-step and demonstrate the desired end result.
Time management
Emphasize the importance of efficiency and speed in a fast-paced kitchen environment. Teach the line cook how to prioritize tasks, multitask and maintain a sense of urgency without sacrificing quality.
Cross-training
Expose the line cook to different stations and menu items to broaden their skills and knowledge. This allows them to become versatile and capable of handling various responsibilities during busy shifts.
Hiring the best talent for your kitchen
Every restaurant and kitchen brigade is different. When looking for a line cook you need to find someone that will be a right fit with your staff and will make the long hours of work feel a little lighter. Above it all, find someone that's passionate about cooking, can handle the pressure and will always show up when you need them.
The right line cook will be able handle a myriad of tasks, and isn't just looking to fit a certain position but become a part of your restaurant and grow within it.
Now that you're ready to staff your kitchen, it's time to find the right tools to run your restaurant. Let's talk.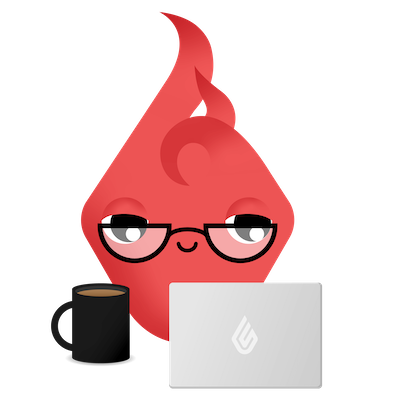 News you care about. Tips you can use.
Everything your business needs to grow, delivered straight to your inbox.