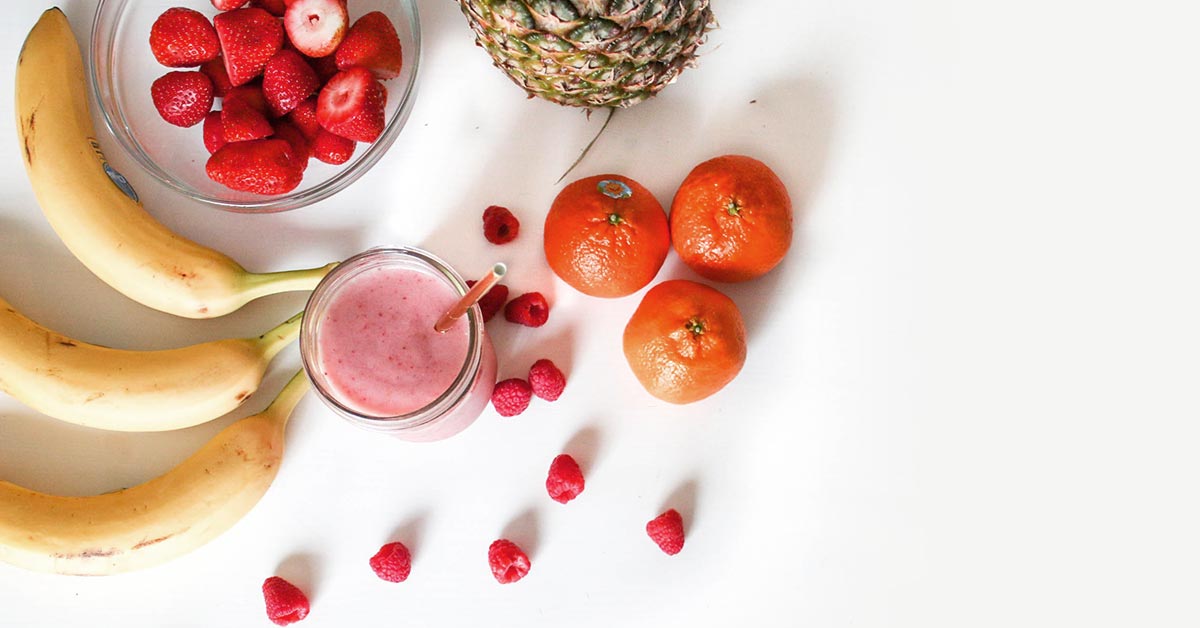 Wellness is in–at least, that's what juice bars and fitness centers claim—and they're right! There's never been a better time to start a juicing business. If you're an entrepreneur or a juice bar enthusiast and you're ready to invest, keep these pro tips on how to start a juice bar in mind.
In this post, we'll go over:
Is your juice bar ready for 2021?
Learn how you can use cloud-based commerce technology to get the flexibility and power you need to thrive in the new era of hospitality
Squeezing profits (Are juice bars and smoothie shops profitable?)
As more and more Americans make the shift from junk foods to healthier alternatives to supplement their diet, cold-pressed juices and smoothies are rising in popularity.
If you're thinking of starting a smoothie shop or investing in a juice bar franchise, right now is a perfect time. Over the past five years, the juice and smoothie bars industry grew by 1.3%, with a $3 billion market size in the U.S. alone. A surefire sign that this 'health trend' is here to stay.
Another benefit of investing in the smoothie and juice bar industry is that it hasn't quite reached saturation, like the fast food industry. Because it's an industry that's primarily driven by millennials and the health conscious, it opens up the door to additional revenue sources tied to healthier lifestyle choices.
From superfood bowls to protein shakes, complementary supplements and food and exercise programs, the options for product expansion are virtually limitless.
How to start a juice bar and smoothie business
Like any business, starting a juice bar requires some planning, upfront investment and a lot of hard work. Not to mention, a few high-tech pieces of equipment and a refrigeration unit that meets food service standards.
Using just a regular fridge and your home bullet or piña colada blender won't cut it, as the wear and tear on home use food processing equipment will cause you to blow through these fairly quickly. Foodservice units are prepared for heavy use and crafted from materials that are rust-resistant, easy to clean and safe for anyone to handle. Here are some of the things you'll need before you blend your first kale.
Refrigeration
Most of your product is perishable and needs storage in a temperature-controlled unit. This cooler or walk-in fridge must pass a food inspection, so you'll need a thermometer to monitor the internal temperature to ensure that bacteria can't take hold in your fruits, veggies and juices.
Blenders
Blenders are the heart of a juicing business. You want large, commercial grade blenders, capable of making your beverages quickly so customers don't have a long wait.
Juicers
Juicers are specialty equipment used to extract juice from your fruits and veggies. Commercial juicers are much more powerful than those you find at home, capable of handling higher volume and allowing you to prepare juices ahead of time for blending into your drinks. Having freshly squeezed juices enables you to charge a premium and ensures that happy customers keep coming back.
Ice machines
Ice machines are necessary as well. Select one that's easy to clean, as food inspectors will check for mold and mildew.
Sinks and dishwashers
Sinks and dishwashers that consistently run at a heat high enough to sanitize all your equipment are a must. For a properly run juice bar, you need to install tub sinks, units with three deep cleaning tubs in a row. In case your dishwasher breaks, your three-tub sink is a backup that lets you wash, rinse and sanitize according to food safety standards. Don't forget adequate, easily accessible hand sinks for your employees, including one with an eye-wash station for emergencies.
Prep equipment
Prep equipment includes portioning vessels, the right knives, cutting boards and food scales, as well as disposable items such as gloves and souffle cups. The latter two should be calculated as part of your variable costs.
Storage
A dry storage area should contain tightly secured canisters and high shelves to prevent spoilage and to thwart any pests, such as bugs or rodents. Your dry storage area also houses cups, straws, napkins and other paper products.
Point of sale system
A quick-service restaurant point of sale (POS) system to accept transactions and track the sale of your menu items. Not only does a POS system provide you with insights on top-selling juices, but it also helps you determine how fast you're going through ingredients, inefficiencies in your menu pricing strategy and how well you're managing your staffing needs.
Juicing business start-up costs
You either need your own money ready to invest, or you must gain the financing you need from a small business loan application. Food and beverage small business loans are notoriously difficult to secure, but you can increase your odds for loan approval by having a strong business plan, demonstrated success as a franchise owner or partial investment backing from a business partner.
Start-up costs for your juice bar include equipment as well as leasing a building and possibly purchasing a franchise membership. The cost to open your doors varies widely by region, and it's also affected by whether or not you purchase or lease your equipment.
Some franchises offer storefronts and deals on company-approved equipment to ensure a consistent product, while an independent operation may require significantly more start-up capital. A juice bar can cost anywhere from $47,000 to $395,000 depending on franchise costs (if any), construction costs, equipment and ingredient choices and business and health licenses.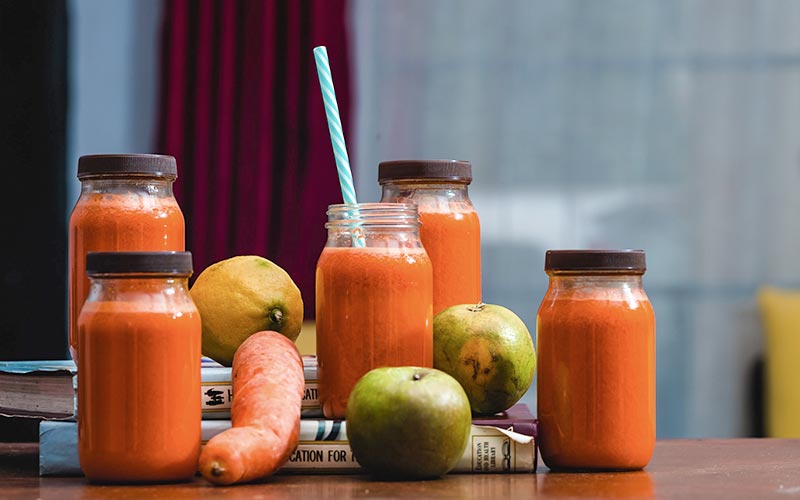 Building the perfect smoothie and cold-pressed juice menu
If you're keeping things simple, most of your menu will consist of smoothies and pressed juices. While these two may seem interchangeable, there's actually a big difference between them. Mastering the techniques required to produce each can make a big difference as to whether or not your juice bar is successful.
Smoothies
These thick, creamy beverages are made from pureed raw fruit, vegetables and sometimes dairy products, including yogurt, cream, milk or even ice cream. Smoothies resemble milkshakes, although the addition of fruits and vegetables can make them a healthier alternative.
Cold-Pressed Juices
These healthy, tasty treats are likely to make up the majority of your sales at your juice bar. Cold-pressed juice uses a hydraulic press (or juicing machine) to extract juice from fruit and vegetables.
Expanding your business menu
You may find success with simple juice shots that combine a few ingredients into a natural energy drink or a pre- or post-workout drink. Many popular juice bar franchises incorporate vegan or vegetarian meals into their menus, such as acai or chia bowls. These dishes typically use the same ingredients used in smoothies and juices, appealing to the same demographic and helping to keep your inventory needs simple.
You may also want to branch out into healthy alternatives to baked goods and coffee, especially if your business is frequented by customers in the morning. Many juice bars offer simple breakfast items and light lunches to appeal to a slightly broader audience and expand revenue-generating opportunities.
Like most quick-service restaurants, juice bars can thrive or fail because of menu mismanagement. It's easier and more lucrative to do a few things right with smaller operating and food costs than to take on a larger, sometimes unwieldy menu trying to appeal to a wider customer base.
Restaurants, bars and juice bars can run into problems due to many reasons. These include spoilage of unpopular menu items, a staff that wastes product because they haven't learned how to prepare every item on an overly large menu and the loss of happy customers because you've gotten away from the few things that made you successful in the first place.
Improving the sales process
Choosing the right POS can help you increase sales by streamlining day-to-day business operations. Plus a modern POS can even help you navigate business during and post-pandemic.
If indoor dining is allowed in your region, and you offer it, your employees can even take the "cash register" with them as they move about your establishment. These POS systems also provide an easy way to handle payroll, manage inventory and monitor your sales and popularity of menu items with a touch of a few buttons.
POS systems have come a long way since early cash registers or even computer-based systems that required waiters to memorize dozens of codes for different menu items. With a modern, tablet-based system you can literally manage your business from anywhere. Investing in the right POS helps you manage costs and reduce overhead simply and easily.
Franchise opportunities for a juice bar franchise
Many national and regional companies offer franchise opportunities for a juice bar business. Often these investments make sense for those new to the juice bar business, as they've already tested recipes and prep that works. Plus, they have brand recognition, which helps when sourcing new customers in a new market.
Most franchise investors require an up-front investment, as well as monthly or quarterly payments to maintain your franchise affiliation. Regulations for each brand vary widely, so it's best to research which ones operate in your region and then approach them directly about franchise opportunities.
Finding the right sidekick for your juice bar
Juice bars can be lucrative, providing you manage your operating costs. While some juice bar owners find success operating as part of a franchise, others may desire to strike out on their own, avoiding some of the fees associated with franchising. Whichever direction you choose as an operator, bear in mind that your best friend for success is a POS system designed to help you multitask while also doing a lot of your day-to-day financial heavy lifting.
Are you ready to bring your juice bar dream to life? Talk to our team of experts about how Lightspeed's Restaurant POS can set you up for success.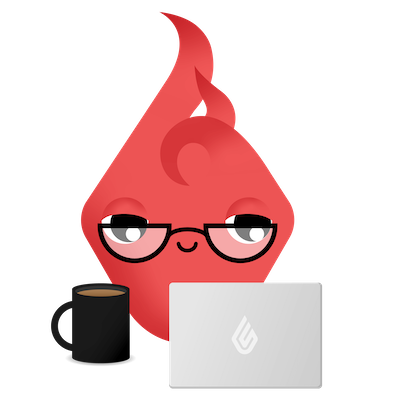 News you care about. Tips you can use.
Everything your business needs to grow, delivered straight to your inbox.