How to Lease the Perfect Commercial Restaurant Space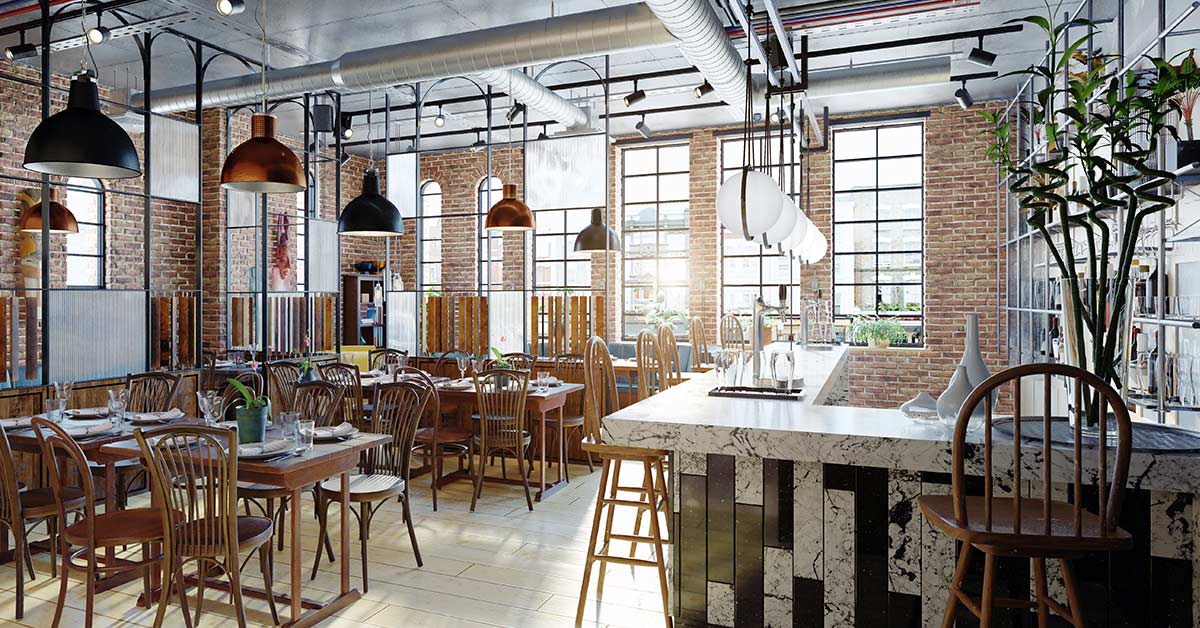 Leasing a restaurant space without a plan is liking walking into a Walmart without a shopping list. You go in for allergy medicine and leave with Claritin and $400 worth of patio furniture.
Where you decide to open your restaurant is incredibly impactful: it affects your labor costs, utility bills, marketing and overhead expenses.
In other words: it's probably the most important decision you'll make.
When you factor in things like the cost of the commercial space lease, permits, renovations and building inspections, finding the right neighborhood to open a restaurant in is a critical step that can dictate your restaurant's future profitability.
The good news? You're in complete control and, by crunching the right numbers, it is possible to know whether or not you can afford a commercial space based on its projected seating capacity and revenue per service.
How to lease the perfect restaurant space
Set a realistic budget (and stick to it)
Thoroughly research the neighborhood
Find out how much square footage you need
Calculate estimate sales targets that cover expenses
Assess the restaurant space's potential
Set a realistic budget (and stick to it)
Don't start looking up restaurant space for lease without establishing a budget you're comfortable with first. Here's what you should keep in mind in order to determine your budget.
Projected revenue
Restaurateurs typically spend 5-10% of their revenue on rent and utilities. If you expect to generate $40,000 each month at your quick service burrito restaurant in Austin, then you should spend between $2,000 and $4,000 on rent and utilities. If you think your fine dining sushi establishment in suburban Seattle will draw $100,000 in monthly revenue, you can spend between $5,000 and $10,000 a month on your space.
Market research
How do you know how much space you can afford if you haven't opened the restaurant yet or are a first-time restaurateur? Conduct market research. Ask restaurateurs in your area with similar concepts what kind of revenue they generate.
Wiggle room
If your realtor shows you a space that's over budget but hits all of your marks, would you be willing to stretch your budget? Consider adjusting your food costs to maximize your profits and get the resources you need to pay your rent and utilities.
Want to maximize your restaurant's profits? Try revamping your menu, from food costs to which dishes you include and how it's designed. Read our ultimate guide to menu design and download our free, customizable menu templates to get started.
Create your menu in minutes
You don't need to be a designer (or hire one) to create a beautiful menu. Download your free, easily-customizable menu templates today.
Prepare for the worst
If you have a few consecutive slow months, or if the economy takes a turn, could you still cover rent? Most commercial spaces lease for 3-5 years at a time. Do you have savings that you could dip into in case of difficult times? Do your research and build up your savings before looking for a space for your restaurant.
If you've done everything you can to right the ship and are still struggling to cover rent, consider talking to your landlord about renegotiating your lease. If your sales are suffering because of external factors like construction on your street or economic problems, your landlord might be open to renegotiation. Even at a lower price, renters would rather have steady, predictable revenue than the hassle of finding new, viable tenants.
Thoroughly research the neighborhood
The adage "location, location, location" rings true when it comes to leasing the perfect restaurant space. Where do you want your restaurant to be? Ask yourself some of the questions below when looking for the best spot for your restaurant.
Tom Scarda, CEO and Founder of The Franchise Academy, recommends that restaurateurs thoroughly research a commercial space's location based on these eight factors:
1. Neighborhood
Do you want to be in a well-established area, or one that's up and coming? While either of those options has its pros and cons, you need to make sure that your target market either lives there or frequently visits that area.
2. Street
What kind of street do you want your restaurant to be on? You'll pay a pretty penny to be on the high street, but an off-the-beaten-path location could mean you'll have to spend a lot on marketing to get people to find your restaurant. Find a location that gives you as much visibility as your budget can afford.
3. Competitors
What other businesses are nearby? If you want to open a smoothie shop, having a gym next door will help you generate business. However, if there are already a dozen smoothie shops in the area, yours will have a hard time standing out.
Think about the surrounding competition and complementary businesses near a potential location. If the location is surrounded by similar establishments that target the same crowd, you'll in all likelihood need to increase your marketing spend to attract customers. If there are businesses that complement yours, you can forge a strategic partnership that encourages patrons to visit each of your establishments.
4. Turnover
Be wary of spaces, streets, or neighborhoods that you've seen get turned over a lot. Yes, you're a fantastic business person and matcha may be all the rage right now, but if the commercial space or area didn't work for others, it probably won't work for you and your matcha cafe.Take your time to find a location that will help your business thrive.
5. Customer base
Is the neighborhood known for attracting the type of customers you're catering to? Does your target customer live in this area? Consider using a census explorer to understand who lives in the neighborhoods you're interested in and see if their demographic information matches your restaurant's target market.
6. Foot traffic
Is the neighborhood densely populated? Can you rely on walk-in customers or will you need to invest more in marketing to attract customers?
7. Ambiance
Visit the neighborhood during the day and at night. Does your business fit into the neighborhood's vibe?
8. Accessibility
Is the commercial space easy to access via public transport? Is there parking?
Make sure your restaurant location attractive and accessible for your target customer, that there's enough foot traffic to keep you busy each service and that the neighborhood's population corresponds with your target customer.
Find out how much square footage you need
How much space does your restaurant need? The more space, the more you'll be spending. The less space, the fewer customers you'll be able to serve inside the restaurant. Smaller locations do, however, present several benefits.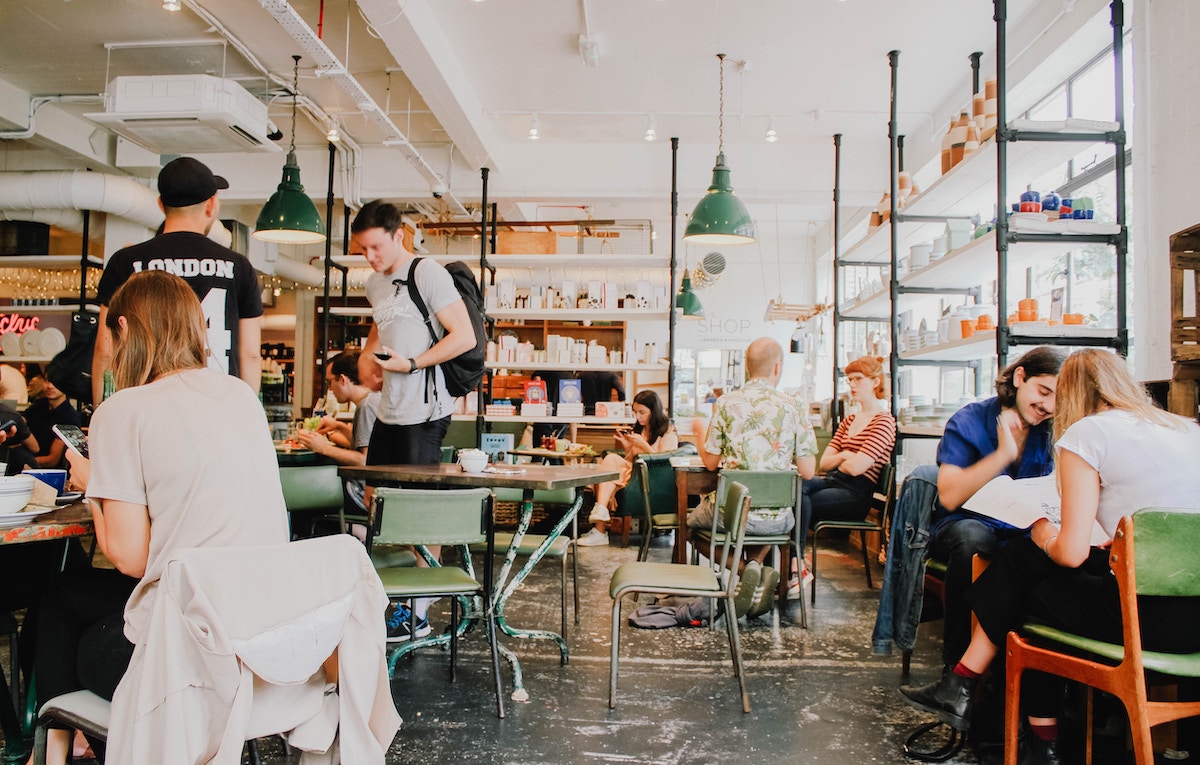 For one, when you have less square footage of service space, you can pay more attention to your guests and deliver more intimate dining experiences. Additionally, a smaller space means that you need to hire less service staff.
Consider these factors when deciding how much space you need for your restaurant.
Concept
Your restaurant's concept and service style will affect the amount of space it needs. A takeout spot can require just a pickup counter, while a cafe or full-service restaurant would need ample seating. Guidelines recommend that you allocate 60% of your square footage on the dining room and remaining 40% on kitchen space.
Also, take into consideration industry guidelines for seating space per customer. For example, fast food restaurants adhere to 11-14 square feet per seat, while fine dining establishments give their customer 18-20 square feet per seat.
Event space
Do you want your restaurant to double as a banquet hall or event space? Consider how much more room you'll need for a private dining space.
Maximize space
In cities like New York, where commercial space is among the most expensive in the world at $171 per square foot, a larger space can cut into profits and is sometimes just downright inaccessible. In expensive cities, it's important to think about how to make the most of a smaller space. Read up on tips for maximizing a small restaurant space before knocking any small commercial spaces off of your list.
Let your restaurant's concept and budget dictate the size of the commercial space you need.
Calculate estimate sales targets that cover expenses
Remember, the commercial space you choose has a big effect on your daily operations, your recurring expenses, and the number of customers you can serve, and your food sales need to be strong enough to support those recurring expenses.
To find out how much you need to sell per seat to afford a commercial space, you need to first do the following:
Find the commercial space's cost per square foot
Calculate your square footage per customer
How to find a commercial space's cost per square foot
A location's cost per square foot impacts how many people you can serve and much you need to charge for your food to stay profitable. In New York, the average commercial space in trendy neighborhoods like Manhattan or Brooklyn is $120-per-square-foot. For comparison, the average price-per-square-foot in Los Angeles is $52.
How to calculate square footage per customer
Dining spaces take up roughly 60% of most restaurant's total square footage. The other 40% is allocated to your kitchen, storage space, service stations, etc.
Dining room: 60% of your total square footage
Kitchen, storage space, etc: 40% of your total square footage
How much square footage you allocate to each seated guest depends on the type of establishment you want to open, but here are some general guidelines:
Fine dining: 18 to 20 square feet per person
Full-service dining: 12 to 15 square feet per person
Counter service: 18 to 20 square feet per person
Fast food dining: 11 to 14 square feet per person
Now, let's put this into practice and use a commercial space's cost per square foot and seating capacity to determine how much you'd need to sell per seat, per service, to cover all your expenses.
Example
Let's say Johnny finds a 1,200 square foot commercial space in Brooklyn that costs $52-per-square-foot. He researched the neighborhood and knows that there's a market for his high-end, full-service Italian fusion restaurant concept.
He's in love and thinks the space has potential, but how can he tell whether or not it's a financially responsible investment long-term?
How much does Johnny need to make per month to cover his lease?
Annual lease cost: 1,200 x 52 = 62,400
Monthly lease cost: 62,400 / 12 = 5,200
To cover his estimated food, labor, and utility costs, Johnny wants his monthly rent to account for only 8% of his total monthly sales.
Monthly sales target: 5,200 x 100 / 8 = 65,000
Johnny needs to sell for $65,000 per month to cover all his expenses.
How many people can Johnny seat? Now, let's calculate how many people Johnny can comfortably seat in this commercial space. He wants to offer 15 square feet per person. Remember, dining space typically accounts for 60% of the commercial space's total square footage.
Available dining space: 1,200 x 0.60 = 720 square feet
Total seating capacity: 720 / 15 = 48 seats
The commercial space can comfortably seat 48 people (or 24 tables for 2).
How much revenue per seat does Johnny need to make to cover his expenses? Johnny wants his restaurant to offer 2 services: one starting at 6:00 pm and the other at 8:30 pm. His goal is to turn each of his 24 tables twice each day, and he's open 6 days a week.
Services per week: 2 x 6 = 12

Customers served per week: 12 x 48 = 576

Average revenue per seat: 65,000 / 576 = $112.84
Johnny's restaurant needs to make an average of $112.84 per seat, per service to cover his expenses.
Johnny can now take that information to plan a menu that assures that he's making an average of at least $112.84 per seat each service.
Editor's note: When you're scoping out potential restaurant locations, projecting your sales and building your business plan, we suggest hiring a professional restaurant consultant and accountant to assure that you're making the right investment.
Assess the restaurant space's potential
Beyond the external factors like location and price, it's important to consider internal factors, like condition and features, before choosing a commercial restaurant space. Think about the space's long-term potential.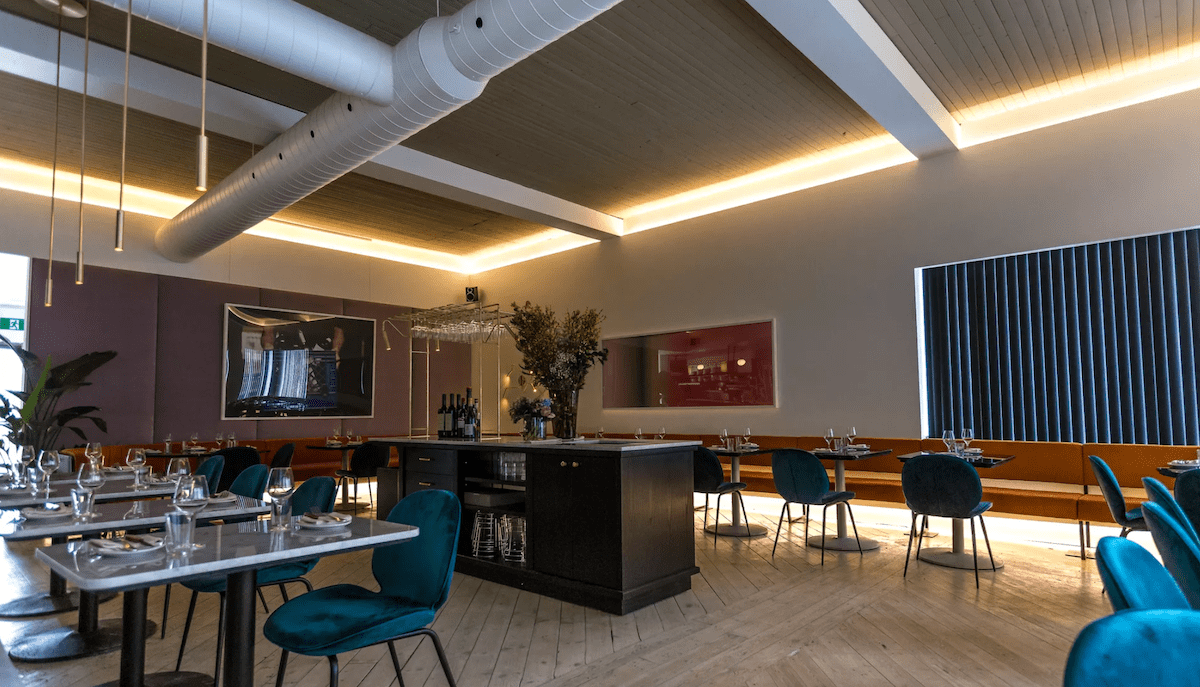 Located in Montreal's up-and-coming neighborhood, Saint-Henri, Elena took over an abandoned dive bar and transformed it into a modern hotspot. They were even named one of Canada's Best New Restaurants!
Condition
Do you want a space that's virtually turnkey, or do you want the challenge of making a commercial space your own? You'll always need to do some work to customize a commercial space, but some require less work than others.
If you're taking over a former bakery and you plan on opening a bakery, the space may already be configured for your needs and you'll only need to make few changes. However, transforming a former dentist's office into a restaurant would take more work, time, and money.
Also, consider how the condition of the restaurant affects its price. If you can lock in a great monthly rent because the space is in disarray when you sign the lease, but you can cheaply transform it, you're looking at a lot of savings.
Features
Do you dream of having an outdoor space for patio seating for your restaurant when the weather is nice? Then an outdoor space should be a must on your list. Do you want a waterfront location, or would you be fine with installing a water feature in your restaurant?
Consider which elements you can compromise on, and which ones are must-haves for your restaurant. Having an idea of what you want your restaurant's design to look like before shopping for a space will help you make sure you meet your needs.
Having a vision for your restaurant can help you see a space's potential.
Takeaways for leasing the perfect commercial restaurant space
The space you choose for your restaurant can make or break the business. There are a lot of factors that go into making a commercial space the right space for your restaurant. Here are the key considerations you need to think about before leasing a particular restaurant space:
Budget

: How much can you afford to pay for your space?

Location

: Where will your restaurant thrive?

Size

: How much space do you need for your concept and service style?

Potential

: What condition do you want the space to be in, and what features are on your list of must-haves?
Follow these four tips to make sure that you're leasing a restaurant space that's right for you in for the short and long-term. Good luck!