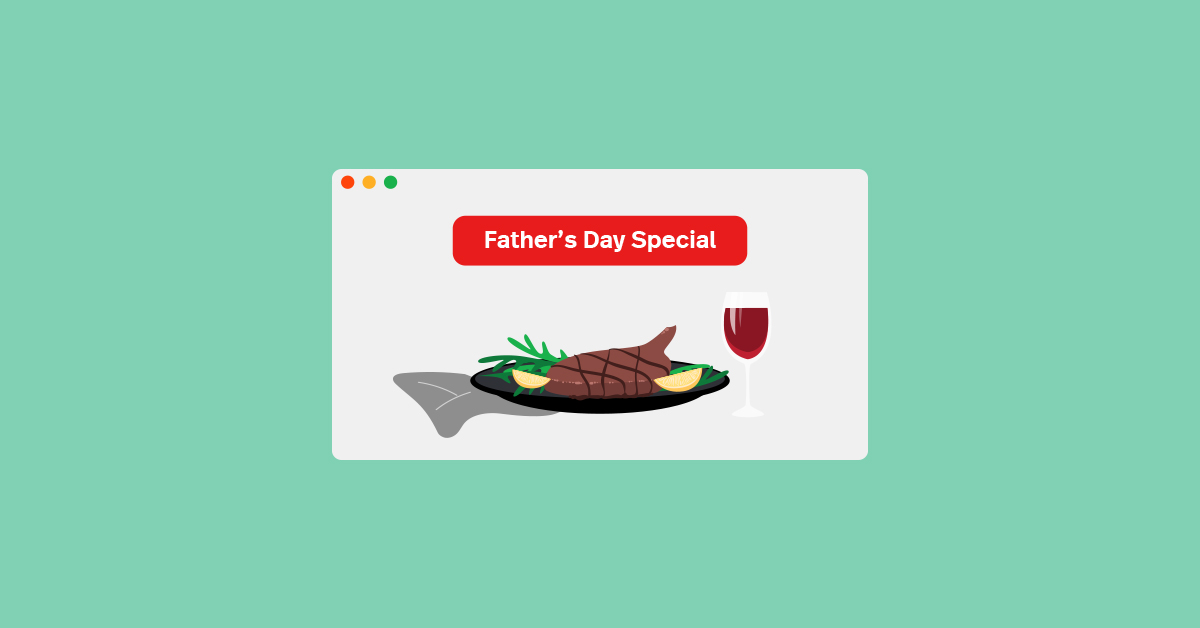 While not as notoriously hectic for restaurants as Mother's Day, there is a lot of revenue to be made on Father's Day if you know which types of restaurant promotions and specials to offer.
In 2019, we surveyed 629 people from around the US to find out how they prefer to spend their Father's Day. We found that nearly as many people opt for dinner out at a restaurant (23%) as those who go with a backyard BBQ gathering (24%). So how do you plan to capture the business of both dine-in guests and those staying home this Father's Day?
In this article we'll cover:
Need help with food costing?
Lightspeed's food cost calculator breaks down your menu by dish and factors in each ingredient to find the desired margin for your restaurant.
4 Father's Day promotion ideas for restaurants
1. Get creative with your online ordering options
While many families opt to stay home for Father's Day, that doesn't mean your restaurant can't still be part of their celebration. Offer (and heavily promote) takeout specials to help your customers supplement their home-cooked meals.
Some ideas include:
BBQ kits.

Offer a meal kit-style box with meat, sauces, sides and instructions for cooking a restaurant-quality meal at home.

Family-style side dishes.

Let guests focus on their grilling while you take care of the side dishes. Offer trays of salads, roasted veggies, side dishes and desserts to help take the stress out of planning a big meal.

Stock the bar.

If to-go alcohol is allowed in your area, put together a kit with your most popular beers and cocktails. If alcohol is not available to go where you live, offer mixers, mocktails and other non-alcoholic options.
In 2020, Call Your Mother Deli put together the "Big Poppa bagel platter," a package of 4 bagels and toppings. Curated specifically for Father's Day, customers were invited to pre-order the box and either pick it up or have it delivered.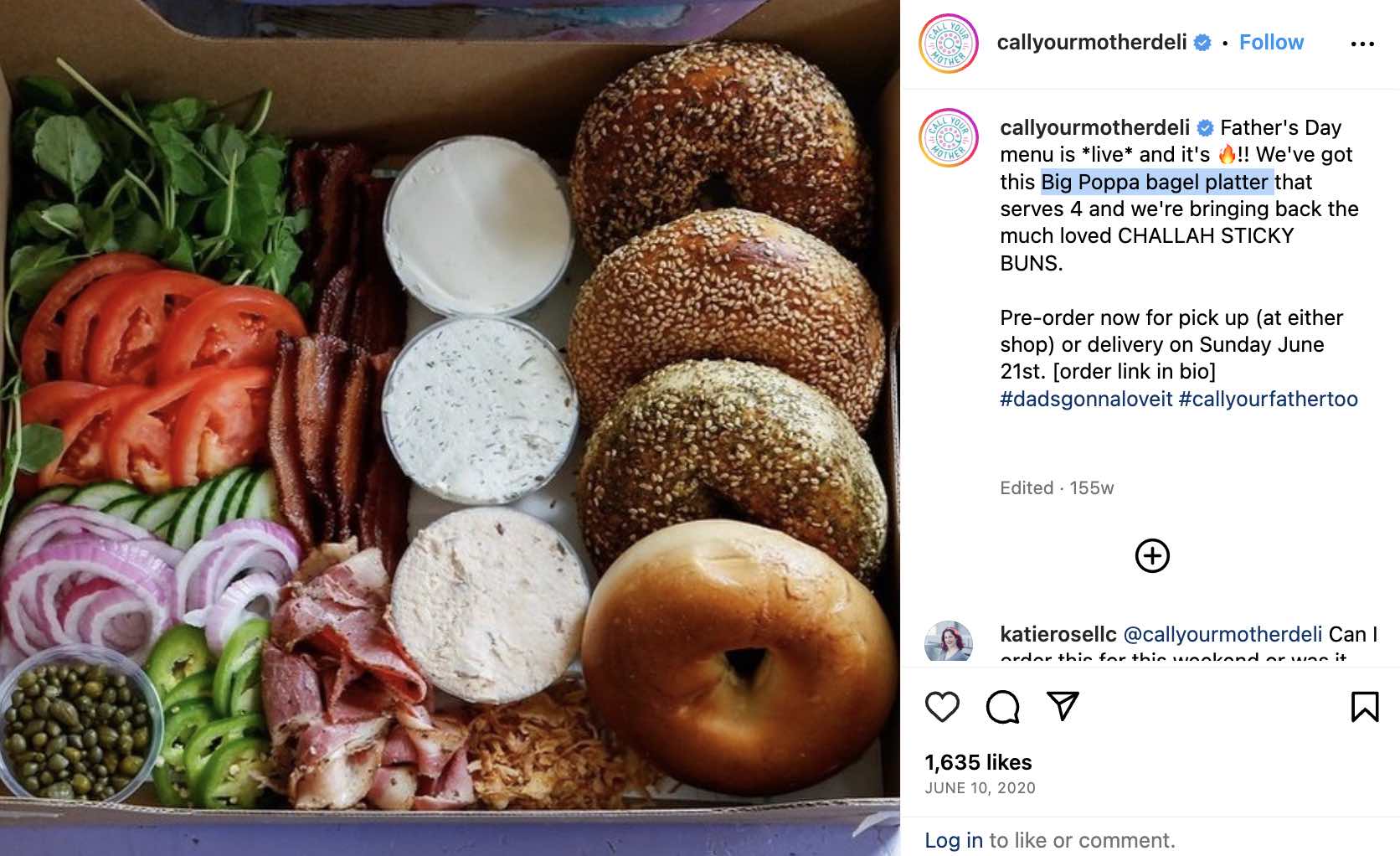 2. Make sure your staff is ready for a dinner rush
It looks like most dads will be sleeping in on Father's Day because 51% of survey respondents plan to make dinner their main celebratory meal with Dad. With another 28% planning to dine-in or get takeout for lunch, most restaurant owners won't need to worry too much about crafting a Father's Day brunch menu like they may have done a few weeks ago when celebrating the moms out there.
3. Give dads a special gift
There are plenty of creative ways to promote a restaurant on Father's Day, but nothing gets dads going like free stuff. Whether it's a $25 gift card with purchase, a free sample of a menu item or something more fun like a free bottle opener or beer koozie, restaurants can get some long-lasting word-of-mouth promotion (and credit with dads).
4. Keep the whole family entertained
Adding some friendly competition to your restaurant's Father's Day festivities is a great way to keep families entertained. Restaurants with games are trending right now, so this may be the perfect excuse to test it out and see if it could be a regular part of your concept.
Some easy to implement ideas include:
Lawn games.

If you have the space, set up lawn games like bocce or corn toss, or oversized table games like tic tac toe or jenga.

Table games.

Short on space? Try trivia or bingo. If you don't have the time to organize a game yourself, there are companies you can hire to come in, set up and host the games for you. Don't forget to provide prizes for winners, like a free appetizer or drink.

Raffles.

For an easy to manage option, offer a raffle ticket to each table for every $10-15 spent. Prizes can include a free meal for four at a later date, a Father's Day themed gift basket or a prize pack put together with items from your restaurant and other local businesses.
3 Father's Day restaurant specials and menu ideas
1. Stick to basics
As the saying goes, if it ain't broke, don't fix it: 32% of respondents say Dad wants to eat "good old-fashioned steak and potatoes" for dinner. If you have a great seafood distributor, fresh fish also ranked in the top three, so you may want to consider a fish special.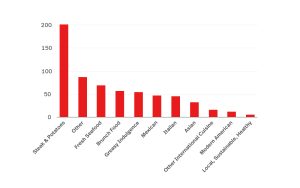 2. Amp up your beer selection
It's no surprise that most dads want a cold beer to celebrate: 37% do in fact. What is surprising is how few want to drink anything else: believe it or not, 28% would actually prefer nothing before ordering a cocktail or glass of wine. This Father's Day it would be a better idea to introduce a new craft brew or partner with a local brewery than to open up your wine cellar.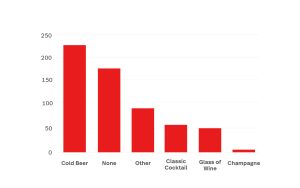 So this Father's Day, don't forget to encourage people to crack a cold one with the fathers (and father-figures) in their lives. Check out this example from Collective Arts Brewing.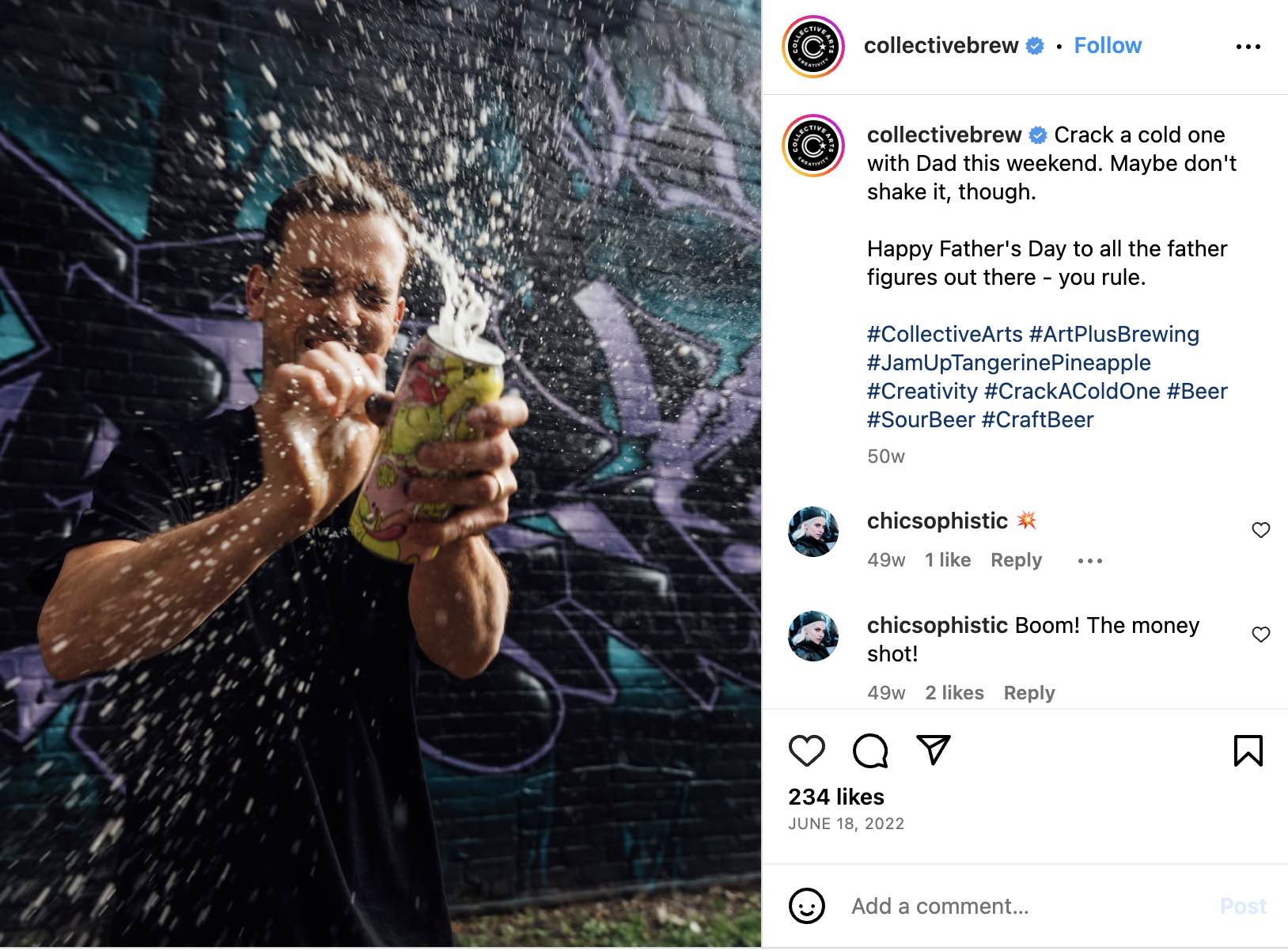 3. Forget brunch, do lunch
A fancy brunch may not interest most dads, so why not try a special Father's Day lunch menu? Creating new lunch specials and offering a great beer selection might just be the perfect combination for families who want to go out but still celebrate casually.
4. Consider a prix fixe menu
Implementing a prix fixe menu helps simplify the ordering process for customers—and we all know that dads like it simple. As such, this approach can entice more families to choose your restaurant as the destination for their Father's Day celebration.
Crafting a thoughtfully designed prix fixe menu ensures that fathers feel valued and appreciated on their special day. Consider incorporating classic dishes that evoke a sense of comfort and nostalgia, while weaving in innovative twists to captivate the palates of modern dads.
Additionally, a prix fixe menu allows you to manage your inventory effectively, streamline your kitchen operations, and optimize your staff's performance, ensuring a smooth and efficient service.
Regional Father's Day trends
Among our survey respondents, we found some interesting regional trends that differed from the national average. If you own a restaurant in one of the areas below, you may want to keep these statistics in mind when thinking of Father's Day restaurant ideas.
New England.

Nationally, 51% of families prefer to celebrate Dad during dinner, but New England is more likely than any other region to celebrate Dad in the morning: 36% of local respondents say they plan to eat brunch or breakfast together. Looks like Northeastern chefs may need to focus on a

brunch menu

after all.

West Coast.

Nationally, most dads prefer "good old-fashioned steak and potatoes" for dinner (32%) but fathers on the West Coast are more likely to have a more refined palate—only 20% want a traditional meal, with other cuisines like Mexican (12%), fresh seafood (8%) and Italian (9%), outpacing other regions. Keeping your audience in mind, you have a bit more creative license with your menu.

Tri-State Area (NY, NJ, PA).

Nationally, fathers across the board prefer a cold beer to celebrate (37%) but dads in your area are the most likely to enjoy a cocktail (15%) than any other area. Maybe bartenders will think up a creative signature drink for Dad on Sunday?
While Mother's Day is all about promoting your restaurant and standing out among the competition for the brunch crowd, restaurants need to get more creative with Father's Day. By offering a variety of options for both takeout and dine-in, you can position your business as the go-to spot for any Father's Day celebration.
​​Streamline operations on your busiest days
With Lightspeed's restaurant POS and management system, you can offer tableside ordering, start a loyalty program and view reports to see what's working. Chat with one of our restaurant experts to see how technology can help you streamline your operations and make more informed decisions.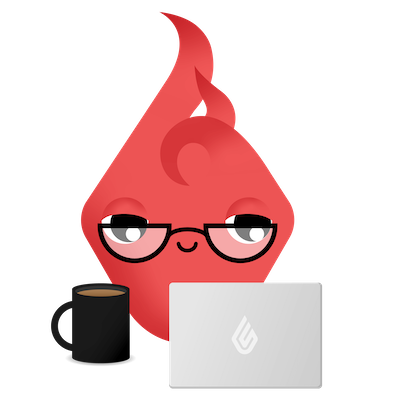 News you care about. Tips you can use.
Everything your business needs to grow, delivered straight to your inbox.