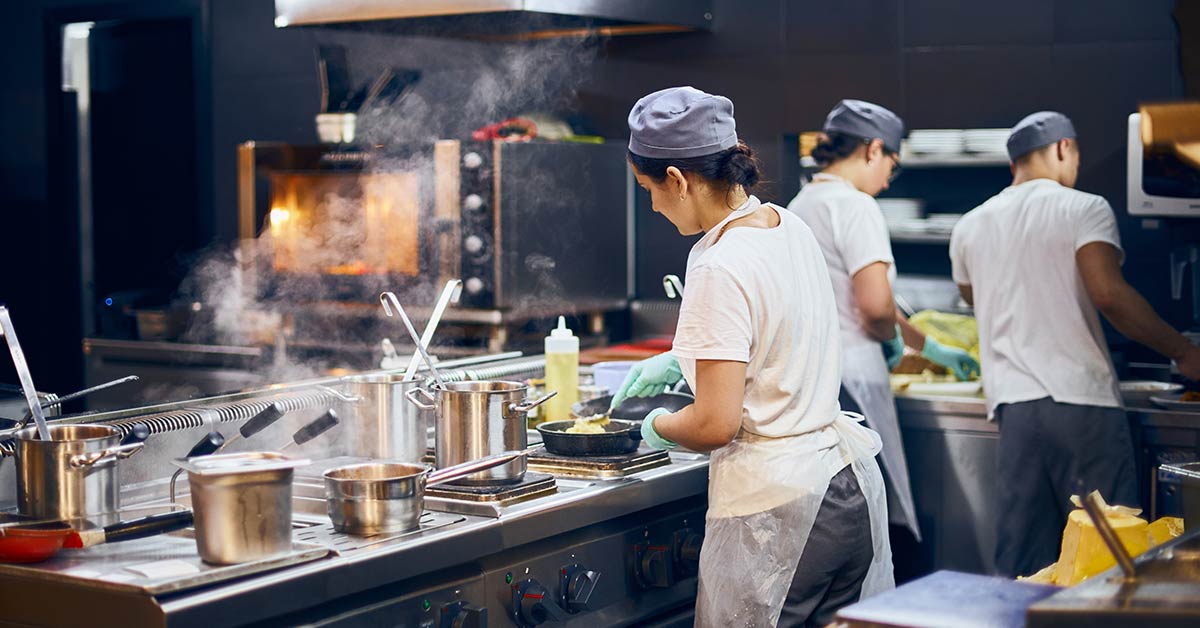 With limits on table service dining in 2020, restaurants of all sizes faced pressure to strengthen off-premise sales, which in turn accelerated their focus on takeout, delivery and online ordering options.
While the industry-wide focus on off-premise sales grew substantially in 2020, it's a trend that has been a long time coming. A 2019 report from the National Restaurant Association found that 80% of foodservice operators highlighted off-premise sales as a major area of focus.
Off-premise sales are now a regular component to many restaurants' offerings, but lofty service fees and the fear of increased operational complexity is a normal concern for many operators looking to move into that market.
Those pain points have created an entirely new method of off-premise food service: Ghost kitchens.
Let's explore ghost kitchens, their benefits, their drawbacks and why we're likely to see table service restaurants explore them as a way to expand their brand's footprint and make more sales.
Let's dive in!
Learn the right way to offer delivery and takeout
Download our playbook for a detailed look at how to support delivery and takeout and boost off-premise sales.
What is a ghost kitchen?
Also referred to as cloud kitchens or dark kitchens, ghost kitchens aim to help restaurants expand their delivery service and reach more customers at a (seemingly) minimal cost. According to Euromonitor, this growing concept could become a trillion dollar industry. But what is a ghost kitchen exactly? Ghost kitchens are locations used exclusively for the preparation of food delivery. "A ghost kitchen is where virtual brands are produced without a brick and mortar location. They're facilities that are made solely for producing virtual brands," explains celebrity chef Eric Greenspan.
Notable companies in the ghost kitchen space are Kitchen United and Cloud Kitchens, which was founded by Uber's founder, Travis Kalanick. Essentially, a ghost kitchen is a rented kitchen space where restaurateurs can launch a virtual restaurant brand without a brick and mortar location.
Shared ghost kitchen
Ghost kitchens don't necessarily need to house just one restaurant or concept. A ghost kitchen might house different brands from the same company, or even entirely different restaurants. Some of these rented spaces might offer anything from kitchen infrastructure to complete restaurant management. Some kitchens require individual brands or restaurants to provide their own staff or they provide staff for you.
Turnkey ghost kitchen
With a turnkey solution, an external company handles all of your ghost kitchen production. That includes setting up the kitchen, handling food preparation, delivery and even expansion. Turnkey solutions might be a great option for a restaurant that's just starting out and trying out a completely new concept.
What is a virtual restaurant?
While the terms "ghost kitchen" and "virtual restaurant" are often used interchangeably, they are not the same thing.
Unlike a ghost kitchen, virtual restaurants don't rent kitchen space through a third party. They have a brick and mortar location(s), use their kitchens to support online orders and typically have a delivery-exclusive menu.
Virtual restaurant example
An example of a virtual restaurant is what the award-winning, Montreal-based restaurant Alma is doing. When faced with dwindling business as a result of the pandemic, they launched Tinc Set, a concept where customers place their orders online and pick them up at a designated time from the restaurant's charming back alley.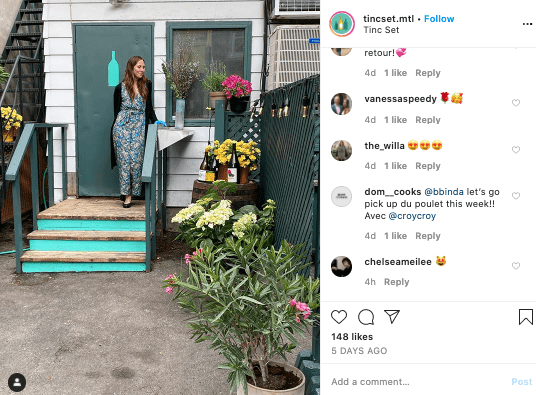 For restaurants with a brick and mortar looking to get into off-premise ordering, virtual restaurant concepts like this are absolutely worth exploring. You have the flexibility of supporting takeout, online ordering and/or delivery, and are essentially creating another revenue stream to cover the expenses of having a physical location.
Why are virtual restaurants becoming popular?
In short, it's because many are forecasting that the future of foodservice is off-premise, through delivery, takeout and order ahead.
Selling through third-party delivery services can be costly, with service fees for selling through certain aggregators reaching nearly 20%. As a virtual restaurant, however, operators can choose how they sell.
Using white-labeled platforms, restaurants can take orders directly from their website rather than selling through a third-party. If they want to partner with third-parties to either expand their delivery service or outsource delivery couriers (or both), they still can, but at least they're not obligated to sell exclusively through a platform that eats into their already thin margins.
The rise of online ordering
While the restaurants have historically been hesitant towards technology adoption, traditionally opting for more manual processes, their approach has changed dramatically in the last few years. 87% of respondents from our Hospitality State of the Industry Report agree that new technology adoption over the last two years has been critical for their business' survival. With the rise of third-party delivery providers, and an increased interest in online ordering, coupled with growing change in consumer habits, restaurants have had to adapt and are looking to technology for answers.
Most of these consumer preferences now point towards ordering flexibility and online ordering options. These new offerings have even had an impact in how much customers order, with 34% of consumers spending at least $50 per order when ordering online.
Online ordering and virtual restaurants
With online ordering growing 300% faster than dine-in traffic since 2014, 60% of U.S. consumers ordering delivery or takeout once a week andUS consumers spending $27 billion ordering food through either a restaurant's website, app or through third-party aggregators like UberEats or DoorDash, it's clear that this shift in consumer habits has had a hand in the rise of new types of restaurants like virtual restaurants and ghost kitchens.
Ghost kitchens and virtual restaurants take advantage of technology to connect with customers and offer flexible ordering options. With tools like Lightspeed's Order Anywhere, virtual restaurants can save money and avoid third-party fees by managing their own takeout, provide a contactless order and pay option for takeout and even let your customers decide how and when they want to pick up their order by scheduling pick up times.
What's better: Ghost kitchens or virtual restaurants?
The answer largely depends on the context. Ghost kitchens can be useful for launching a new business with less capital, while virtual restaurants are a solid option for existing restaurants looking to get into off-premise sales with a different brand.
With virtual restaurants, you can still sell through popular delivery aggregators, but you can use your own equipment and kitchen to prep orders rather than rent a ghost kitchen space.
The benefits and downside of a ghost kitchen
Benefits
Lower overhead costs
Without a storefront, ghost kitchens avoid all the overhead costs associated with buying or leasing a commercial restaurant space. If you want to update your menu, you don't need to re-print anything. Just make updates online and you're all set.
Easier to launch
Compared to opening an on-premise dining restaurant, ghost kitchens can be relatively quick to set up. While you can opt for leasing a space and getting started by yourself, there are also companies that offer leasing services for spaces designed for ghost kitchens and some even offer turnkey operations with all the equipment you might need.
Less risk
Since you're reducing your overhead costs and aren't hosting people in a restaurant setting, you're already reducing a lot of the typical risks associated with launching your own restaurant. Like all businesses in the hospitality industry, having a ghost kitchen still has inherent risks, but you can choose to further minimize those risks by working with companies that provide turnkey operations, staff, expertise, etc.
Expand delivery range
A ghost kitchen can also be a great way to test a new market. If you only have one restaurant location or are using specific third-party delivery platforms, your delivery range will have some limits. If you want to expand your customer base, opening a ghost kitchen in another location can help you increase production and offer delivery-only services to new areas.
Capitalize on increasing demand for online ordering
Ghost restaurants can sell through as many third-party delivery services as they want as well as through their website.
Downside
Third-party delivery aggregator fees
It's no secret that third-party delivery aggregators collect a transaction and/or service fee on each sale made on their platform. If left unchecked, this can certainly take away from a restaurant's net profits. If you're looking to start a ghost restaurant but don't want the fees that come with third-party delivery platforms, you might want to think of offering your own delivery service. By offering in-house delivery you'll have full control over delivery operations, avoid third-party fees and provide more flexibility with the way customers order.
Reputation management
With no customer-facing service, a ghost restaurant's reputation relies heavily on word of mouth and online reviews. Actively promoting positive reviews and responding to negative reviews is a must for ghost restaurants.
Increased pressure on marketing
Brand-building in a strictly online space, without a brick and mortar location to drive awareness, makes effective digital marketing key to customer acquisition.
Limited customer base
Since a ghost kitchen is an off-premise restaurant model, you will be limited to delivery or takeout-only customers. You might also face limits in your delivery range depending on the third-party platforms you use.
The benefits and downside of a virtual restaurant
Benefits
Capitalize on demand for online ordering
Virtual restaurants are the best way for an existing restaurant (one that has a physical location) to explore meal delivery, takeout and online ordering. No need to rent out a ghost kitchen, you already have everything you need to prep orders from your restaurant's kitchen.
Ownership of the customer experience
Since customers can order directly through your website and, if you choose the same path as Tinc Set, pick up their order from your establishment, operators have more control over their customer's experience: from packaging to the food quality.
Increased online brand awareness
Operating entirely online enables ghost restaurants to adequately serve customers that prefer online ordering through third-party apps or through your own ordering platform. Even if you offer your own online ordering service, these third party apps are a great way to capture new business. Once they've found you on a third party app, you can convert them to ordering directly from you by advertising your online ordering site on your receipts, stickers or flyer.
Downside
Requires a commercial restaurant space
For restaurateurs that are just starting out, virtual restaurants have one big barrier to entry: needing a physical restaurant space. As a result, virtual restaurants aren't typically someone's first foray into the restaurant industry. Rather, they're a better option for restaurants that actively want to offer both table service and delivery, or takeout with online ordering.
Multiple menus to manage
If your table service, takeout and delivery menus differ from one another, that means you have multiple menus to manage. Without the right tools, managing multiple menus can be a challenge. With the right restaurant POS, delivery management and online ordering platform, though, operators can manage delivery, takeout and table service menus all from the same place: from the listed items to their prices and photography. Push menu changes to your POS system, website menu and to the menus featured on each third-party delivery service.
Potentially cumbersome order fulfillment
Imagine needing to dedicate a tablet for each ordering method. Let's say you offer table service, takeout and delivery via your website, and you also sell through UberEats, DoorDash. That's four tablets, each receiving orders independent of one another.
Prior to two-way delivery integrations like Lightspeed Delivery, restaurants would need to assign an employee to take the incoming orders from each tablet and manually input them into the restaurant POS system.
Not ideal. But with a seamless delivery integration, incoming orders from all channels–your table service, website and third-party aggregators–are automatically pushed from each channel directly to your restaurant POS and Kitchen Display System (KDS).
While order fulfillment used to be a drawback to offering delivery and takeout, that's no longer the case as long as you have the right tools.
Engineering meals for delivery
You'll need to make sure your food is packaged in a way that will keep it intact for deliveries. Leave the sauces on the side to avoid a soggy sandwich and make sure your containers are properly insulated to ensure your guests are receiving just as good of an experience as they would in a traditional restaurant.
Examples of virtual restaurants
Here are two establishments that have knocked their virtual restaurant concepts out of the park:
September Surf Cafe, Montreal
Centrally located in Little Burgundy, one of Montreal's most up-and-coming neighborhoods, September Surf Cafe demonstrated creativity and resilience when faced with dwindling walk-in customers.
Rather than throw in the towel, in 2020 they quickly transitioned their cafe into a community hub, offering breakfast, coffee and even partnered with local bakery Baby Duck MTL to start selling their goods via order ahead and takeout.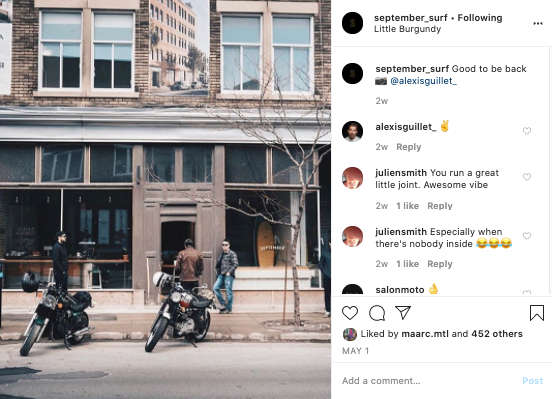 Cleverly calling their concept Deptember (a mix between their name, September, and a depanneur, which means convenience store in French), customers were able to place orders online and scheduled pickup times.
Their Instagram account also regularly shares user-generated content (UGC), as well as new menu additions.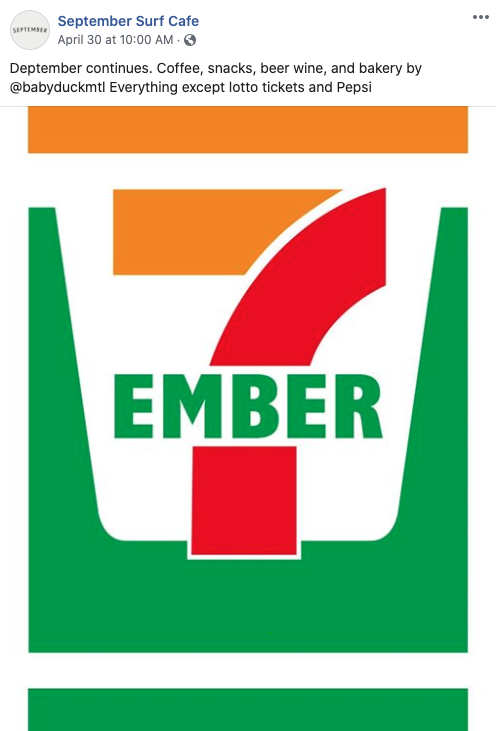 The French pronunciation of seven is "sept"—clever!
Mandy's, Montreal
Mandy's is a popular gourmet salad restaurant with nine locations in the Montreal and Toronto area and they offer online ordering directly on their website using UEAT, where customers can select their order and at which location they'll pick it up from.
In 2020, Mandy's even offered grocery boxes, where customers could order a variety of produce online and either pick it up from the nearest location or have it delivered to their doorstep.
What's neat about Mandy's online ordering is that it's 100% branded. Even though delivery and takeout are done using the online ordering platform UEAT, the overall look and feel of the ordering experience is very much Mandy's. That's what we call a white-labeled: when a company allows users of their product to rebrand it as if it were their own.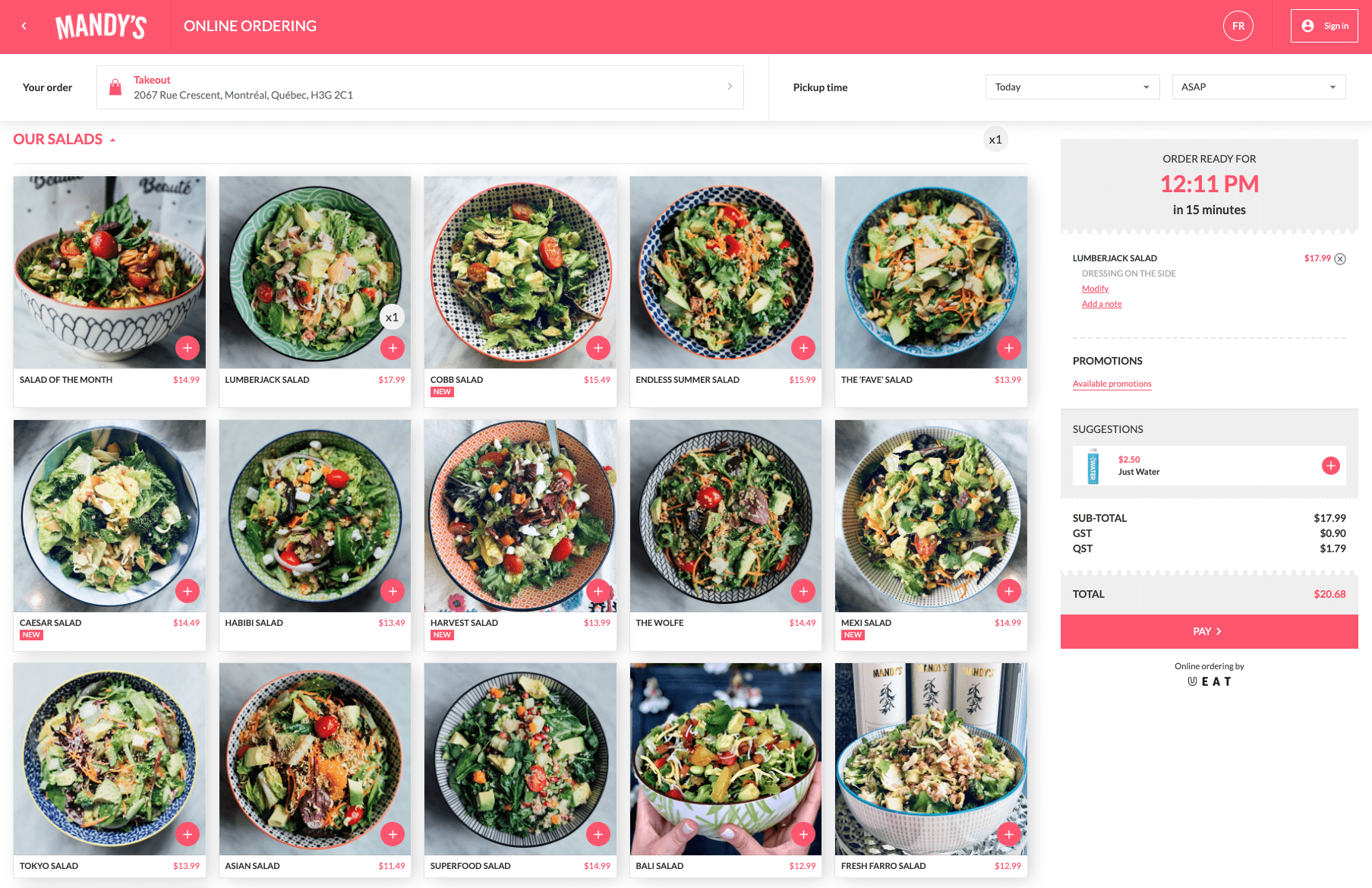 A look at Mandy's branded online ordering portal, powered by UEAT
Virtual restaurants are here to stay
The concept of selling through online sales channels, whether it's a third-party aggregator or through your own website, isn't new, but it's become a regular contender in the restaurant industry.
Restaurants are now exploring the concept of virtual restaurants as a way to diversify how they sell to and serve customers. With the right technology to help run the whole operation, restaurants can simultaneously manage table service and online orders without missing a beat.
Want to learn how to take your restaurant online and start selling via take-out, order-ahead and delivery? Contact our team of restaurant experts today for a free consultation!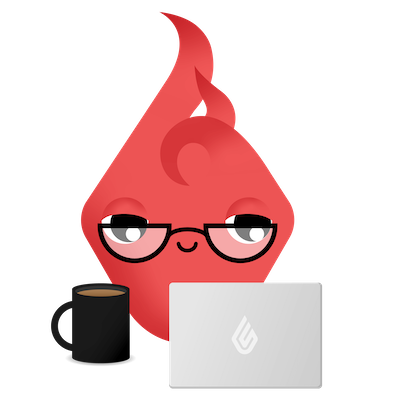 News you care about. Tips you can use.
Everything your business needs to grow, delivered straight to your inbox.