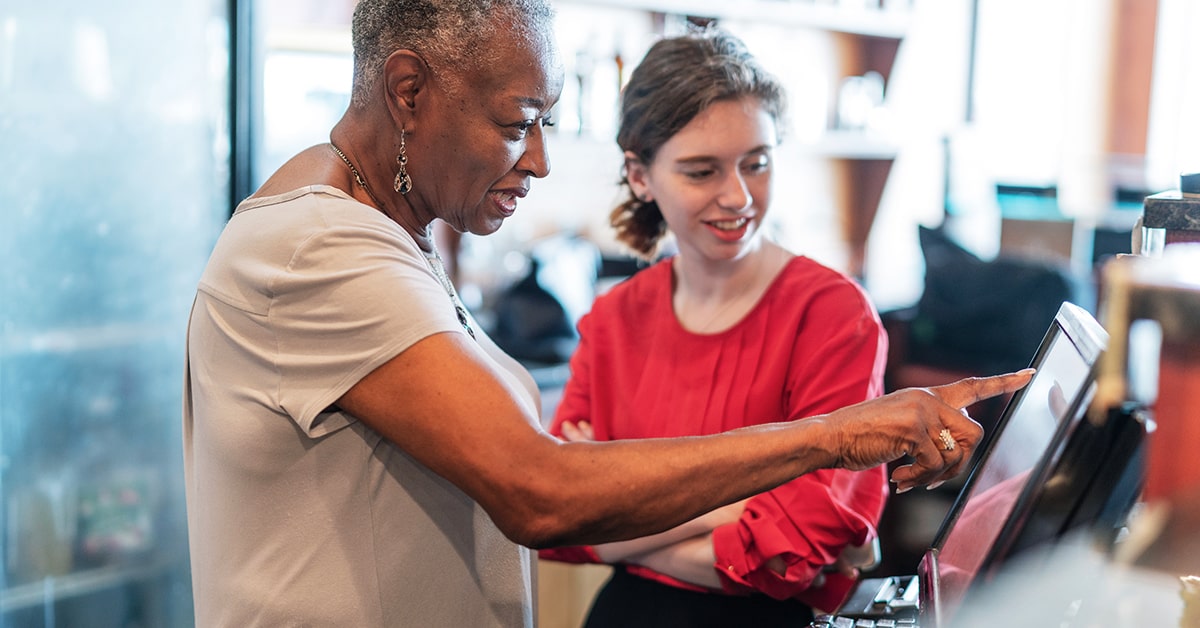 From hiring and onboarding to training and retention, staffing is one of the biggest challenges restaurant owners, operators, and managers face today. In 2016, the restaurant industry had a 70% employee turnover rate.
One way to improve your staff retention is by first improving your onboarding and training strategy with a restaurant employee handbook, which serves as a centralized employee reference point for your restaurant's mission, values, rules, regulations, policies, procedures, and guidelines.
It gets your service, kitchen, and management staff aligned and sets the tone for a positive work culture that fosters better employee relations and lower turnover.
What should be in a restaurant employee handbook?
Build your restaurant employee handbook in minutes
We've made building your restaurant employee handbook as easy as filling in our straightforward template. Download your free restaurant employee handbook template and start building today!
Editor's note:
Be sure to have your employee handbook, or anything containing payroll, benefits, codes of conduct, labor laws, and other federal, state or provincially-regulated topics, reviewed by an attorney—specifically one that has experience in the restaurant industry.
1. Introduction
Most of your staff probably won't read your employee handbook word for word. They're going to scan for the information they think is most important.
That's why the introduction to your restaurant employee handbook needs to be strong and engaging. The better your introduction, the more likely staff are to read it in its entirety.
In your introduction, you should include a welcome letter from the restaurant founder, owner, and/or general manager. Give a brief history of your business and cover the most important takeaways that you want staff to know. Those takeaways can be anything from how your establishment positions itself versus its competitors to more operational details.
What to include in your introduction
A welcome letter from the founder, owner, and/or general manager

A brief history of your business

Key takeaways on your restaurant's brand positioning and operations

A table of contents

A legal disclaimer that clearly states the employee handbook is not a legally binding contract
2. Company mission and core values
How would you define the high-level mission of your restaurant and the core values you want each of your staff to personify?
Your company mission statement is the why behind your restaurant's existence. It informs everything from the food you serve and your style of service to how you want employees to interact with guests. But mission statements and values should be about more than just food.
Public Relations firm Edelman's 2017 Trust Barometer report found that 57% of consumers buy or boycott a business based on its position on a social or political issue. Further supporting this trend is a 2015 study from Nielsen Group, which found that 66% of millennials worldwide are willing to pay more to support brands that are "committed to a positive social and environmental impact".
And to that end, people are more likely to enjoy working for a company that shares their values.
For example
Sweetgreen's mission statement links the food they serve to a bigger issue; something that connects with consumers (and employees) emotionally.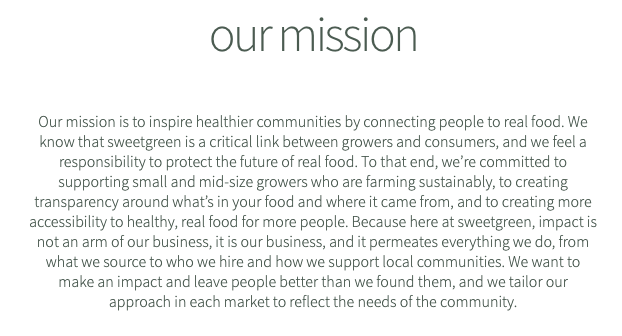 Sharing the company mission is not only valuable for your service and kitchen staff—but it also aligns your management team and helps them make thoughtful business decisions that correspond with your mission.
How do you write a mission statement?
Brief: Your mission statement should be no longer than four sentences.
Transparent:

Avoid empty jargon and cliches. Write exactly what your high-level goal is.

Accurate:

Include realistic goals and an honest reflection of what your business does.

Achievable:

Make sure your business can back up its mission with results.

Unique:

What makes your business stand out from the competition?

Actionable:

Strong mission statements define how you'll achieve your mission.
How do you define your restaurant's core values?
Start by creating a list of your personal values. These can include, but are not limited to:
Supporting the local economy

Quality

Consistency

Teamwork

Community

Authenticity

Sustainability

Family

Creativity

Passion
Next, highlight the values that you feel the most connected to. Take some time to work that list down to only the values that you feel the strongest about.
That list is your core values.
For example
Sweetgreen has a list of six core values that give readers a strong understanding of what's important to them.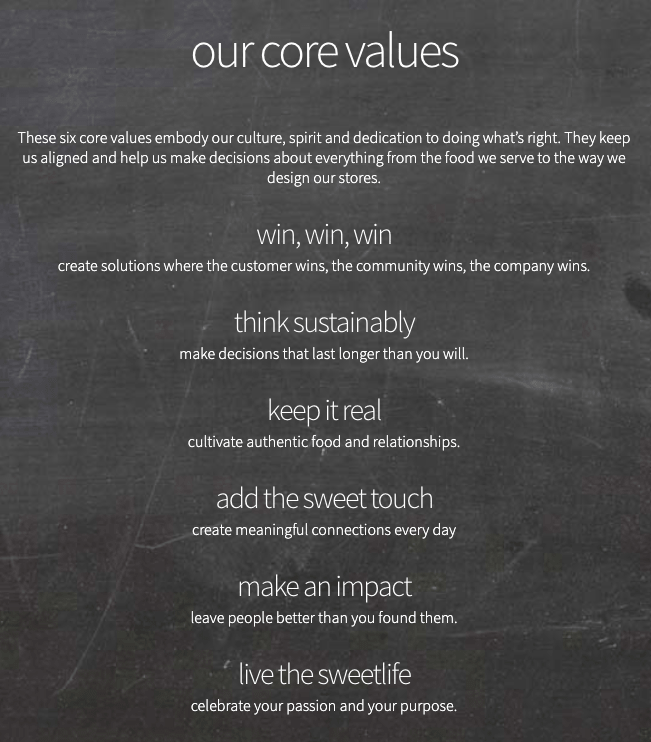 Whatever your establishment's mission and core values are, you ultimately want your staff to align with them. Foster an inclusive work culture that's about more than just clocking in for a shift and making some money. Otherwise, your establishment will risk being another casualty of the restaurant industry's notoriously high 70% employee turnover rate.
3. The ideal guest experience
The guest experience that your servers provide should tie directly to your mission statement. Some points to address when you explain the ideal guest experience in your staff training manual:
How to greet guests.

Do you want servers to follow a script or go off the cuff and be themselves?

Go above and beyond.

Whether it's a new guest with a challenging special request or a VIP with high expectations, train everyone on staff to think beyond the customer's basic expectations (within reason, of course).

Be genuinely personable.

Beyond just being friendly and polite, front of house staff should be aware of opportunities to make genuine connections with guests—even a small gesture like remembering a guest's name can go a long way.
Surprise and delight guests. Let your staff know what is and isn't okay when it comes to adding that extra touch to a guest's evening—give specifics like what desserts they're allowed to comp for a birthday and which brand of champagne is designated for an anniversary celebration toast.
4. Code of conduct
Everyone's definition of professionalism and good service is different. Use your code of conduct to clearly communicate everything from your establishment's dress code to your safety procedures and other policies.
What to include in your code of conduct?
Dress code for front of house, back of house, and management

Tobacco policy

Cell phone policy

Dating policy

Safety procedures

Behavior that results in disciplinary action
Dress code
When outlining a code of conduct for employees, make sure to include guidelines on how your staff dress on the job. It's not only a matter of workplace safety, but also assuring that what your staff wears aligns with your establishment's brand.
Naturally, this is going to vary from one restaurant to another. A fast-casual joint likely won't expect the same level of dress or finer details that a high-end establishment does.
If you require a uniform, this section will likely be short and sweet. Even so, make sure to define times in which uniform expectations might change (e.g private catering events).
What should your dress code include?
Haircuts, facial hair, and hair color policy

Tattoo policy

Telephone and cell phone use policy

Shoe safety program

Jewelry policy
It's important that your staff understand that what they wear serves as part of your restaurant's visual identity. What you want your staff to wear is entirely up to you, just make sure that the dress code aligns with your establishment's brand, that your dress code is clearly communicated to employees, and that they're held accountable for upholding it.
Tobacco policy
This section is relatively short and sweet: smoking is prohibited indoors. Smokers need to do so outside in designated smoking areas. This also includes e-cigarettes and vapes.
The distance between the designated smoking area and public entrances varies by state and province, so please consult your attorney to assure your smoker's area is compliant with your local laws.
Safety procedures
Use this section to define how each of your staff contributes to creating a safe work environment, as well as the procedures and general guidelines you have in place to keep your workplace safe (like what to do in case of a fire).
Also, mention that an employees failure to comply with safety procedures will result in disciplinary action. Show your staff that you take their safety seriously.
In addition to workplace safety, all staff members should be educated on food safety procedures. To keep the highest standards possible, make sure everyone (not just the kitchen staff) has obtained a food handler's license. A food safety program, like the one offered through ServSafe, will also provide information for staff on keeping themselves safe and healthy in the workplace as well.
Shoe safety program
The footwear that your staff wears depends on your establishment type and whether they work in the front or back of house. At a minimum, you should create a list of restaurant shoes that are the acceptable color and have slip-resistant traction.
5. Employee pay and benefits overview
Employee compensation, benefits, and payroll are some of the most challenging tasks restaurateurs face in part because of the many federal, state, and provincial laws governing employees that earn income through tips.
While challenging, it's also one of the most important. It's the section that most of your restaurant staff will skip ahead to.
What to include in your pay and benefits section
When talking about benefits like your vacation and time off policy, we suggest using charts and graphs to clearly lay out this information. Check out how Hoss Family Steak & Sea clearly laid out their vacation policy.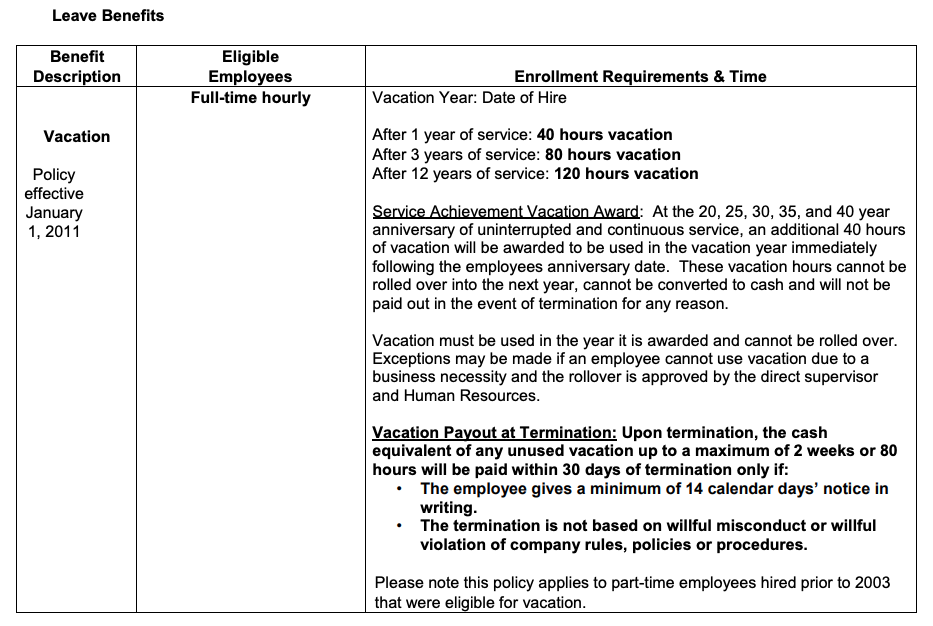 If you want help with your employee compensation and benefits section, we suggest consulting a restaurant consultant or attorney with experience in the restaurant industry. If you aren't sure about anything, it's safer to hire an experienced professional than to risk being non-compliant with your federal, state or provincial laws and regulations.
6. Scheduling processes and guidelines
Use this section to clearly define your how much notice is expected of your employees when they request time off. Mention that if their requests are not submitted on time, it becomes their responsibility to find a colleague to replace them. Of course, this section should also include your policies for absences and tardiness, and the consequences for exceeding them.
This section is also where you should give a brief breakdown of which scheduling tools are available for your employees, as well as a brief description of what each tool, like your mobile scheduling app, can do.
What to include in your scheduling processes and guidelines
Procedures for submitting work schedule preferences

How to request time off

How to swap shifts with a colleague

Your policy for absences and tardiness

A list of your scheduling tools
7. Restaurant system FAQ
Every restaurant employee handbook should include a how-to guide for your various restaurant tech solutions. Cover all the primary situations in which your service and kitchen staff will routinely experience, from checking in reservations in your point of sale (POS) to how to use kitchen display system (KDS) to signal to servers that a dish is ready to be run.
Along with a how-to section, you should also include a list of resources (like how to contact your system's customer support department) for your staff to refer to if they have any questions or need help.
Part of building a high-performing team is empowering them with versatile, easy-to-use tools, and showing them where to go and who to talk to if they have questions or technical problems that require immediate action. There are plenty of ways your staff can get support:
Chat

Phone

Help Center

Video tutorials
What to include in your restaurant system FAQ
How service and kitchen staff use your point of sale (POS)

What to do if your restaurant's

WiFi goes down

How kitchen staff use your kitchen display system (KDS)

How your host can check guests in and make reservations

How managers can access sales, staff, and customer reports

A list of additional support resources
Although including a section on how to use your restaurant's systems is suggested, we also suggest on-the-job training that balances education, demonstration, and shadowing.
8. Anti-harassment and complaint procedure
When it comes to harassment, it's on you as a restaurant owner to take a clear stand. Use this section to first define what constitutes harassment—whether verbal, physical, or otherwise—explain that harassment of any kind won't be tolerated, and make the consequences for such behavior crystal clear.
Especially in light of the #MeToo movement, it's important to reinforce that sexual, verbal, and physical harassment will not be tolerated. You want to foster a safe and healthy environment for your staff and guests. And if any of your n guests or staff ever feel threatened or uncomfortable while on the job, it's on you to make it right and to have a plan of action.
Keep your employees and guests safe
A helpful program being implemented by more and more restaurants and bars is the "angel shot". It's not a shot at all, it's a code word that any guest feeling uncomfortable or threatened can use to signal to restaurant or bar staff that they need help.
Here's how it works: If a guest orders an angel shot neat, a member of your service staff escorts the guest to their car. If they order the shot with ice, your staff calls them a taxi or Uber. Order it with lime and that's a signal for restaurant service staff to call the police.
What to include in your anti-harassment and complaint procedure
Punishable, fireable, and prohibited offenses

How to report abuse or harassment

Your management team's action plan for dealing with violations
Of course, consult with an attorney to ensure that you're compliant with state, provincial, and/or local laws when you're building out this section of your restaurant employee handbook. Any failure to do so could seriously jeopardize your business.
9. Conclusion and signature
Your restaurant employee handbook is not a legal document, but consider having your employees sign it to demonstrate that they've read it and understand your rules, policies, and procedures.
What to include in your signature
A final message to welcome to the team

A section reserved for their signature and the date
Align your staff with a restaurant employee handbook
Minimizing employee turnover and maximizing their happiness and productivity starts by hiring the right people for the right job, fostering a safe, positive work environment, and giving them the tools, information, and training they need to feel professionally validated and happy.
While attracting great candidates is one end of the spectrum, having a consistent, professional, organized onboarding process will set a good impression between employee and employer from day one. A restaurant employee handbook can help make that happen.
Consider creating an employee handbook and using it as a tool to train and onboard new staff. Not only does will it assure that you make a professional first impression on new hires, but it also aligns them with your establishment's mission, values, policies, and procedures.
Empower your staff with restaurant technology
With Lightspeed's restaurant POS, you can offer tableside ordering, start a loyalty program and view reports to see what's working. Chat with one of our restaurant experts to see how software can help you streamline your operations and make informed decisions.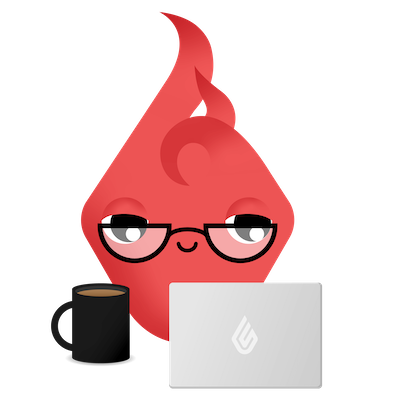 News you care about. Tips you can use.
Everything your business needs to grow, delivered straight to your inbox.