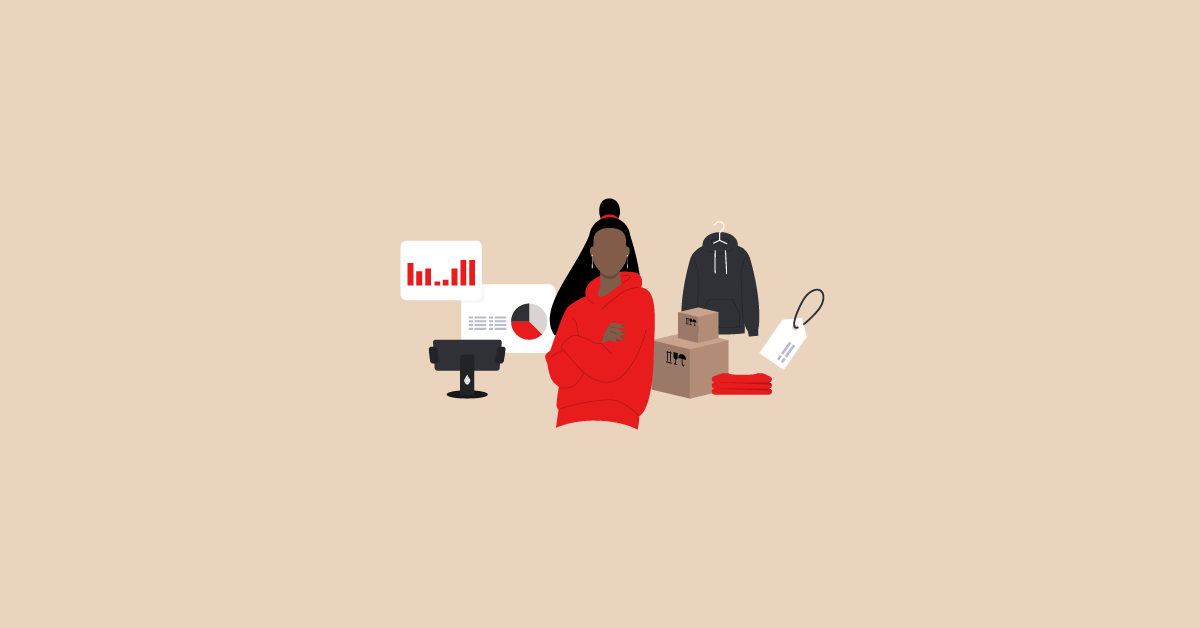 What is retail store management?
Store management is at the core of a shop's operations. It touches every aspect of running a retail business, from putting stock on the shelves to hiring staff and setting up attractive displays. It's a collection of daily tasks and long-term projects.
It's always there. And when it's done well, it's barely noticeable.
Here are 15 tips for successful store management.
Know your worth: adopt a robust inventory valuation and tracking system
Do you know FIFO? It stands for First-In, First-Out. It's an inventory costing method that lowers the risk of perishable or seasonal items becoming obsolete. It's one of many ways to understand your stock's value. (Check out this article about 8 inventory costing methods for more options.)
When you know what your inventory is worth, it's easier to regularly adjust pricing, discounts and promotions. This helps to unload slow-moving items. It can also incentivize sales for hot ticket items.

Analyze the past to determine the future with par levels and reorder points
If you can, aim to categorize your store's products according to demand. If you have sales records for a full year or more, search for patterns: do customers snap up puzzles and board games when the colder seasons arrive? Are pajamas consistently selling up during the holiday rush?
With the right POS system, you can take a look at your store's historical sales data. This can help you pin down future demand. And then you can set par levels and optimal reorder points. These help to ensure that you've restocked before anything sells out.
With Lightspeed Retail, you can set up the appropriate levels for 'reorder point' and 'reorder amount' while importing or creating new products. This means that you can then automatically populate orders instead of manually inputting each item.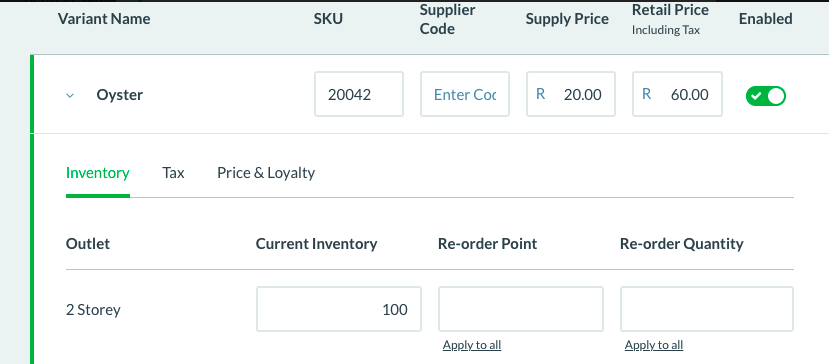 Conduct regular stock audits
Regular and accurate stock counts are crucial.
Bergstrom Originals, a Canadian-made lifestyle brand and clothing shop in Cambridge, Ontario, used to track inventory with spreadsheets and paper receipt book logs. They wanted to grow, but needed a better retail solution to meet their goals.
With Lightspeed Retail, Bergstrom Originals integrated their online and offline channels. They're using the cloud to centralize and streamline their operations. In other words, this eliminates the need to perform manual stock reconciliation. So long, spreadsheets!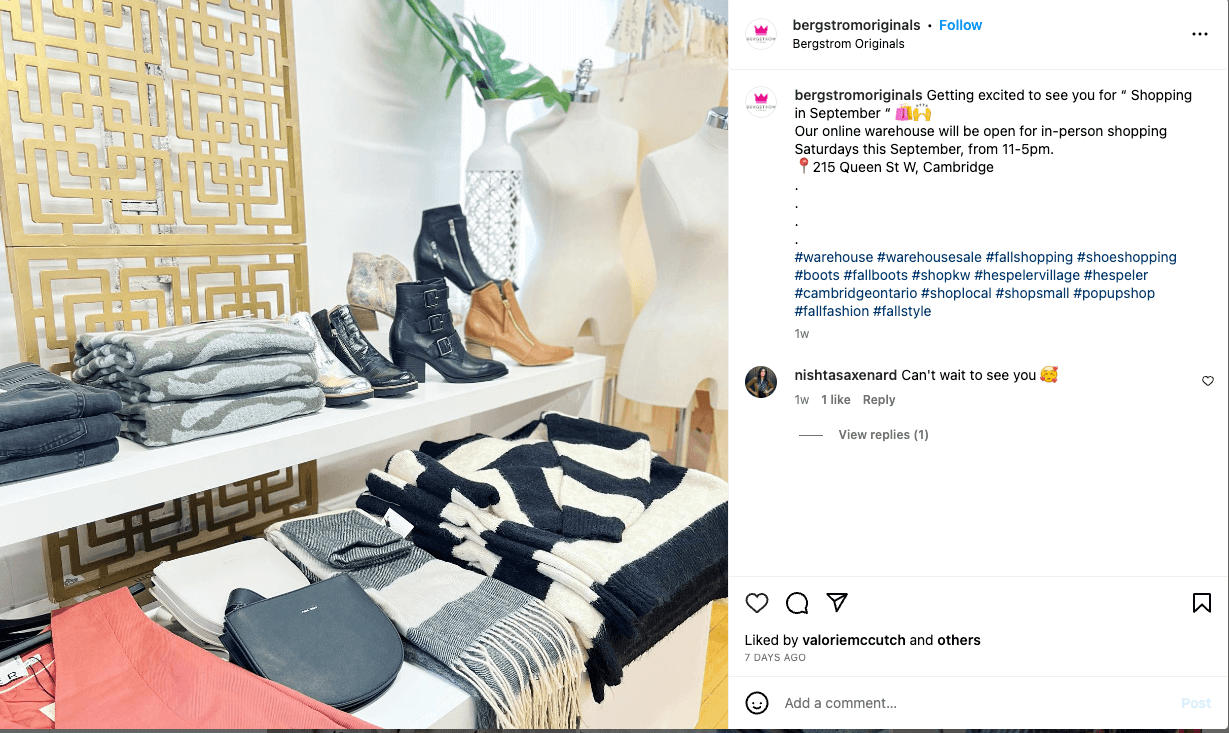 Maintain good relationships with vendors and suppliers
This is about developing more than a simple series of transactional interactions with other businesses.
Like any relationship, the key is good communication. When both sides are transparent and fair in their dealings, you can build a foundation on trust. And when the market shifts—as it does—and everyone needs to adapt, it helps to know that you're working together.
Edson Enriquez and Anne Rutt-Enriquez, the husband and wife team behind Limbo Jewelry in Austin, Texas, found that their switch to Lightspeed's ordering system helped their relationships with vendors. As Anne notes, "They say we're the most organized store they work with because we're able to pinpoint exactly what's selling, exactly what's not selling."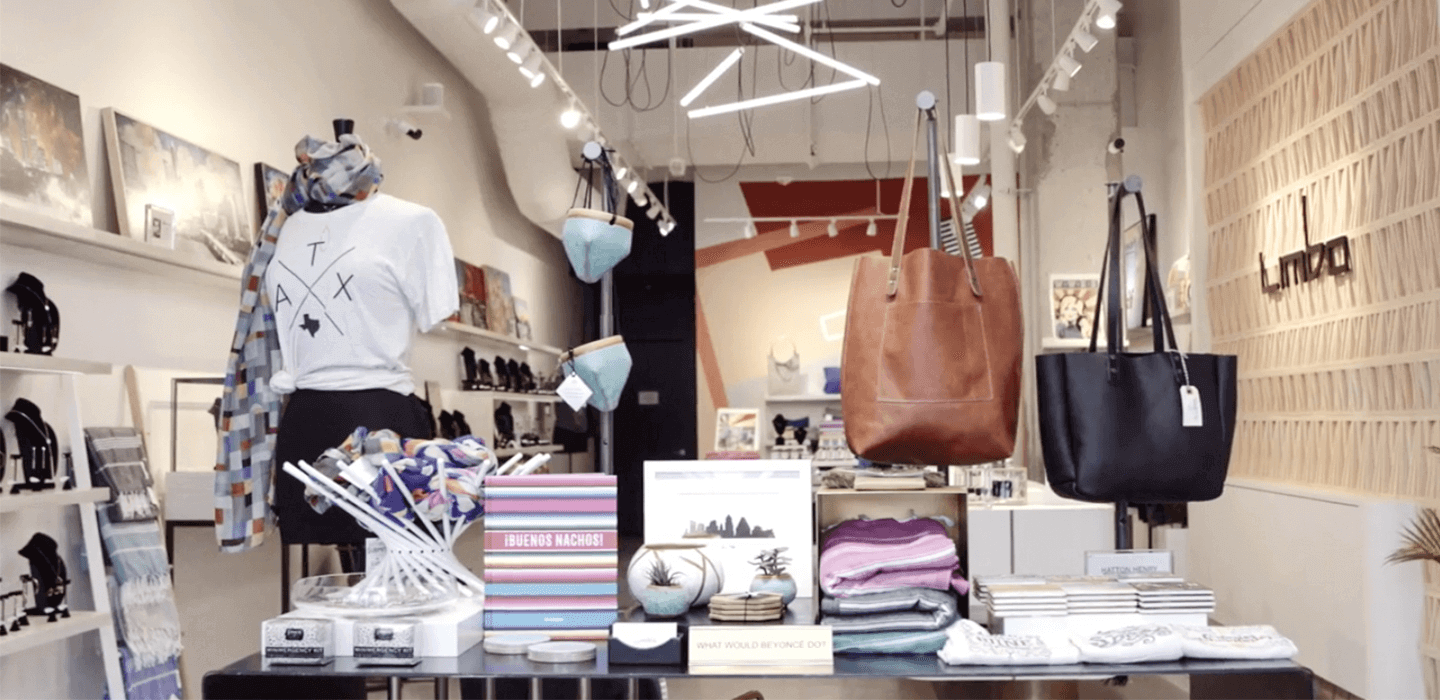 Negotiate favorable terms and pricing
Like an employee evaluation (more about that later) a negotiation with vendors can be an opportunity to check in on your relationship. It also takes planning and tact to balance both sides' interests.
Before your discussion, be sure to research your market and industry's standards and establish pricing benchmarks. Then, take a look at your historical spend levels. Get your facts straight: how long have you been working with this vendor? What's the average volume per order? Is there potential for growth in a long-term commitment to one another?
By showing the value you bring and sharing a goal for a mutually beneficial relationship, you can set the scene for open negotiations. This incentivizes suppliers to offer more competitive prices and terms.
Regularly evaluate supplier performance
At its core, retail management is about building and maintaining relationships. And ties with suppliers are critical. They deserve honest and consistent evaluation.
What matters to you in a relationship with a supplier? Define the key performance indicators (KPIs) that matter to your business. These should be quantifiable. In other words, you must be able to measure them in a standardized way. You can discuss them with your suppliers and provide a scorecard to show which benchmarks you'll be aiming for. Then, gather data on these metrics.
The numbers tell a story, but it isn't necessarily the whole story. In addition to quantifiable KPIs, pay attention to qualitative assessments. Is your supplier always looking for the best way to improve their service? Do they strive to adapt to market forces? Are they easy to work with?
Once you're equipped with all the necessary information, collaborate with your suppliers to identify what's working well and what could be improved.
What if suppliers can't meet demands? Essentially, business owners must decide if they're going to switch, substitute or stay. Statistics Canada found that these three options are almost equally distributed. Among businesses that anticipated supply chain issues in the first quarter of 2023, "close to one-third planned to partner with new suppliers (32.1%)." Many also chose to "substitute inputs, products or supplies with alternate inputs, products or supplies (29.1%)." And others expected to "work with suppliers to improve timeliness (28.4%)."
Put some solid hiring practices in place
Staff shortages are rocking the retail industry. But shoppers still want an experience that sets their trip to the store apart—and keeps them coming back. In the March edition of their Canadian Consumer Insights Pulse Survey, PWC found that just over half of shoppers questioned said that "knowledgeable and helpful sales associates are an appealing part of in-store shopping." So how do you hire these engaged and engaging salespeople?
Use social media to your advantage
Are your Instagram posts infrequent? Or do they focus exclusively on a single aspect of your business? It's worthwhile to revamp your socials to engage with potential customers—and staff. By building your brand up on social media, you can attract prospective employees who have an existing interest in your products.
Conduct a different kind of interview
The stereotypical interview is held in a small office with a candidate. It lasts about 15 to 30 minutes and involves a standard set of questions. It's often predictable. It doesn't necessarily give you the most accurate impression. It can also be deeply uncomfortable for all parties involved.
Consider trying different interviewing methods. I once interviewed a candidate online—it was obviously anxiety-inducing for them. I didn't think they'd had an opportunity to present themselves as best they could. So, I invited them to a second interview. We went for a walk. It was a very open, candid discussion of their skills and of the role. The difference between the first and the second interviews was astonishing. They were hired.
Hire for attitude, train for skill
It's a common phrase and remains an invaluable approach to hiring. If someone doesn't have any retail experience but shows a willingness to learn, curiosity about your store's products and an openness to speaking with new people–they could just be your next top salesperson. You can train someone on how to best sell products. You can't teach them many of the soft skills that make a sales associate great.
Follow through with solid training practices
Good retail employee training takes time and planning. It keeps employees engaged, motivated and helps to build relationships within your team. It's often overlooked, but the right onboarding and training program can set your business apart.
Solid training is about putting your store's philosophy into practice. Are your products different? What's the story behind them? By training employees to present your shop's goods in a certain way, you're helping to create a culture that sets you apart. Essentially, investing in training is a way to invest in your own business. It's never wasted. And it never really ends—even employees with decades of experience can learn new skills.
Sort out the scheduling
"Is the schedule out?"
These four little words can strike fear into the most stalwart store manager's heart. Scheduling can feel like a dark art—but it doesn't have to.
Take a step back and start at the beginning: what are your peak business hours? Bonus points if your POS gives you advanced insights on every aspect of your store's day-to-day operations.
Do you always get a rush of customers on Saturday mornings? Does your store see less foot traffic on weekends? More?
Allocate resources according to your findings and availability, skills and preferences. Try to be as fair as possible. Be transparent and establish a clear process that respects requests for time off. You can also try a rotating schedule to keep things fair (and to make sure the same person doesn't always end up having to open or close the shop.) Prepare schedules in advance and communicate them with staff to give everyone a chance to make adjustments, if necessary. The key is to find balance. Your store needs staff and your staff needs time away.
Keep communication open with check-ins and evaluations
A casual mention of the words "employee evaluation" can make anyone feel a little bit anxious—even if they're the employer. The trick is to see an evaluation as an opportunity for in-depth conversation about expectations and growth. It's not punishment. It's feedback.
A strong evaluation process starts with clear expectations. Set up clear evaluation criteria and communicate them with staff. It also helps to schedule regular evaluations that are aligned with your training schedule. (Nobody wants to be evaluated every week, but every six months to a year is a good starting point.)
As with all important things: keep a written record. This also lets you clearly track progress.
Make sure your store's layout is inviting
On top of managing relationships with suppliers and staff, successful store management also considers a customer's relationship with space and aesthetics. Much will depend on your store's size and layout, but these questions are good starting points:
Who shops here? Understand your customers and keep them in mind when you design the layout.

Keep things accessible to folks who use wheelchairs. The Retail Council of Canada has some

helpful guidelines

. The U.S. Department of Justice also has resources on the American with Disabilities Act for

small businesses

.

Organize related items together to make it easier for your customers to find what they're looking for.

Avoid overcrowding: aim to balance open spaces and product displays to allow for movement and to give your customers a bit of a visual break between goods.

Use signage to guide people throughout the store.
At The Last Bookstore—an iconic independent book and record store in Los Angeles—there's plenty of room to browse for hours and hours. Cozy couches invite people to stay a little longer. Extra special finds are kept in a separate area, the Rare Book Annex. Thematic displays serve as anchor points in rows upon rows of books.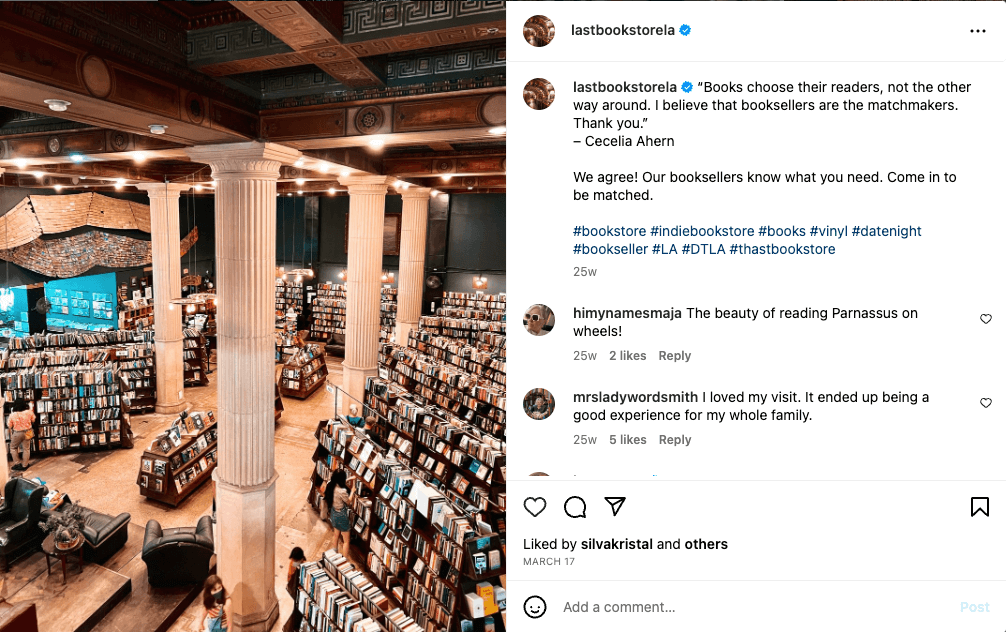 Show off your star products with eye-catching displays
There are a lot of ways to create eye-catching displays in your shop windows and throughout the store.
Here are a few pointers to get you going:
In most cases, the magic begins with a focal point. This can be a key product, a theme or even a color—the goal is to anchor the display.

Use contrast and good lighting to set the display apart. If you can, think about using complementary props to highlight the item you're showcasing.

Feeling shaky about your design skills? The rule of threes is helpful. It tells us to group items in odd numbers, as the result is more visually appealing.

Keep the flow of in-store traffic in mind and consider your display from different angles. Does it invite a closer look? Do products have enough space to stand out?
Scout, a gift shop in Toronto, uses lots of neutral props to showcase different products. Paper goods, socks and home items stand out against wooden crates at various heights.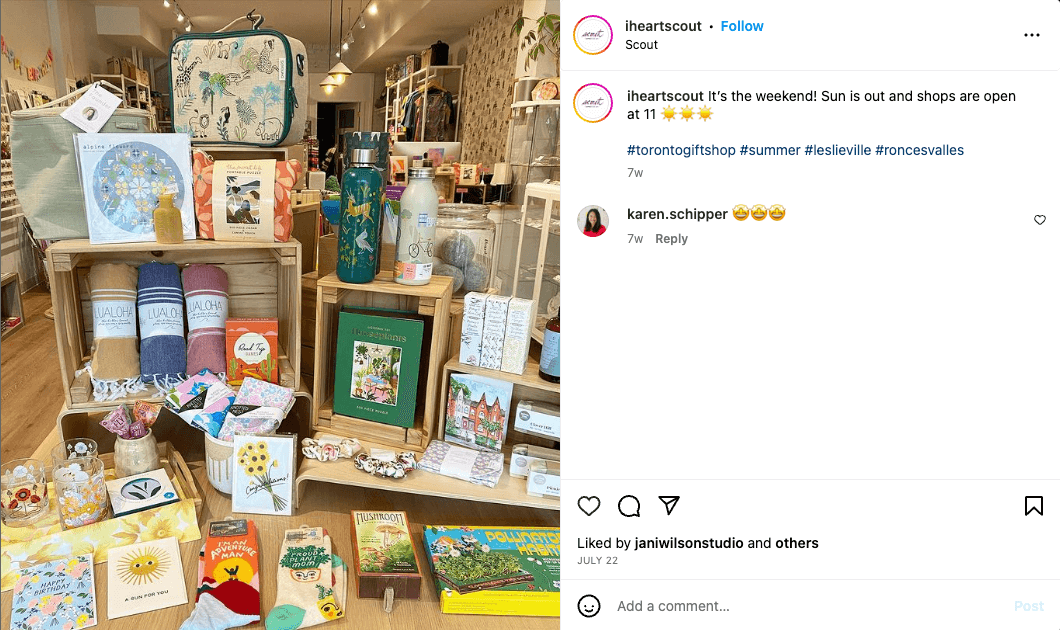 Participate in community events
Local businesses make a huge difference in their communities.
Is your store located near other neighborhood shops? Are you part of a local merchant association? Consider joining forces to have a community event. You can also check out any local happenings—like fairs, concerts in the park, or town celebrations—and find out how to participate. Sponsorships for community events and house league sports tournaments are often welcome. Gift baskets for raffle prizes are also a popular option. (This is also a good way to recruit new hires who are interested in your business and part of the community.)
You can find more suggestions on how to flex your local marketing efforts in this article.
Become a gathering place
Using the store as a space for local events can be a great way to attract new customers. It also develops loyalty among an existing customer base. And it gives staff a whole new way to engage with clients.
That's what a premium board and card games shop has done. Next Generation Games in Los Angeles hosts tabletop gaming nights after regular business hours almost every day of the week. Their calendar is on their website and updated regularly.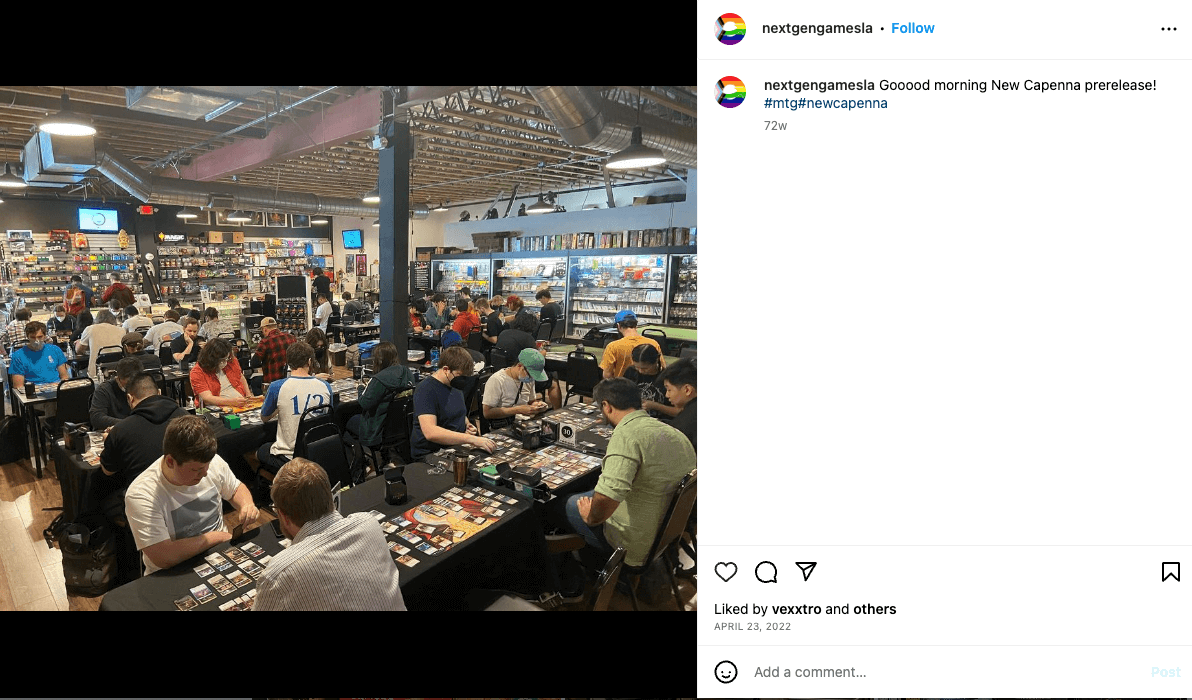 Customers can attend to learn how to play a new game, or fans of a specific game can join groups of other aficionados and play together. And with over 2,000 square feet of space, Next Generation Games can accommodate multiple gaming groups at the same time. This facilitates the kind of discovery that strengthens relationships and establishes new ones.
Establish a loyalty program
No matter what you sell, a loyalty program can help keep your customers engaged—not to mention encourage repeat visits. And with the right POS system, a loyalty program can also help to gather valuable information about your client base. With the right data, you can then develop targeted marketing strategies and focus on selling products that your customers are more likely to be interested in.
Loyalty programs are also great for customers. People often feel appreciated when they receive tangible rewards like special discounts or exclusive access. As a recent report by McKinsey points out, "Strong consumer relationships are the currency of the modern retailer." A well-designed loyalty program can help you build a solid relationship with your customers and set you apart in your field.
Lightspeed Advanced Marketing can help you build and maintain a loyalty program. With automated tools and customizable marketing solutions, it can help you engage with your customers in new ways..
Retail management is evergreen
Good retail management never really ends. It can seem daunting, but there are ways to make it easier for yourself and for your staff. The right POS can help by reducing tedious tasks and freeing up more time to focus on what really matters.
If you're ready to discover what a difference Lightspeed Retail can make for your business, start a free trial today.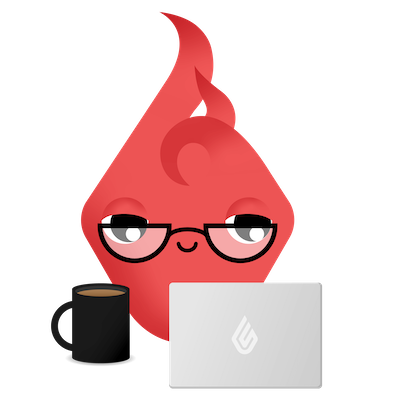 News you care about. Tips you can use.
Everything your business needs to grow, delivered straight to your inbox.