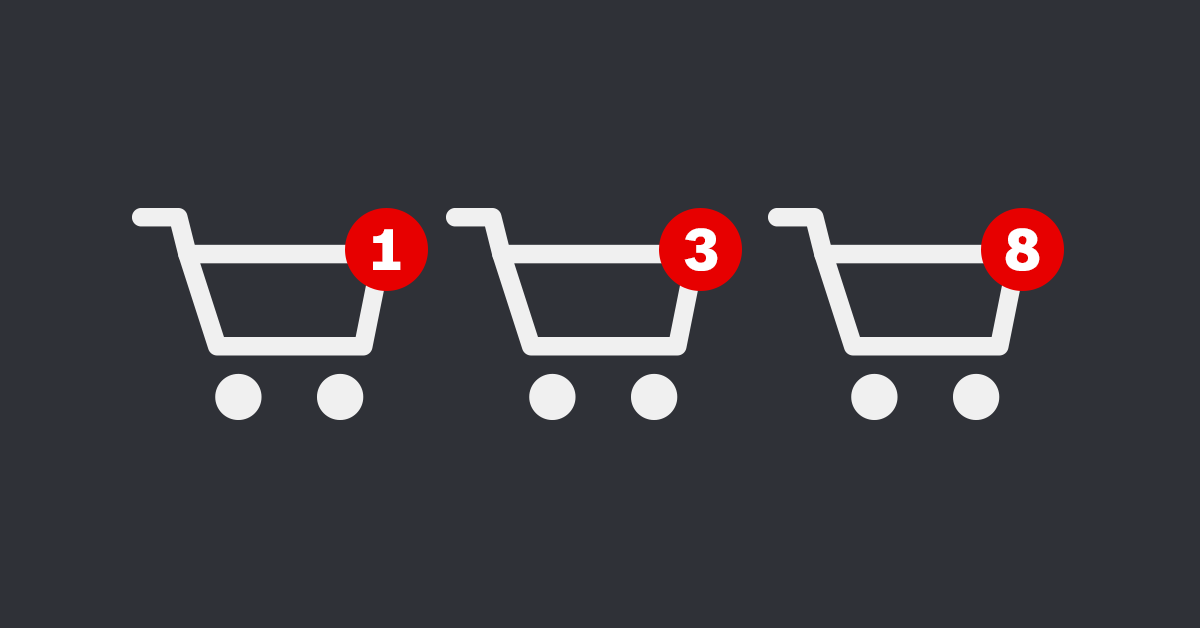 Finding more customers isn't the only way to bring in more revenue from your online store. One of the best ways to bring in more income is to increase your average order value.
In this post, we'll go over:
Reach more customers than ever
Start strong with our foolproof tips on how to get your eCommerce store up and running.
What is average order value and why is it important?
The average order value (AOV) is the average amount of money your customers spend when they order from your eCommerce store.
Your AOV is an important benchmark for understanding customer behavior. By understanding what your AOV is and which products are purchased most frequently, you can figure out how to increase it in a way that makes sense for your customer base.
Some of the main benefits of increasing your AOV include:
Increasing your sales revenue overall

Bringing in more revenue over a shorter period of time

Recovering the cost to acquire customers more quickly

Increasing the lifetime value of your customers
How to calculate average order value
The formula to calculate your average order value is as follows:
Average Order Value = Total Sales Revenue / Number of Orders
You'll need to know your total revenue and the number of orders to calculate your AOV accurately. An eCommerce platform may calculate these values for you so that you don't have to crunch any numbers.
11 ways to increase your average order value
1. Create order minimums for free shipping
To get customers to add more products to their carts, you can offer free shipping if their order surpasses a certain amount. For example, you could offer free shipping for orders over $50. This is a common strategy that many online retailers use to increase their average order value.
If you decide to offer free shipping with a minimum purchase amount, be sure to display this offer throughout your website: on the homepage, on product pages and at checkout.
2. Implement upselling and cross-selling
Whenever possible, display or mention complementary products to your customers to make a bigger sale. This can be as simple as mentioning which items pair well with one another in your product descriptions. Make it clear in your messaging and store layout that your items gain more value when paired with other products.
Some eCommerce platforms give you the ability to add complementary products to each customer's cart to encourage them to add more items.
When it comes to brick-and-mortar retail, your best tool for all things sales-related will always be your salespeople. The relationships (or lack thereof) that they develop with shoppers will make or break your customers' experiences.
You need to give your salespeople the skills and motivation to upsell and cross-sell to everyone who walks through your doors.
Real quick, let us explain the difference between upselling and cross-selling.
Upselling is convincing a customer to upgrade the product they were originally planning on buying. For instance, if a customer comes in to buy the cheapest lawnmower in your store, upselling would be convincing them that buying a more expensive (but better quality) lawnmower is in their best interest.
Cross-selling is adding a separate, though typically related, product to a sale. An example of this would be if a customer goes into a store to buy a shirt and the associate convinces them to buy a pair of pants to make it an outfit.
Both upselling and cross-selling utilize the same general skills from a salesperson: the ability to understand what a customer both wants and needs, and then educating them on your solutions. Ultimately, your associate's goal shouldn't be 'make more money for the store,' but rather 'provide more value.' That goal will give them the empathy to suggest the right products to your customers as well as creating happy and loyal customers.
In the case of the lawnmower, for instance, a sales associate may hear, "I need to get the cheapest lawnmower here. I have a huge yard and my mowers always break within a year so I can't spend much on them." The sales associate can step in and say, "We can totally get you that cheap lawnmower, but before you commit, can I show you this other lawnmower? It's very hardy and comes with a 10-year warranty. It'll cost you $150 more up front, but you'll have it forever so it will save you a lot of frustration and money in the long run."
Cross-selling is essentially the same. The associate just uses the cross-sell to fully solve a want or need.
You can motivate your employees to make sure they're cross/upselling with every purchase in a number of ways.
Set unit per transaction (UPT) and dollar per transaction (DPT) goals for each of your employees.
You can set these up as monthly, weekly, and even shiftly goals. UPTs obviously measures cross-selling success, while DPTs are better for measuring upselling to some degree. Most POS systems these days allow you to set and track these goals easily.
Provide your employees with extra motivation for meeting (or exceeding) these goals by giving bonuses or gifts.
You can also run contests to encourage everyone to meet a temporarily higher goal. When I worked retail, our corporate office regularly offered small reward periods for meeting our UPT goals every day for a certain amount of time. Once they offered a region-wide massive bonus to whichever store in the area exceeded their UPT goals by the most. The region-wide contest doubled our region's average UPT.
Offer light training on what products work together and why.
A hobby shop, for instance, can provide its employees with information on which games are most likely to be bought by the same person. My store, a women's clothing store, did this by creating a poster once a month of the "Key 10" items from that launch that formed a few must-have outfits.
3. Use merchandising to your advantage
The way you layout your merchandise in your store can have a significant effect on purchase value. It can even do some cross-selling for you.
Display impulse purchases and gift cards near the register
Driving impulse purchases typically involve 1-3 things: urgency, value, and/or excitement. This time-honored technique is used by most stores, but Sephora has this mastered.
They've created a clear place to queue for the register by lining a zig-zag with all their travel size products, offering you the chance to peruse while you wait.. After picking out your full-size items, it's hard to resist purchasing a "cheaper" small size of an item you were looking at earlier but couldn't afford. This technique has been contributing to Sephora's massive in-store purchase rate growth in recent years, even as the retail industry's in-store purchase rate has declined.
Looking to sell more gift cards at checkout? Get yourself a nice gift card holder that you can place near the checkout counter. There are plenty of ready-to-use gift card racks, shelves, and holders that you can use in your store, and prices range from around $3 to $35.

Pair items that sell well together throughout the store
Grocery stores, in particular, have gotten really good at these kinds of displays. For instance, Buehler's Fresh Foods moved their cherry pitters next to their cherries and soon sold out of cherry pitters at all of their locations.
Tesco got even more creative after they realized that a large portion of their customers buying diapers were fathers. They began displaying beer and other snacks typically bought by male customers in the same aisle and saw an immediate increase in sales.
Lower the amount of merchandise on the floor to a showrooming level
This creates an atmosphere where customers have to talk to salespeople, thus ensuring a great opportunity to upsell or cross-sell.
Modcloth's Austin, TX, store is one to imitate here. Every item of clothing is displayed in only one size on their floor. Customers are encouraged to walk the floor, picking which items they'd like to try on.
Modcloth's stylists/salespeople then disappear into the stockroom to pull these items. When they return, they don't just bring the original items. Rather, they come back with fully styled looks for each item for the customer to try on. This process feels luxurious for the customer, but it's ultimately a brilliant way to get customers to purchase more items than they planned on. (And trust me, it works. I bought so much more than I thought I would.)
4. Provide bundle deals and bulk options
Group products that go well together or commonly sell together as "bundles." This will encourage customers that were only looking to purchase part of a set to buy a complete (and more expensive) set, thus increasing your average order value.
You can also offer slight discounts for purchasing more than one of the same item. Customers may see the savings that come with buying products in bulk and add more items to their cart.
5. Start a customer loyalty program
Loyalty programs are a powerful way to build up your brand and your wallet. A study by Smile.io found that loyalty programs increase average order value by nearly 14% on average. Not only are they great for getting people to add more to their orders, they help increase customer retention.
Setting up a loyalty program is simple with a retail management system like Lightspeed. Our marketing and loyalty features enable you to easily set up a points system to encourage a higher purchase value, rather than just purchases.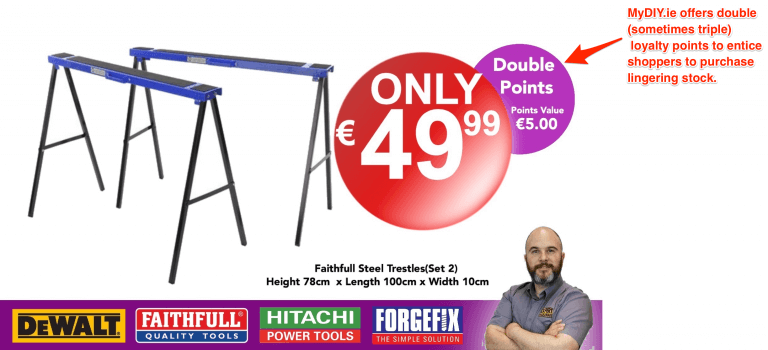 Another cool loyalty trick? Offer more points for purchasing products that you really want to move. Home improvement store MyDIY.ie does this really well.
When it comes to items they want to get rid of or liquidate, the store offers double or triple the amount of loyalty. They mark those products clearly on the shelves, so shoppers know that they get additional loyalty dollars for those specific items.
This enables them to sell those slow-moving products without implementing steep discounts. And since shoppers earn loyalty dollars, those customers are encouraged to come back and buy even more.
6. Provide a more personalized experience
Use data to create more personalized and targeted shopping experiences that will increase your AOV. By looking at customers' order history, you can create marketing campaigns with messaging and products that resonate with that specific audience. The more targeted and specific you can be with your marketing, the more likely customers are to spend larger amounts.
7. Offer limited time promotions
No one wants to miss out on a great deal. Urgency can spark the need to add more items to cart. Try offering short-term discount codes (with a 24-72 hour window) certain items to increase your average order value.
For a temporary increase in purchase values, you can always implement a few different tried-and-true promotions.
A certain percentage or amount off once the customer reaches a chosen threshold. Think "$25 off of $100."

BOGOs. Buy one get one promos are intended to raise purchase values because in order to take advantage of the sale, the customer has to buy at least two things.

Offer bundle discounts. These can usually be offered all year round, as well. For items that a customer would be more likely to buy in bulk if it were cheaper, offer a discount for purchasing more at once. You can even stagger this discount: 10% off for 2, 15% off for 3, etc.
8. Gain customers' trust with social proof
Reviews and feedback from previous customers are examples of what's known as "social proof," and they can have a huge impact on purchasing decisions. Search Engine Watch found that 72% of consumers will only purchase a product after reading positive reviews. If you have glowing reviews for your products, be sure to display them prominently on your store's webpages and marketing materials to entice and reassure customers.
9. Give a free gift or gift card with purchase
Everyone loves a free gift. Similar to the free shipping tactic we listed earlier, entice more people to click "buy" by offering a free gift or a coupon code with purchase. A store gift card or a coupon code offer encourages customers to purchase from you again in order to redeem it—especially if you attach an expiration date to your offer.
10. Be flexible with payments
The budget of your customers directly affects the size of their transactions. If you make shopping at your store more "budget-friendly," you could potentially encourage them to spend more.
One way to do this is to offer flexible payment options such as lay-by or installments. If you're not a fan of not getting paid in full, consider using a solution like Afterpay, a "buy now pay later" solution that allows you to receive payment for purchased items upfront while letting your customers pay in four fortnightly installments. It's interest-free and when paid on time there are no extra costs for your customers.
Billy Parry, Head of Sales – SMB at Afterpay, says that "retailers that have Afterpay in-store see higher average order values than what they see with Afterpay online. Giving your customers the option to pay for their purchase over time means they can buy more of what they want while being able to budget."
11. Establish a flexible return policy
Now more than ever, it's important to be both as transparent and as flexible as possible with your customers. A 2019 survey from UPS found that 73% of shoppers say that their returns experience affects how likely they are to buy from a retailer again. Creating a flexible return policy will help ease any anxieties or hesitancies that potential customers may have about making a purchase from you.
Once you've established your return policy, it's important to display it clearly to your shoppers. The most common places to put a return policy are your purchase confirmation emails, social media accounts and website banners.
Get actionable insights from your eCom and brick-and-mortar stores in one place
Data is key to improving both your online and offline experiences. Make it even easier to see who's buying what and when across channels with powerful analytics from Lightspeed.
Watch a demo to learn more about our integrated eCommerce platform and retail POS system can help you grow your business.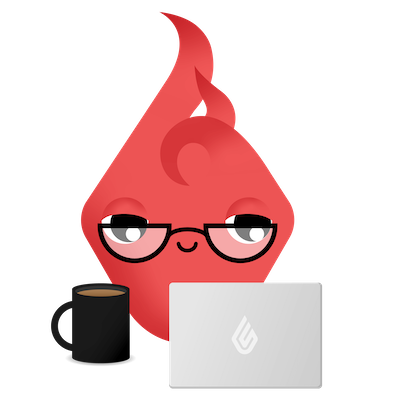 News you care about. Tips you can use.
Everything your business needs to grow, delivered straight to your inbox.