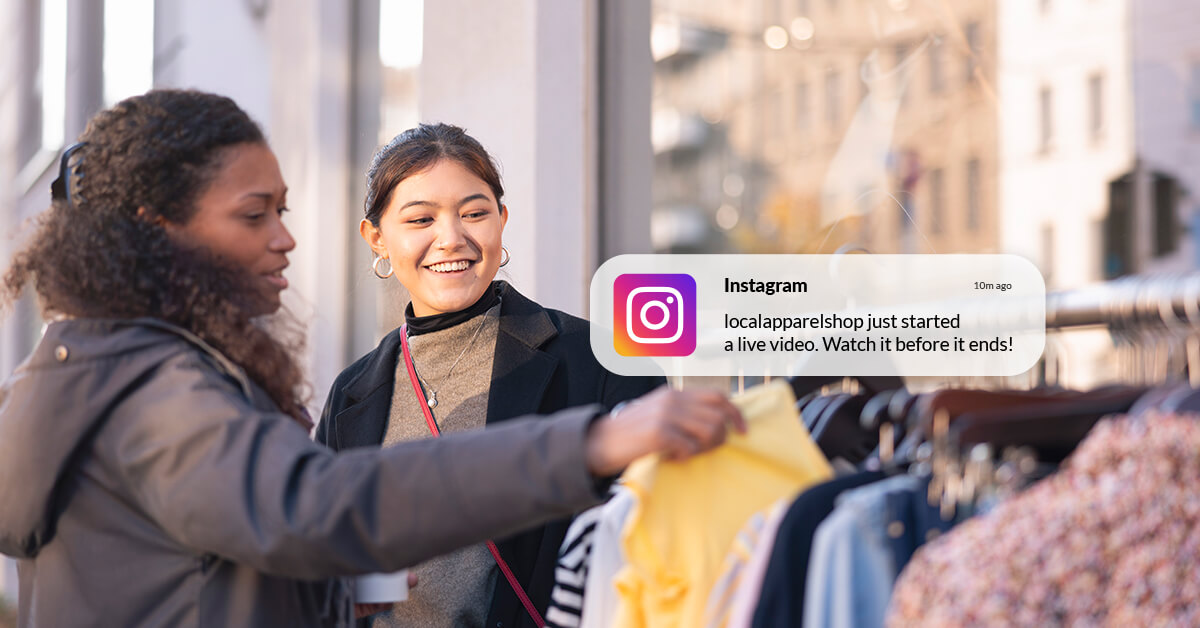 As more businesses around the world open their doors—and as more shoppers venture back into brick and mortar stores—there's one question that can't be overlooked: how do you attract customers in a completely new era of retail?
After more than a year of whenever-they-want eCom shopping, the old techniques may no longer be enough.
Luckily, the new shopper isn't a complete mystery. They've spent a year telling you what they want and what works for them. Now you just need to know how they want it implemented going forward.
To equip you with the information you need to meet the future with confidence, we'll go over the different ways you can attract shoppers today.
7 Ways to Run your Retail Store Smarter in 2021
Help your business thrive in the new era of commerce.
Adapting for the new shopper: how one retailer is moving ahead with confidence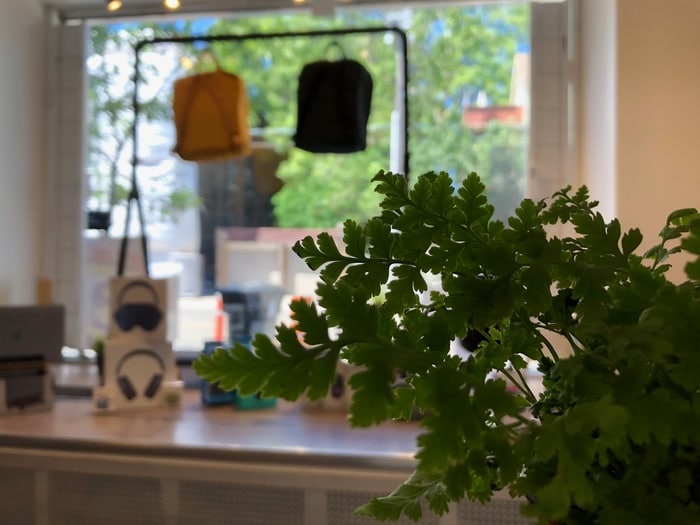 Lightspeed customer RiverdaleMac is no stranger to adaptation. Owner Myles Kesten originally opened the store 26 years ago as a software boutique. As the way people interacted with technology changed, so did the business. It eventually became an authorized Apple dealership and repair center that expanded to multiple locations.
With malls closed for months during lockdowns, Apple stores were inaccessible—but Riverdale Mac, being outside of a mall and offering crucial repair services, was deemed essential.
When the pandemic hit, RiverdaleMac had to change again.
With customers unable to come into the store, repairs had to be dropped off at the door. The colder the weather became, the less feasible that was—Myles didn't want to make his customers stand in the rain and the snow any longer than they had to. Myles turned to Lightspeed for digital tools the RiverdaleMac team could use to keep offering personalized, high quality service even if they couldn't be face to face.
It was a success. Customers reacted well, and the new tools helped the team close gaps in their process they'd had since before the pandemic.
As they reopen, RiverdaleMac isn't going back to the way they operated before the pandemic. The way customers reacted to the changes Myles put into place over the last year taught him key lessons for going forward:
Technology helps with in-person service

. Before, repairs would have to rely on notes written down by employees instead of feedback right from the customer—a game of telephone, Myles calls it. An online intake form meant to speed up repair drop offs ended up being key to giving customers better service by recording exactly what customers want, so it's sticking around.

Give customers a way to request one-on-one attention and they'll take it.

Even in an era of online self-service, people want to come into the store—and they want to be able to request special attention if they need it. For RiverdaleMac, this means giving customers a way to schedule service calls, even when they can visit the store on their own.

Customers need a way to find you if they want to shop local.

The desire to shop local is strong—but as Myles knows, if customers don't know where you are, they can't act on it. Luckily, Myles knew how to attract customers and stay top of mind even as Apple stores reopened by advertising to nearby shoppers.

Keep it personal.

No matter how far away your customers are, no matter how often customers interact with new hires, they should feel like they have a relationship with your business. RiverdaleMac stands out because they center their customers. Retailers need to lean into what differentiates them from the big players in their arena.
How to attract customers in the new era of retail
RiverdaleMac's pandemic adaptations aren't just temporary measures. They're the start of a new way to do retail.
The new shopper has high expectations for the post-pandemic world—a survey found those expectations will continue to rise for 59% of customers, but 56% are concerned businesses won't try as hard to improve digital experiences as they did through the pandemic. There's no going back to normal for these customers, only going forward.
To succeed, you'll need to combine what you know about new shopping trends and what retailers like yourself and Myles learned over the last year.
The trend: trips to the store need to be quick and convenient, but don't rush customers along
Curbside pickup has exploded in popularity over the last year, when customers couldn't always visit stores in person. It likely isn't going to diminish in importance any time soon; part of what draws customers to curbside pickup is avoiding the wait times of shopping in person.
Wait times in many stores are longer than usual thanks to capacity limits meant to enforce social distancing. But even when limits go away—and even if you don't currently have capacity limits—some customers have decided any wait is too much.
You'll need to square this fact away with the eagerness to get back into the store and all the in-person benefits that brings. Customers should be able to quickly move through the store if they want to, and they should always be able to pay without much delay, but they shouldn't be forced out.
One way to address these desires is to lean into curbside pickup—and the related, but slightly different buy online, pick up in store (BOPIS approach. One survey found that 75% of customers made at least one in-store or curbside pickup order in the last six months, indicating it's going to continue to be a popular way to interact with physical stores.
The tactic: catch the eyes of customers who want to get in and out quickly
RiverdaleMac's online intake form helps repair customers get accurate service, fast. How can you attract customers with speedy service in your business?
One way is to keep offering in-store and curbside pickup. During lockdowns, curbside pickup gave customers a way to skip shipping costs and get their purchase faster. That's a selling point that can easily carry over to retail now and into the future, even when it's completely safe to have a packed store again.
For customers who want to shop in store, you can set up extra registers (made easy with a cloud-based POS like Lightspeed) to keep lines short. Once it's safe for sales associates to get out from behind the counter, you can use an iPad POS to check customers out anywhere on the floor.
However you decide to speed things up, from your own intake form to contactless payments for a quick tap-and-go, don't sacrifice service for speed. The new shopper wants both.
The trend: eCom isn't going anywhere, but physical locations are just as important
The eCom boom of 2020 isn't just a flash in the pan. Even as in-store sales pick up, eCom sales show no sign of slowing down, signalling that both channels are important. Brick and mortar businesses need to keep leaning into being available both physically and online, and factor how to attract customers to all their sales channels.
Neglecting online sales and digital marketing in favor of your physical locations will let the new shopper down—64% of online shoppers expect to make more online purchases—but closing up shop and going eCom-only will take you out of the running for the customers who still want an in-store experience.
45% of holiday 2020 shoppers bought a product online after they saw it in store. Maintaining multiple sales channels meshes with how customers want to shop now that they're getting out of the house. While the way online and in-store sales feed into each other is nothing new, expect it to intensify going forward.
The tactic: give customers a way to go from online to offline
If you give people a way to make appointments, they'll take it (as long as they know about it). By offering a way to make an appointment for in-store service through your eCom store, you can help contact-hungry customers to go from online to offline.
There are two groups of customers that will respond well to appointment shopping: those who really miss hands-on customer service, and those who are still nervous about shopping in person because of crowds.
The first group just needs a way to book appointments—Lightspeed users can use shop by appointment—and a sales associate dedicated to one-on-one shopping with them. The second group might be more willing to book appointments if they can be guaranteed space, potentially after your regular opening hours.
While the latter group may dwindle as more people are vaccinated, the former will likely be sticking around. Even as time goes on, appointment shopping will serve that craving for hyper-personalized service that will draw online shoppers to your physical locations.
The trend: customers want to shop safely and locally
The new shopper is concerned about safety, but eager to get out and shop. A study by the Coca-Cola Co. found that many customers were more likely to consider spending at a retailer if the business prioritized hygiene measures like disinfectant wipes, minimal need to touch surfaces and transparent barriers.
The same study found a hunger for local retailers, with 49% of respondents reporting they're seeking out local businesses more than normal.
Even as the world opens back up, many expect to spend more time at home than they did pre-pandemic. Some people will never work in an office again, and more will work hybrid schedules, splitting their time between the office and their neighborhood. Home improvement projects started during the pandemic will continue into the future, and many have left the gym to work out at home.
This translates to a clear opportunity for independent retailers to keep the enthusiasm going to shop local, because you'll be within reach.
The tactic: get noticed by customers who want to shop local
You need a way to be found that helps you stand out among the big names in the industry. While that means leaning into social media engagement and encouraging word-of-mouth marketing, that's not all you have in your toolbox.
So how do you attract customers who want to shop local but don't know your name just yet? By leveraging local inventory ads.
Whenever a nearby shopper uses Google to search for products you carry, your local inventory ads will alert them to your presence. Instead of going right to online marketplaces or big competitors, they'll see they can shop with you.
Tip: Lightspeed users can set up and manage local inventory ads in less time without ever leaving their POS.
You don't need an eCom site to place local inventory ads. However, having an eCom site shoppers can land on moves customers toward visiting your store and placing and curbside pickup for their orders, or by seeing your appointment-shopping offerings.
The trend: influencer marketing will continue to rise
The number of brand and influencer partnerships have been steadily increasing over the past few years, and this trend isn't slowing down anytime soon. Research from eMarketer shows that influencer marketing spending in the United States will hit $4.62 billion in 2023 (up from $4.14 billion in 2022).
While influencers primarily operate online, clever businesses are leveraging influencer marketing to drive offline traffic.
The tactic: invite influencers to your store
A good way to drive traffic to your physical location is to invite influencers and subject matter experts to check out your business in real life. Hospitality companies like hotels, for example, may offer influencers a complimentary stay if they post about their experiences on their social channels.
You could do something similar by inviting influencers in your niche to spend some time at your store. Be sure to create Instagram-friendly opportunities and encourage your guests to talk up your store to their fans and followers.
The trend: customer retention is more important than ever
Having brand new customers walking through your doors is always exciting, but increasing footfall isn't just about driving traffic from new shoppers. You should also strive to get existing customers to come back. You'll find that your current customer base is a much more profitable source of traffic because they're easier to convert.
The tactic: re-engage shoppers at the right time
One effective tactic is to send re-engagement messages. Tell those who haven't stopped by in a while how much you miss them, then throw in a promotion to get them to come back.
Lightspeed Advanced Marketing makes this really easy, by automatically segmenting your customers based on their brand interactions and purchase history. You can then set up campaigns designed to bring back dormant customers (e.g, "We miss you" campaigns).
Another option is to send outreach messages based on the timing of the customer's last purchase. This method can be incredibly effective if you're selling consumable goods that need to be re-purchased or replenished regularly.
The key to making this work is to figure out how often your products are re-purchased. If you're selling cosmetics, for example, you need to know how long a bottle of foundation typically lasts. From there, you can set up an outreach schedule where you contact customers to remind them to come back and repurchase.
This is exactly what Sephora is doing. The cosmetics retailer sends "Restock your Stash" emails which prompt customers to reorder an item they've previously bought.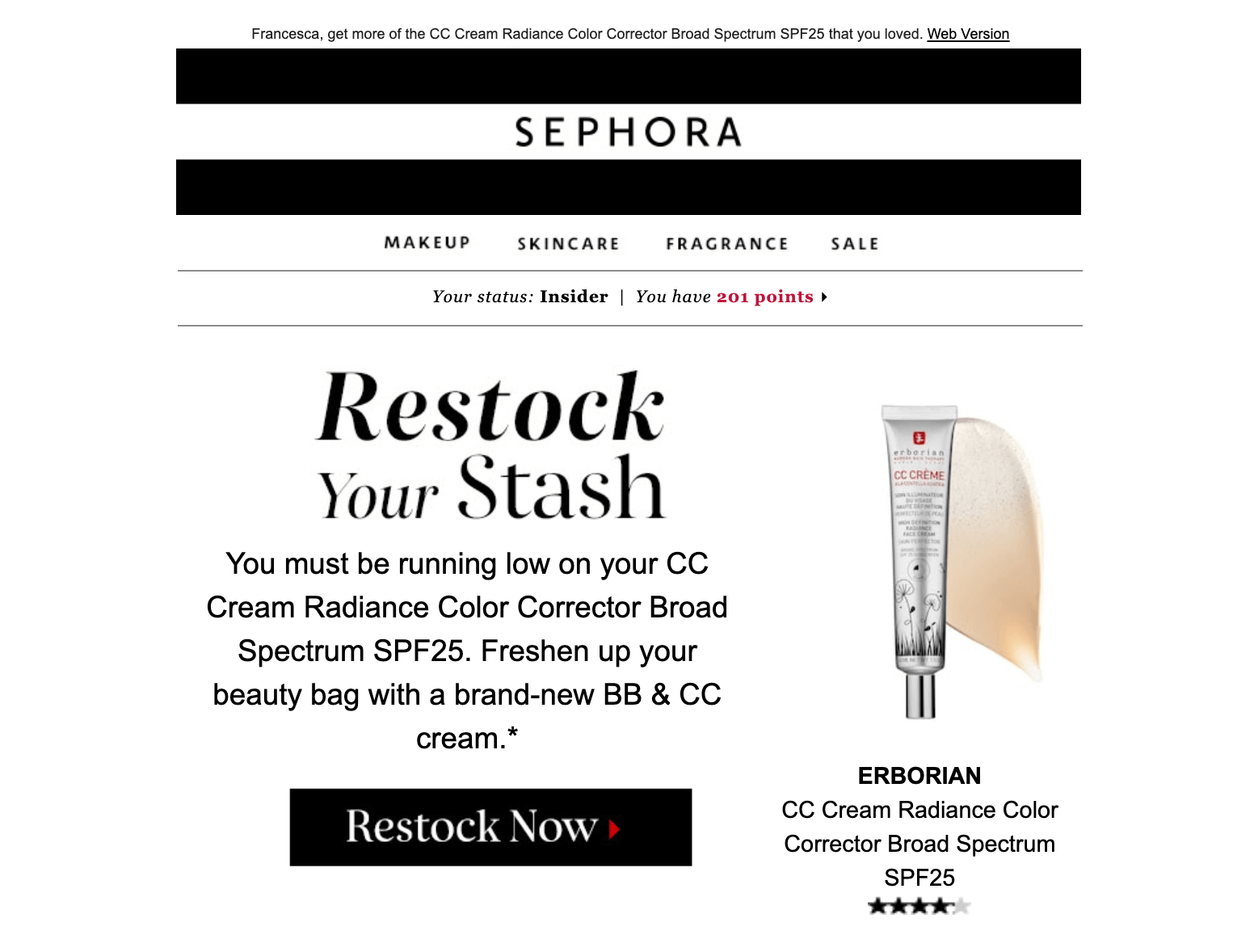 Even better, at the bottom of the message, Sephora maps out the store closest to the shopper and encourages them to stop by in person.
The trend: consumers are putting more value on experiences
Physical products are your bread and butter, and they should certainly be a focus in your business. That being said, you need to remember that consumers today can order physical products from just about anywhere, thanks to online and mobile commerce. For this reason, your store needs to go beyond just selling physical products and also deliver experiences that people won't get online or on their phone.
As Andrew Busby, Founder and CEO at Retail Reflections puts it, retailers should avoid just "selling stuff."
"If your mindset is one of sell, sell, sell then you're not going to get very far nowadays," he says. "The sell should be secondary to the experience. Remember that a store is the physical embodiment of the brand and should be enticing and inspirational. You're selling confidence and self-esteem, not stuff. Sell a feel-good factor and the people will keep on coming back for more."
The tactic: go beyond selling "stuff"
Offer more value to your customers by providing services. If you're a jewelry retailer, perhaps you can offer jewelry cleaning and repairs. Sell apparel? Maybe you can make room for basic alterations.
Should you charge for these services? That depends on your business model, products, and margins.
In some cases, it might make sense to make certain services complimentary. Most jewelers, for example, offer free jewelry cleaning. In other instances, it's better to charge a fee or require a purchase. At Sephora, for example, you can get a full makeover by purchasing $50 worth of products. Analyze your retail market and margins to figure out the right strategy for your business.
Another way to enhance the brick and mortar experience? Make it social.
Remember that brick and mortar shopping, in many ways, is a social activity. People head down to retail stores with friends and family because it's fun to shop with their loved ones. In some cases, shoppers choose to visit physical stores because they want to interact with real people and have back and forth conversations about products.
So, it's a good idea to make socialization a bigger part of your brick and mortar experience. There are a couple of ways to do this.
Get your associates to socialize with customers
Encourage your staff to socialize with your customers. Have them go beyond the typical "Can I help you?" spiel and teach them to interact with your customers in more meaningful ways.
How? Start with having a strong greeting when people walk in. You can strike up conversations through:
Small talk

(e.g., "Are you enjoying your afternoon?" or "Where are you off to for the rest of the day?"

Familiarity

(e.g., "What brings you to see us again?" or "Coming in for another… [insert previous purchase]"

Commonality

(e.g., "Are you enjoying all the sun we've been having?" or "Wow, how are you navigating that traffic?")
Just remember that not all customers would be up for having a chat. Get a good read on them before making your approach. If you're dealing with a shopper who's "just looking" or isn't in the mood to chat much, then say something like:
"Personally, I like to start in this part of the store and work my way around"

"How about I start a fitting room for you while you continue looking around?"
Hold classes or events
Another way to inject more socialization in your store is to run functions that bring people together. Events such as fashion shows or the occasional in-store party can help drive more foot traffic.
Another popular option? Classes. Lululemon, for instance, has found success in holding regular yoga classes in-store.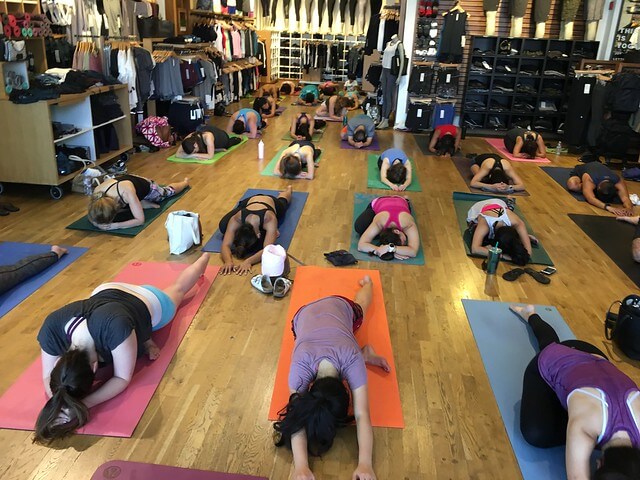 Try doing something similar. Identify a skill or task relevant to your products and launch classes or info sessions to draw people into your shop.
A new era of retail is here. How are you going to attract customers?
As retail continues to evolve, so should your business.
Customers want more convenient, always-available retail. They want to shop locally, and online, and in-person, and at home, and on the go… and they want you to keep up with them.
Lightspeed's one-stop commerce platform helps you embrace new consumer behaviors by giving you access to the right technology. Ready to talk about what you can do?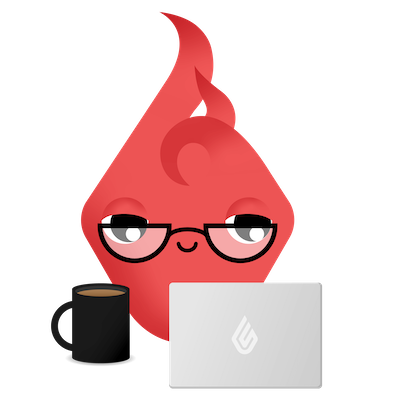 News you care about. Tips you can use.
Everything your business needs to grow, delivered straight to your inbox.