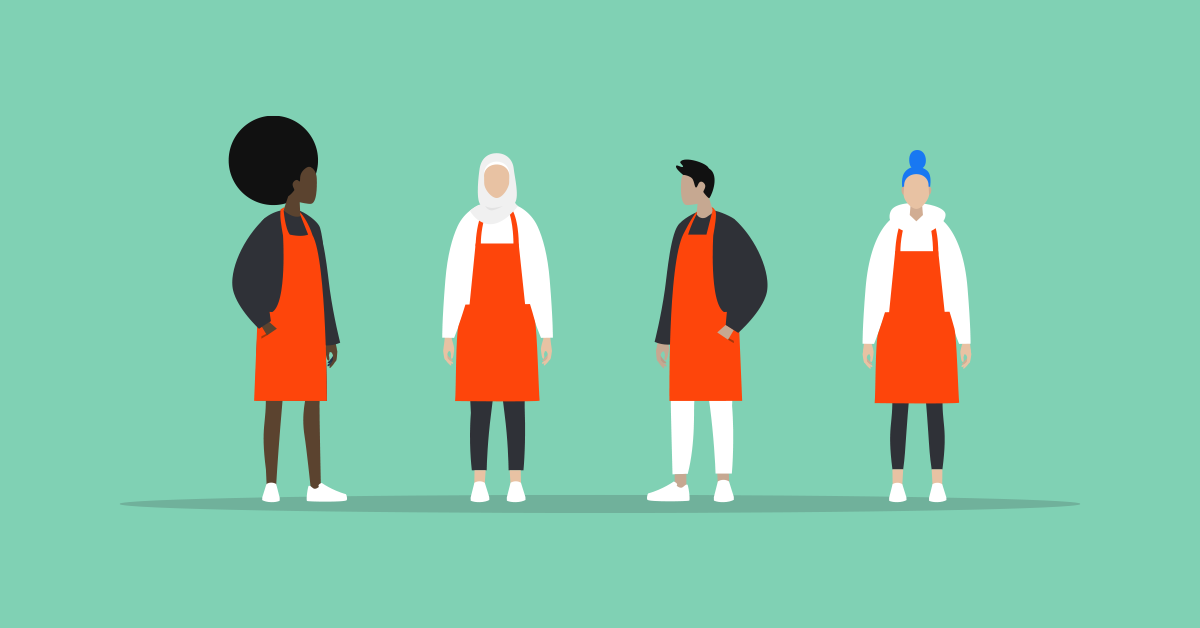 Hiring restaurant employees is a critical function in running a successful business. After all, your team is responsible for the day-to-day operations of your restaurant and giving your guests experiences that will keep them coming back.
However, finding the right people for the job, especially during a labor shortage, isn't easy. How do you know when it's time to hire restaurant employees? How do you write job descriptions that attract applicants? What questions should you ask in an interview?
Use this article as your cheat sheet for hiring restaurant staff. We'll cover:
The ultimate restaurant employee handbook template
Standardize your restaurant's policies, guidelines and processes with your custom restaurant employee handbook.
When is it time to hire restaurant employees?
Consider expanding your restaurant's staff if any of the following applies:
You're opening a restaurant

. Hiring restaurant employees is an all-important step in launching your business, so don't wait until opening day to build your team. You'll need to spend several weeks training staff, so make hiring a priority rather than an afterthought.

You're expanding the business

. If you're adding new service times, expanding your dining room, adding new

revenue streams

or opening a new location, you'll need to grow your team.

The high season is coming

. Whether your restaurant is located in a seasonal destination, like a beach or ski town, or business just picks up when the weather gets nice, you may need to hire new employees for your restaurant before the high season begins.

Service is suffering.

If meals aren't coming out of the kitchen quickly enough or customers aren't getting the service they expect, those could be signs that your staff feels strained and your restaurant needs to hire new employees to handle the workload.
Pro tip: Hiring from scratch when you're in a pinch can lead to rushed decisions you'll regret. Even if your restaurant isn't hiring new employees right now, keep your eyes and ears peeled for quality candidates you could turn to when a role does open up.
What positions do you need to hire for?
The positions you hire for will depend on your restaurant's needs, including its size and service style. For example, a full service restaurant will have waitstaff, while a delivery-only ghost kitchen will not. A large restaurant chain may need in-house HR, marketing, and accounting roles, while a small, independent restaurant may outsource those kinds of expertise.
Here's a near-exhaustive list of restaurant positions you may need to hire for:
Front-of-house restaurant jobs
Host

Server

Bartender

Barista

Busser

Food runner

Delivery driver
Back-of-house restaurant positions
Kitchen brigade positions

, including:

Executive chef

Chef de cuisine

Sous chef

Line cook

Dishwasher

General manager

Assistant manager

HR director

Marketing director

Finance director

Accountant

Takeout food packer

Custodian
For more information about roles to hire, check out our complete guide to restaurant staffing.
How to make the most of restaurant job descriptions
In order to attract candidates, you'll need to create compelling job descriptions and get the word out. Here's the lowdown on what to include in your job descriptions and how to advertise your openings.
How to write a restaurant job description
Your job descriptions should cover the following topics:
Job responsibilities

Required skills

Educational and/or experiential requirements

Compensation and employment status

About the company
Job responsibilities
Describe what you expect the role you're hiring for to do. While many positions are similar from restaurant to restaurant, your business may do things a little differently, so provide as much detail as possible. For example, if you don't have janitorial staff and expect servers to clean bathrooms in addition to their other duties, make that clear in your job description. If you withhold duties from the job description, you could experience high employee turnover.
Required skills
Explain the capabilities and technical skills an employee in this restaurant position needs to succeed. For example, a server might need to be able to carry heavy trays of food, while a delivery driver would need to have a driver's license and a vehicle.
Educational and/or experiential requirements
Describe any degrees, certifications, training, years of experience, and working permits a candidate needs to be a good fit for the role. For example, a restaurant hiring an accountant may look for CPAs (certified public accountants) who are qualified to manage a restaurant's unique accounting needs. A fine dining establishment may look for candidates with a long history in the industry who can deliver the caliber of service that guests expect.
Compensation and employment status
While compensation for restaurant jobs tends to vary less than in other industries, disclosing compensation can save you time by weeding out candidates whose compensation expectations don't match yours right from the start. In a competitive job market, it's also important to list benefits, like paid time off, health insurance, or flexible schedules. Don't forget to disclose whether the role is part time or full time, and if you're hiring for an employee or independent contractor, as the two classifications will have different implications for the candidate.
About the company
Candidates may be unfamiliar with your restaurant, so tell them what they need to know to connect with the business. Explain your origin story, mission, values, and what it's like to work at your establishment. During a labor shortage, quality candidates have a lot of options, so make sure you don't sell yourself short when hiring employees for your restaurant.
Sample restaurant job descriptions
We've provided two sample job descriptions to get you started hiring restaurant employees in no time: a restaurant server job description, and a restaurant general manager job description. Customize these for your business and you'll have templates you can use again and again.
Sample restaurant server job description
Seasonal, Part-Time Server — Ben's Bacon, Chapel Hill
Job responsibilities:
Serve as the face of Ben's Bacon through every customer interaction

Provide exceptional service to guests

Provide personalized recommendations from the menu

Take orders accurately

Deliver food promptly

Clear and clean tables

Process payments

Must be available weekend mornings
Required skills:
You must be able to:
Carry 10+ lb. trays of food

Stand on your feet for several hours at a time

Exude hospitality and professionalism

Work well under pressure

Work well in a team environment
Educational and/or experiential requirements:
2+ years experience working in a full service restaurant

Must be ServSafe certified
Compensation and employment status:
Base compensation of state minimum tipped wage, plus tips

Part-time, temporary employee role: June-August

Must be authorized to work in the United States
About the company: Ben Johnson opened Ben's Bacon in 1967 with a mission to serve the best breakfast in North Carolina. Since then, we've expanded to a dozen locations in three states. When you join the Ben's Bacon team, you become part of a family.
Sample restaurant general manager job description
General Manager — Poutine Palace, Montréal
Job responsibilities:
Coordinate FOH and BOH operations

Conduct employee hiring, evaluations, and trainings

Interact with customers and ensure satisfaction by responding to complaints

Manage team schedules

Control restaurant costs and manage the operational budget

Create promotional campaigns to increase business
Required skills:
You must be able to:
Speak both English and French — our clientele and staff are bilingual

Exude hospitality and professionalism

Lead a team
Educational and/or experiential requirements:
3+ years as an assistant manager or previous experience as general manager

Degree in business or hospitality is a plus
Compensation and employment status:
$50-70k, dependent on experience

Full-time employee position with benefits including two weeks paid time off and generous retirement matching

Must be authorized to work in Canada
Pro tip: your restaurant management can make or break your business. Take the time to think through which traits you're looking for in a general manager before starting recruitment for this critical position.
How to spread the word about restaurant jobs
When hiring restaurant employees, share job descriptions and look for quality candidates through as many of these means possible:
Your restaurant's website

General online job boards like Monster, CareerBuilder, Glassdoor, and Craigslist

Industry-specific online job boards like

Culinary Agents

,

Qwick

,

RestaurantZone

,

Hcareers

, and

iHireHospitality

Local media

Social media, including the restaurant's and your personal social media accounts, and local, industry Facebook groups

Recommendations from fellow restaurateurs

Referrals from your employees
Interviewing tips for hiring restaurant employees
After you've received applications from candidates who look good on paper, you need to interview them to determine if they also shine off paper. Here's how to make the most of the interview process when hiring restaurant employees:
Save time by

screening candidates

over the phone first. These phone calls can help you quickly eliminate candidates who aren't a good fit. Save in-person or virtual interviews for candidates who have proven themselves worthy during the phone interview.

Instead of asking candidates how they would handle a certain situation theoretically, which may not reflect how they'd actually act in a challenging scenario, use questions that elicit specific examples from their experience. You could ask, for instance, "tell me about a time when you experienced conflict with a colleague. How did you work through it?"

You don't have to make questions up from scratch. You can find plenty of

questions for restaurant job interviews

online.

Use a consistent set of questions when interviewing candidates for a particular role so that the playing field is fair.

Leave time for candidates to ask questions so that they fully understand the expectations of the role.

Even though you'll have a candidate's resume in front of you during the interview, give candidates the opportunity to tell you about their experience. This lets them highlight what they think is most relevant.

Before making a job offer, speak to a candidate's

references

to uncover any red flags the candidate concealed during the interview process.
Intro to restaurant staff onboarding
The last step in hiring restaurant employees is the onboarding process. Onboarding involves equipping new restaurant staff with the information and training they need to succeed, getting them set up on your systems, and collecting paperwork. Here's an overview of what to do on a new hire's first day:
Collect necessary paperwork

, including contact information, tax identification paperwork (

Form W-4

for employees or

Form W-9

for independent contractors in the U.S., and the

TD1

in Canada), and employment eligibility verification (

Form I-9

in the U.S. and a

SIN

in Canada).

Start the orientation process

. Provide an overview of your restaurant's story, values, and culture. Give new hires a copy of your

restaurant employee handbook

and

introduce them to the team. Review job expectations, including dress codes.

Begin training

. Explain how training works at your restaurant and what milestones new employees must reach before they can graduate from shadowing veteran team members.

Set new hires up on your tech systems

. Give new team members logins for the tech they'll be interacting with daily, like your

restaurant point of sale system,

restaurant payroll software

, and your team communication tool.
Check out our full guide to restaurant employee training and onboarding for more.
Hiring restaurant employees takes practice
Attracting, hiring, and retaining talent is a skill that takes practice. The more you do it, the easier it becomes. You'll develop templates for your restaurant's server job description. You'll find the job boards that produce the best candidates. And you'll gain instincts for sorting out star talent from duds during the interview process. Ultimately, you'll form a dream team that feels like family.
Lightspeed can help your team members excel at their jobs. Talk to us to find out how.
News you care about. Tips you can use.
Everything your business needs to grow, delivered straight to your inbox.