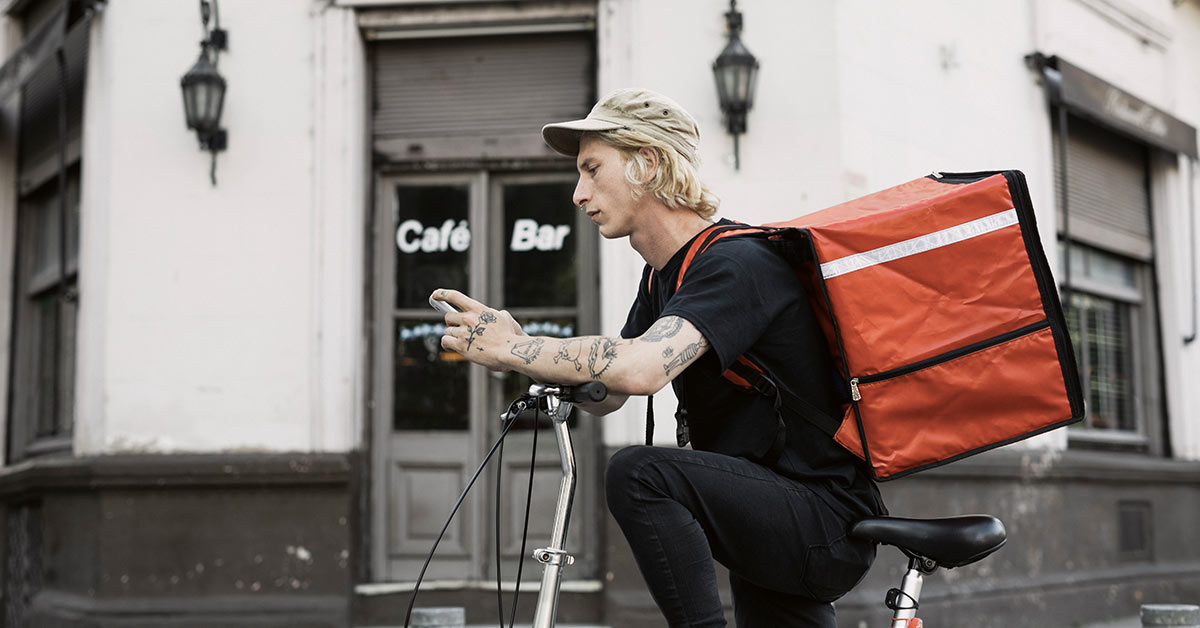 Meal delivery has exploded in popularity. Close to $200 billion USD is spent on delivery and takeout each year—even prior to COVID-19, takeout and delivery are fast-growing segments of the market that can boost your restaurant's sales and brand visibility.
So how do you get started?
In this blog, we'll answer that question as we go over:
Learn the right way to offer delivery and takeout
Now more than ever, consumers are turning to delivery and takeout, but many restaurants are reluctant to embrace those sales channels because of potentially lofty service fees and increased operational complexity. Download our playbook for a detailed look at how to support delivery and takeout and boost off-premise sales.
Why should you offer delivery and takeout?
As restaurants around the world have seen in the past few months, only offering your customers one way to dine with you can leave you unprepared to address sudden disruptions to your revenue.
However, even without a global pandemic requiring restaurants to have delivery options to serve customers, the delivery and takeout segments of your market would be growing—COVID simply helped them along. Millennials, in particular, are flocking to delivery and takeout, with one study finding 6 in 10 millennials using delivery apps in a month.
Offering delivery and takeout gives you a way to serve this growing market. The demand isn't going away any time soon, so these options have gone from a nice-to-have to a must-have. The question shouldn't be should you offer delivery and takeout, but how.
Once you're set up to offer delivery and takeout, you'll need to advertise your delivery and takeout services—but more on that later.
Getting ready to offer delivery
1. Start thinking about a delivery-specific menu
Chances are your full menu contains dishes that aren't the best choice for a delivery item. Items that can melt or spill may not transport well, which can lead to customer dissatisfaction.
Select items that are easy to package and can be refrigerated and reheated without compromising food quality. If it fits your restaurant's brand, consider offering some combo options or multi-course options on your menu to make ordering from you easier for your customers.
2. Stock up on the appropriate takeout containers
Take stock of your new delivery menu and decide what kind of containers you're going to need, such as pizza boxes, cardboard containers or aluminium containers that retain heat. If you'll be delivering drinks, stock up on cups and lids. You'll also want to stock up on paper napkins.
To be eco-conscious, skip the styrofoam and only use plastic containers when you have to to reduce waste. Consider containers made of recycled materials and only including plastic utensils when the customer requests them.
3. Decide if you want to manage your delivery and takeout through a third party on in-house
Both third party companies and in-house delivery and takeout have their own pros and cons.
Third-party companies such as UberEats, DoorDash and SkipTheDishes can offer you more visibility than you may have with in-house delivery, and they'll take care of the delivery logistics for you, so you'll just have to be prepared to hand over takeout orders. On the other hand, they take a cut of the revenue, and not being in control of the delivery process could mean customers blame you for food arriving cold or damaged when that's not your fault (though some third party delivery companies, such as SkipTheDishes, do make it clear to customers they're the ones in charge of delivery quality).
In-house delivery gives you more control, which means you can set your own quality standard for delivery. You don't have to worry about having to lose up to 30% of your delivery and takeout revenues to third party companies, either. If you want to go that route, platforms such as UEAT can get you started. However, you'll have to take on the expenses of payroll for delivery drivers, vehicles for delivery drivers (be they cars or bikes) and the tools to ensure your deliveries arrive at their destinations hot like insulated bags. You'll also have to have a website customers can order from, though UEAT can help you out there.
Unless you have a large customer base that you can easily communicate your new delivery and takeout services too, it may be best for you to try out using both third-party companies and in-house delivery and takeout services if that's feasible for you. You could also start with delivery and takeout through third-party companies, and in-house takeout, as it requires obtaining less equipment.
Promoting your takeout and delivery service
In addition to getting your delivery and takeout services going, you'll need to start promoting them. This is where you should turn to social media.
First, you'll need some content.
Take a look at your delivery menu and identify the most visually appealing dishes you offer. Prepare them and take some photos—these should be high-quality photos with proper lighting and an appropriate backdrop. You may want to consider hiring a professional photographer if you don't have access to the right resources for this.
Once you have the photos, check the image sizes of the platforms you plan to post on. If you don't have access to a photo editing program, you can use sites like PicResize or Fotor.
Next, plan out some graphics. These graphics should advertise any special events you have (such as happy hours or daily specials). They should also announce that you offer delivery and takeout and through which platforms—you could include order suggestions or reminders that your delivery is a perfect pairing to a night in. In addition, consider making graphics that celebrate special events, such as Mother's Day or Halloween, if that fits your restaurant's brand. Again, these should be made in the image sizes of the platforms you plan to post on.
Don't have Photoshop? No problem—you can use one of these tools.
Canva

has free plans and free trials for Canva Pro that can help you craft high-quality social posts from templates.

Easil

also has free plans available. Their premade templates include graphics for a variety of special events.

Stencil

, again, has both free and paid plans. Their templates are eye-catching, but they have less selection than Canva and Easil.
If you're planning on using Instagram and Facebook as your social platforms—and you definitely consider at least one, don't forget to make story posts with your graphics and photos as well. These should also advertise daily specials and remind customers of your delivery options.
Then you'll need a posting schedule.
Time to decide how you want to manage posting. If you're sure you can keep a strict weekly schedule, you could try handling your posting manually—but if you'd rather not do that, you can use tools like Sprout Social or Hootsuite to schedule posts in advance so you only have to manage your posting schedule once a month or so. Hootsuite has a free plan if you'd prefer to start without spending extra, but you'll only be able to manage 3 profiles.
Using a spreadsheet, plan out a calendar of posts. Pick the days you want to post—you could start with 3 times a week and see if you want to increase your schedule from there.
Plan out the text you're planning to use on each post in this calendar. Keep in mind character limits—your tweets are going to have to be shorter than your Facebook posts.
As you plan your schedule, switch up the content. In addition to enticing photos of your menu and reminders of why customers should consider your delivery and takeout services, consider photos of your restaurant, reviews from customers and posts that capture the spirit of your restaurant's brand. The plan should be to start building up an audience of customers who are interested in your restaurant, not just your delivery and takeout services—because that will give you a wider reach to entice them to try you out.
Delivery and takeout are essential
In today's world, a restaurant without delivery and takeout services is one vulnerable to being left behind by your competitors.
By offering your customers a choice of how they want to patronize your restaurant, you can boost your revenue and ensure your restaurant is ready for how dining out—or in this case, dining in—may keep changing and evolving.
If you're interested in getting started with delivery through Lightspeed, we're making it easy by offering 3 months of Lightspeed Delivery powered by Deliverect for new and existing customers both. Let's chat about how delivery will empower your restaurant to meet the future with confidence.
News you care about. Tips you can use.
Everything your business needs to grow, delivered straight to your inbox.