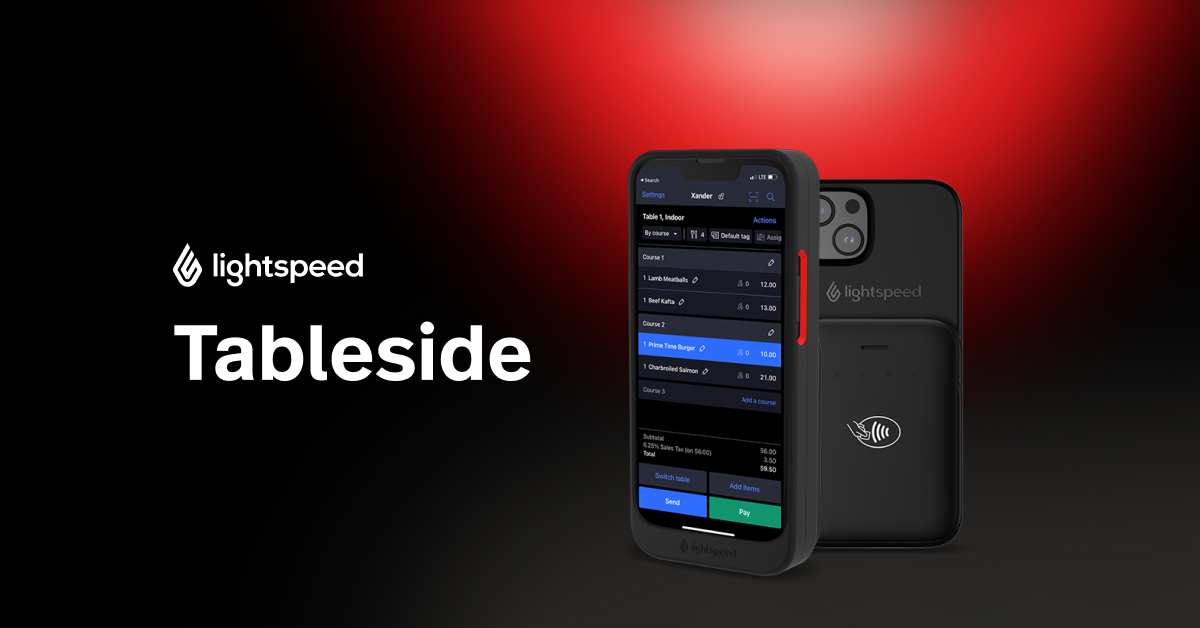 When the pandemic hit, restaurants had to transform their operations seemingly overnight, and move quickly to embrace new technologies, like contactless payments and delivery integrations. After surviving wave after wave of the pandemic, and having to adapt overnight to lockdowns and restrictions, restaurants are facing a new set of challenges: labor shortages, record inflation, sky-high food costs and changing consumer behavior and expectations.
Fortunately, the technology that helped restaurants survive the pandemic can help them thrive despite these new industry challenges. Contactless and tableside ordering and payments make it possible to serve more guests—faster and better—with fewer staff.
Keep reading to learn everything you need to know about tableside ordering and payments, and how to put them into action in your restaurant.
6 Ways to Run your Restaurants Smarter in 2023
Find out how to help your business thrive in the new era of hospitality.
What is tableside ordering?
Tableside ordering is when customers order and pay for their food and drinks at their table instead of at a central service counter, either with the help of a server armed with a handheld pos or on their own mobile device. Tableside ordering is usually found in sit-down restaurants, from fine dining to bars and pubs, but it's also gaining popularity in quick service establishments as a way to handle long lines.
Tableside ordering speeds up the service process since customers don't have to wait in line—they may not even have to wait for the server to place their order, if you're using QR codes. It's also more convenient for customers because they can order and pay for their food and drinks without getting up.
What is a tableside ordering system?
A tableside ordering system is a technology-driven solution that streamlines the ordering and payment process. There are a few different ways that tableside ordering can be set up in restaurants:
QR code ordering system

handheld POS system

self-service kiosks
With a tableside ordering system, servers or guests can place an order, send it to the kitchen to be prepared, and, if tableside payments are enabled by the restaurateur, even settle the tab in a matter of seconds.
Restaurateurs can choose to incorporate tableside ordering and payment functionality, just ordering, or just payments, depending on their preferences and workflows.
What are tableside payments?
Tableside payments is the process of taking a payment at the customer's table. It usually involves a server who brings a handheld device to the table, as opposed to collecting the cards and bringing them back to a central point of sale (POS) to settle their bill. Tableside ordering systems often include tableside ordering and payment functionality, but the term tableside payments could simply mean that a restaurant is equipped with portable payment terminals.
If you're already set up for tableside ordering but not for payments, enabling this functionality can help you take your ordering and payment processes to the next level, as well as greatly improve the guest experience. To implement tableside payments, you will need a handheld device, such as a portable payment terminal or a portable POS system ("handheld POS").
The most common types of restaurant tableside ordering systems
While self-service kiosks do exist in some restaurants, the hardware for this solution can get pricey very quickly, which is why they're primarily used in larger food chains like McDonalds. For this and other reasons, QR code ordering systems and handheld POS systems are far more popular and cost-effective tableside ordering systems.
QR code ordering systems
With QR code ordering, customers scan a QR code with their mobile device, which brings up the restaurant's digital menu on their device. They can browse the menu, order and pay with nothing more than their phone.
With sophisticated QR code ordering systems like Order Anywhere, guests can even split and settle the bill using multiple payment methods.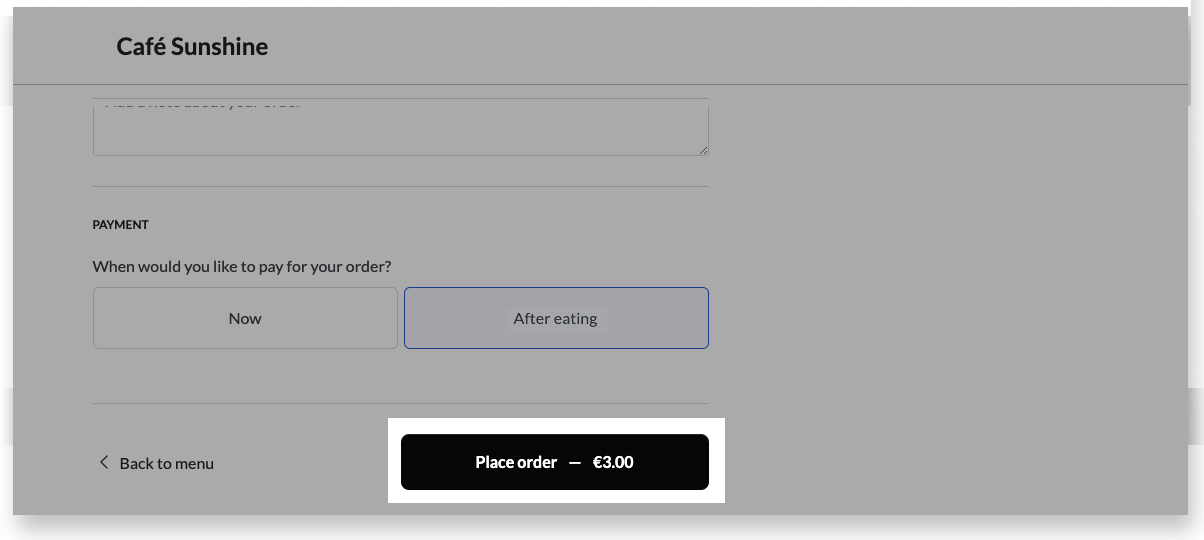 Handheld POS system
Another way to incorporate tableside ordering into your restaurant operations is to equip your servers with a handheld POS system, also known as a mobile point of sale (mPOS) system. A handheld POS system basically makes it possible for your servers to carry around your POS and payments system in their pocket or apron.
Instead of scribbling orders down by hand, or trying to remember orders in their head, servers can take and punch in orders, process contactless or physical card payments and email receipts to customers—all without leaving the table. Orders are then sent directly to the kitchen so they can start being prepared.
Incorporating these portable POS systems into your operations can significantly reduce waiting times for guests, improve order accuracy and give wait staff access to your menu and important information at their fingertips. That means no more time- consuming back and forth with the kitchen about whether this or that dish contains a specific ingredient or allergen. (Hallelujah!)
By speeding up the ordering and payment process, servers have more time to focus on providing a great guest experience, running food to tables while it's still hot, clearing tables and getting glassware back to the bar, and the million other duties that keep your restaurant running smoothly.
Features built into tableside ordering technology, such as "suggested items" and pop-up prompts, also remind your servers to upsell every order, so you can increase revenue even with fewer staff.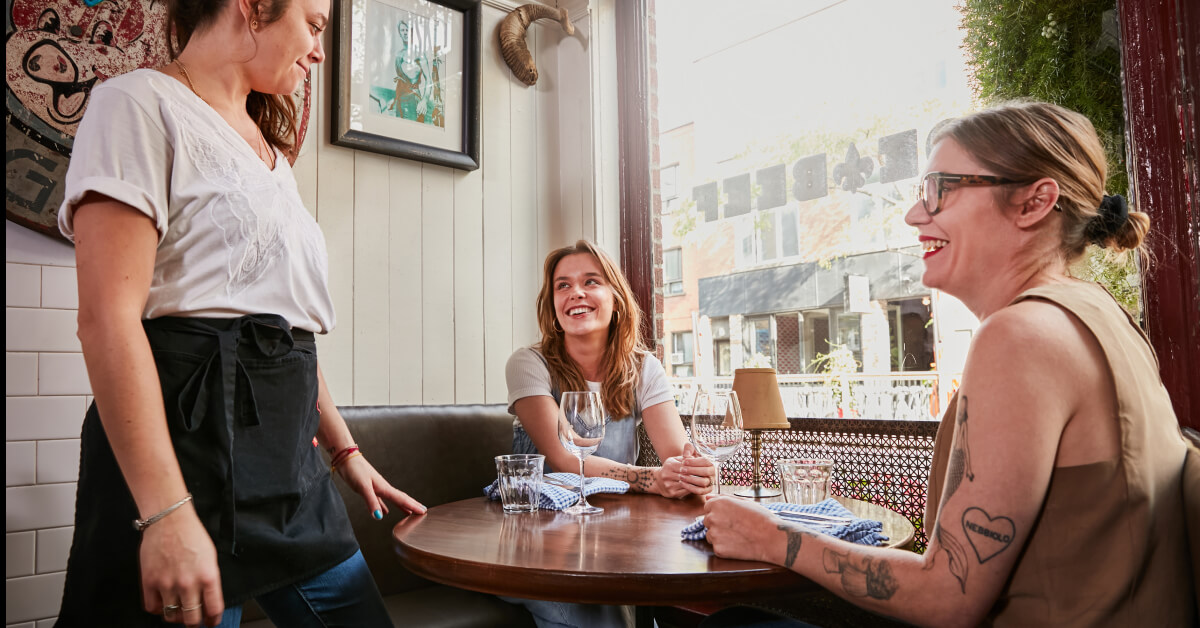 Top 10 benefits of tableside ordering for restaurants
There are a great deal of benefits to implementing tableside ordering technology in your restaurant. Here's what restaurants can do with a tableside ordering system:
Serve more guests with fewer staff

Improve efficiency by saving your staff from running back and forth to the POS

Increase revenue with upsells and order taking on the fly

Reduce operating costs with flexible ordering systems

Improve order accuracy and kitchen communication

Improve customer experience with faster service

Make staff happier and improve staff retention with increased tips

Keep up with changing customer behavior

Improve security by processing payments in plain sight

Collect valuable marketing data by collecting guest info right from the table
1. Serve more guests with fewer staff
We're in the middle of a serious labor shortage and restaurants have been hit hard. It's harder than ever to attract enough competent staff and keep them showing up to work. With tableside ordering, you can operate and provide exceptional service with fewer employees.
2. Improve efficiency
Tableside ordering streamlines the ordering process, reducing the time it takes for orders to reach the kitchen. This leads to faster service and quicker table turnovers. It also helps prevent your kitchen from getting overwhelmed, because servers no longer have to take multiple table orders and then punch them into a central POS all at once.
3. Increase revenue
Tableside ordering speeds up service so wait staff can serve more customers. Upselling features built into tableside ordering technology remind servers to upsell, increasing average check size. Plus, you won't lose money because your servers are in the weeds—guests can order and pay without waiting for a server to come to them.
4. Reduce operating costs
Servers can efficiently manage more tables with tableside ordering systems, which reduces the number of staff needed on the floor. This is a game changer for restaurants struggling to maintain a full staff or trying to keep labor costs under control. (So, all of them.) Digital menus can also save you a lot of money on paper and printing costs.
5. Improve order accuracy
When customers place their own order, there's a very slim chance of error. And when servers take orders at the table with a handheld POS, they're guided intuitively through the ordering process, so modifiers like "fries or salad?" aren't missed or forgotten. Orders are then sent directly to the kitchen, helping make comps and voids a thing of the past.
6. Improve customer experience
Besides giving diners more convenience and control, tableside ordering frees up your servers' time, so they can focus on ensuring an impeccable, personalized dining experience to every guest. Faster and better service also equals higher customer satisfaction, more brand loyalty, repeat business and better reviews.
7. Improve staff retention
Tableside ordering enables servers to handle more tables, which translates to more sales and tips for each shift. More satisfied customers also tip better. Money aside, it's also more fun to work a shift where things are running smoothly. Happy, satisfied employees tend to stay longer and view hospitality as a viable long-term career.
8. Keep up with changing customer behavior and expectations
Years of online ordering, delivery and curbside pickups have permanently changed consumer behavior and expectations. Roughly 60% of diners say restaurant technology, including mPOS systems, improve convenience and a whopping 84% of consumers expect brands to deliver new digital solutions in the coming years.
9. Improve security
Fraud is an unfortunate reality for any business, and restaurants are no different. Tableside ordering and payment means customers' cards never leave their hands, so customers can be confident that the transaction is safe and sensitive information won't be exposed to potential fraudsters.
10. Collect valuable marketing data
Sophisticated tableside ordering technologies like Lightspeed's Order Anywhere integrate seamlessly with your POS, and unified payments power real-time data on every transaction. With Lightspeed, you can track sales and inventory, improve staff performance, leverage insights into your customers and buying trends for marketing and loyalty programs, and so much more.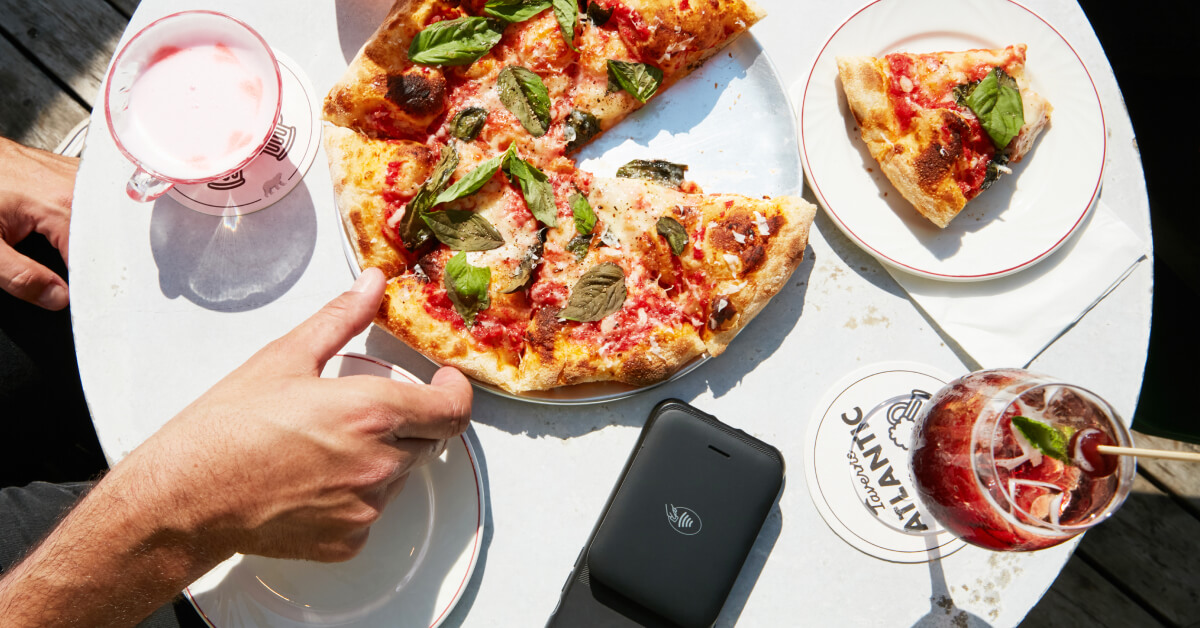 How to choose a tableside ordering system
Now you know all the reasons why you should bring tableside ordering technology into your restaurant—now let's talk about how to choose the right tableside ordering system for you. Here's how to do it in five easy steps:
1. Explore your options
First, decide which tableside ordering systems you're interested in. Do you want to use a QR code ordering system, a handheld POS system or both? Using both systems together can really kick your sales and service into hyperdrive, but you're under no obligation to adopt both, or to adopt both at the same time. You can always start with the system that's fastest and easiest to set up, then add the second if and when it makes sense for you.
2. Decide how you want to let customers order and pay
Do you want to enable customers to order and pay tableside, or just browse a digital menu? Or browse and place orders, but settle their tab with a server? Every combination is possible, but having an idea of how tableside ordering will fit into your current operations and workflows is an important consideration.
3. Research restaurant POS and tableside ordering system providers
This is really important. If you already have a point of sale, does the tableside ordering system you're considering integrate seamlessly with your current POS? Is it possible to extend the functionality of your current system, or will you need to invest in a new restaurant POS? If so, do the benefits justify the investment?
4. Take a deep dive into your short list of potential vendors
At this stage, you should have a short list of tableside ordering system providers who can integrate with your current POS, or who you are considering for a complete POS replacement. Before making a decision, be sure to take a close look at each vendor's:
features and functionality

hardware and software

customer support

payment capabilities (make sure they can take

up-and-coming payment methods

like Apple Pay, Google Pay and Samsung Pay)

pricing
5. Schedule a demo and a free trial
Once you've narrowed down your options to maybe two or three vendors, it's a good idea to schedule a live demo, request a call from a POS expert who can help you decide if the solution makes sense for you, and, if possible, arrange a free trial. Based on your hands-on experience with the systems and expert advice, you can make a final decision.
Lightspeed restaurant point of sale and tableside ordering
Lightspeed offers both types of restaurant POS systems with tableside ordering. Whether you're interested in tableside ordering with QR codes, or ready to add a handheld POS system to your current set up, Lightspeed tableside ordering technology integrates seamlessly with your POS.
With our sophisticated restaurant technology, restaurants can save time and money, increase profits and tips, keep track of inventory and waste, and increase guest satisfaction all while working with fewer staff.
Tableside ordering and payments FAQs
How does POS payment work?
Point of sale (POS) payments work differently depending on whether your point of sale (POS) software provider has embedded or integrated payments built into their platform. Non-integrated payment systems don't communicate with the POS, so manual entry is necessary to process payments—greatly increasing the risk of human error. A unified POS and payments solution is a closed ecosystem that creates a seamless checkout experience for your guests and saves your wait staff time on manual entry.
Here how POS payments work with a unified POS and payments system:
Inside your restaurant, the customer taps, swipes or inserts their card, or uses a digital wallet to pay. Online, the customer enters their credit card information in a payment form embedded into your website.

For online payments, the embedded payment provider securely transmits the data. Both online and in-person, the provider verifies with the card's issuing bank that there are enough funds available to process the transaction.

The customer's account is debited and the funds are sent to the restaurateur's account. The sale is automatically recorded in your POS.
Because they are less intuitive and less efficient, non-integrated payment systems are far less common today.
What's the difference between a payment terminal and a handheld POS system?
Payment terminals, also called credit card terminals, have the simple purpose of accepting or declining credit cards, debit cards and mobile payments like Google or Apple Pay. A handheld POS system, or mobile point of sale (mPOS) system, is literally a portable version of your restaurant point of sale, enabling wait staff to take orders and payments tableside, curbside or on the go. An mPOS system often offers more features than a standard payment terminal, such as order taking, coursing, inventory tracking and automatic batch reports.
What is mobile POS payment?
Mobile POS payment refers to any payment processed with your mobile point-of-sale system. An mPOS system is made up of portable hardware (e.g. smartphone and card reader) plus point of sale software—that's it. With a handheld POS system, restaurants can turn any smartphone or tablet into a portable checkout counter. Simply install POS software onto your smartphone or tablet, pair it with your card reader, and start serving customers from wherever they are.
Ready to get started taking tableside orders and payments? Talk to an expert to see if Lightspeed is right for you.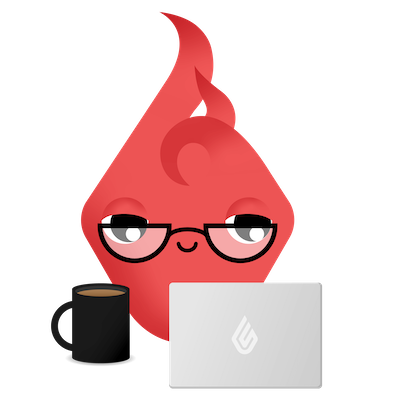 News you care about. Tips you can use.
Everything your business needs to grow, delivered straight to your inbox.