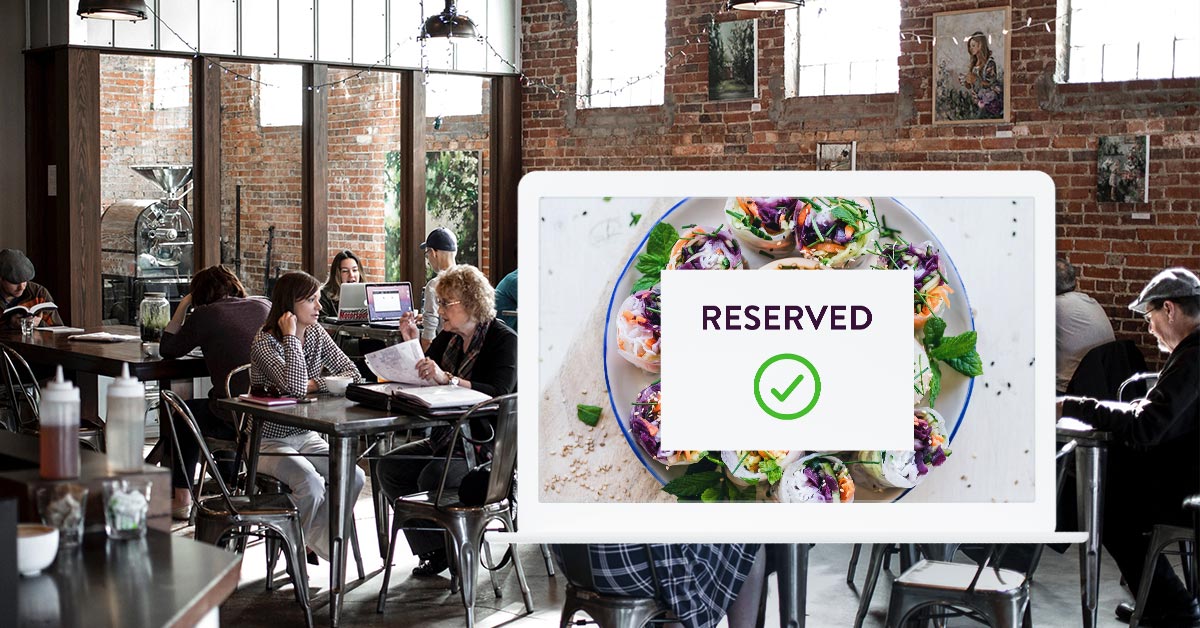 As a restaurant operator, deciding which online reservation software to use can be the difference between a full book every night of the week, and sending servers home with an empty room. With an online reservation software that enables you to collect and utilize data to connect directly and more deeply with guests, you'll never have to worry about guests finding and booking a reservation at your restaurant.
Read on for tips on what to look for when picking an online reservation software, as well as digital marketing tricks to get discovered online by more guests and translate that site traffic into booked tables.
How to supercharge your online restaurant reservations
Let customers book reservations on Facebook and Instagram
Dominate Google Search
Find the right online reservation software
Let customers book reservations on Facebook and Instagram
You've found your online reservation software and it ticks all the boxes. Now it's time to put it to work for you.
By creating business pages for your Facebook and Instagram accounts, you've taken the first step in being able to capture online reservations for your restaurant. This is an important part of your restaurant marketing strategy, but you're not done yet.
The next step of any restaurant social media marketing strategy is to ensure that you have a way for guests to book directly with your restaurant, whether they're scrolling through your feed on Instagram or searching for your restaurant on Facebook. This means adding your reservation widget across your social channels.
Facebook
Simply edit the 'Book Now' button underneath your cover image and add the link.
Instagram
Click Edit Profile > Contact Options, select your preferred online reservation software and copy and paste your booking widget link into the URL bar.
For both channels, ensure that you have proper tracking set up on your links so you're able to attribute reservations to each channel.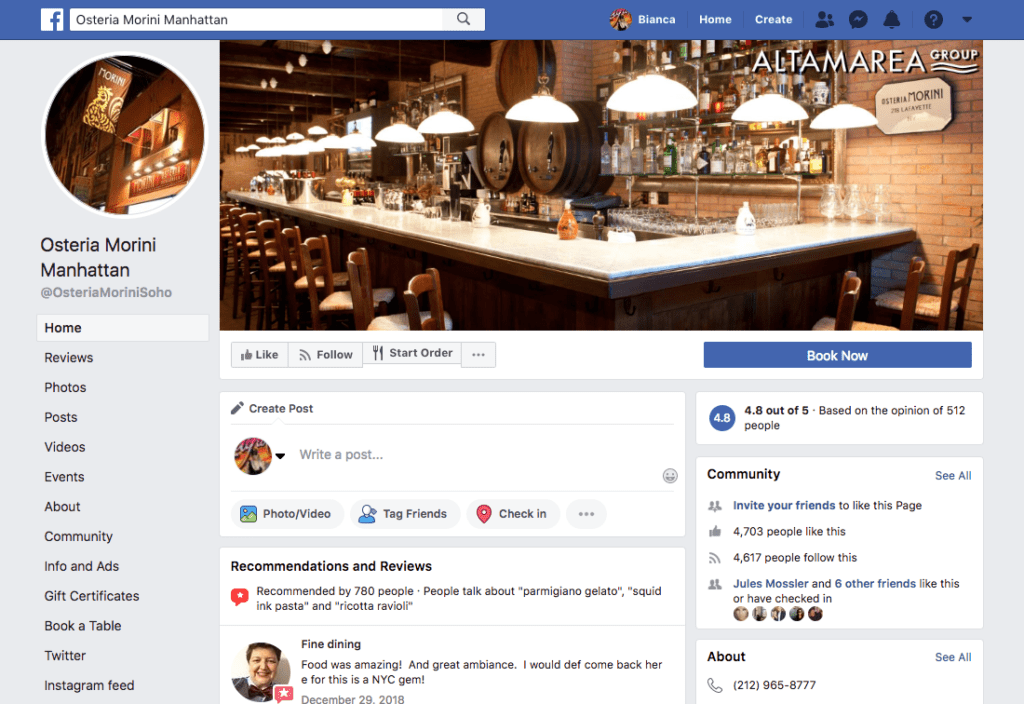 This is when your online reservation software selection becomes important. When you use a third-party reservation widget on your social channels, you're not able to optimize their value because you don't control or have the ability to access your guest data. This prevents you from offering truly memorable experiences to your guests.
On top of that, you're likely also paying acquisition costs for each reservation, even though they're finding you directly. This costs you thousands of dollars in the long run — and is easily preventable!
Once you've set up your social media channels, the next step is promoting your restaurant through these platforms. You can do this in two ways: organic and paid. Content should be carefully curated across both organic and paid social, as each reaches crucial audiences to keep your business full each night.
Organic social
Organic social is when you use the free tools on each social network to build a community and interact with them by sharing posts and responding to their comments.
Since organic social media posts mostly reach your existing guests and followers, content should be authentic and directly align with your brand. When creating a strategy for organic social media posts, look to the rule of thirds:
⅓ sales posts

⅓ user-generated posts

⅓ brand posts
Sales posts
Are you planning on selling tickets to a special truffle dinner? Or want to include a box of chocolates or bouquet of roses as an upsell for Mother's Day? Just want to drive more reservations? These are sales posts, meaning they're created to drive more direct business to your restaurant.
User-generated posts
For restaurants, user-generated posts are an important tool to engage with your community. By sharing photos taken by your guests, you're not only showing that you care about your guests' experiences, you're highlighting the types of memorable experiences guests will have at your restaurant. This will help build brand loyalty and affinity for your property.
Brand posts
Brand posts make up the final third, and should directly reflect your unique brand, property, and staff. From a fun photo of a waiter showing off your latest burger creation, to a behind-the-scenes shot of your chef in action during service, these posts are a great way to show off what makes your restaurant unique.
Paid Social
Paid social is when you pay to display advertisements (whatever the format—text, image, video, carousel, etc.) or sponsored messages to social network users based on their user profile. You pay based on what type of ads you use.
U.S. social media advertising revenue was estimated to reach $15 billion in 2018, but why are people spending so much money to share their content? With the rise in popularity of social media sites, organic reach is significantly down. To get your message and brand seen, a paid social strategy is a must.
But the biggest challenge is in (1) how to set up paid social 2) knowing how much to spend, and (3) figuring out what to share.
Setting up Facebook and Instagram ads
The first step to any campaign is getting Facebook Ads Manager set up for your business page. This allows you to create, manage and track any ads you decide to run on Facebook, Messenger or Instagram.
To

create a campaign

, navigate to the 'Campaigns' tab, and click 'Create.'

Select your

campaign objective

. This is an important step, as Facebook uses this information to help optimize your campaign. In the case of driving reservations via your website (and keeping your restaurant full!), you'll want to select 'Conversions.'

Give your

ad campaign a unique name

that clearly states the purpose and type of content your sharing (e.g. Mother's Day 2019 Reservations – Promo). This will help you keep track of campaigns as you create more over the course of the year.

Campaign budget.

There's no exact science to getting your ad budget and bidding exactly right, but you can set one of two ways for Facebook to spend money on your behalf: daily budget and lifetime budget. When you're just starting out with your ad campaigns, test a lifetime budget of $250-$500 or a daily budget of $20-$25 per campaign to see what gets you the most conversions (e.g. reservations), and work your way up from there.

Copy and paste your

reservation widget with tracking links

, ensuring you can track the ROI of this specific campaign.

Set up your

target audience

. You can do this by simply targeting your Location (e.g. New York, NY), or by creating a Custom Audience. The easiest way to create a targeted audience is to download your existing guest database and upload these emails into Facebook Ads Manager to create a custom lookalike audience. Using this will target people that are of a similar demographic to your existing client base.

The next step is to decide

where you want your ad to run

. Your ads can run across Facebook, Instagram, Messenger, and Audience Networks simultaneously, or you can select a handful of them to test. We recommend selecting 'Automatic Placements' to allow Facebook to optimize your ad spend.

Schedule

. Unless you have someone actively monitoring your campaigns each day, be sure to set a start and end date so you don't end up spending thousands of dollars on something that isn't converting into reservations for your business. Optimize ad delivery for 'Conversions.'

Finally, set up your ads by uploading new images or video, or by using an existing post.
Voila! Once you push your ads live, you're on your way to getting more reservations for your business.
Sharing paid social
One of the easiest ways to get more 'bang' for your buck on social media is to promote existing posts. This is extremely easy to execute and takes less than a minute to set up. Make sure your social accounts are set up as 'business' pages and simply go through the flows to push your promotion live.

Next, it's time to boost your post to increase the number of Facebook and Instagram users that will see it.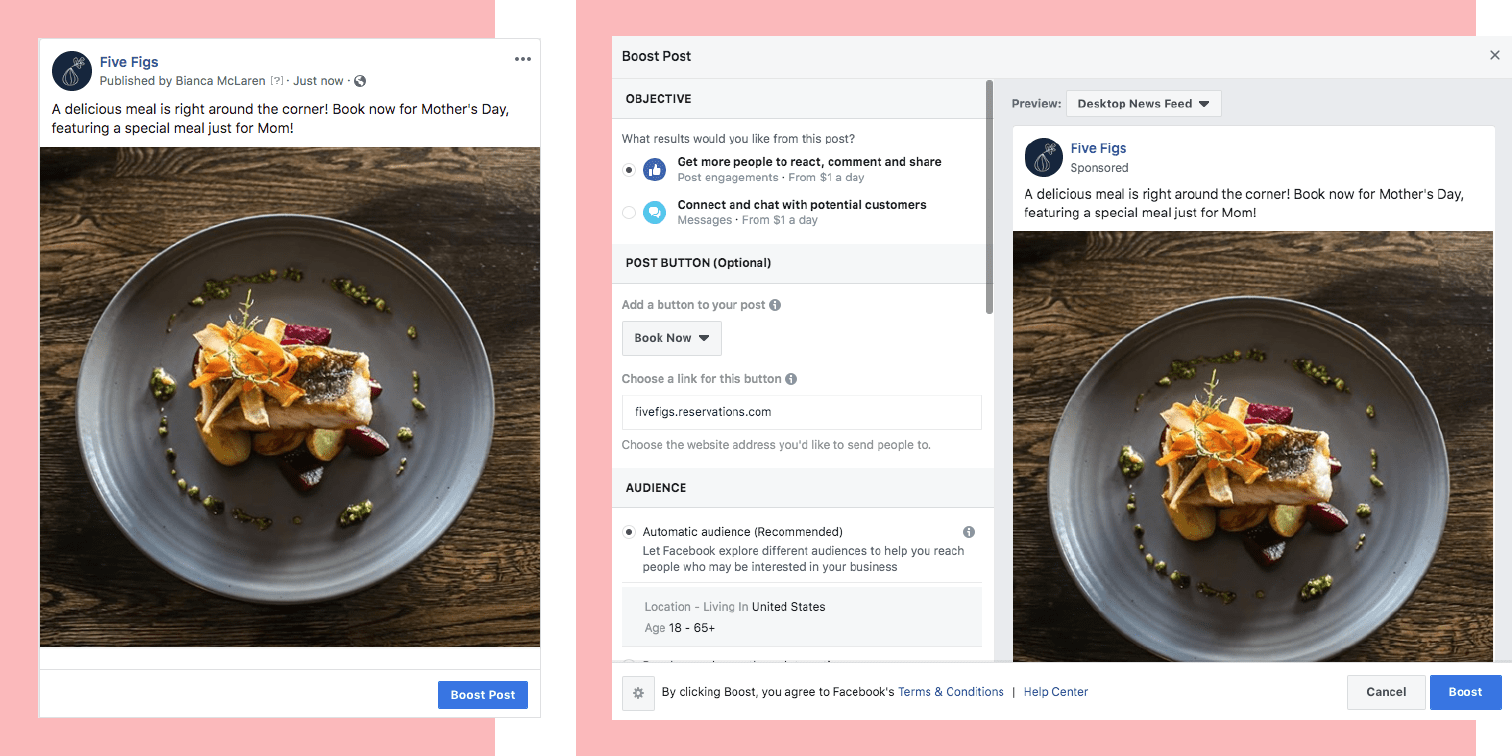 Dominate Google Search
As the fastest growing guest acquisition channel for restaurants, Google can't be ignored for its value in driving more direct reservations to your restaurant. Up to 30% of SevenRooms clients' reservations are booked through Google—a number which is steadily growing as consumers continue to use Google Search with intent to find and book restaurant reservations.
In addition to Google's free Google My Business tool, there are two ways a restaurant can be found on Google utilizing both Search Engine Optimization (SEO) and Search Engine Marketing (SEM).
Google My Business
Google My Business (GMB) is a Google Business listing that allows your restaurant to quickly and easily surface important information about your property to potential guests via a 'knowledge panel' that shows up across Google Search, Maps, and the Assistant. This includes pertinent information like your address, business hours, phone number, and reviews, in addition to action buttons for ordering delivery or booking a reservation.
This is where your choice of online reservation software comes back in to play. First, check to make sure your reservation software integrates with Google, as this is an acquisition channel you can't miss out on. Second, check that you have a way of tracking which reservations come through Google. Many third-party booking systems charge per cover fees for bookings made through Google, don't share important guest information or acknowledge that the booking came through Google. Your reservation partner should not only share details on which reservations come through this channel, but should also enable you to own 100% of your guest data—including their email address, phone number, and more.
Here are a few things to think about as you build out your Google My Business listing:
Download the Google My Business app to make quick changes on the go

Add photos to your listing to visually display your brand, food, and restaurant

Respond to all reviews, even the negative ones, as this can be a big driver in whether a guest returns to your property

Customize your reservation link with a tracking parameter, so you always know which reservations are coming through Google

Edit your one-sentence description for guests who want to know more about your restaurant

Ensure all your restaurant information

is correct

—

fro

m phone number and address to hours

of operation

—

so

your guests know exactly how to reach and visit you
Optimizing Google Search (SEO)
Search Engine Optimization (SEO) is the practice of increasing the quantity and quality of traffic to your website through organic search engine results. Moz's Hierarchy of SEO Needs illustrates what information is essential to ranking on Google, as well as what you can do to improve your competitiveness (e.g. ranking higher on the page, more often). The most important of these for your website include:
Crawl accessibility (e.g. how easy it is for Google to access information on your website)

Compelling content (e.g. how closely your content addresses a search query)

Keyword optimization (e.g. content that is keyword loaded and ties back to your restaurant

—

for example 'Italian restaurant Manhattan')

Great user experience (e.g. a website that's fast, mobile-friendly, and easy to use)

Share-worthy content (e.g. more people referencing back to your website in their con

tent

—

li

ke

Eater

including a link back to your website in a story about your restaurant)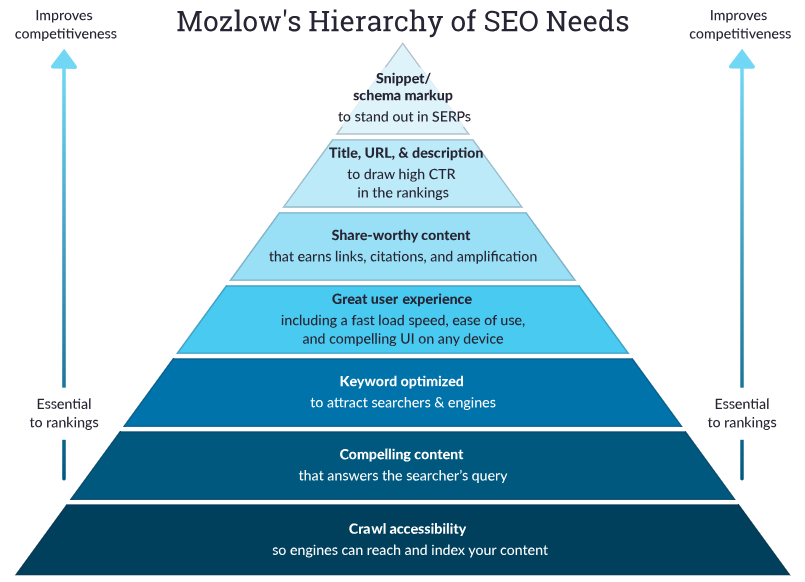 Image source: Moz.com
To improve SEO, a robust digital strategy must be executed. Work with your in-house marketing and PR team or an external agency to ensure you have a mobile-friendly, easy-to-use website. This should include multiple pages that address key aspects of your restaurant (e.g. About, Menu, Reservations, Contact, Press, Delivery, Private Events, and Catering), and keyword-focused content and posts about your company.
Branded vs. non-branded Google Ads
Search Engine Marketing (SEM) is a type of paid online marketing associated with buying traffic through search engines to increase traffic and visibility. The easiest and fastest way to do this is by creating Google Ads.
With an estimated 2.3 million searches performed on Google every second, Google Search Ads are a great way to get your restaurant in front of new guests to help fill seats. But with a Pay Per Click (PPC) model, they can also be extremely expensive, especially if you're competing for branded keywords vs. non-branded keywords.
Branded keywords
Branded keywords are any words or phrases that directly mention your restaurant or brand name. These could include:
[Your restaurant name] reservations

[Your restaurant name] NYC

[Your restaurant name] menu

[Your restaurant name] hours

[Your restaurant name] brunch

[Your restaurant name] delivery

[Your restaurant name] catering

[Your restaurant name] private events

[Your restaurant name] address

[Your restaurant name] phone number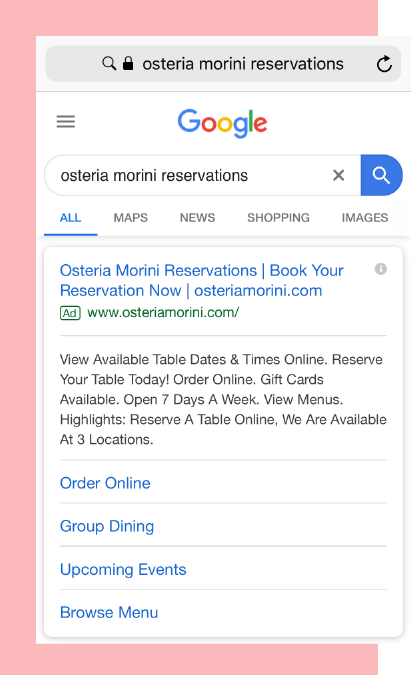 Branded keywords are typically the cheaper of the two keyword options, as you will be competing with a much smaller audience to take the top 'ad' spot at the top of Google Search. Plus, these branded terms capture guests who are at the bottom of the funnel and close to converting— i.e. are looking to book a reservation ASAP.
Non-branded keywords
Non-branded keywords are "any keywords that do not reference a brand name or any part of it". These could include:
Italian restaurant

Italian NYC

Italian near Times Square

Best pasta Chelsea

Michelin star dining NYC

Best NYC restaurants

Cacio e pepe Manhattan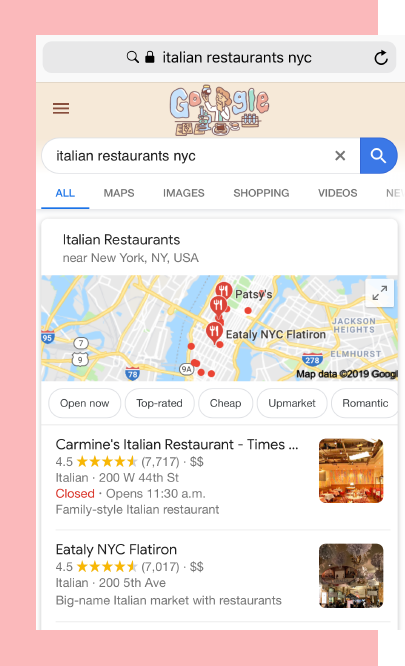 Non-branded keywords capture a guest while they are in a search and discovery phase. These guests might have never heard of your restaurant, but are looking for a venue that aligns with their search (i.e. best pasta in NYC). Google Search ads that are non-branded can often get very expensive, as there will be much more competition on the word or phrase. Using the example of 'best pasta in NYC', you could be competing with 1000+ Italian restaurants for the top ad spot!
The most important thing to remember with any Google Ads is to align your message and search terms with your audience. It probably doesn't make sense for an NYC-based restaurant to be creating campaigns in Hong Kong, or for an Italian restaurant to target taco-seeking diners in their search terms.
Find the right online reservation software
A reservation system is crucial to running your restaurant's front of house efficiently and effectively. When deciding which online reservation software is the best fit, there are a few key questions to keep in mind:
Does your restaurant reservation system allow you to capture guest data?

Do you own your guest data?

Is the online reservation system putting their branding front and center, or yours?

Does the reservation system integrate with your point of sale (POS) system?

Does the system keep you fully PCI and GDPR compliant?

Does it include marketing tools that add value to your business?

Is the reservation system easy to use, and come with practical training for your staff?
These are important questions to consider for several reasons.
Stay in the loop with guest data, one of your most valuable assets
Having full visibility on your guest booking info allows you to create better restaurant marketing campaigns – whether on social media or with Google – meaning you can reach more customers and get more people in your restaurant. Without access and ownership of this data, you'll be left in the dust when it comes to engaging with your guests. Choose a restaurant reservation system that lets your site visitors book direct reservations and gives you full ownership of your guest data.
Capture more data by integrating with your point of sale
When comparing online reservation systems, knowing whether or not they integrate with your POS system is also an important part of the selection process. A reservation platform that connects to your POS means you can leverage all the guest data collected throughout the guest journey—from discovery and booking, to what they order and beyond.
Prioritize data security and PCI compliance
In addition to owning your guest data, having a fully PCI (Payment Card Industry Data Security Standard) and GDPR compliant system is the only way to stay ahead of the game when it comes to data security. Pick a system that helps you track, manage and store data—whether that's credit card information or a guest's phone number.
For 100% GDPR compliance, any data management system should offer the ability to export and delete personal guest data on request. And for PCI compliance, your system should store tokenized credit card details so your staff never has direct access to a credit card number on a guest profile.
Turn your data into action
Finally, make sure your reservation system has robust marketing and guest engagement tools so you can reconnect with your guests using more customized messaging. Look for the ability to automatically tag guest profiles, aggregate guest feedback across review platforms, and automate personalized email marketing campaigns.
Picking the right restaurant reservation system might seem daunting, but it's a crucial step in setting yourself up for future success. With an online restaurant reservation system that captures robust guest data, you can put your online marketing into overdrive and keep your restaurant full night after night.
Wrapping up how to supercharge your restaurant's online reservations
Each of these marketing tools can be extremely powerful. However, it all starts with having the right online reservation system.
With the right technology in place, you can drive more online reservations through your social media accounts, take your Google Search Ads to another level, and collect valuable customer data from booking to bill.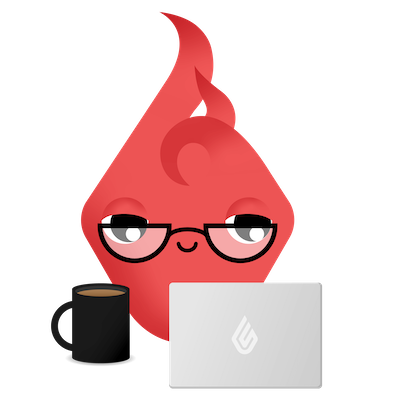 News you care about. Tips you can use.
Everything your business needs to grow, delivered straight to your inbox.