Restaurant
Lawrence's Ethan Wills on Managing Three Restaurants Through COVID-19, Ethical Business and Digital Transformation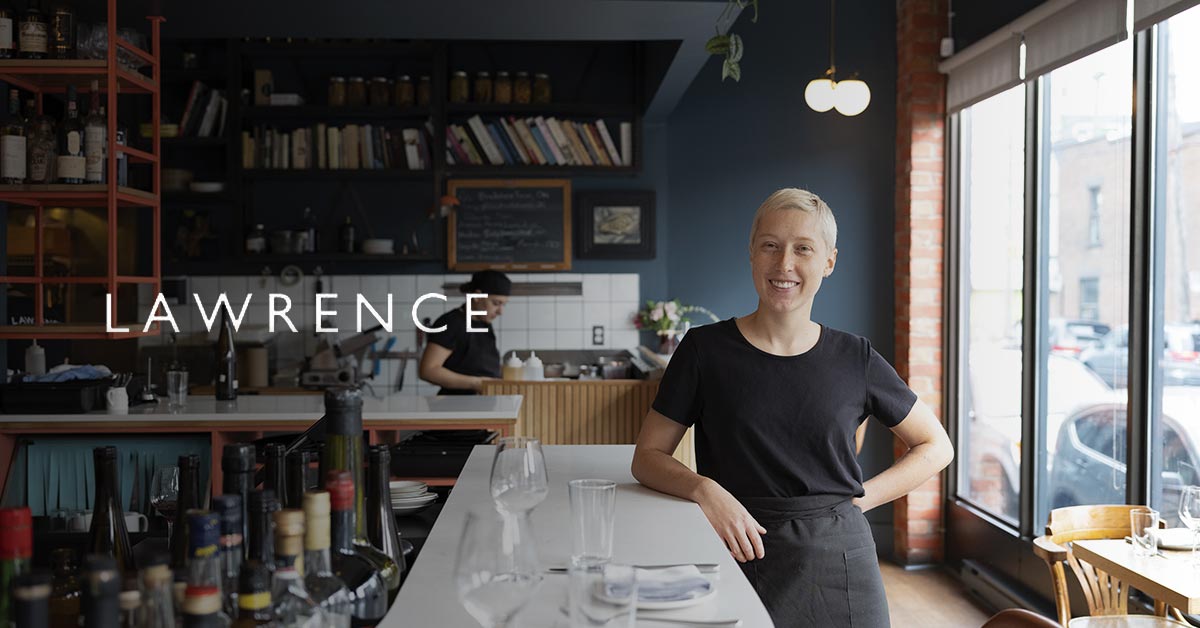 When Marc Cohen, Sefi Amir, Annika Krausz and Ethan Wills opened Lawrence in 2010, their goal was to offer thoughtfully-crafted, honest cooking made with responsibly sourced produce, alongside a comprehensive, curated wine and beer program—all to be enjoyed in an undeniably elegant but informal setting.
That same mission led them to open Boucherie Lawrence in 2014, a butcher shop that specializes in responsibly farmed and sourced agriculture, as well as Larrys in 2016, an all-day, all-evening cafe and breakfast joint.
Even under normal circumstances, owning and operating three successful restaurants is no easy feat. When the coronavirus hit, a new set of challenges brought Lawrence's ownership group's creativity and problem-solving skills into overdrive.
From their transition to an online takeout and delivery business model to launching their Hero Pack initiative, we spoke with General Manager and co-owner Ethan Wills about the challenges they've faced running three businesses, how they're preparing for life post-pandemic and the importance of using your platforms to give back to the community.
(This interview has been edited and condensed for clarity).
Reinvent your business for short and long-term success
While the hospitality sector reopens across North America, owners and operators face a whole new set of challenges. Download our free playbook and learn how to build a more resilient business post-pandemic.
When the news of COVID-19 became more serious, when did you start to think "Okay, this is something we need to start planning for as a business?"
Wills: It's crazy how much has happened since this all started. It feels like it's been a long time since we started hearing about COVID-19 when it's really only been a couple of months.
There was a period at the beginning where we were just trying to stay on top of news developments as they were happening. I think a lot of restaurants were in a similar position where it's been more of a gradual, day-by-day adaptation to circumstances as they change.
The whole situation is very fluid and we want to keep that mentality—it looks like we're on the precipice of another change now that dining rooms are set to gradually reopen, and we want to keep our ability to understand and quickly react to circumstances as they evolve.
From a brand perspective, what were some decisions you made in terms of how your business would operate?
Wills: At first, we closed down our dining room while the team discussed how we would move forward. A few days later, we reopened under a delivery and takeout structure, which is something our business has never explored before.
In that meeting, we also had to figure out exactly what we needed to do financially to survive. We were really looking at it from a month-to-month basis: what numbers would we need to hit just to cover our fixed costs?
We had to figure out exactly what we needed to do financially to survive. We were really looking at it from a month-to-month basis: what numbers would we need to hit just to cover our fixed costs?
Something that I think played to our advantage is that myself and the other co-owners—Mark, Sefi and Annika—each have a lot of hands-on experience working in restaurants in any capacity. We didn't need to burden our staff to make a decision to come into work, even if they felt unsafe or uncomfortable, because we as an ownership group were prepared to work on the frontline ourselves.
We're a really hands-on ownership group and I think that it played to our advantage in this situation. We were all ready to work together and make it happen every day. We're not these disconnected owners who just focus on the business side of things; we've always stayed in touch with the service side of things, which made it easier for us to step in, work on the frontline and keep the business running while keeping our staff safe.
In terms of staffing, how did that work?
Wills: When we reopened, we were operating with a skeleton crew; just a few core members plus the owners were needed to support takeout and delivery.
What was important for us was that our staff felt safe and comfortable working under the new conditions. We would never want to impose anything on them or put them at risk, so it was really important that we remained sensitive to their needs.
As demand for takeout and delivery orders scaled, we were, fortunately, able to bring back more of our staff to help out, which felt great.
The past decade has been a busy one for your establishments. In 2010 you launched Lawrence, the restaurant, in 2014 you opened Boucherie Lawrence, the butcher shop, in 2016 you opened Larrys, the cafe. And just recently, you gave Lawrence one of the most beautiful face-lifts I've seen recently.
Talk to me about the ways that managing each of those establishments has changed in the past few months?
Wills: Unlike our restaurants, our butcher shop operates under a grocery store license and is considered an essential service by the government of Quebec, meaning that it could continue operations.
We're in a very fortunate position where, when confronted with the loss of our dining spaces at our other two establishments (Lawrence and Larrys), our butcher shop gave us the opportunity to meet the demand for the influx of people interested in cooking great meals at home with quality ingredients.
As a result of that trend, business at our butcher shop has actually risen to above-average levels. That solid cash flow and revenue from the butcher shop has given us resources to invest in our restaurant spaces once the time comes to change our table service model.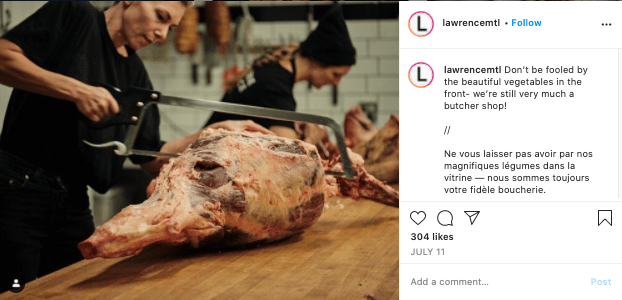 Your establishments never used to offer takeout or delivery options, at least officially. Now, like many other restaurants, I see you've pivoted and begun supporting off-premise sales. Talk to me about how you and the ownership team decided to start supporting takeout and delivery orders?
Wills: It's funny, takeout and delivery was never something that we had initially considered offering. We just didn't see it as a stylistic fit. Until it became a necessity, it wasn't on our radar.
Now that we have it, it's working really well and the biggest challenge we've faced is keeping up with demand, but hindsight is 20/20, right? Who knows if our customers would have embraced takeout or delivery as they have prior to the pandemic. It's hard to tell.
To support takeout and delivery, we started by folding our two restaurants, Lawrence and Larrys, into one. Now, our restaurant operation is entirely done out of our Lawrence space since it has a bigger kitchen and a larger dining space that we converted into the ordering area.
Something I think that's really cool that you did was ask customers which products they would like for you to start carrying. Tell me, what's the biggest benefit of using customer feedback to inform which products you carry?
Wills: My partner and chef, Mark Cohen, pretty much has free reign and creative control over our food menu. A lot of the dishes we're offering are taken from Larrys menu. It's a casual, pared-down menu that's more conducive to the delivery and takeout experience. They travel well, too. That was a very important consideration.
The menu certainly evolves based on seasonality and the availability of certain products, but we keep the fan-favorite dishes on the menu since those are what our loyal customers consistently order.
In terms of the wines we offer, I think we reacted the same way a lot of restaurants did–nobody knew what was going to happen and our initial approach was to just sell all of our inventory.
We were expecting to have a tough time selling them, but it became quickly apparent that, if anything, we would have problems keeping up with high demand, especially for bottles in the $40 to $50 range. Since the market for those wines was clearly alive and well, our strategy moving forward is to replenish our wine inventory in that price range while still offering a variety of options at different price points.
Have you noticed a difference in the kinds of foods that your customers order since the pandemic hit?
Wills: I was actually anticipating a greater shift in consumer behavior than we've seen so far. With everything going on, I was expecting business to slow down because of the financial strain this pandemic has imposed on a lot of people, but that hasn't been the case so far.
A lot of people enjoy our food, but also our dining space, presentation and service. I was afraid that, without those elements that make our overall dine-in experience, people wouldn't order from us, but I've been pleasantly surprised.
Part of that might be that the food we're selling is what people want right now, part of it might be that our loyal customers want to support us. It's hard to tell, but I'm very appreciative of their ongoing support.
And that theme of support certainly rings true here. Talk to me about your Hero Pack initiative, where customers can sponsor a care package of goodies from your butcher shop and have it delivered to someone who could use a pick-me-up.
How did that concept come up and how did you get started?
Wills: The idea for our Hero Pack initiative came when I saw how people and organizations were using their social media platforms to do good. We're in a position where I have access to all these great products and have a platform, so how can we use that to help?
We have a close friend who's a healthcare worker and we're intimately aware of what she's going through right now. We spontaneously put a package together for her before the idea of a "Hero Pack" was conceived.
Seeing how effective that small gesture was and how much joy it brought her inspired us to expand on that idea and reach even more people, which is what birthed the idea of our Hero Packs.
The concept itself is pretty simple. Anyone can sponsor a Hero Pack and choose who they'd like to receive it, then we deliver a box of goodies from our butcher shop to their door. We've got a really positive response from everyone involved. Other local brands, like Olive et Gourmando, have also jumped on board and donated their products to the cause, which is great to see.
When you have a platform, I feel like the responsible thing to do is use it to manifest good. The Hero Pack was really our way of doing just that. We have access to the products, we have connections in the foodservice industry, we have a delivery infrastructure and we want to help. Plus, we have a lot of customers that are in a position to help, too. It just seemed like the natural thing to do.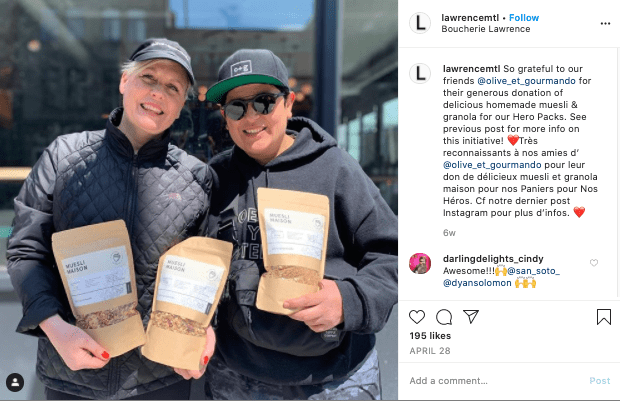 In the latest reopening plans, we're hearing that the number of customers a restaurant can seat is likely to be reduced by between 25% and 50% to promote social distancing. While a restaurant's economics used to be largely predicated on table service and table turnover, seating fewer guests certainly creates some financial challenges.
How are you planning to gradually reopen your dining rooms with a reduced seating capacity?
Wills: I don't think it's any secret that profit margins in the restaurant industry are extremely thin, and that's under a model where you're able to fill your dining room to 100% of its capacity.
Once dining rooms are allowed to reopen, we're going to need to find a service model where we can meet demand, is financially viable and also prioritizes the health and safety of both our customers and employees.
We've certainly had conversations internally as to how we're going to adapt to that next reopening phase, but until there's definitive guidance as to what that will look like and what we need to do to comply, it's tough to say exactly what we can do in anticipation of that next phase.
Industry experts are saying that the way consumers dine out will likely change even once social distancing measures are lifted. How do you see them changing and how are you preparing for reality post-pandemic?
Wills: The way we adapt to that eventuality really depends on how customers' sentiment and behavior towards eating out are impacted by the pandemic. Are people going to be as inclined to dine out as they used to be? I don't think anyone can answer that question right now.
I'm totally empathetic about the situation consumers are going to be in. It could go either way: they might come back in full force because they missed the experience of dining out, or that desire may be outweighed by a residual reluctance to place oneself in public environments. I don't think anyone can predict how customers will react to that situation until it actually happens.
One thing's for sure though: Moving forward, restaurants need to be sensitive to the customer experience and adapt to how their behavior has changed and accommodate them in any way we can.
Moving forward, restaurants need to be sensitive to the customer experience and adapt to how their behavior has changed and accommodate them in any way we can.
Something I think sets you guys apart from many restaurants is that you have a totally functional, transactional online store that sells branded merch like tote bags, wine openers and more.
Do you think, in the future, restaurants will need to explore additional revenue streams (like selling branded merch) more aggressively to make up for lost table service sales?
Wills: I think it's pretty much essential that restaurants find ways to diversify their revenue streams, especially now with table service capacities likely to be reduced and the desire consumers have to dine in public spaces also likely to take a hit. Restaurants are going to have to find ways of bringing money into their business.
Initially, selling merchandise wasn't something we were attracted to. It just seemed too divorced from our core mission of connecting customers to high-quality food and alcohol. But at some point we came to the conclusion that the revenue we generate through merchandise will help us fulfill our mission; the two weren't mutually exclusive.
The circumstances also played into us launching an online store. I don't know if we would have ever gotten around to launching an online store if it weren't for COVID-19. Our General Manager, Keaton, pretty much built it on his own and the results have been great.
What's next in terms of Lawrence's digital transformation?
Wills: We actually just launched our online ordering system with UEAT. Before, people had to read our menu on Instagram and call us to order. It was a disconnected experience that we felt made customers jump through too many hoops to place an order, and the feedback we got from friends and customers kind of echoed those feelings.
While that was a decent stop-gap, we knew we needed to make ordering online as accessible to a broader group of people. Now, ordering online and scheduling a pickup time is a cohesive experience; everything is done in one place, which I think opens us up to serve an even broader market.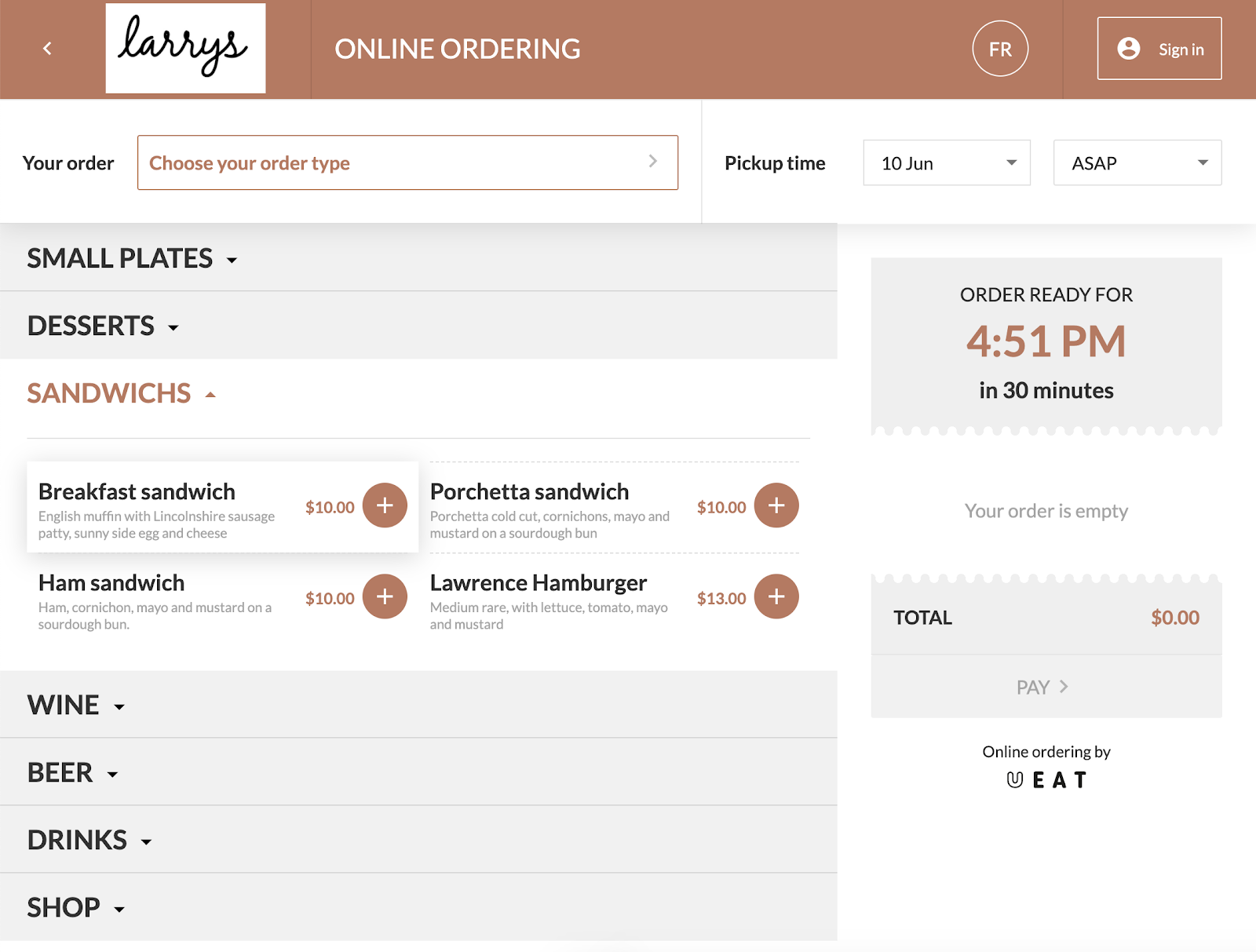 As much as this whole situation is hurting independent business owners, we've also seen just how inventive and resilient they are when facing adversity. Looking back, this could be a defining moment for the restaurant industry.
Looking at the positive, what are some things you hope change for the better in the restaurant industry as a result of COVID-19?
Wills: One of the big draws at our restaurant is our wine list that's brilliantly curated by our Sommelier and General Manager, Keaton, which is replete with privately imported natural wines that consumers can't find at the SAQ stores. These wines aren't produced in large quantities, making it unlikely that the SAQ would ever carry them.
With the limitations around restaurants selling alcohol to consumers in Quebec, it's become tough for natural wine enthusiasts to get their hands on the products they want. I think it would be great, especially for the end consumer, if the laws and regulations around restaurants selling bottles of wine for off-premises consumption were permanently loosened or improved.
Lawrence carries wines with a specific taste profile and we're known for that. Our consumers know and trust our taste and the products we carry. It would be great for consumers if they were allowed to buy niche wines from restaurants that align with their personal taste and that they trust, rather than be forced to purchase mass-produced wines from one single source.
Private import wines are a big draw for many restaurants, and I think that would certainly be an improvement that would be welcomed. It would allow us to leverage the relationships we've cultivated with private labels and expand our online store, ultimately benefiting wine enthusiasts looking to try products that are otherwise very difficult to find.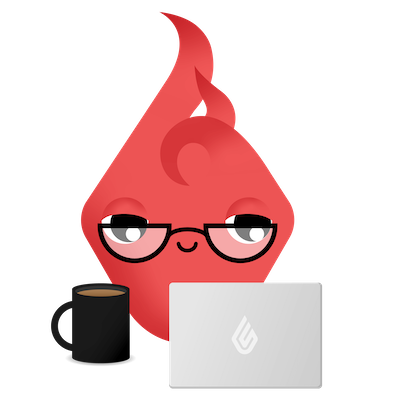 News you care about. Tips you can use.
Everything your business needs to grow, delivered straight to your inbox.