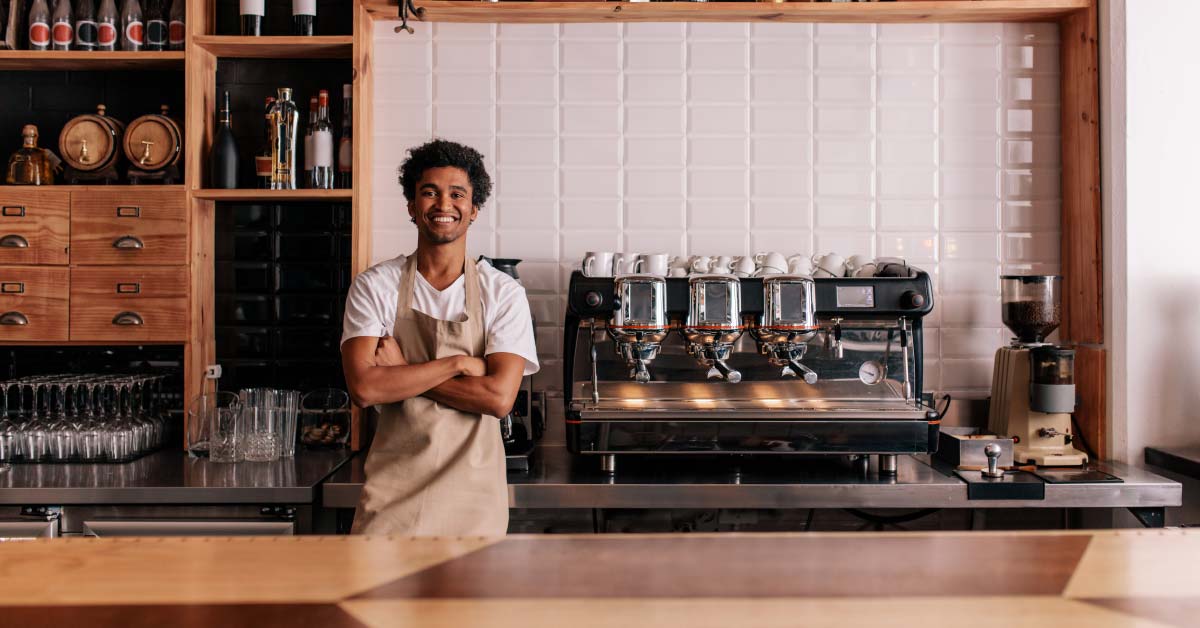 Opening a coffee shop isn't easy, but a detailed coffee shop equipment list can set you up for success.
According to a July 2020 report from Research and Markets, the global coffee shop market is expected to be worth $237.6 billion by 2025. Coffee is the second most popular drink in the world and has a major influence on our social lives and daily habits.
To open a successful coffee shop, you'll have to research trends, find reliable wholesale partners and order the best coffee shop accessories and supplies for your budget.
For the latter, we've got you covered with a comprehensive coffee shop equipment list to get you started.
Don't forget your most important piece of equipment.
Watch a video demo of Lightspeed's Restaurant POS system and learn how coffee shop and cafe owners across the world are using it to run more profitable and successful businesses.
Coffee shop equipment list
1. Automatic drip coffee makers
Price range: $40-$600
Since standard black coffee will account for a good portion of your store's sales, you'll want the first item on your coffee shop equipment list to be a coffee maker that pulls its weight. Your coffee maker should be durable enough to produce a high quantity of coffee per day, quick enough to meet demand at the busiest times of the day (usually mornings) and large enough to produce sizable batches of coffee (so that you aren't always brewing coffee throughout the day).
Coffee shops often have multiple coffee makers making different blends at the same time, but be careful not to stretch yourself too thin. Most successful coffee shop owners suggest keeping three or four blends available at a time.
Not sure where to start? Here's a list of the highest rated automatic drip coffee makers to compliment your coffee shop equipment list.
2. A high-quality espresso machine
Price range: $500 to $30,000
Many typical coffee drinks contain espresso, so you'll need an excellent espresso machine. Unfortunately, the industrial espresso machine market is sprawling and some of the higher quality machines might give you sticker shock. It's important to understand what makes a good espresso machine and how to get the best value when you find the right one.
Here's a guide on how to shop for espresso machines, which explains what high-quality espresso equipment should have and what to look for when buying.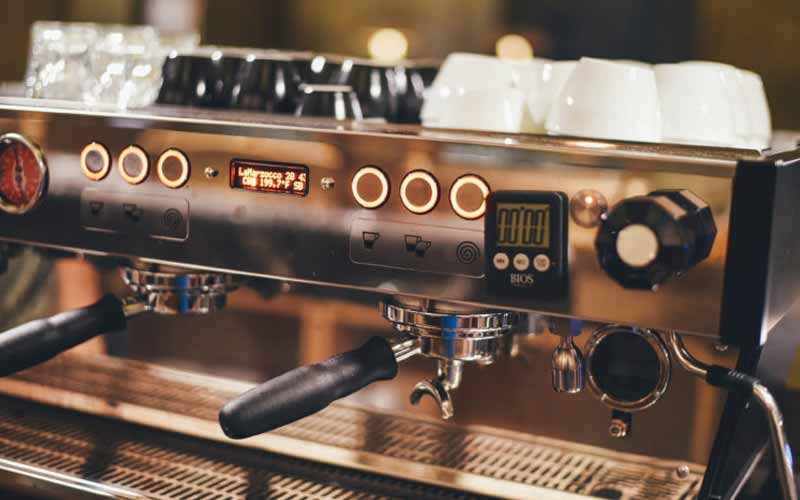 3. An industrial coffee grinder
Price range: $600-$4,000
Since most coffee shops use unground beans to make the freshest coffee possible, you'll want to add an industrial coffee grinder to your coffee shop equipment list. Investing in the right grinder can make all the difference in the flavor profiles and the aroma of your coffee or espresso.
Check out this in-depth analysis of the best commercial coffee grinders to find one that you can add to your coffee shop equipment list.
4. POS system and website
Price range: $0 – $2000
A POS system does more than just ring up sales. A coffee shop POS can help you keep track of your inventory, monitor your business's analytics and profits, manage employees and take payments anywhere.
As a modern-day coffee shop, you'll need a POS that will let you sell across channels. Whether that means integrations with third-party delivery platforms, a restaurant ecommerce store or online ordering capabilities, you'll want a solution that's flexible for customers. Your POS should streamline online, phone and in-person orders so that you'll never miss an opportunity for a sale.
Even better, a good POS system will come with easy-to-use tools to set up your coffee shop website and build an email list, so that you can start growing your digital presence.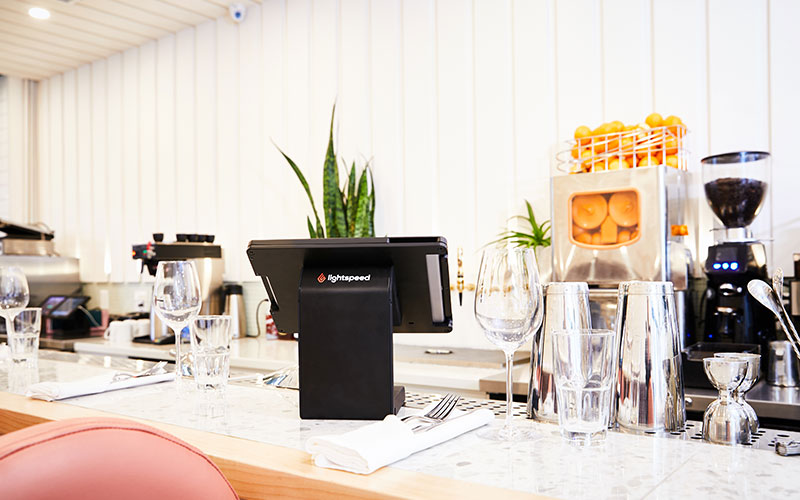 For Table Rock Coffee Roasters owner and founder, Chris Richard, it's all about using a system that helps them improve their customer service. "Any time that we can get the product or an order out to a customer quicker, that improves the customer experience, right?" explains Richard.

Lightspeed, Richard is able to customize their POS and ordering flow to match Table Rock Coffee Roaster's unique workflows. "We have a lot of control over the back end, which is good," says Richard. They've personalized their ordering flows so that each button clearly indicates specific items. "I can say an espresso-based drink and create a button for that and then you hit that button and it'll branch out to an Americano and latte, and then you can change button colors to blue for tea and red for smoothies, you know, however you want."
Staff can also easily take the POS outside and take orders directly from vehicles for their drive-through service. "By the time [customers] get to the window, their drink is already pretty much made. It helps us speed up our window time and it makes for happier customers because they're getting their coffee sooner."
5. Curbside pickup supplies
59% of consumers are more likely to use curbside pickup following the pandemic. That means you'll need to have plenty of drink holders and paper bags on hand to make sure your customers can carry their orders home.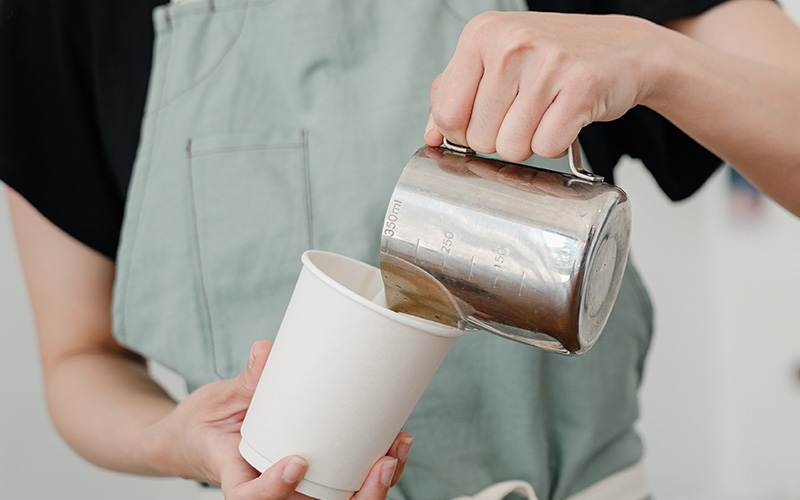 6. Milk and water
We cheated a little on this one. While they're not technically "equipment," the right liquids can make a huge difference in the quality of your drinks.
Milk: Different types of milk can drastically change the taste of your coffee. You'll also want to consider stocking dairy-free alternatives like almond or oat milk for those with dietary restrictions.
Water: You may need to add a good filtration system to your list in order to extend the life of your espresso machine and improve the taste of your coffee (which, by the way, is 98% water). If your water's mineral content is too high, it can ruin your equipment.
7. Industrial blenders
Price range: $100-$30,000
In 2019, a consumer survey found that 38% of cafe customers are ordering blended drinks more often. You'll need at least one blender to capitalize on this trend.
Here is a buyer's guide for purchasing a high-quality blender for a coffee shop. Don't be shocked if the best blenders run up your budget and add to your coffee shop equipment costs. It's better to buy equipment that won't break when your store starts making hundreds of frozen drinks daily.
8. Ovens and toasters
Price ranges
Commercial convection oven: $7,000- $30,000
Commercial gas range and stove: $2,000-$30,000
Toasters: $200-$5,000
If your coffee shop has a small selection of hot food, which one survey found is the case with at least 60% of coffee shops, you'll need a reliable way to prepare your food quickly.
Most coffee shops serve breakfast sandwiches, or at least bagels and pastries, which means you'll need either a conveyor toaster or a pop-up toaster. A full commercial toaster buying guide can be found here.
If you have frozen breakfast sandwiches, similar to big chains like Starbucks, you'll want a quick but compact oven (or two) that baristas have easy access to. Here are a few of the fastest ovens on today's market.
9. Refrigerators and freezers
Price ranges: $1000-$14,000
When you open your coffee shop, you'll need a way to keep your food and dairy products fresh. Refrigerated display cases and counter fridges behind the counter are must-haves.
Remember that fridges are a big part of your coffee shop's design, so they should look sleek and match your shop's overall vibe. If you need design inspiration, Pinterest is a great place to look.
Similarly, you'll most likely need freezers in two places: behind the counter and in the back where inventory is stored. Frozen food that can be flash-baked in the oven should be kept up front for baristas to have easy access for orders. Since frozen food is easy to store and has a long shelf life, you should store extras in the back so you don't run out.
For a guide to commercial freezers, check out this guide. If your inventory is on the larger side, you may also need a walk-in cooler or freezer.
10. Shelving
Shelving isn't the only storage you'll have to have. Boxes and crates are also handy to have for storing your beans and other inventory. Pump and containers are essential for storing all your syrups and toppings.
Without an organized storage system, your business won't run as smoothly, cutting into profits in the long run. We suggest partnering with a local or reliable restaurant supply retailer to plan your system out carefully.
11. Containers, pumps and storage
Since coffee shops require the use of a large amount of beans and a huge selection of drink toppings, you must have the hardware to effectively use and store these items. This means pumps for all the syrups, boxes and crates to conveniently store coffee beans near your coffee makers, and simple answers to all the storage issues that plague some coffee shops.
If you don't have an effective system for storage, your business will run less efficiently, driving you and your employees crazy, as well as diminishing profits over the long run. Partner with a local or reliable restaurant supply retailer, buy in bulk and plan your system out carefully and effectively.
12. A security system
Price range: $1,000 to $2,500 on average
Every business needs a security system to deter crime and keep employees and customers safe. This may include security equipment such as cameras and burglar alarms (both in the coffee shop and on the front and back doors). To be extra secure, invest in employee management tools to prevent your staff from lifting cash from the register.
There are a lot of different security systems out there, so you'll want to find a company that comes with years of experience. Profit loss from theft is something you shouldn't have to deal with when opening your new store. Here's a guide on what to consider when creating a security plan for your business.
Buying new vs used equipment
When opening a new coffee shop, one crucial decision is whether to buy new or used equipment. While many restaurants will likely want to buy new, there might be circumstances where used equipment could actually be beneficial. This choice can significantly impact your business's financial health, operational efficiency, and long-term success.
Purchasing new coffee shop equipment offers several benefits. First, you'll be getting the latest product on the market, ensuring efficiency and reliability. New machines often come with warranties, providing peace of mind and protection against unexpected repairs or replacements. Newer models may also offer advanced features and improved energy efficiency, reducing long-term operating costs.
The biggest disadvantage of buying new? The cost. For a new coffee shop owner, the expense of purchasing new machines can be a significant financial burden. This expense could impact the availability of funds for other essential aspects of the business, such as marketing, staffing or decorating.
On the other hand, buying used coffee shop equipment can be a cost-effective alternative. Used equipment is typically available at a lower price point, allowing you to allocate more resources to other crucial areas. In some cases, older equipment could even be made out of higher quality materials and be made to last longer. Purchasing used equipment can be advantageous if you plan to experiment with different concepts or are unsure about long-term business viability. It allows you to reduce initial investment and test the market before committing to expensive, brand-new machines.
The biggest downfall with used equipment however, is that it could come damaged or it might not last as long. Thoroughly inspect the condition of each item and ensure it functions properly. Factor in the potential costs of repairs and maintenance, as older equipment may require more frequent attention. Additionally, used equipment may lack warranty coverage, increasing the financial risk if any issues arise.
Ultimately, the decision between buying new or used coffee shop equipment depends on your specific circumstances and priorities. Consider your budget, long-term plans, and risk tolerance. It may be beneficial to strike a balance by investing in new equipment for critical areas, such as espresso machines, while purchasing used items for less critical tools.
What to do after completing your coffee shop equipment list
Once you've finalized your coffee shop equipment list, you're free to focus on the other things that come with starting a business: hiring your cashiers and baristas, designing your coffee shop floor plan and merchandise and creating a recognizable brand.
With the right tools and equipment in place, your coffee shop will have a strong foundation to become a success. If you want to learn more about how Lightspeed can help you run your coffee shop with ease, talk to one of our experts.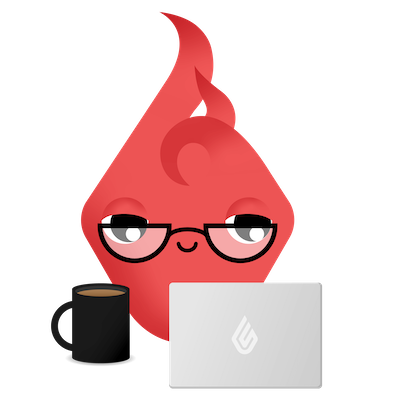 News you care about. Tips you can use.
Everything your business needs to grow, delivered straight to your inbox.