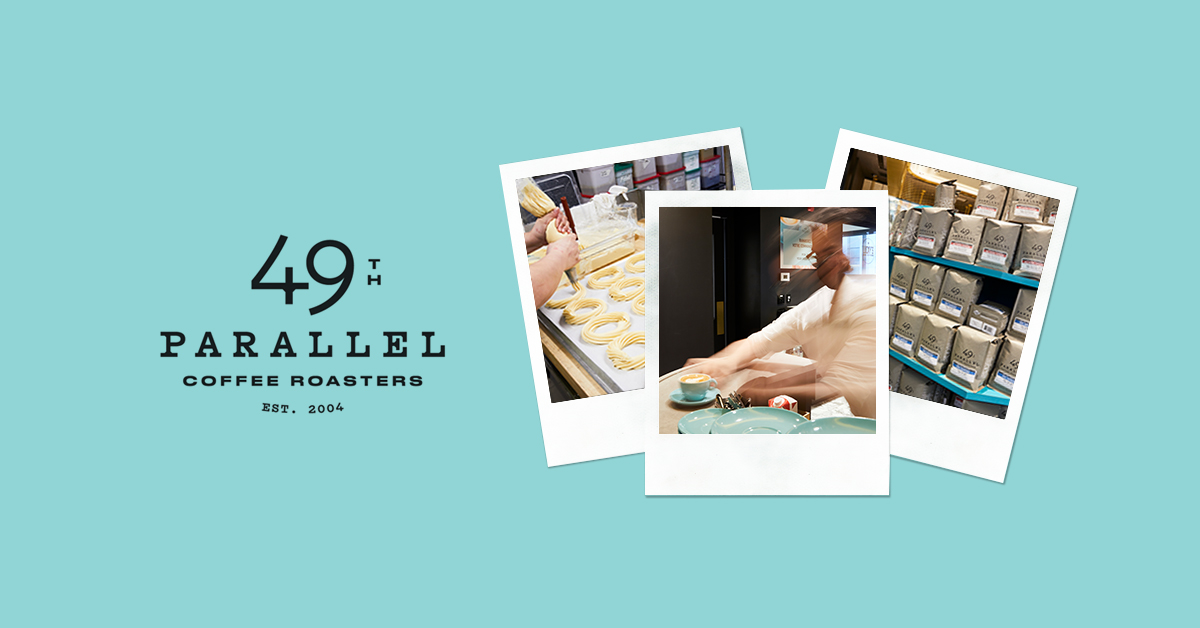 49th Parallel has been an industry leader in Canada since 2004, bringing third-wave coffee to the forefront, and challenging preconceptions of what it means to roast a good cup of joe.
With a mission that revolves around sustainably sourcing and crafting exceptional coffee, 49th Parallel takes a science forward and human-based approach to create a positive change in communities around the world. They also believe in making great coffee accessible to anyone, educating consumers and launching new formats that bring their coffee to the hands of new drinkers.
49th Parallel manages four locations with Lightspeed Restaurant and has been powered by Lightspeed since 2020. We spoke with Sara Bilodeau, the Director of Cafes in Quebec to find out how 49th Parallel brings its mission to life.
Looking for a new POS?
In today's competitive hospitality landscape, you need tools that support your business as it grows. Ask these 11 questions to find the right POS for your restaurant.
Bringing third wave coffee to Canada
Bilodeau: 49th Parallel is a roastery that's based out of Burnaby, British Columbia and was started there by Vince Piccolo, who is the original founder. He also originally had Caffe Artigiano and he's a pillar in the world of third wave coffees in Canada. 49th is probably one of the first real or bigger third wave coffee companies in Canada. They're largely credited for having brought this here years and years ahead of everybody else. This was probably about 15 years ago.
Expanding and navigating new channels
Bilodeau: We have four coffee shops in Vancouver, two in Montreal, and there's the roastery in Burnaby. We're multichannel now. There are the cafes, there's the roastery, which was the initial idea.
The idea was always to have the roastery here to be able to do direct buying. We deal directly with the producers and the farmers and most of the people we deal with we've known for years and years, followed their kids as they grow up and stuff like that, which is pretty nice. Our buyer before COVID used to go down there for a few months out of the year and go around and find people to work with.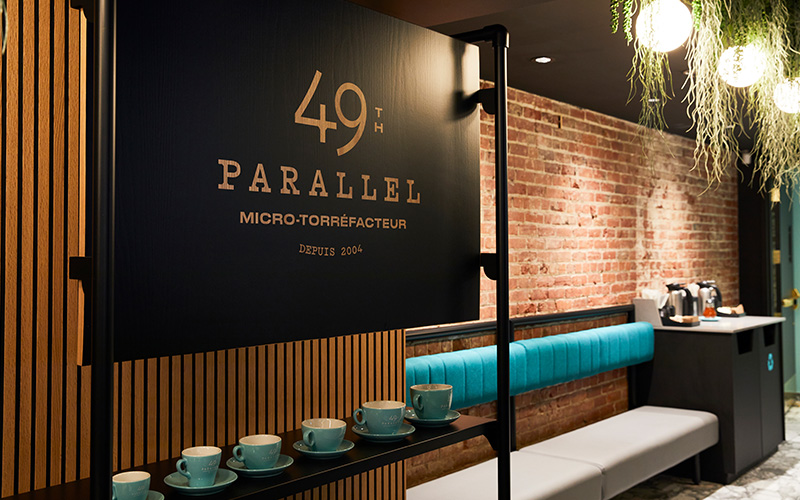 We also have an ecommerce wing and a wholesale wing and we're present in some other retailers and other coffee shops in the United States and in Canada.
All of our cafes are very different. None of them look like each other at all and that's a purposeful thing. The cafes all look like the neighborhoods that they're in, so they will have the feeling of the local kind of ambiance.
Making specialty coffee accessible
Bilodeau: [Third wave coffee companies] are going to put the emphasis on the quality of the coffee they're serving, on the origin of the coffee in general and education around it. It's serving something to a guest that's out of the norm and surprising. Not a cup of coffee that you could get anywhere. For 49th, I'd say that the education of our staff is probably what sets us apart. It takes us about four months to train a barista. There's an enormous investment of time and resources that's done so that they not only understand what they're doing, but why and where the coffee comes from and what makes it so special.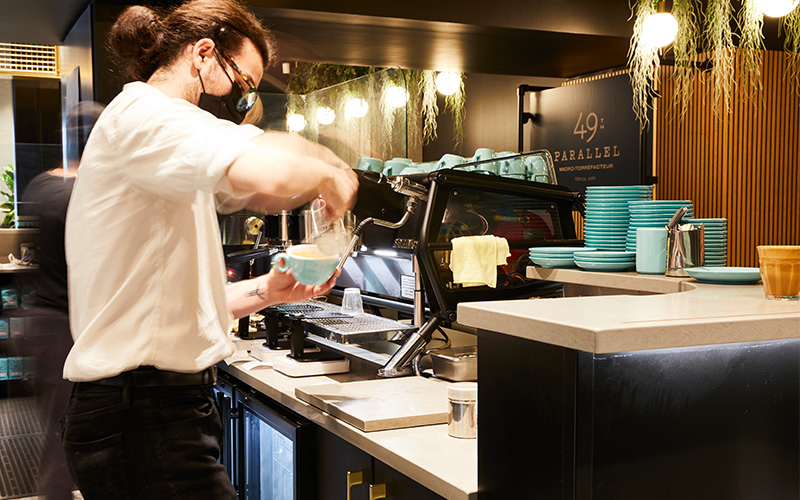 We also buy green and we roast all of our own. There's a lot of research and development that goes into making those products. And we're definitely branching out now and trying to bring third-wave style coffee or specialty coffee to more people in other ways. Instead of making it kind of an intimidating experience, which it can be in some of these cafes, we're trying to make it a little bit more approachable, a little bit more friendly. We have coffee pods now that are compatible with Nespresso machines, we have instant coffee that works great for camping. It's developing and bringing a new style of coffee to a billion more people.
Forging the path to sustainability
Bilodeau: Crop to cup is really the fact that we are very aware when we buy coffee from someone that there is an environmental impact and that these producers are doing everything they can to lessen that impact and or render that impact positive. A lot of these businesses will invest into local communities or they will plant compatible crops with the coffee—so stuff that will supply food to the locals. Especially in Africa, there's a lot of emphasis on making these smaller coffee-producing communities kind of self-sufficient and not having to deal with third parties to sell their beans and that's definitely kind of the idea behind it.
We don't really buy our coffees on the trade market at all, which is what normally happens as a commodity. We'd rather physically visit the farm, get to know them, see how they're doing things and encourage that development and that research that goes into a lot of these new coffees. The transformation process can be washed, it can be honey, it can be fermented. Their experience is experimenting with all these new techniques and that makes the taste at the end. It doesn't even taste like coffee anymore. It's much more exciting and it's closer to wine or tea.
Some of these guys that I work with who are from this world and have made coffee their career are impressive. You could probably put a cup of anything in front of them and they'll tell you where it comes from, how it is processed and the flavor profile. They're closer to sommeliers than they are to baristas.
Adopting technology in a changing industry
Bilodeau: The equipment that we use to make coffee is top of the line, and it's all new technology and the best of everything. In that respect, [technology] plays a pretty important part. However, we were a bit late on the ecommerce bandwagon. We were selling online, but not through different channels, only through our own. Now there's been some emphasis put on Amazon and other retailers that can also market our stuff. That's kind of been the focus for the past two years since the cafes weren't running as much as they could.
Now we're starting to integrate Uber and all those other fun delivery apps. We kind of just started using [Lightspeed Order Ahead] and we're definitely looking forward to that. The margins are a lot nicer than Uber, so for pickup, that's definitely our go to. Not even really a debate.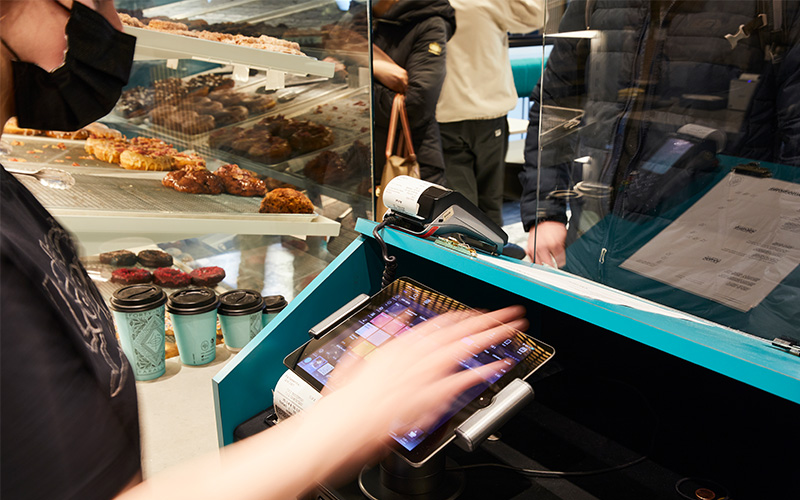 I love the reporting capacity that Lightspeed has, we use them a lot. We check all our metrics there and stuff like that. And Vancouver is connected to each different account, so the head office is able to track sales and do it that way. That's very useful.
It's super easy to use, very intuitive. The training on that aspect of the business goes very fast. Everybody knows how to use it—it's not complicated. We've been using Lightspeed for two years now. I know that this system is a lot easier than the one they were previously using. Especially for the end users: the staff.
I've been in this business for about 25-30 years now and until very recently, I would have been very adamant about keeping it old school. The fact that, for me, the service would be affected and that the end result would be affected. I think I've been forced to kind of see another way of doing things now in that, yes, not only to protect yourself against pandemic style situations, but it does streamline a lot of things and it enables you to reach people that you maybe wouldn't reach the other way.
Bringing positive change to a complex industry
49th Parallel has made it its mission to bridge the gap between grower and roaster, fostering strong relationships that not only bring quality to the final product, but provide a deeper understanding of the impact of coffee in the communities around them. They're constantly working to provide a spotlight to the origins of each bean and to educate coffee drinkers about what it takes to make their morning cup of coffee. By keeping quality top of mind, they're constantly innovating to produce exceptional coffee, extend their reach to new customers, build strong partnerships and bring positive change to a complex system.
To find out more about how Lightspeed provides coffee shops with best-in-class tools that streamline their business and help them reach their goals, talk to one of our experts.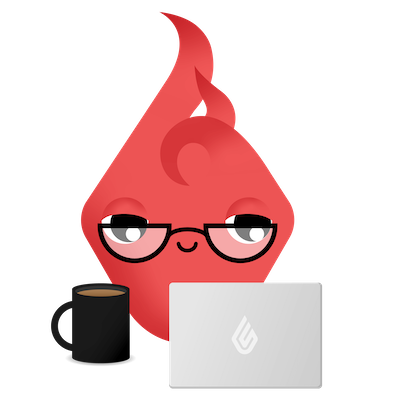 News you care about. Tips you can use.
Everything your business needs to grow, delivered straight to your inbox.