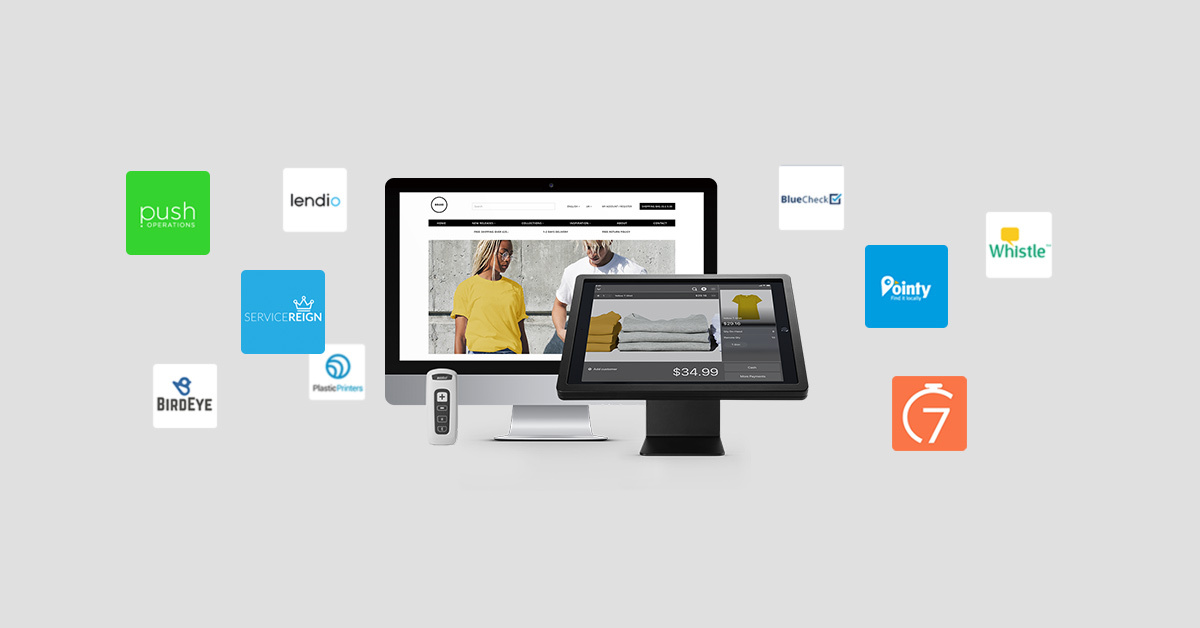 As you reopen your business to the public, you need to be smart about how you balance your bottom line with the health and safety of your employees and customers.
In a previous article, we spoke to you about relief plans some partners have put together to help you lighten the load. In this post, we're highlighting some partners and the tools they offer that can help you generate revenue and not only recover but future-proof your business.
We've categorized the tools into three categories that have heightened importance for businesses as they reopen:
Sell through the unexpected
Unlock a new revenue stream that never closes its doors. Manage inventory, shipping, marketing and reports and sell to more customers wit Lightspeed's end-to-end solutions.
Tools that support contactless commerce
As the world reopens, things are going to look different for a while—and it's unlikely we'll ever fully forget the lessons social distancing taught us. These partners help you serve your customers with tools and features aimed at keeping them safe.
Bluecheck

Plastic Printers

Whistle Messaging
1. Bluecheck
What it is: Bluecheck is an ID verification integration for Lightspeed. It is available for retailers.
How it will help: Bluecheck helps you manage age verification on your curbside pickup orders by giving you a way to verify photo ID during online orders and during pickup itself. Verification tags are appended to orders when Bluecheck scans an ID.
This gives retailers of age-restricted products a way to sell through curbside pickup like other retailers. By giving your customers more choices—online, in-store and pickup sales—you can meet them where they are as they navigate social distancing and, in the long term, busy lives. That helps you secure another source of revenue now and into the future.
2. Plastic Printers
What it is: Plastic Printers create custom gift cards and more for all business types. Their washable menus are available for restaurants.
How it will help: To help manage the ongoing pandemic while reopening safely, many business owners have been revamping their menus. However, paper menus need to be disposed of after every use in order to be safe—and in addition to being unsustainable for the environment, those printing costs add up.
Plastic Printers' plastic menus are an easily-sanitizable alternative. After a guest is finished with a plastic menu, your employees will simply need to sanitize them with a disinfectant effective against COVID-19 before they're safe for the next guest. Your restaurant will save money on printing costs, and your guests will feel safer knowing their menus are cleaned for their safety every time.
3. Whistle Messaging
What it is: Whistle is a guest messaging integration for Lightspeed. It is available for hospitality businesses.
How it will help: As the world reopens, hotels will need to find ways to keep their guests safe—and one way is to encourage more social distancing while staying in accommodations.
With Whistle, guests can make purchases through messaging and have those purchases charged to their room through Lightspeed. This can encourage more in-room dining and reduce the need to speak to staff in-person to still receive personalized service.
In the long run, having Whistle available to guests adds an extra source of revenue for hotels, as it gives guests the convenience to make purchases for their stay whenever they want, however they want.
Tools to level-up the eCommerce experience
Some customers will take some time to feel comfortable coming into your business in person, and others are enjoying the convenience of having their favorite retailers available to them wherever and whenever. These partners will help you serve both groups.
Pointy

Affirm
4. Pointy
What it is: Pointy is a tool that helps local online shoppers find your products. It is available for retailers.
How it will help: For many customers, the buying journey starts online—especially so if they're trying to plan shopping trips around social distancing measures, such as modified opening hours and lines to get into the store.
Pointy helps you be more visible to local online shoppers as they research and plan their trips. Products scanned by Pointy will show up in relevant search results, driving more customers into your store. Better visibility online is crucial in an era of change—no matter what happens to impact customer shopping habits in the future, you'll still be easily found online.
5. Affirm
What it is: Affirm adds payment installment options to your eCommerce checkout. It is available for retailers.
How it will help: Many customers are carefully watching their finances right now, but they need (and want!) to shop.
Integrating Affirm into your eCom store will help customers overcome financial barriers to purchase by giving them the option to pay in installments rather than all at once. This will help you continue to move big-ticket items without taking on any extra risk as a merchant.
Tools that improve labor and offer financial assistance
These partners help you make smart decisions about reopening your business, through either access to tools that help you plan out your shifts to maximize revenue while keeping the health of your employees in mind or through access to short-term capital so you can make the long-term investments you need to thrive.
Push Operations

7shifts

Lendio
6. Push Operations
What it is: Push Operations is a payroll platform that integrates with Lightspeed. It is available for restaurants and hospitality businesses.
How it will help: Bringing your employees back to work post-COVID requires putting new safety and wellness procedures into place. Push Operations can help you out with two tools—a clock in health questionnaire and contactless temperature reading.
Push's customizable health questionnaires help you keep an eye on how your employees are feeling before and after shifts. They'll encourage employees to reflect on their health and open up room for you to have a dialogue with them about not coming to work sick.
Contactless temperature reading helps ensure that even employees who don't realize they're sick are able to keep an eye on their health. If an employee over the acceptable temperature limit checks in through Push, you'll be notified and their temperature will be recorded.
These measures are useful long-term tools to have in your business to ensure your employees are always staying safe.
7. 7shifts
What it is: 7Shifts is a labor scheduling tool. It is available for restaurants and hospitality businesses.
How it will help: Transitioning back into work brings new challenges for your employees. Some will have temporarily impacted availability thanks to childcare, some will be without reliable transportation, others will not feel safe coming back for their role entirely just yet—you need to be able to balance their new scheduling needs with saving time so you're not spending hours planning shifts.
You also need to be smart about your finances—having a clear view of your budget and labor costs will help you make optimized decisions for your business.
7shifts helps you out on both counts. By putting good shift scheduling practices into place now, you're ready to tackle any future labor challenges that come your way.
8. Lendio
What it is: Lendio is a small business loan marketplace. It is available for all businesses.
How it will help: Lendio helps business owners gain access to over 75 leading lenders through a single online application. The streamlined application process means you can secure funding for your business with less hassle and time, so you can get on with your future-proofing plans, fully funded.
The PPP has been extended until August 8th to aid businesses during these trying times. In addition to being a go-to for your other capital needs, Lendio helps businesses secure access to Paycheck Protection Program funding.
By using Lendio now, you can set your business up to thrive through rocky patches with the funds you need to get things done.
Tools to manage the customer experience
Keeping in touch is more important than ever—and your online reputation could be the deciding factor for customers doing their window shopping digitally. These partners help you manage reviews and respond to feedback to optimize customer satisfaction.
BirdEye

Service Reign
9. BirdEye
What it is: BirdEye is a customer experience and business reputation tool. It is available for retailers and restaurants.
How it will help: Imagine—someone leaves you a bad review online. Instead of finding out about it from someone else days later, you're able to find the review and respond to it immediately. Now, when customers look you up, they don't see a bad review—they see a responsible business owner solving a problem.
BirdEye helps you stay on top of your reviews so you can put the best foot forward online. The better you're able to communicate, the better your brand comes across—which helps you bring more customers into your business.
10. Service Reign
What it is: Service Reign is an integration that helps you gather customer feedback on work orders. It is available for retailers.
How it will help: Keeping your customers happy is more important than ever. Happy customers are loyal customers, and loyal customers will help support your business through thick and thin.
With Service Reign, you can make customers feel heard by soliciting feedback on work orders right away. An email is sent to your customer after every completed work order transaction, prompting them to let you know how they liked the service. If a customer was unhappy, you'll hear about it first—which gives you a chance to turn the situation around and reinforce that customer's loyalty. It will also prompt happy customers to leave you a review online, helping more customers find you in the future.
Secure future revenue with the right tools
Being ready to adapt will help you keep your business going strong through whatever challenges come your way. Future-proofing your business means being ready for anything—and these partners can help you get started.
News you care about. Tips you can use.
Everything your business needs to grow, delivered straight to your inbox.