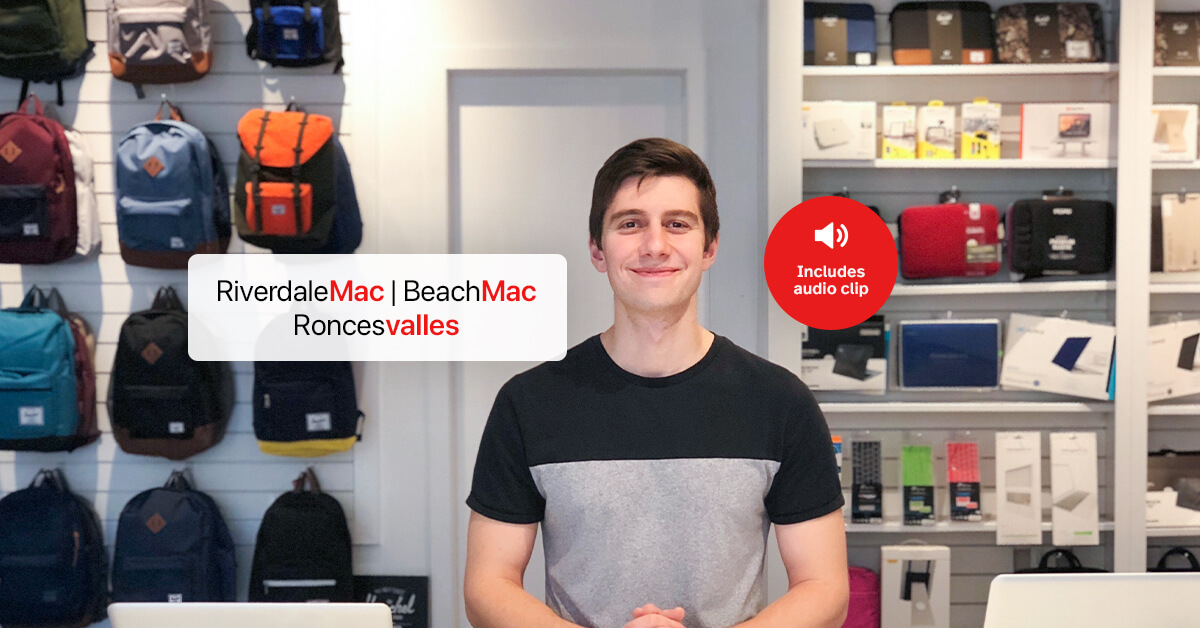 "We speak human." Those three words in Toronto-based computer retailer Riverdale Mac's motto sum up exactly what they do best. Riverdale Mac, along with its sister stores Beach Mac and Roncesvalles, provides a calm, hands on, down-to-earth computer shopping and repair experience. After being dubbed an essential retailer during the onset of the Covid-19 pandemic, their business skyrocketed and continues to thrive in today's increasingly virtual world.
While business booms for Riverdale Mac year round, back to school is notably one of the busiest times of year for electronics retailers. We spoke with Myles Kesten, President of Riverdale Mac, to learn how he prepares his three locations for the back to school season.
Back to school is a bigger deal this year than it's ever been with schools and universities going back in person
.
How has this excitement translated to your business's activities?
"Back to school begins for us late in June with graduation. Comparing this year to last year, our sales are probably about the same, but we're still way ahead of what pre-pandemic summertime was for us. And back to school plays a big part in that."
How have you been preparing your inventory for back to school?
"We look at all of our inventory across our three stores and see where we put things and where we didn't. The reporting features in Lightspeed are pretty critical to our success. We have managers talking back and forth between the stores as to who has what, why, and and moving things around. Until we know what the hot products are going to be, we're busily trying to optimize our inventory to get rid of dusty merchandise."
What other Lightspeed features or add-ons are you leveraging for back to school?
"Because of the change in consumer behavior in the last year, there's a greater reliance on contactless purchasing. We're also finding that a lot of our neighborhood customers are using our Lightspeed eCommerce site to find out what we sell and how much we sell it for. That helps our customers feel more confident about working with us. It also saves us a lot of time answering questions on the phone, like, "Do you sell iPads? You sell computers?" They now see these online.
Another big change in our business from a year ago to now is that we were able to integrate texting into the point of sale software. We now use (the) Ikeono (integration) with Lightspeed. Since we do a lot of computer repair, timely reporting and timely messaging makes us much more reliable to our customers. They really want quick communications and integrating the texting with Ikeono has really made a huge difference. You can really see it in our Google reviews; in the past 12 months we've gotten a lot of five star reviews. Feedback and public exposure is absolutely essential to our success."
It's amazing to hear you're getting such great feedback and reviews! Speaking of Google, have you been using Lightspeed to set up Google Local Inventory ads?
"Yes, we've been using Google local inventory ads to make sure that our local customers know that we exist and what we're doing. We've invested a little bit in advertising and promoting those links. For example, somebody will call us and say, "do you have any monitors that are appropriate for my computing situation?" And we'll send them a URL to our site, which saves us a heck of a lot of time on the phone and also gives people a lot more rich information."
Do you look forward to the back to school season as a retailer?
"​​Oh, absolutely, yeah. From a business point of view, it brings more people into the store and that's always a lot more fun and it keeps our staff engaged a lot more. I mean, the fact that it happens in July or August, a bit of a problem because, you know, people need vacations and we tell them, sorry, you can't take a vacation in August or whatever, and that's not fun. That's hard on the staff. August is particularly stressful because we're not just selling stuff. We're answering a lot of questions and that's what customers expect. So that's what we do."
What advice would you give to new retailers going through the back to school season for the first time?
"Watching your bottom line is very important. When you're coming into a busy season like back to school, it's a good idea to get rid of the dusty merchandise and use those reports in Lightspeed, which tell you what your dusty merchandise is and get rid of them as fast as you can.
Natively, you have a lot of information from your customers and some of that is stored and wasted. We tend to, when we're busy, just forget about it, not look at the statistics, not look at the trends in your products and not see what your customers are doing, whether your own customers are coming back, whether you're getting new customers. It's very expensive to bring a new customer into the store. So do whatever you can do for your existing customers. We'll give a little when we're talking to our regular customers, we'll do something special for them. Anything that will remind them that we're on their side. Spend a little more of your effort on rewarding your regular customers.
Your staff is so important, too. Always look out for the mental health of your staff. When you get to this point of the year, you shouldn't be hiring new people. You need people who are experienced in what you do. You need a diverse workforce. You need a responsive workforce. You need a prepared workforce. I have for many years said that good customer service is being ready to answer any question before the customer walks in the door. It's very important to be ready before they get there.
As an electronics retailer, our customers range in ages from eight to 88. All of these people use our goods and we have to talk to people on their level where they come from, their level of education, their experience with computers. That's the hardest part, because anybody from the ages of, say, 40 to 70, their introduction to computers, for example, is quite different from someone who is 17. You have to be prepared to answer people's questions and in a language that they understand. You need a very, very diverse workforce that's trained and caring."
Give your business the tools it needs to thrive
Over the years, Kesten has learned that paying close attention to your customers' needs is critical to standing out amongst your competition. He relies on his business acumen as well as strong tools like Lightspeed to prepare his stores for back to school. With Lightspeed, he can shuffle inventory between different locations, run local advertisements on Google, communicate quickly with his customers about repairs and so much more. He is able to offer exceptional service during a hectic time for retailers.
Looking to get ready for busier seasons? Talk to one of our product experts to see how Lightspeed can optimize your business.
News you care about. Tips you can use.
Everything your business needs to grow, delivered straight to your inbox.