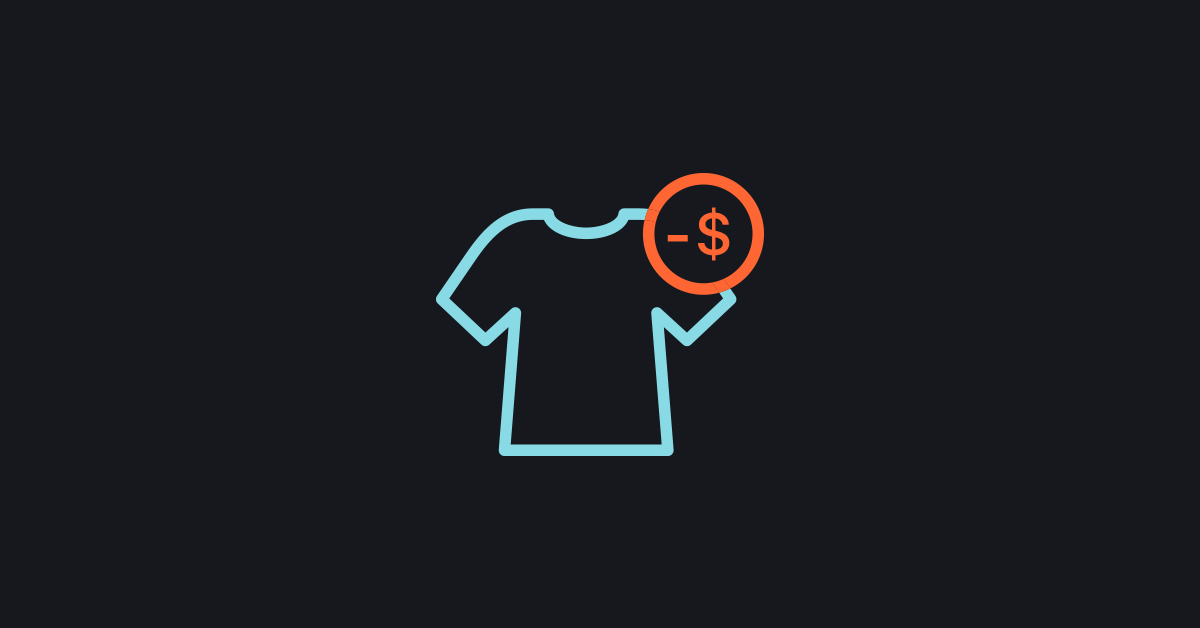 Repeat customers are good for business. Repeat returners? Not so much. While returns are a natural part of the retail business, some customers take it to another level. Your best defense? Having thorough retail return policies in place.
Whether their motives are fraudulent or simply fickle, serial returners impact your profits. Each year, retailers lose $23 billion in sales due to return fraud and abuse, according to Appriss Retail's Consumer Returns in the Retail Industry report. Online retailers are also out shipping fees, packing materials and employee wages for processing the goods.
Why Use a Return/Refund Policy
Returns are a double-edged sword. A study from MIT Sloan Management Review found that legitimate returners account for about 52% of customers and contribute $1,445 per year to a retailer's profits. They also place a lot of value on the ability to make a return when deciding where to shop. Abusive returners, on the other hand, represent less than one percent of customers, but they cost a retailer $1,254 in profits.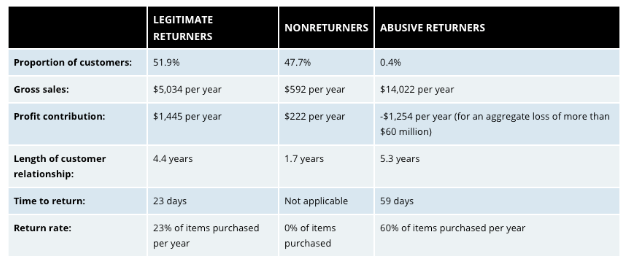 Source: MIT Sloan Management Review
Unfortunately, serial returners are growing in numbers. A study by Brightpearl found that 42% of U.S. retailers report an increase in this type of activity during the last 12 months, especially with customers age 18 to 34. This is partly due to the growing eCommerce shopping trend of bracketing, but we'll get to that a little later.
Making all sales final would likely result in losing customers, but you can take steps—from small to more extreme—to reduce the number of serial returns you experience.
Reinvent your business for sustained success
Business owners and operators face a whole new set of challenges. Download our free playbook and learn how to diversify sales and build a more resilient business post-pandemic.
Start with your return policy
Clearly post your retail return policy on your website in an easy-to-find spot. It helps to also include your return policy in the confirmation email you send after purchase. In it, you should include:
How to start the return process

How long the customer has to make a return or exchange

How to send it back

What the customer needs to include (the packing slip, the return form that's included in the packing slip or available online, the original packaging, the price tag, etc).

Who pays for shipping

What items are not returnable, such as items that are used, undergarments, or custom orders

How to get in touch if the customer has any questions
You want your return, exchange, and refund process to be as clear and simple as possible. Almost half of shoppers refer to it before making a purchase, according to the 2018 Consumer Report study by Narvar, The State of Returns: What Today's Shoppers Expect. 70% of the respondents also said that an easy returns experience would make them a repeat customer of a retailer.
To strike a balance between having a great return policy and protecting your business, consider limiting the return window to 30 days instead of 60 or longer.
Should you offer free returns?
Customers love free shipping, but you can be proactive against returns by only offering it for purchases over a certain value. This will reduce the number of smaller purchases made that could potentially be returned individually. And reconsider offering a free return shipping policy. While customers also love this perk, if they have to pay to return an item, especially a low-cost purchase, they'll think twice before popping it into the mail on its way back to you.
Also, require an item to be returned unused, in its original packaging with original price tags attached. This will help reduce "wardrobing," a type of return fraud where a customer uses the item and then returns it. This is common with expensive, infrequently used items, such as formal wear, tools or some consumer electronics.
Nearly 40% of retailers have experienced this type of return, according to an Appriss Retail study. Instruct your staff to closely inspect the items that are returned and enforce your return policy if they suspect abuse. Don't be afraid to reject the return, or reach out to the customer, especially if it's a repeat customer, and offer store credit instead of a refund.
How to calculate your free shipping threshold
Identifying your free shipping threshold requires you to know one metric: your median order value (MOV). When you know your median order value, you also know that 50% of all your orders are above, and the other 50% are below. It's the true midpoint.
You can also use average order value (AOV) to calculate your free shipping threshold, but you need to be mindful to exclude any outliers—orders that are extremely high or extremely low. These can corrupt the accuracy of your calculation and reduce the overall value of any free shipping threshold you determine using AOV.
Here's a quick example to highlight why MOV is a better indicator for determining your ideal free shipping threshold:
Imagine you have a set of orders in this value ($2, $4, $6, $6, $7, $9, $14).
While your AOV is $6.85, your MOV is $6.
Now, imagine if your last value was $140 ($2, $4, $6, $6, $7, $9, $140)
That inflates your AOV to $25, while your MOV is still 6.
This is why MOV is a more accurate metric for determining your free shipping threshold. It doesn't take into account outliers and gives you a true middle.
Aim for your free shipping threshold to be just above your median order value or average order value. This will incentivize the average customer to add a few extra items to their cart to qualify for free shipping.
We suggest experimenting with different free shipping thresholds based on your median order value and average order value to see which ones perform best. As the products you offer changes, so might your ideal free shipping threshold for growing your MOV or AOV.
Consider embedding your free shipping threshold throughout your customer's shopping journey. This acts as a reminder that incentivizes them to add a few extra products to their cart to benefit from free shipping.
Montreal retailer C'est Beau places their free shipping threshold throughout their customer's shopping experience—from the product selection page, all the way to the final checkout page.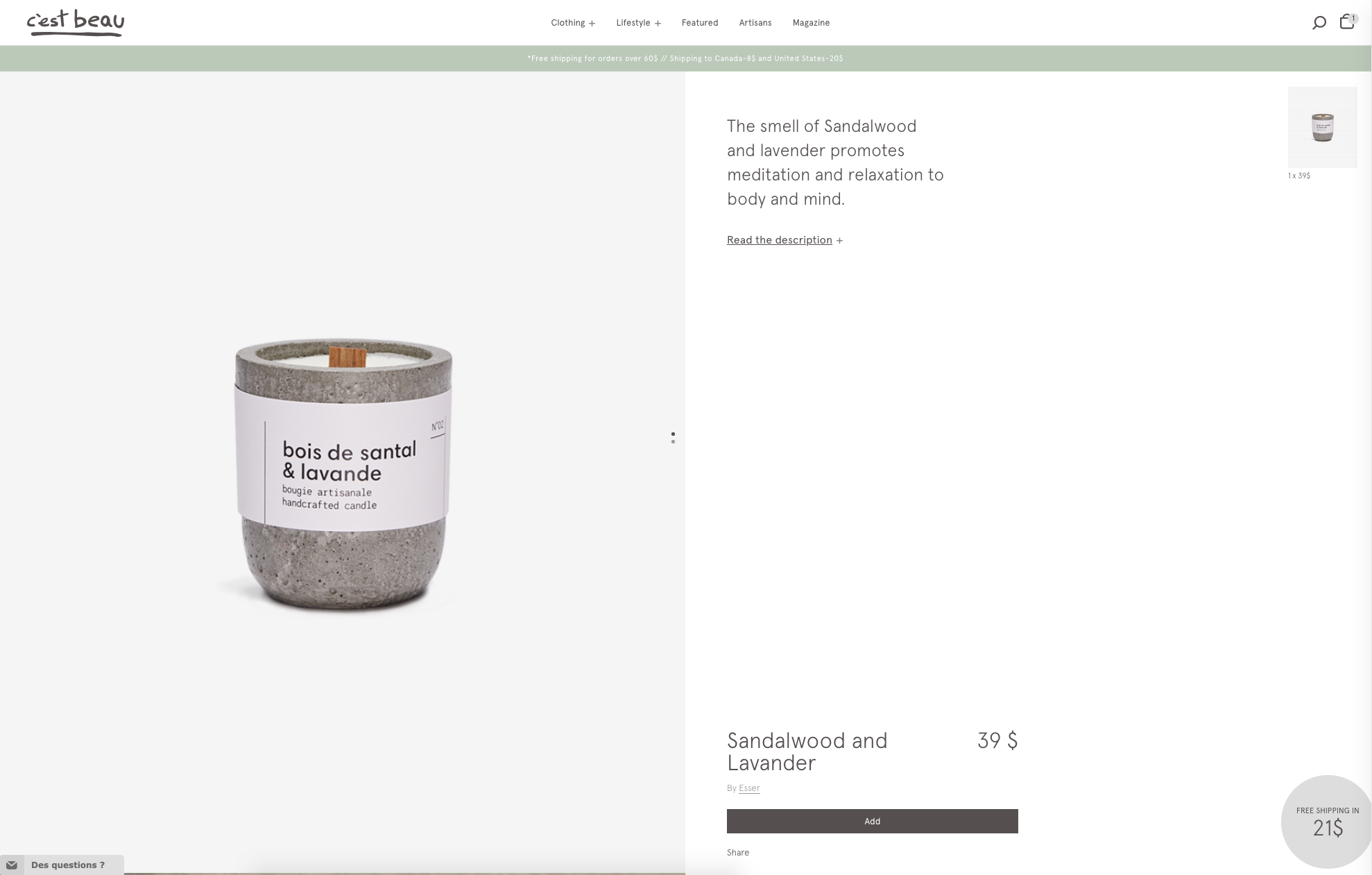 Account for bracketers in your return policy
An abundance of product information and sizing help can reduce returns, but online retailers should also prepare for bracketing, a trend where customers purchase multiples of an item in a variety of sizes, colors or patterns with the original intent of returning some of them. Nearly 40% of shoppers bracket occasionally, reports Retail Dive, recreating the fitting room experience in their home.
Bracketing: a trend where customers purchase multiples of an item in a variety of sizes, colors, or patterns with the intent of trying them on at home and returning some of them.
According to Narvar, bracketing is most common for clothes or home goods. While it's not good news for online retailers (especially if you offer free shipping) the silver lining is that high-income shoppers are more likely to do it. Narvar also found that of the 60% of online shoppers make at least one return or exchange per year and 95% of customers will purchase again if the return experience was a good one.
With that intel, it's important to view bracketing as an opportunity to foster customer loyalty and boost your customer lifetime value. If you can predict that the profits you generate outweigh the anticipated cost of free shipping and returns, then you should absolutely consider offering them.
Implement a loyalty program
Loyalty programs can help encourage those good customers to keep their merchandise, especially if you base rewards on dollars spent instead of the number of visits or transactions. Offer more perks for repeat business, and make rewards redeemable after your return policy. This might be enough for a customer who isn't completely sure about a product and decides to keep it for the loyalty reward.
Beef up product information
Online retailers face a unique challenge: Customers can't touch or try items on before making a purchase. This contributes to about 30% of online returns getting returned, according to a study by Invespcro. The solution to this challenge is to provide more in-depth product descriptions and images.
Upload as much high-resolution product photography as necessary to show the product from all angles. Include the ability to zoom in on the photos. Include 360-degree views as well as product videos. When Zappos added product videos in 2012 it reported that customers were 64% more likely to buy after watching a product video.
Another way to help customers get more information is by adding customer reviews to the product page. Another customer's experience can be a great source of information for a shopper, especially someone who hasn't made a purchase from you yet and doesn't have first-hand knowledge of your quality or sizing. Also, allow customers to easily ask questions either on the product page, through a chat box, email or on a FAQ page.
Make sizing charts clear
If your online business offers apparel, your return rate is likely higher; CNBC reports that 40% of online clothing purchases are returned. Your product descriptions also need detailed measurements. And if your images include models, provide their measurements, including height and weight, and the size they're wearing.
Consider using real people as models. It can be hard to judge how an item will look on a person with an average build. Shoppers often compare themselves to an idealized body type. Seeing a person, along with their sizing information and which size they are wearing, helps customers visualize how the product will look on them.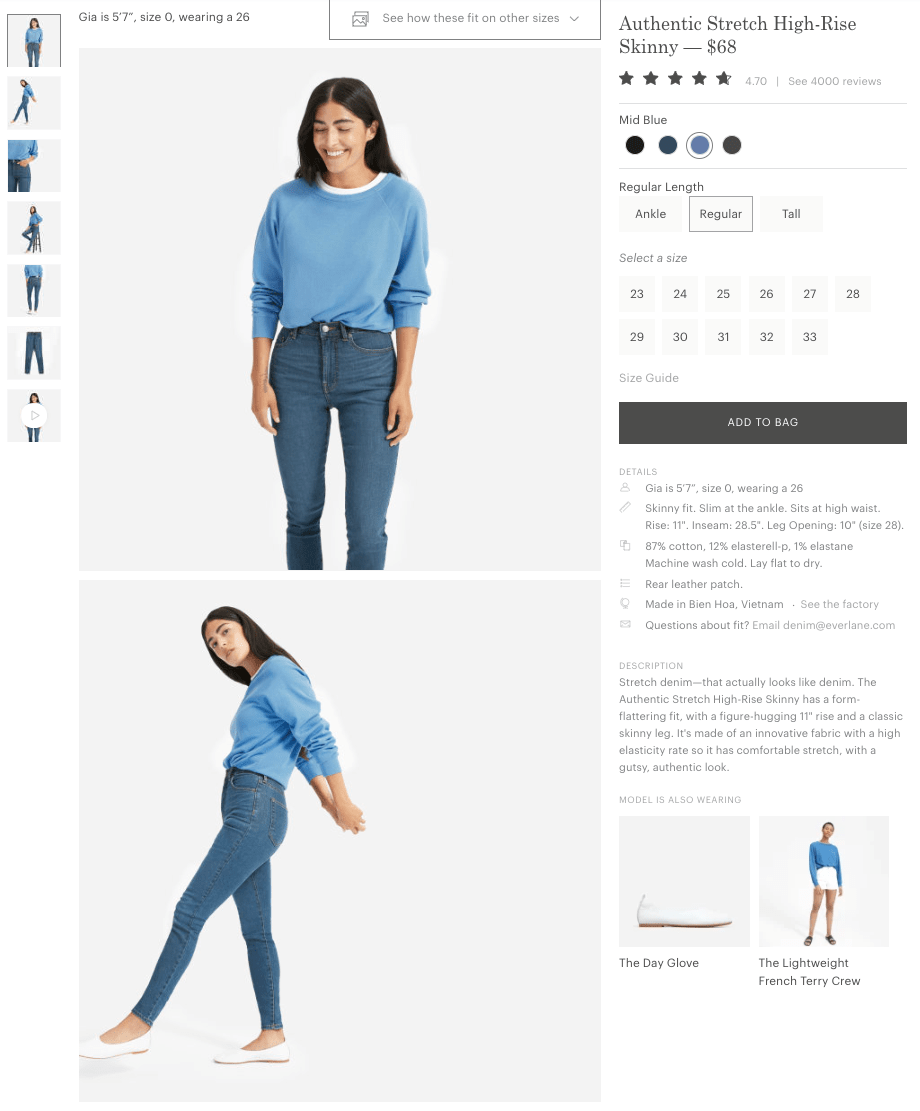 Everlane includes a ton of product and model information that helps customers get a clear idea of how their products fit before they add it to their bag.
You can help customers find the right sizes by collecting data, such as their fit preferences, such as fitted or loose. Another option is to use a tool like True Fit or Virtusize that helps the shopper compare the sizing of your clothing to pieces they already own. If a customer has already purchased from your eCommerce store then their sizing information is stored, but they're also able to enter the measurements of clothing they already own to compare the fits.
Prevent serial returners
If you find that serial returners are too great a strain on your profits, your final option is to consider banning the abusive customers. It sounds extreme, but it's a tactic that more retailers are considering, especially after Amazon instituted a lifetime return ban for its serial returners in May 2018. In a study by Brightpearl, 61% of U.S. retailers said they'd consider a ban, as well.
The challenge, however, is setting a reasonable threshold for identifying serial returners, and 44% of retailers said they don't have the technology. You don't want to make a mistake and lose their business because of it.
Analyze transactional behaviors and segment your customers according to their profitability to determine the threshold for when you should restrict returns and when you should look the other way, the MIT study suggests. And be clear about your actions. In your returns policy, state that while returns are welcome, your business does monitor for unreasonable volume and customers with a history of excessive returns can be restricted or refused.
With Lightspeed, you can see how many returns each of your customers initiates over any given timeframe by downloading your
All Transactions
report.
Merchants that have a physical location can use the Retail Equation's service. Its national database tracks customers and returns and assigns them a "risk rating," similar to a credit rating. Cashiers scan the receipt as well as the customer's ID, and the system provides a data-driven decision about the validity of the return.
Find a balance for your retail return policy
No matter what type of return policy you implement, your number one focus should be to offer great customer service and treat legitimate returners with respect. Too strict a policy sends a poor message that makes consumers reluctant to take the plunge and order from your store, especially online.
Handling serial returners requires retailers to find a balance between offering the perks that customers want while maintaining profitability. If you implement a return and exchange policy that customers appreciate, you could see your business winning long-term because of both increased customer lifetime values and positive word of mouth attracting more customers (bonus points if you have a solid referral program).
Good luck!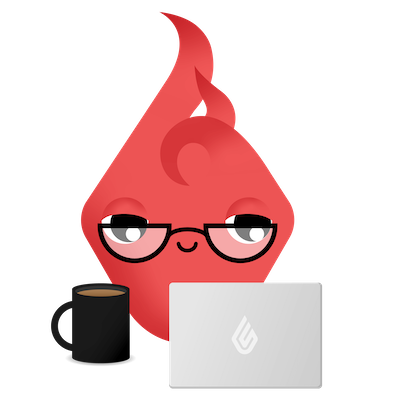 News you care about. Tips you can use.
Everything your business needs to grow, delivered straight to your inbox.