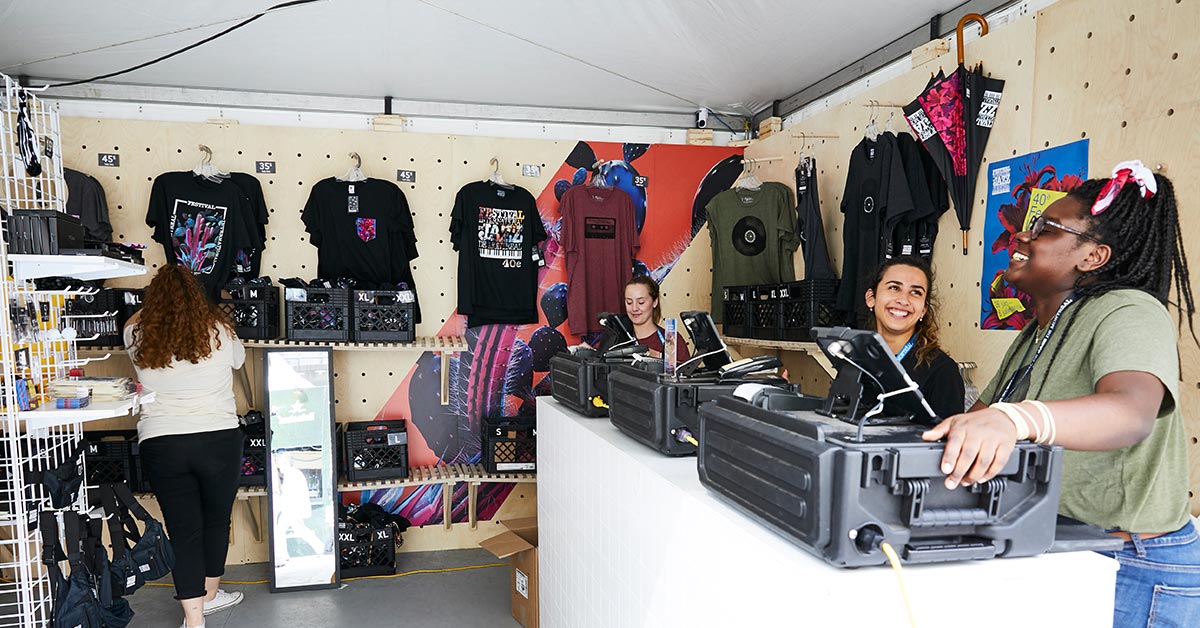 The pop-up shop is no longer just a retail trend. It has become a staple part of many a retail strategy. From new brands looking to build a name to the already established and even luxury brands, it seems no area of the retail industry is untouched by the pop-up.
At the heart of it, the success of the pop-up format comes from its impermanent nature.
Pop-ups are usually open for a short period of time—from as little as one day through to several months. This taps into our "get-it-before-it's-gone," fear-of-missing-out (FOMO) mentality. When we're constantly craving the next thing, pop-ups can help satisfy our desire for the new. They also give us something to talk about and share with others at a time when experiences are a greater currency than ever.
For retail landlords, they've also become a way to keep shopping areas fresher and more vibrant by constantly offering something new for customers to explore. Meanwhile, brands have found them to be beneficial as a form of experiential marketing, as well as to test new ideas and locations.
A pop up requires a much smaller investment than a permanent store, which means the retailer can figure out what works without the huge commitment. It also allows them to be more innovative – they can test out more ideas and see what resonates with customers.
What kind of impact has the pop up had on the way we shop then? Here are four ways that the power of the pop-up shop is being felt throughout the retail industry:

Pop-ups as marketing
One of the biggest uses of pop-ups is to build brand awareness.
While eCommerce has really opened up the retail playing field enabling more and more brands to sell direct-to-consumers, it also means that there's more noise than ever. It can be hard to cut through and make customers aware of your brand.
At the same time, there's no denying the marketing power of a real-life store.
Every day we subconsciously register the brand names that we see above the shops that we pass. It helps to establish them in our minds, which means when it comes time to buy something, they're often the first ones we think of.
A pop-up store is a great way for brands to achieve that same awareness, without the long-term commitment. Even established brands find that a pop up can give them a marketing boost or help promote a new product.
Taco Bell is one brand that has wholeheartedly embraced the pop up as a marketing opportunity.
Its temporary hotel, The Bell, will soon be open to customers after reservations sold out in just two minutes. The idea not only generated a whole load of buzz before it even opened but with those who were able to book sure to be sharing lots of images during their stay, the marketing reach will grow even further.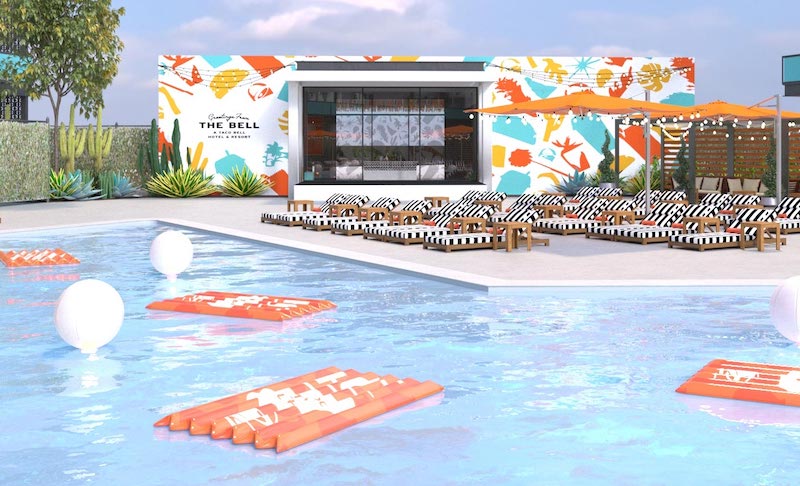 Image source: Taco Bell
On the back of this, Taco Bell teamed up with T-Mobile to create pop-up experiences in the phone company's Chicago, Los Angeles and New York stores. The 'TMoBell' experience gives away free food and drink as a means to draw customers in. The partners are hoping that their combined brand power will help them to reach a wider audience.
Beauty brand Winky Lux is even able to charge customers to visit its pop-ups by making them all about experience. Customers can wander through a series of Instagram ready rooms filled with different colors, props and textures. The $10 cover charge can be redeemed against products in the store at the end of the experience. The approach means that customers are paying to be marketed to, as well as pretty much guaranteeing to buy one thing at the end.
The general pop up approach is to put a store where your customers are, such as in a shopping center, on a high street or in a transport hub. Some brands, however, use a pop-up shop's marketing potential to bring customers to them.
Busch recently hosted a pop-up bar deep in a U.S. national forest. The company created a scavenger hunt experience around it by dropping hints on Twitter as to where the location might be.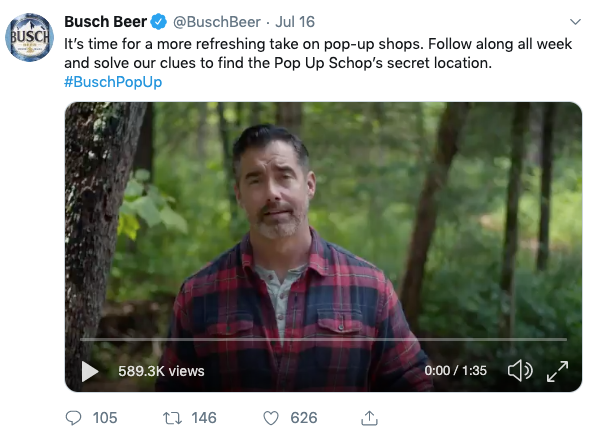 Customers who turned up could enjoy free beer and gifts, as well as the chance to win free beer for life. It was a fun example of how pop-ups can be used to offer new experiences to customers while getting them talking about your brand.
The great thing about combining a pop-up store with an online campaign is that you get two birds with one stone. The online element can help to drive additional foot traffic to the store, but it also helps increase brand awareness for those who are unable to visit.
Pop-ups as learning spaces
Some brands are using pops up to gather insights, as well as build brand awareness.
This includes lingerie brand ThirdLove who has just opened a new pop up store in New York. The brand says that while it has no plans to open permanent stores, it does see this space as a way to finetune its business and gather customer feedback.
This is particularly important in this case because ThirdLove uses a data-driven approach to recommend the best bra fit to customers through its online Fit Finder quiz. The company says that more than 14 million women have taken the quiz to date, which has helped to refine its algorithm and improve their product.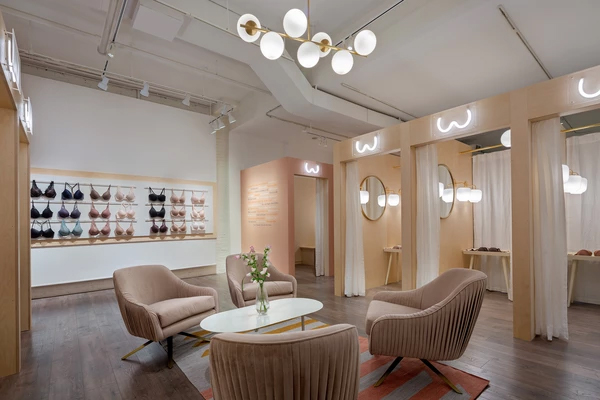 Image source: ThirdLove
The ability to get customer feedback live in a store though will help it to determine just how accurate its recommendations are. The data can then be fed back into the system to improve it overall. At the same time, the pop up works on a marketing level as well in helping promote the brand.
Some products like clothing, lingerie and beauty items are more difficult to get right when selling online because of the challenges of fit and color. This is one reason why a pop-up store can be a valuable way to convert potential customers into real ones by letting them try for themselves before they buy.
When pop-ups go permanent
Sometimes pop-ups are just that, but sometimes they're so successful that they become permanent ideas.
Take Pret a Manger's Veggie Pret concept, for instance. This all-vegetarian/vegan Pret store started out as a London pop up, but the reception was so good that there are now three permanent Veggie Pret stores in London and another in Manchester. Pret even has plans to turn numerous EAT stores into Veggie Pret spaces following its acquisition of the company.
Allbirds is another example of a brand who started out with a pop-up store before moving into opening permanent spaces. In just two years, they scaled their business to a $1.4 billion valuation.
In each case, the brand is able to take the learnings from the pop-up store and transfer them to its permanent one. If a certain design or service aspect really shone, or equally didn't work, then they can take that into consideration.
It's almost like a real-life form of A/B testing. The feedback from the pop up means the concept can be tweaked, or scrapped, as needed. The retailer can also have more confidence in the final approach because it knows there's evidence to back it up.
For small companies, pop-ups can really help to gauge the appetite for their products in a specific market. This can then help drive the decision-making around whether to open a store in the future. If nothing else, a pop up at the right time of year could help to massively boost sales and can be repeated year-on-year.
Tech-powered pop-ups
The new wave of pop up stores aren't even stores (at least not in the physical, four walls sense). Brands are increasingly making use of the smartphone power we all have in our pockets to create tech-powered stores that 'pop up' where we want them to.
Nike's SNKRS app is a great example of this. Through it, Nike has launched products at concerts, in parks and numerous other public locations. Customers have been invited to scan menus or take photos of specific things to unlock new product collaborations. By using location to trigger buying experiences, Nike is able to move beyond the physical store in order to reach customers. It also creates a very different shopping experience, which customers want to be part of.
Havaianas also got in on this trend with its AI-powered shoppable mural on Venice Beach Boardwalk in California. Customers who scanned the artwork with their phone were directed to Havaianas' online store and a pair of sandals that matched the color of that section. The cool thing about this is that you could literally put the artwork, and therefore the store, anywhere.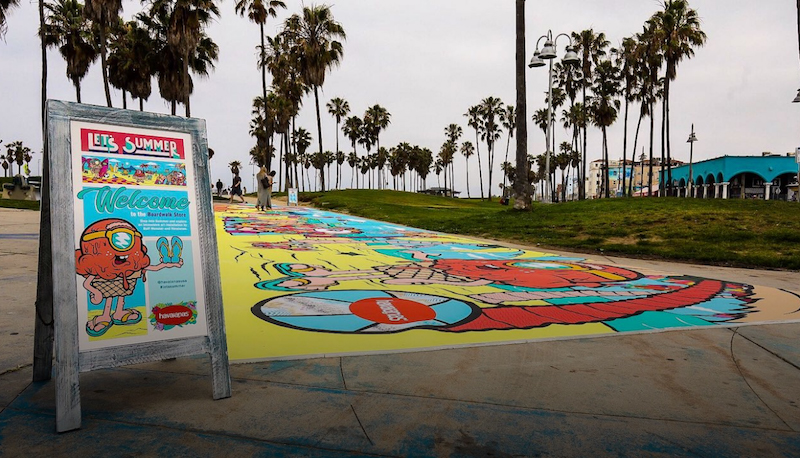 Image source: Glossy
Even if you don't have the budget to build your own location-enabled pop-up, at the very least consider that smartphones allow customers to shop anywhere. Having a mobile website that works well and looks good is crucial for any brand. After all, you never know when or where someone might learn of you and want to buy.
It only took Kanye West 48-hours to launch his Amsterdam Saint Pablo pop-up shop using Lightspeed
When Kanye West was looking for a point of sale to power his Saint Pablo pop-up shop in Rozengracht, Amsterdam, he needed a solution that could get set up fast and process hundreds of payments. Within two days, Lightspeed helped him create a beautifully-branded, transactional pop-up shop.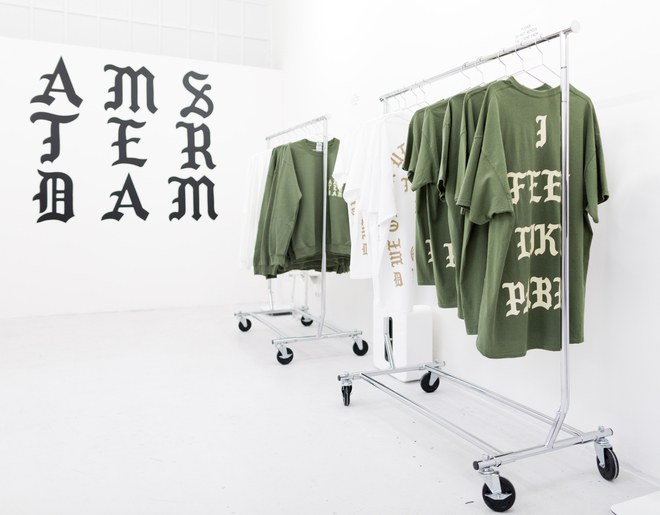 The power of the pop-up
It seems that the power of the pop-up store is undimmed. There are no rules as to what a pop-up shop has to be, what its purpose is or how it must look. It is this flexibility that has made it such a popular concept.
Customers never know quite what to expect, which helps guard against pop up fatigue. Just when you think you've seen it all, someone comes along and mixes it up again. Brands can chop and change, opening pop-up stores for different reasons in different markets as they see fit.
Pop up stores also offer exclusivity. Even the most popular pop up can't be visited by everyone. Visiting a pop up is like being part of a special club. This naturally encourages customers to share and talk about their experience—that user-generated content helps to spread the brand message wider.
They're also a reminder that, despite all the benefits of online shopping, customers still embrace spaces where they can meet and engage with brands. They still want to experience and connect. The pop up frees up brands in the way that they can do this. It encourages more creative thinking, which ultimately makes for better experiences—temporary or otherwise.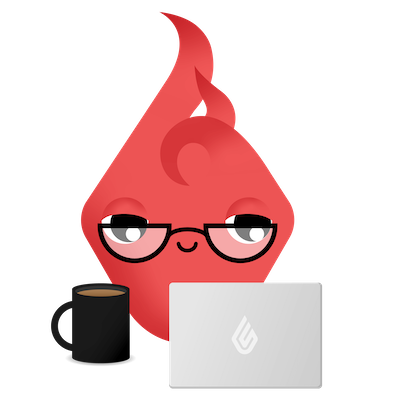 News you care about. Tips you can use.
Everything your business needs to grow, delivered straight to your inbox.