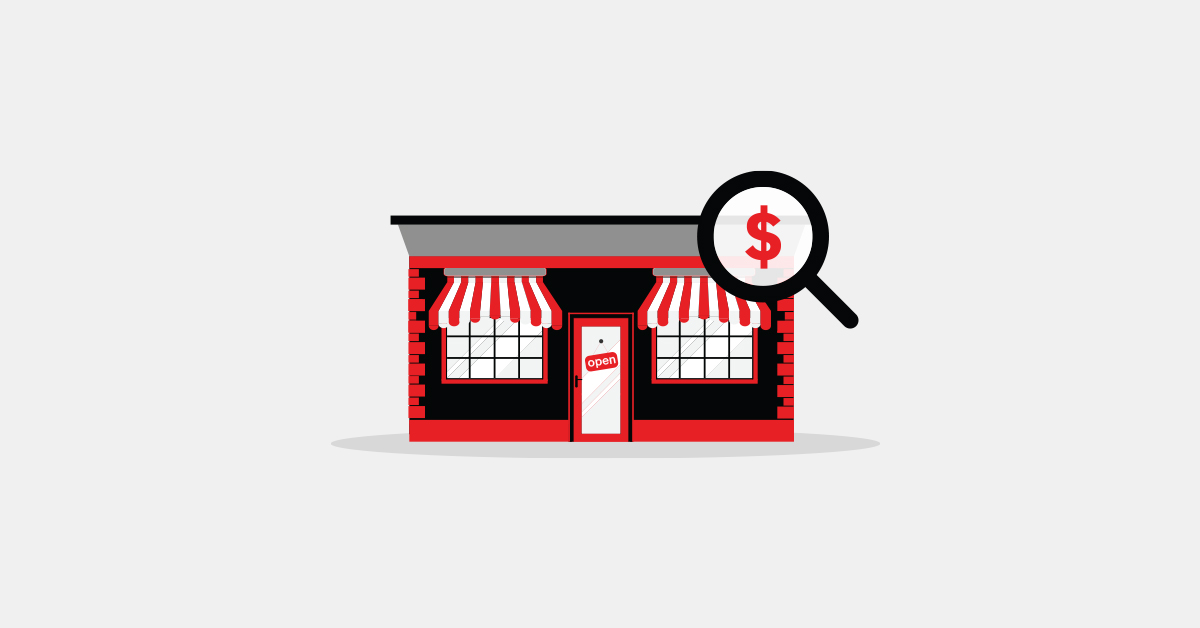 Owning and operating a restaurant is a notoriously tricky undertaking—even for some of the most seasoned professionals in the industry.
Anthony Bourdain, the world-renowned celebrity chef and a lifelong restaurateur, frequently discussed restaurant owners' challenges throughout his esteemed career.
"Why venture into an industry with enormous, fixed expenses (rent, electricity, gas, water, linen, maintenance, insurance license fees, trash removal, etc.), with a notoriously transient and unstable workforce and highly perishable inventory of assets?" Bourdain asks his readers in his best-selling book, "Kitchen Confidential."
While the answer is unique to each restaurateur, the main point behind Bourdain's question remains the same: there's a long list of obstacles restaurant owners must overcome to run an eatery successfully—and restaurant costs and expenses are often at the top of this list.
Running a restaurant is historically expensive on its own—but today's inflated costs of restaurant ownership can make it even pricier. Between labor shortages, supply chain delays, and inflation, many of today's restaurateurs are faced with financial adversities that aren't for the faint of heart. Recent studies show that:
26% of restaurants

[1]

can't find enough cooks, meaning slower customer turnover and less profit.

95% of restaurants

[2]

have experienced supply chain delays or shortages of food items, leading to inconsistent inventory management and purchasing of overpriced goods.

The prices for beef, fats, oils, and eggs are up 60%, 50%, and 40%

[2]

, respectively.
Without a proper plan to account for the costs of these roadblocks, they can slowly eat into your profits—which could eventually lead to closing your restaurant's doors.
But we're here to tell you that opening a thriving restaurant in 2022 is possible. All it takes is implementing the right restaurant cost control strategies into the planning process as early as possible.
Table of Contents
Control costs and improve profitability
Watch a free demo to see how Lightspeed's restaurant POS can help you track costs, manage your margins and streamline your operations.
How Has COVID-19 Created New Challenges to the Restaurant Industry?
Restaurants were hit hard throughout the pandemic, as consumers and workers alike were forced to stay at home to curb the spread of COVID-19. According to the National Restaurant Association, more than 110,000 eating and drinking establishments [3] in the U.S. closed their doors in 2020 alone. Eating and drinking establishments ended 2020 with roughly 2.5 million jobs [4] below pre-coronavirus levels—and total restaurant and foodservice sales fell $186 billion from 2019[5].
The tide began to turn for the restaurant industry in 2021. There was a net increase of 1.3 million jobs [1] from January to July. However, eating and drinking places were still roughly 1 million jobs (8%) below pre-pandemic employment levels, and restaurant owners and operators reported recruiting and retaining employees was their top challenge. While total restaurant and foodservice sales also jumped to $799 billion by the end of the year (an increase of $121 billion from 2020), the industry still had a long way to get back on track.
As we work our way through year three of the COVID pandemic, the economic outlook of the restaurant sector is looking brighter. The foodservice industry is forecasted to reach $898 billion in sales in 2022 [5], and the foodservice workforce is estimated to grow by 400,000 jobs. 74% of U.S. adults [6] also said they feel comfortable going out to eat at a restaurant again, and 72% [6] specified they feel satisfied with indoor dining.
The Cost of Restaurant Ownership in 2022
While the foodservice industry appears to be on the mend in 2022, opening a restaurant isn't easy financially. According to a Lightspeed survey conducted this year that polled 246 United States restaurateurs in the Hotel and Food Service and Hospitality industries, 36% said they spent up to $100,000 to open their restaurant. These restaurateurs also went roughly $63,598 over budget, on average.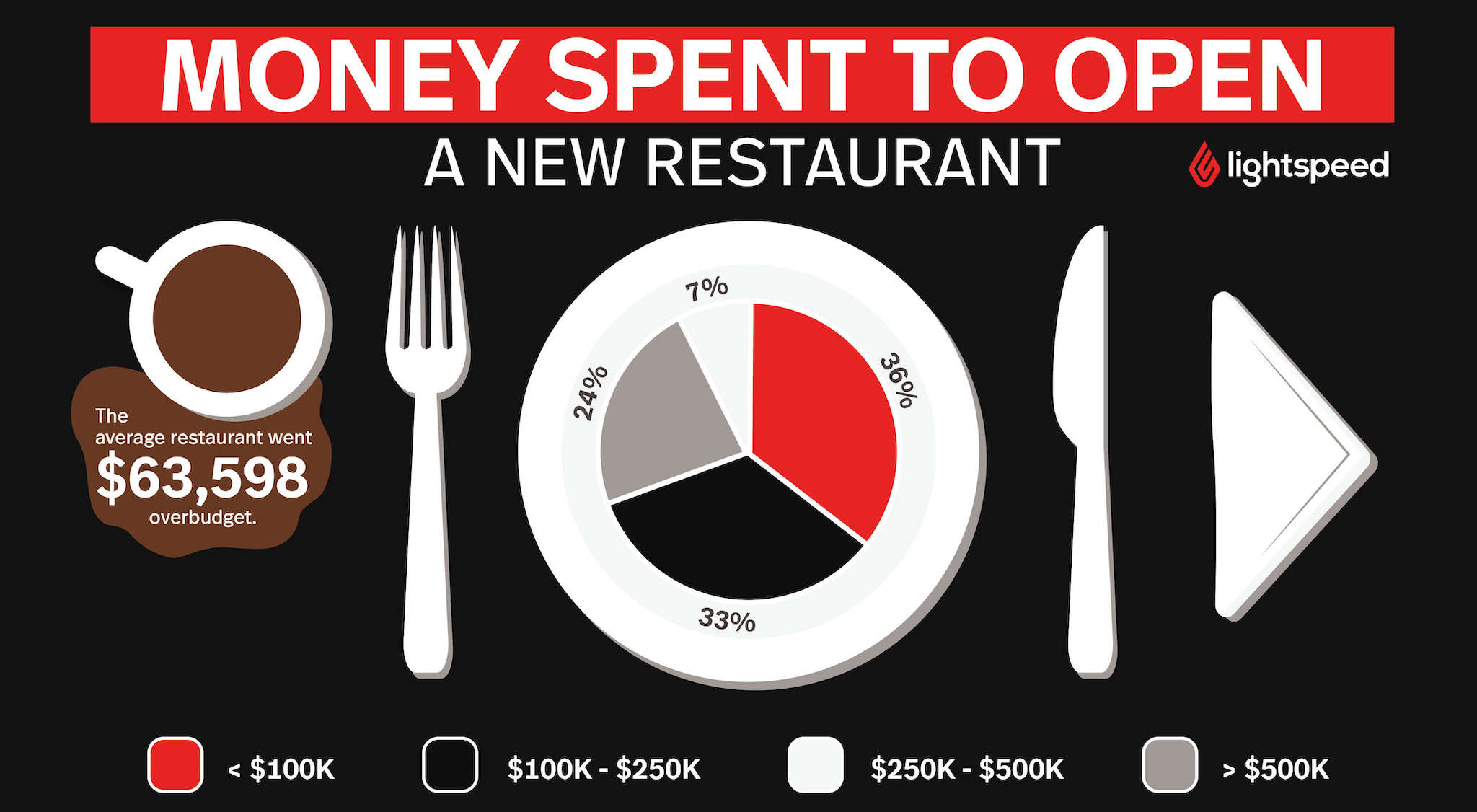 The actual cost of starting a restaurant varies widely depending on a host of factors, including location, size, and service style. For example, opening an eatery with a concept centered around takeout will likely cost far less than launching a 150-seat fine-dining restaurant in a popular area.
Whether you purchase or lease a commercial space also plays a significant role in the cost of restaurant ownership. According to our survey, the median cost restaurateurs paid for their eateries' mortgage or rent was $2,000.
If you plan to buy a space, you'll need a down payment of 15-35% of the total cost. For example, if your restaurant costs $375,500, you'll need to put down somewhere between $56,325 to $131,425. If you're more interested in a lease, you'll be expected to put down an initial security deposit, ranging from 3 to 6 months' worth of rent with a lease. This means if your restaurant's rent is $2,000, you'll need a deposit ranging from $6,000 to $12,000.
For many food-focused entrepreneurs, seeing these figures can feel overwhelming—but it's important to remember that there are several cost control strategies for restaurant startups that can help cut back on or offset expenses early in the planning process.
How Can Restaurants Reduce Costs?
Several factors determine the total cost of a restaurant—but thankfully, there are a handful of ways you can reduce those costs. Here are six key ways you can cut back on expenses before opening a restaurant in 2022:
Minimize restaurant renovations

Choose affordable kitchen appliances

Reduce food waste

Lessen employee turnover rates

Market your restaurant using low-cost strategies

Invest in the right technology
1. Minimize Restaurant Renovations
If you plan to purchase a commercial space, renovations might be needed—especially if the space isn't built out for food service. For example, Building Journal [7] estimates that the median construction cost of a new 2,500 square foot restaurant is $402,016.85 ($160.81 a square foot), so building a kitchen and dining room from scratch can get expensive.
Ensuring your restaurant is handicap-accessible could be another component of the renovation process. Making your eatery accessible to all—including incorporating wheelchair ramps or upgrading bathrooms or dining areas to be wheelchair accessible—could tack on thousands of dollars more.
Implementing your restaurant's design and concept vision can also tie into the renovation process. According to our survey, new restaurant owners spent a median of $5,050 on the concept and décor of their space. While incorporating the right design and theme is key to drawing in customers and ensuring they have a positive experience, they can quickly send your renovation costs over budget when left unchecked.
Two easy ways restaurant owners can minimize restaurant renovation costs include:
Look for commercial spaces already built with kitchens and accessibility in mind.

Be resourceful for your restaurant's design and concept.
Look for Commercial Spaces Featuring Restaurant Compatibility
To better control costs for your restaurant's renovation, try searching for commercial spaces that are already built out to accommodate the unique needs of a kitchen. For example, look for spaces that come with a mechanical, electrical, and plumbing (MEP) design equipped for restaurants and those that already have accessibility built into the floorplan.
Be Resourceful with Your Restaurant's Design and Concept
When it comes to your new restaurant's design and concept, aim to be as resourceful as possible in the beginning while still considering the factors that make a great restaurant experience. Try browsing the internet for DIY restaurant decor ideas (Pinterest is a great place to explore) that won't break the bank. Don't forget that creatively tapping into nostalgia [8] can work wonders for your restaurant's image in 2022.
In addition, if you can find opportunities to upcycle used furniture for your restaurant, take them—new furniture and tables ballpark between $40,000 alone. While DIY restaurant decor and upcycled furniture might not fall directly in line with your dream vision, they can save you thousands as you get your restaurant off the ground.
Tip: When focusing on your restaurant's design and concept, be sure to source materials that are easy to clean and disinfect. For example, installing fabric drapes around your restaurant's windows is likely a poor choice, as they can absorb smells, become stained, and can be costly to clean. According to a recent Deloitte study [9] that polled 1,000 consumers who dined in a restaurant within the past three months, 33% said enhanced restaurant cleanliness and safety would make them more likely to return to on-premises dining sooner and dine out more frequently.
2. Choose Affordable Commercial Kitchen Appliances
One of the most critical steps in launching a new restaurant is purchasing commercial kitchen appliances. Unfortunately, these appliances can come with expensive price tags. According to our survey, the average amount new restaurant owners spent on equipment was $38,801—and that's without considering maintenance. Typically, maintenance costs for restaurants reach 1.5% of sales [10].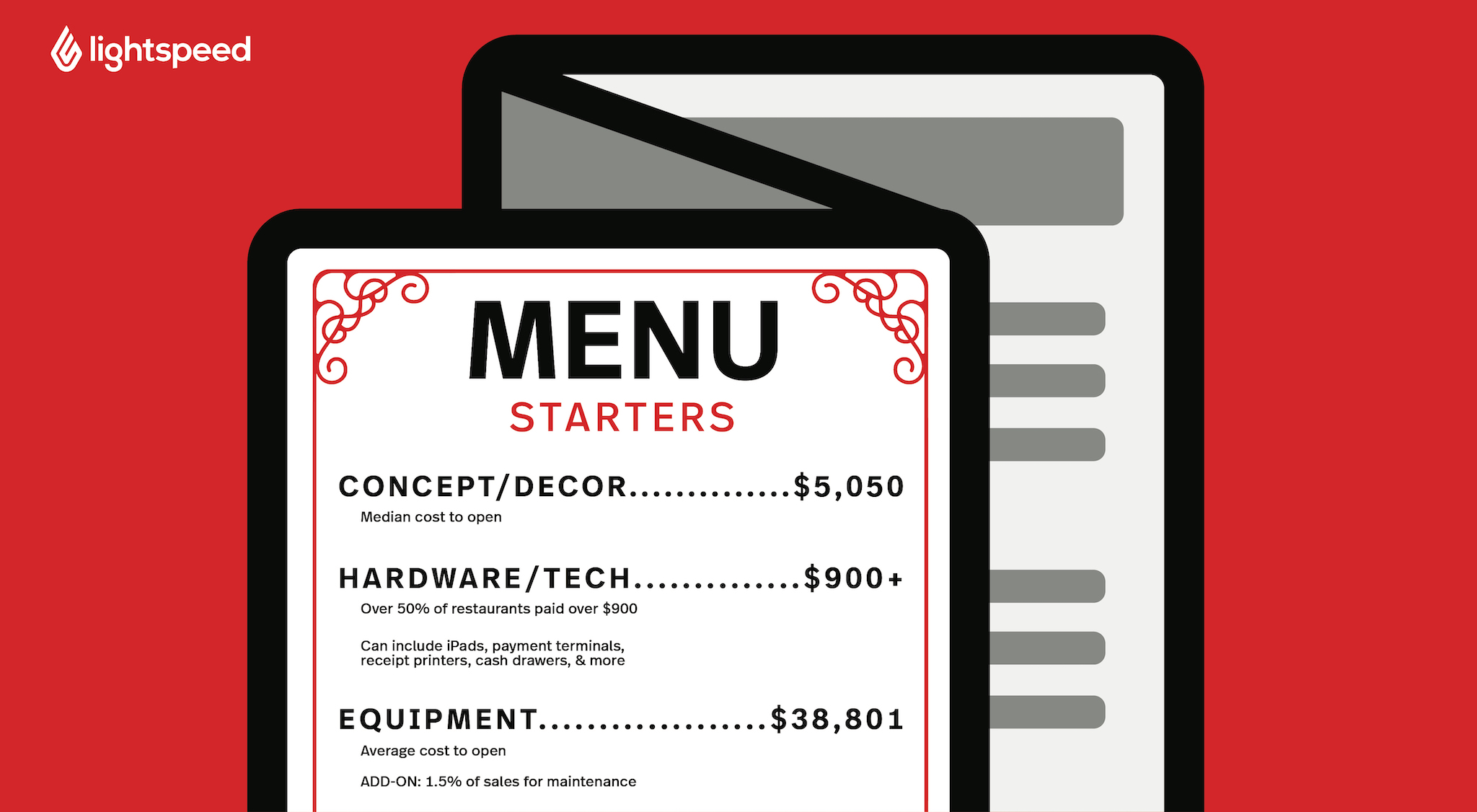 Discovering ways to save on commercial kitchen appliances can help you slash the costs of opening a new restaurant. However, it's essential to carefully consider the appliances you buy, as you don't want to sacrifice quality for lower prices. When looking for which appliances will best suit your kitchen, consider the following:
Energy-efficient major appliances

New vs. used major appliances

Leasing vs. buying major appliances
Energy-Efficient Major Appliances
One of the first things to consider when purchasing commercial kitchen appliances is how energy-efficient they are, as Energy-Star certified appliances are typically more cost-effective over time. According to Energy Star [11], a standard-sized electric deep fat fryer uses more than 18,000 kilowatt-hours (kWh). However, a standard-sized electric deep fat fryer that earned an Energy Star is 30% more energy-efficient and can save up to $120 annually. It's important to note that Energy-Star certified appliances are more expensive upfront but can save you hundreds of dollars a year in electricity bills.
Used vs. New Major Appliances
If you're finding new commercial kitchen appliances are too expensive, consider going the used route. Roughly 45% of restaurateurs we surveyed said they bought or leased used equipment to open their eatery. New restaurant owners can find high-quality used kitchen appliances through restaurant supply stores, many of which offer warranties. When looking for used or refurbished major appliances, be sure to consider the age and condition of each appliance in relation to its projected lifespan. In addition, try to find used Energy Star-certified used appliances for even more cost savings.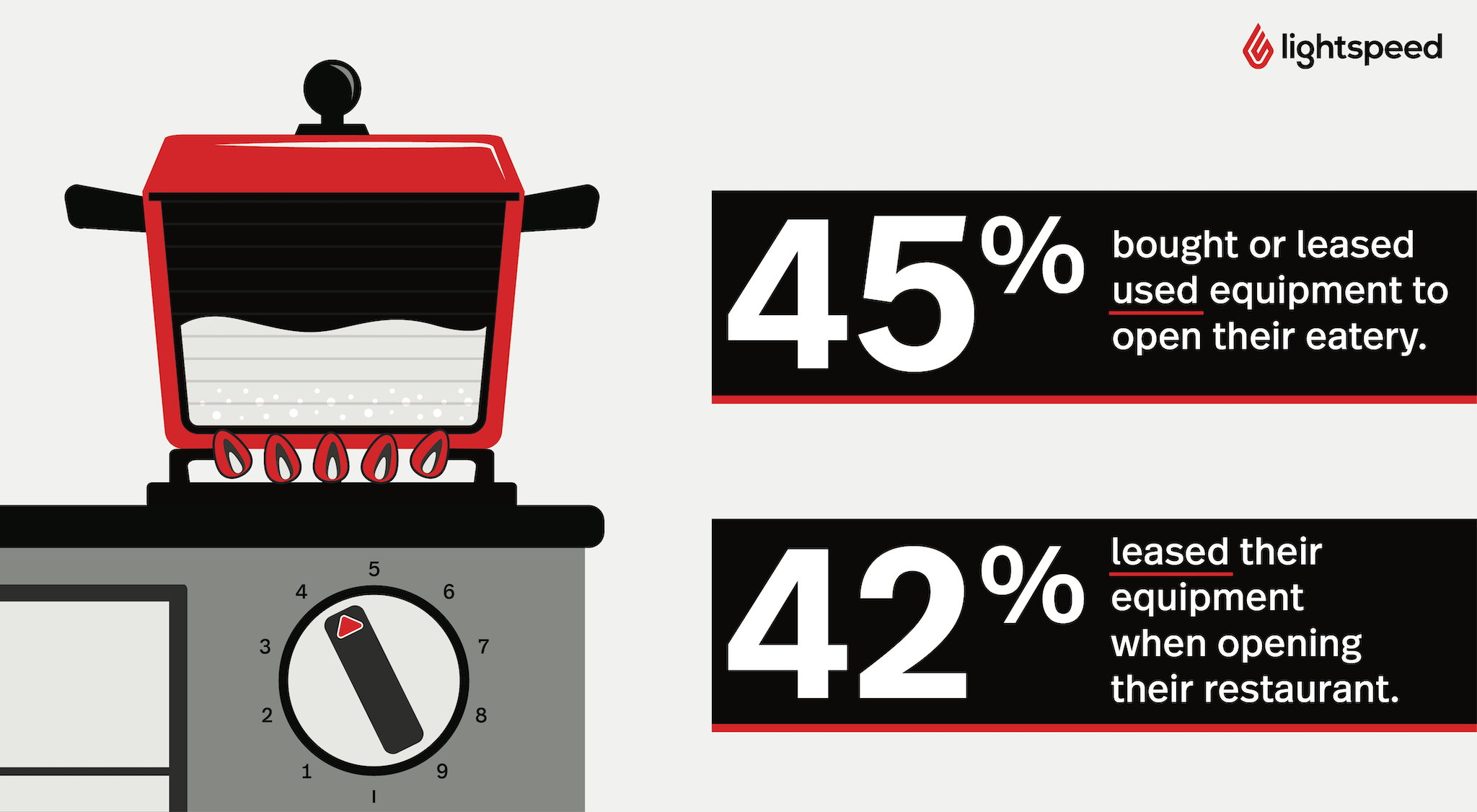 Leasing vs. Buying Major Appliances
Unsure whether to buy or lease commercial kitchen appliances? There's an excellent case for new restaurants to opt for leasing. 42% of restauranteurs we surveyed said they leased their restaurant equipment when opening their restaurant—and for good reason. Leasing can save your restaurant a significant amount of money as you get operations off the ground. For example, leasing won't leave you on the hook for expensive breakdowns or repairs or lock you into a big-ticket item that could end up suboptimal for your kitchen staff.
Leasing also makes it easier to upgrade to newer, more advanced appliances once your lease is up, which means your restaurant will almost always have the latest equipment. Some leasing companies even offer lease-to-own appliances or discounted early buyouts. Just pay close attention to leasing agreements, as they can come with high-interest rates.
3. Reduce Food Waste
Food waste continues to be a significant issue for restaurants across the country. A single restaurant can produce approximately 25,000 to 75,000 pounds of food waste [12] per year. And according to the U.S. Food and Drug Administration (FDA), wasted food is the largest category of material [13] placed in municipal landfills. Not only does this wasted food represent nourishment that food-insecure families could've used, but it represents a substantial amount of money wasted by restaurants.
Four to 10% [14] of food purchased by restaurants becomes pre-consumer waste, which means it's wasted before reaching the consumer. This is caused by things like:
Overproduction

Food mishandling

Foods that have surpassed their expiration dates

Too many menu choices

Unpredictable fluctuations in sales

Poor chain store management

Oversized portions

Time limits on pre-prepared foods
Another driver of food waste is a restaurant's inability to donate certain types of foods [15], mainly due to a lack of regulatory language or guidance on food safety for donations.
In short: the more food wasted, the more money wasted. So, what can a new restaurateur do to mitigate food waste before launching their eatery? Here are three key things to focus on first:
Decrease menu size for better yield management.

Focus on portion control and proactive staff training.

Implement food cost control tools to help.
Decrease Menu Size for Better Inventory Management
One of the first steps is to design a menu with the appropriate amount of options. According to a study on menu choice preferences [16] by Bournemouth University, quick-service restaurants scored an ideal rating when they offered six choices per menu category. Fine-dining restaurants scored an ideal rating when offered seven to 10 options.
Reducing food options on your menu can help you cut back on food waste, as your restaurant will require fewer individual ingredients. The fewer ingredients you need, the better you'll be able to use inventory management strategies to track the cost of goods sold (COGS), reduce excess or spoiled foods, and establish accurate dish prices.
Tip: Advanced point-of-sale (POS) systems like Lightspeed Restaurant feature robust inventory management tools that help restaurant owners keep a close eye on ingredients used, ingredients on hand, and ingredients needed. More than 52% of restaurateurs we surveyed said they use a POS system to track and manage inventory. This ensures more accurate stock counts, which aids in minimizing food waste and identifying ways to reduce COGS.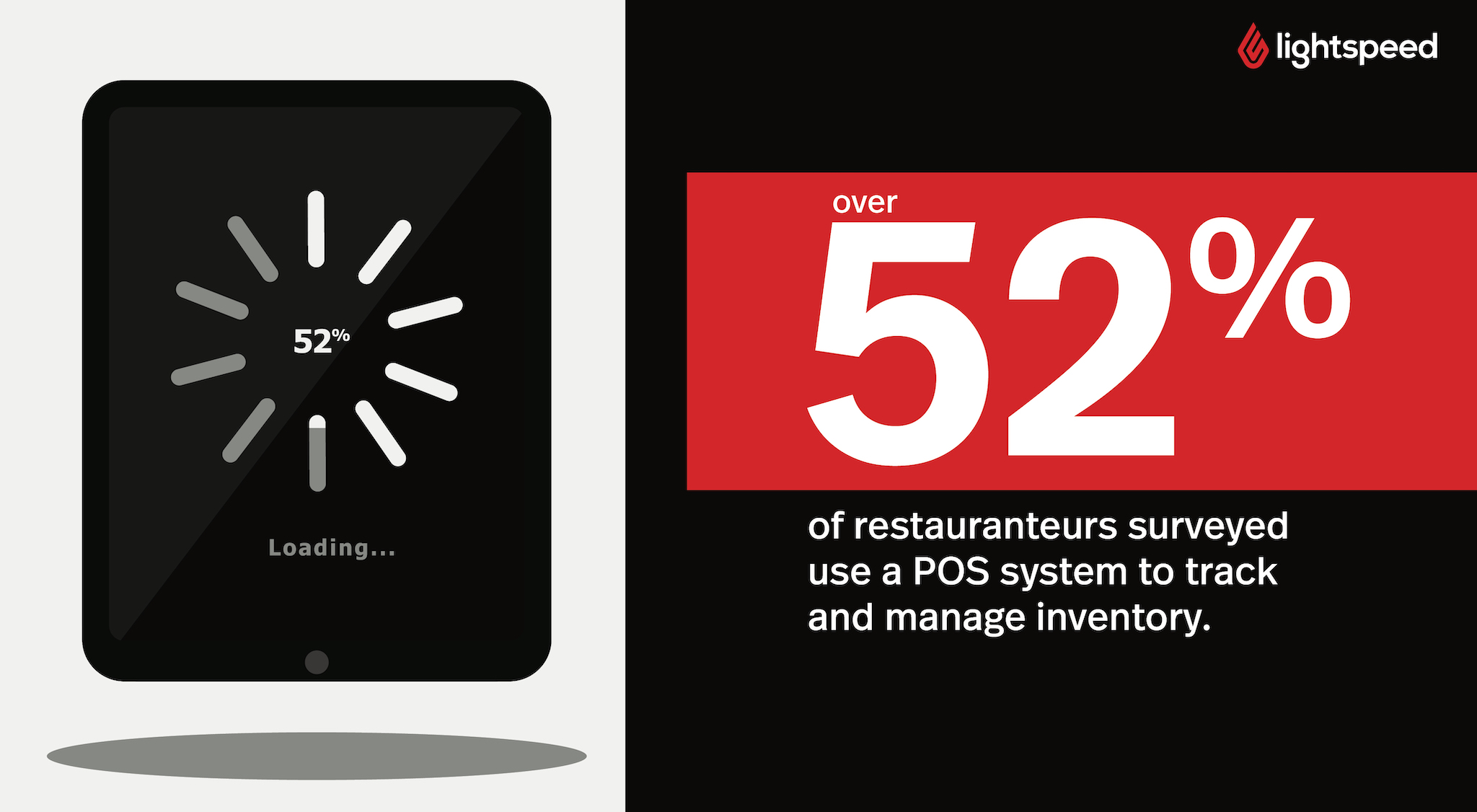 Focus on Portion Control and Proactive Staff Training
Portion control plays a direct role in mitigating food waste. When developing your menu, focus on creating standardized recipes that detail the ingredients used, the weight or volume of each ingredient, and the final portion size for each plate. Your recipes can also include plating instructions—with images of what each dish should look like—to promote portion control further and minimize waste.
If your restaurant staff isn't trained correctly on your menu when it comes time to launch, your portion control efforts will be all for nothing. Along with creating a standardized recipe book complete with plating instructions, be sure your staff (both back-of-house and front-of-house) is well-educated on the food preparation and plating process first-hand.
Implement Food Cost Control Tools to Help
When your restaurant is equipped with the right food cost control tools from day one, you'll better understand what ingredients you'll need to create the dishes on your menu while reducing food waste. For example, Lightspeed's free food cost calculator breaks down your menu according to each dish's primary and secondary ingredients. It then analyzes your designated cost margins and calculates:
Total cost of each dish

Dish markup amounts

Profit for each dish sold
Get a better grasp of your restaurant's food cost margins today by using Lightspeed's food cost calculator. If you're interested in discovering more ways to handle waste management and other helpful cost control strategies, check out these four tips on creating a greener, more efficient restaurant.
4. Lessen Employee Turnover Rates
Foodservice workers are needed for the restaurant industry to ramp back up to 100% in 2022. However, finding qualified people to get the job done—not to mention retaining them—is becoming more complex, especially when opening a new restaurant. Based on results from our survey, restaurateurs started with a median of 9 employees when opening their restaurant, which likely left them short-staffed.
According to the National Restaurant Association, nearly 50% of restaurant operators [5] in the full-service, quick-service, and fast-casual segments predict that recruiting and retaining employees will be their biggest challenge in 2022. Seventy percent of operators also state they don't have enough staff to support their current service demand.
Because some food service workers were able to spend time away from their jobs and collect unemployment during the pandemic, they were given a chance to reflect on their previous working conditions—many of which were less than ideal [17].
Today's skilled food service workers are becoming more difficult to find, afford, and retain because they demand more livable working conditions [18]. This includes higher wages, medical benefits, and the ability to take paid time off (PTO).
With the current surge in customers wanting to dine at restaurants, how can new restaurant owners meet these demands during a food service labor revolution? Establishing an equitable staff management model is an excellent place to start.
Establish an Equitable Staff Management Model
Establishing a fair and equitable staff management model is one of the first steps to attracting and retaining top talent. For example, implementing management models that move away from traditional restaurant tip-out models—such as the gratuity-free model—could help to incentivize skilled workers with livable hourly wages and health insurance benefits while reducing employee turnover.
But providing livable hourly wages and benefits might not be enough, especially as U.S. inflation rates [19] continue to rise. Today's workforce is also looking for something more than money from their jobs: workers want to be a part of a company culture they believe in and have opportunities for professional growth. As a new restaurant owner, it's essential to consider these requests when developing your staff management model.
The less employee turnover you experience, the less money you'll waste on recruiting, employee selection, orientation and training, and productivity losses. Today, the hospitality industry's average cost of employee turnover is a whopping $5,864 per employee [20].
5. Market Using Low-Cost Strategies
Marketing is an integral component of any restaurant. Based on results from our survey, the median monthly marketing spend for restaurants post-launch was $1,800. As a general rule of thumb, restaurant marketing budgets should be roughly 3-6% of sales [21] to remain cost-effective while increasing the chances of a positive return on investment (ROI).
Another good marketing budget recommendation for restaurants is to follow the 70/20/10 rule [22]. This means investing 70% of your marketing budget in marketing strategies that have produced a positive ROI, 20% in strategies you've tested in the past, and 10% in entirely new strategies.
However, these strategies can be challenging for new restaurant owners in the beginning stages of operations—especially before launch. The main thing new restaurateurs need to focus on is getting their restaurant's name out there as quickly as possible.
Fortunately, there are a few fast, low-cost marketing options that can help, including:
Launch a restaurant website

Create social media accounts
Launch a Restaurant Website
Launching a website for your restaurant enables you to meet your customers where they are: online. In a survey of 1,101 U.S. adult restaurant-goers [23], 77% said they are likely to visit a restaurant's website before they dine in or order takeout or delivery. Thankfully, you can easily set up a well-designed website using a low-cost website builder. Just be sure to include things like:
Compelling visuals of your food

Your menu with pricing information

Your restaurant's location, hours, and contact information

Linked social media accounts

User-friendly navigation
It's important to note that how you set up your restaurant's website is crucial for gaining consumer trust. In the same survey of U.S. adult restaurant goers mentioned earlier, 33% said they were discouraged from visiting a restaurant because it had a website that was difficult to navigate, while 30% said they were discouraged because the restaurant's website looked old or outdated. Be sure to keep this consumer sentiment in mind when developing your restaurant's site.
Launching a website for your business also lets you capitalize on restaurant search engine optimization (SEO) strategies. This includes optimizing your website's service pages for keywords based on your restaurant's location. With location-based keywords placed naturally in page title tags, meta descriptions, and website copy, your restaurant will have a better chance of showing up in search engine results pages (SERPs) when customers search for food online.
Create Social Media Accounts
Outside of creating a website, it's essential to create social media accounts across several different channels so your customers can find you.
Facebook

: Creating a restaurant Facebook page is an excellent place to start, as the social media giant still maintains one of the highest user counts

[24]

compared to other applications. Just include all your restaurant's pertinent information and compelling visuals, like what you would have on your website. Facebook Ads also enables you to create and disseminate ads for your restaurant at costs that can fit into your budget.

Instagram

: Along with a Facebook page, consider creating an Instagram account for your restaurant. Instagram is estimated to have 1.41 billion users

[25]

across the globe and continues to be a haven for foodies everywhere. Joining social media channels like Instagram lets you share compelling images, videos, and Reels of your food, interact with potential customers, and increase your overall brand awareness. Like Facebook, it also enables you to display ads for your restaurant at low costs.

TikTok

: Today's social media conversation wouldn't happen without TikTok. The video-sharing platform had 1.2 billion active monthly users

[26]

from October to December of 2021 alone and is expected to reach 1.5 billion by the end of 2022. In a recent survey about TikTok and restaurants, it was found that 36% of TikTok users visited or ordered food from a restaurant after seeing content from it on the platform. In addition, 65% of TikTok content creators

[27]

visited or ordered food from a restaurant after seeing videos posted on TikTok.
6. Invest in the Right Technology
Incorporating the right technology into your restaurant is paramount to operational and financial success—both for front-of-house and back-of-house staff. But technology prices can add up quickly, especially because modern restaurants need advanced software and hardware to run correctly.
As a new restaurant owner, you can expect to pay roughly $1,000 upfront for hardware. For example, roughly 50% of restaurateurs we surveyed stated they spent more than $900 on hardware and technology to get their restaurants off the ground. This can include iPads to run a POS system, payment terminals, receipt printers, and cash drawers. Four hundred dollars per month is typically needed for software licenses, which can include a POS system, a kitchen display system, and employee management software.
While these costs might seem high, the right software and hardware will work wonders in saving your restaurant money in the long run.
How Can Investing in Smarter Technologies Save My Restaurant Money?
There are several ways innovative technology investments can reduce restaurant costs. Let's look at two different ways technology can help new restaurant owners set up their eatery for financial success.
Deploy an Advanced POS System
Advanced POS systems like Lightspeed Restaurant can help when skilled labor is difficult to retain. This cloud-based POS system can help you better understand your staffing needs and reduce employee turnover using real-time analytics, insights, and data. For example, when using Lightspeed Restaurant, you can easily track employee performance with its built-in staff performance reports.
With these insights, you are better able to discover the strengths and weaknesses of your servers and schedule them accordingly. You can also use this data to check in with lower-performing employees to determine how you can help them learn (e.g., having them shadow a high-performing employee) or improve their job satisfaction.
Incorporate Robotics and Smart Appliances
Some restaurants have turned to other forms of technology and automation outside of advanced POS systems to help fill labor gaps and save their restaurants money. For example, restaurants have implemented robotics [28] that aid in basic cooking processes.
Others have utilized smart cooking appliances like fryers that automatically drain and fill themselves or advanced dough processing equipment that reduces prep work. Both robotics and smart appliances can help cut back on labor costs and increase productivity.
Open Your Restaurant in 2022 with Help from Lightspeed
In our post-COVID world, opening a successful restaurant might seem impossible—especially as restaurateurs continue to face supply chain disruptions, labor shortages, and increased overhead costs. But with the right restaurant cost control strategies and technology in place from the get-go, new restaurant owners are better able to get their eatery off the ground with fewer financial hiccups.
Watch a free demo to discover how the Lightspeed Restaurant POS system can help you launch a successful restaurant in 2022.
References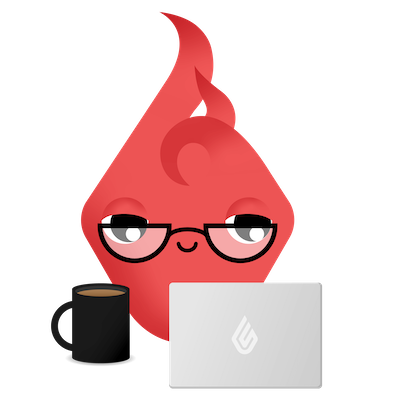 News you care about. Tips you can use.
Everything your business needs to grow, delivered straight to your inbox.