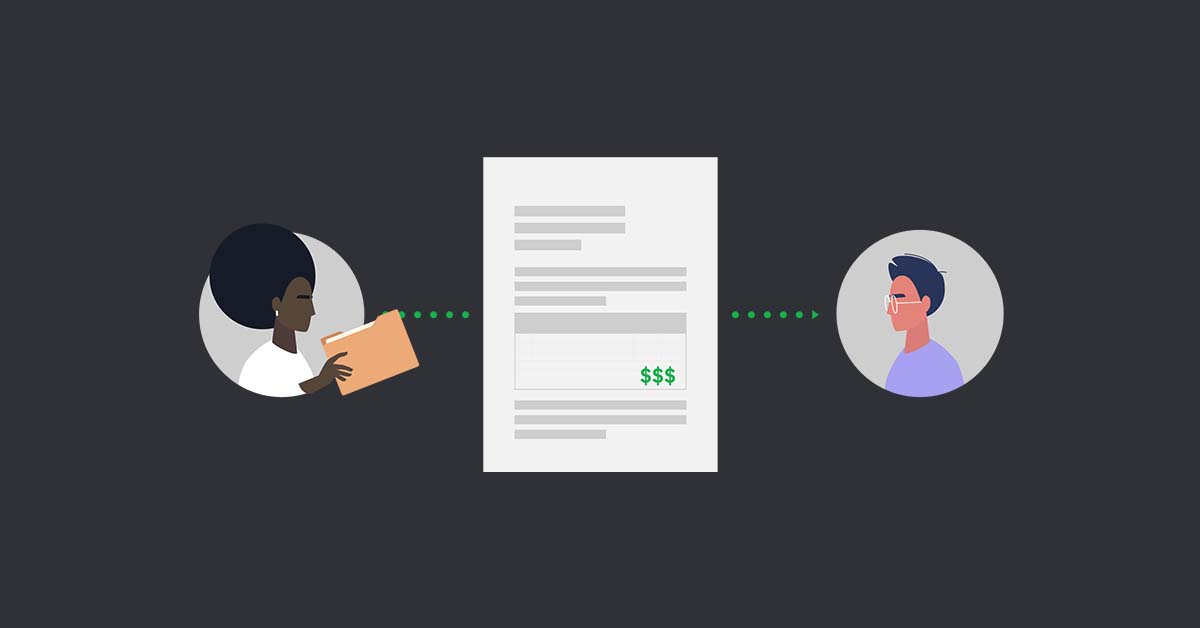 You've heard it a thousand times. Cash flow is what makes small businesses tick. And that's why getting up to speed on making invoices is important. They're all about making sure you get paid.
But invoices can take a while to get used to, especially if you're new to preparing them and sending them out. So we've asked business owners who have been around the block a few times to give us their tips, tricks, and best practices for invoicing.
In this article, you'll learn:
Use the links above now to skip ahead and quickly check some of the common issues around invoicing, such as snail mail versus email invoicing, how to get paid faster, and how to handle late paying customers.
Let's start with the basics.
Choose the right credit card processor
Learn how to identify, compare and select the right credit card processor for your retail business
What is the purpose of sending an invoice?
The purpose of an invoice is to document the sale. Sending an invoice helps both the merchant and the customer have a record of the transaction, so they can reference it easily.
An invoice typically contains an itemized list of products or services rendered, along with their corresponding costs. It also contains sender and recipient information.
When an invoice is sent, the transaction is well-documented, which helps with record-keeping and financial tracking.
What to include on an invoice
Make it as easy as possible for customers to pay you. If you're taking payment from online banking, include bank account details. If you're using services such as PayPal, make sure to include a link so that customers can pay with just one click. Setting your payment terms clearly and firmly will affect how quickly you get paid.
Information to help AP and AR teams
Including the following information will help both your accounts receivable (AR) processes and your client or customers' accounts payable (AP) processes:
The invoice number

Your business's name

The client or customer's name

The client or customer's address

Your business's address

The date of the invoice

The date payment is due

Description of goods

Quantities of goods

Sales tax payable

Total amount payable
Setting your payment terms clearly and firmly will affect how quickly you get paid, so make sure to include a standardized explanation about that on every invoice.
How to make an invoice
The process for how to invoice your clients or customers depends on your existing tools and systems. Here are some of the common invoicing methods used by businesses.
Manually creating an invoice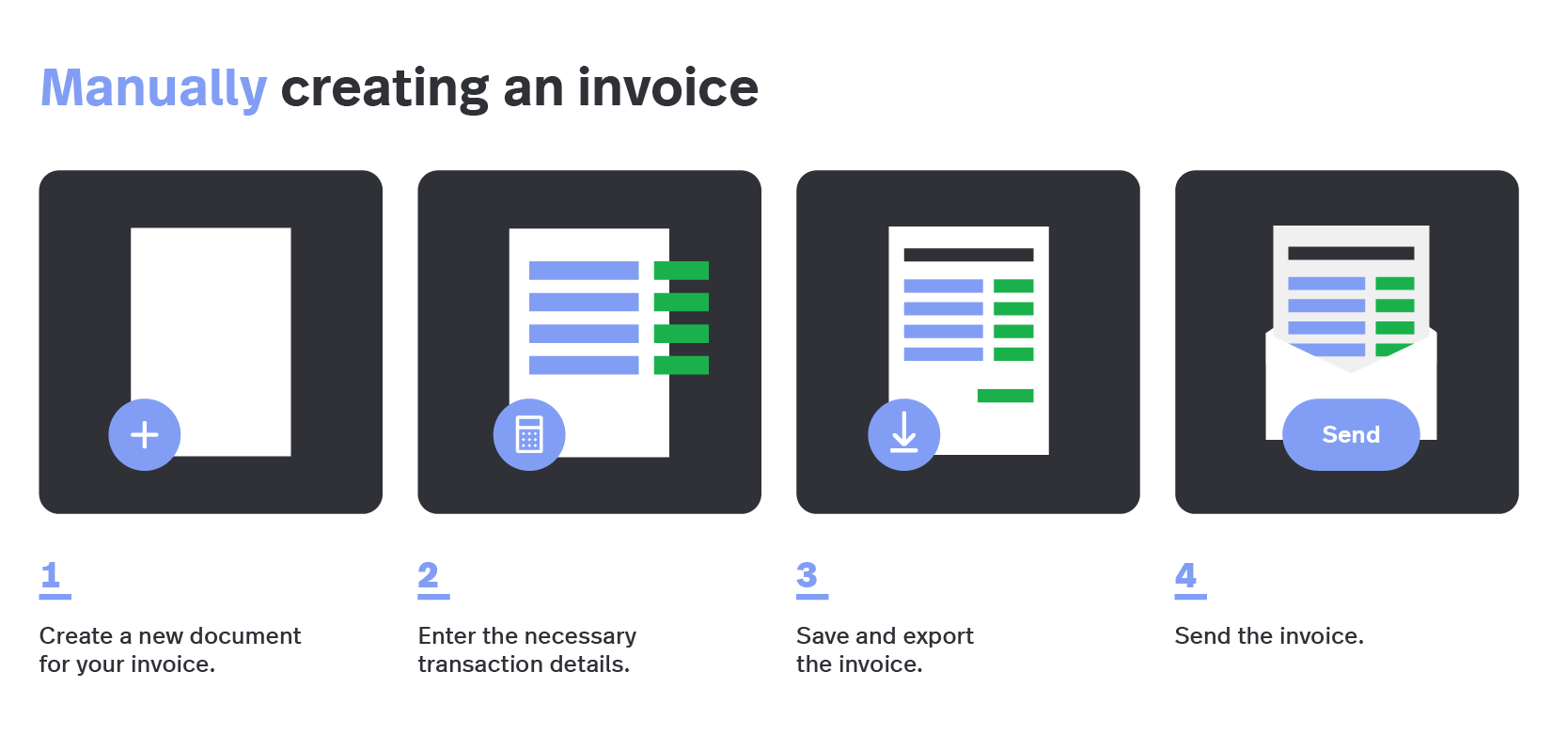 Businesses that are brand new or don't send a lot of invoices yet often start with manual processes. This involves making an invoice using word processing software like Microsoft Word or Google Docs.
The steps involved are:
Create a new document for your invoice.

Most word processing software have templates, so you don't have to create an invoice from scratch.

Enter the necessary transaction details.

These include the customer's contact information, product/services rendered, payable amount and more. (Refer to the previous section for info on what to include.)

Save and export the invoice.

For best results, export it as a PDF file. PDFs are often more portable and printer-friendly; plus there's less risk of someone accidentally editing the contents of the file.

Send the invoice.

The next step is to send the invoice. You can either print a physical copy and mail it out or send it via email or SMS as an attachment. (More on this below.)
Generating invoices using software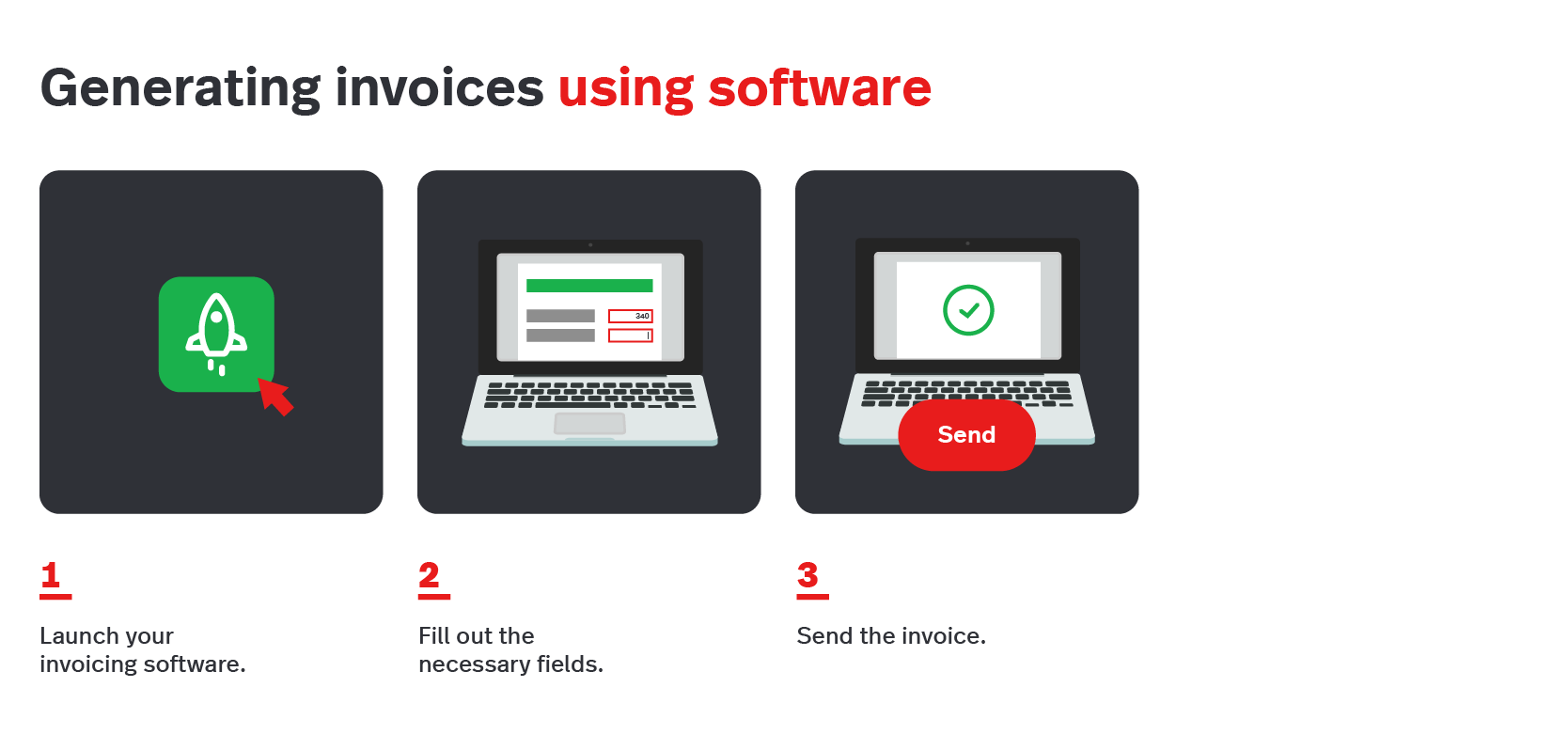 If you want to streamline how invoices are created, consider using software to facilitate the process. You can do this through the following steps.
Launch your invoicing software.

Invoicing software can come in different forms. You can create invoices with a dedicated tool like InvoiceNinja. In some cases, invoicing can be an existing feature of your payments or accounting solution. PayPal and QuickBooks, for example, offer invoicing capabilities in addition to their core features.

Fill out the necessary fields.

The specific steps here will vary, depending on the software you're using. But generally speaking, your invoicing tool will display the fields that need to be filled out, making it easy to enter the transaction info.

Send the invoice.

Once you've completed the steps above, your invoicing software will give you the option to print or export the invoice so you can send it to your customer. You may also have the ability to send the invoice directly from the software.
Read on to learn more about the specific methods for sending an invoice.
How to send an invoice
When it comes to sending out your invoice, you have a number of options.
By email or SMS
"Sending an invoice via email is still the easiest method for 2022," believes Jake Smith, owner and managing director of Absolute Reg, a vehicle plate number supplier in the United Kingdom. "It is better than the traditional paper copy because sending an email only takes a few minutes to reach its recipient. It also prevents the invoice from any physical damage or potential loss because customers can quickly look up the invoice in their inbox every time they need it."
But as you know only all too well, everyone already gets a lot of email. Stephen Light, the CMO of Nolah Mattress, said this means some invoices can get 'lost in the shuffle.'
"With email invoicing, you have to be very deliberate about the subject line, which isn't an issue over text. With both of these digital methods, there's the major con that customers who prefer to be offline won't be reached," he said.
With invoicing software
Accounting software like Xero or Quickbooks can automate the process for you.
"SMBs and retailers should use secure, widely available, easy to operate and affordable invoicing software to prepare and send invoices to their customers in 2022," said Patrick Crane, the founder and CEO of Love Sew, a sewing company with more than 300,000 customers. But bear in mind that some clients or customers may dislike the software you use, or they may have their own preference.
Tip: Choose an invoicing software that creates aesthetic, itemized and simple to understand invoices so that the recipient isn't put off by the payment request when you send it over.
Through a payment provider
"Your payment provider will have access to the right software to allow you to take payments through invoicing," said Kristin Uptain, marketing manager of Redde Payments. "Invoicing through your payment provider is the best way to send invoices as they can generally give you better pricing and offers." She said payment providers are often able to send small businesses detailed reporting of trends, customer data and inventory management too.
By post
You might need to keep a printed and mailed option on hand for some customers too.
"A posted invoice may look more professional than an emailed one but there will be costs involved in printing and sending the invoice. And there is the chance it may become lost or damaged in the post or it may not reach the intended recipient, said James Crawford, co-founder of ecommerce platform, Deal Drop.
Tip: Consider both the environmental impact and postage costs of snail mail invoicing.
How to talk to your customers about invoices
Preparing your invoices and sending them out is only half the battle.
It doesn't guarantee you will get paid on time.
Don't worry though, there are many things you can do to speed up cash flow and encourage more stable payments.
Explain payment terms clearly
Business owners should explain their payment conditions explicitly, before accepting a customer's order. You should explain to each customer the payment due date, process and steps you take if payment is not received on time. This includes late payment penalties.
Offer different payment methods
People like to pay in different ways. Offering more than one payment option makes it easier for clients to pay, allowing you to get paid faster, believes David Bitton, co-founder and CMO of DoorLoop, a property management software for the real estate PropTech industry. "Give your customers a variety of payment methods, including credit cards, bank transfers, online payments and debit cards," he said.
Tip: Consider offering buy now, pay later (BNPL), a short-term financing option where customers agree to pay for their purchase in installments after a downpayment (typically 25%).
Understand any payment difficulties
Make contact with clients as soon as possible after they've missed a payment, whether it's by phone call or letter. "Establish what has caused them to miss their payment," said Austin Dowse, CEO of Aimvein, an online shop for medical equipment and supplies. "Perhaps they've had issues with the amount owing, or they're trying to sort out their finances with other creditors."
Be timely with your responses
"If customers need support with their purchase, the last thing you want to do is leave them hanging," said Mike Grossman, CEO of GoodHire.
"If you're slow with your responses, you might find it increasingly challenging to secure the payment. If you're not responsive enough, the line of communication might go cold. This could mean having to send follow-up emails and calls for months to no avail, which is not good for your time management or cash flow," he said.
Consider the customer's track record
Try to understand your client's financial status and credit history, suggests Mike Chappell, co-founder and COO of FormsPal, which provides online legal forms. "When dealing with customers who have a history of timely payments, don't bother sending follow-up emails. Customers that care about their reputation will be more likely to pay you on time if you can be patient," he said.
Know when to cut your losses
"Every invoicing headache revolves around a central question: Is the payment worth it?" said Zachary Hoffman, CEO of Digital PR. "You can win payment from a client simply by threat of going to small claims court. The trouble is if you want to pay the legal fees and use your time to go that route.
"Then there's the image problem," he said. "A client you effectively have to sue to get payment isn't going to work with you anymore—would it just be easier to cut losses? If the end result is the same, you need to look at your bottom line."
How a POS can help
But what if you're a business that sells goods and services? Or a business that mostly makes its sales on the spot, with only the occasional need to even generate invoices? Well, your retail POS can do a lot of the heavy lifting. For example:
Lightspeed allows businesses to create, send and track invoices from our POS

Our accounting integration can link your POS and your accounting system too

This link allows you to synchronize your bookkeeping data between the two
Your POS can also help you win more business and speed up cash flow, by helping you send quotations, convert them into invoices, and send your invoices with a text message and email to the client including a quick payment link.
Getting good enough at invoices to grow
Whether you're brand new to invoicing or just looking to update your payment processes, it always helps to keep up top speed with the latest tools and tricks for getting your business paid. Keep a cool head with late payers. Stick to sound payment processes. And get software to automate the boring bits. And soon you'll conquer your invoicing challenges with ease. To learn more about how Lightspeed can help, talk to one of our experts.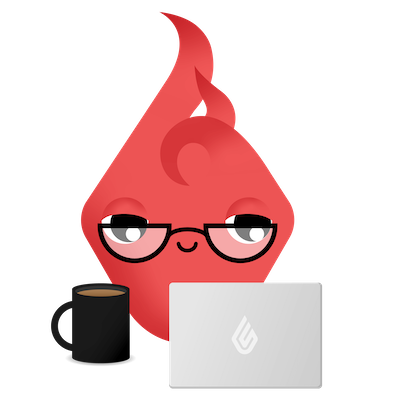 News you care about. Tips you can use.
Everything your business needs to grow, delivered straight to your inbox.