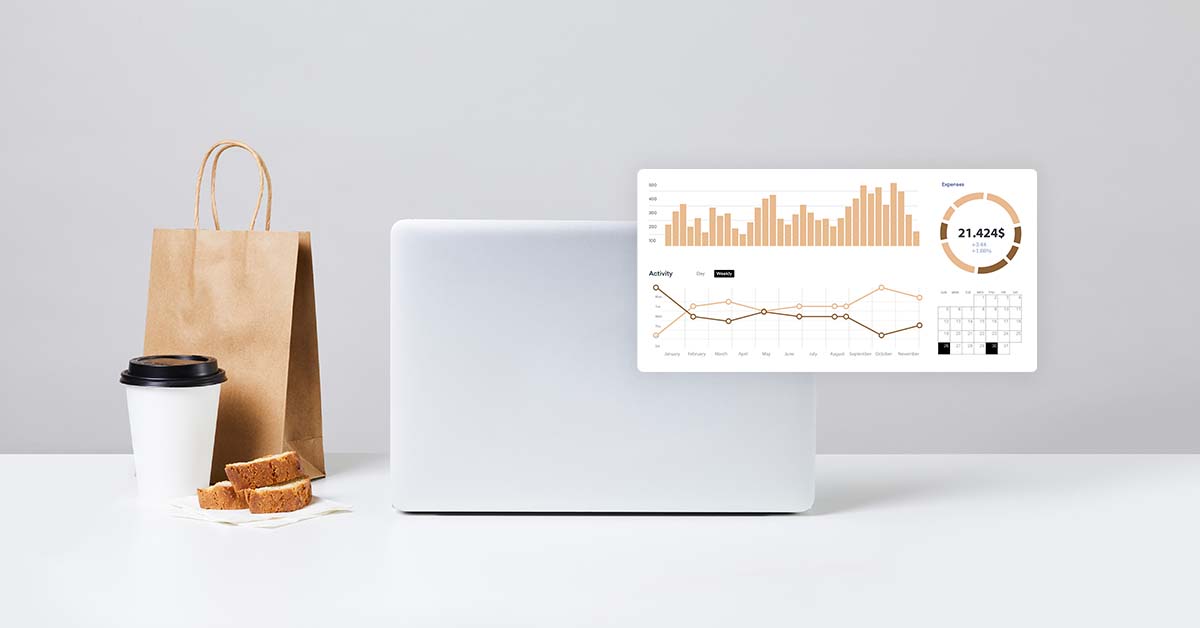 When it comes to your restaurant marketing budget, you need to be selective with your spending.
There are an almost endless number of ways to market your restaurant nowadays, but not all of them are worth the money.
If you're only starting to ramp up your restaurant marketing, you might feel like it's OK to pay as you go on different campaigns. But this is one of the root causes of marketing expenses getting out of hand quickly. A good marketing budget will help you avoid this.
In this article, we'll give you tips on how to create a restaurant marketing budget, covering:
Let's start with a reminder of what restaurant marketing budgets are and how you can use them to make sure your marketing dollars are well spent.
Calculate your food costs with our free food cost calculator.
Find out the total cost of the dish, markup amount, profit per sale and how much to charge your customers.
What is a restaurant marketing budget?
A restaurant marketing budget is essentially a written estimate detailing how much you can afford to spend on specific marketing activities over a set time frame.
A marketing budget is a good idea for any restaurant owner who wants to effectively market their business

Restaurants can create their marketing budgets on either a monthly, quarterly or fiscal year basis

Marketing budgets allow

restaurant owners

to allocate funds for specific marketing activities and, when paired with good accounting or payment processing software, to track their spending
A well-designed marketing budget can help restaurant owners avoid overspending or underspending, and it can ensure that what is spent isn't wasted on campaigns that have no positive impact.
Setting your restaurant marketing goals
Before you jump into the spreadsheets or your accounting software, you should set some goals and objectives for your restaurant marketing strategy.
Suggested restaurant marketing goals
While you'll know best from running your own restaurant, here are some example goals to consider:
Attracting couples, families or functions and private events

Increasing your brand awareness in a city or tourist region

Driving more table reservations or walk-ins

Launching takeout or

delivery services

Getting more customers to leave reviews

Encouraging customers to try new menu items
How to get started with restaurant marketing budgets
Since restaurants already operate on thin margins, the best way for them to get started with marketing budgeting is a two-fold approach, according to Dan Scalco, founder of FoodBox HQ.
"First, start by making sure you're meticulously tracking money in and money out. Though this may seem like a no-brainer, many restaurants close down due to their inability to track financials properly," said Scalco. Your bookkeeper and accountant can help you with this, as can accounting software and dedicated expense management software.
"Next, once you have a strong handle on what your finances are, take a percentage of revenue (whatever makes the most sense for your needs) and allocate that towards marketing," he said. The key, added Scalco, is to start small so you have the ability to adapt your marketing strategy as you learn what works and what doesn't.
How to allocate your restaurant's marketing budget
One of the biggest challenges for restaurants is determining which platforms to focus on for their audience. It's common for businesses to avoid investing fully in something like Instagram marketing, instead, splitting the budget to fit multiple social networks. This can dilute their voice and impact everywhere, according to Brian Nagele, CEO of Restaurant Clicks.
Budget for audiences
Allocate your budget based on your target audience and their stage in the sales funnel. "The start of every funnel should dedicate budgets toward social exposure on the platform where your demographics spend most of their time. Then email campaigns can be factored in for repeat customers—those toward the end of the funnel—who you'd like to share deals and discounts with," adds Nagele.
"If you have an older audience, Facebook might be your most influential channel while the younger generation uses TikTok and Snapchat more," says Baruch Labunski, of Rank Secure. " To start off, dedicate a small amount to each channel. Track the statistics of these ads by using an analytics program or the built-in dashboard," adds Labunski.
Budget for competitor gap
Your competition on the other hand will determine how successful your campaign will be. If your competition has a bigger budget, they will be able to spend more on marketing and potentially dominate certain channels.
You can adjust by either outshining their content with yours or using different channels altogether. Another method is to use alternative tactics like word of mouth or sponsoring a community event.
How much should restaurants spend on marketing?
By now you might be wondering how much all of this is going to cost you. Or, at the least, how much of your revenue you should be leaving aside for marketing activities. The truth is, it depends. Some restaurant marketing professionals suggest as little as three percent of revenue, others as much as 30%.
For brand new restaurants
New restaurants should invest more of their earned capital into marketing to build the momentum for their newly opened business. "Your budget will be higher if there's lots of competition for your niche or cuisine variations in your area," says Nagele. "You might need to invest in resources like video production to help you stand out among the rest."
For established restaurants
According to Nagele, established businesses can focus on smaller budgets because most of their energy is directed toward retaining customers and leveraging them to reel in new sales through word-of-mouth and referrals.
How to track your marketing spend
Whether you're leading a new restaurant or a household name, revenue and expenses will always determine how much money you have to spend on marketing.
If your expenses are more than your income, then marketing might not be on the cards for you since your restaurant is running at a loss already. "You also need to keep in mind that your budget can't take all your net income. You have to have some cash flow for unplanned expenses," adds Labunski, of Rank Secure.
Paid ad and social media dashboards
This is why tracking your marketing spending is just as important as creating your marketing budget in the first place.
Check the analytics dashboard of your chosen marketing channel to see what's working

Google analytics

can track how much you spend on your online marketing

Look at the effectiveness of Facebook and Instagram ads by going to each platform's dashboard and checking metrics like conversions, clicks and form completions
Website visits and online reservations
"Besides going social, you'll also want to focus on boosting your website SEO for more organic brand exposure," explains Nagele. That means keeping an eye on metrics like email click-throughs, website visits through search engines or links inserted in your social profiles. List opt-ins or digital bookings are great measures to observe.
"Essentially, you're looking to analyze data related to lead conversions, referrals and the average revenue gained per customer," adds Nagele.
Keep track of your restaurant budget with Lightspeed
With all types of restaurant budgets, it's important to stick to it as much as possible. Restaurant margins are a constant balancing act, and keeping tabs on where you're spending your money and how much will help you stay on track and avoid overspending. It's also important to review your budget regularly and make adjustments as needed. If you're not seeing the results you want, you may need to allocate spending elsewhere or alter your budget.
Looking to improve the way you keep track of your restaurant? Talk to one of our experts to find out how Lightspeed can help.
News you care about. Tips you can use.
Everything your business needs to grow, delivered straight to your inbox.