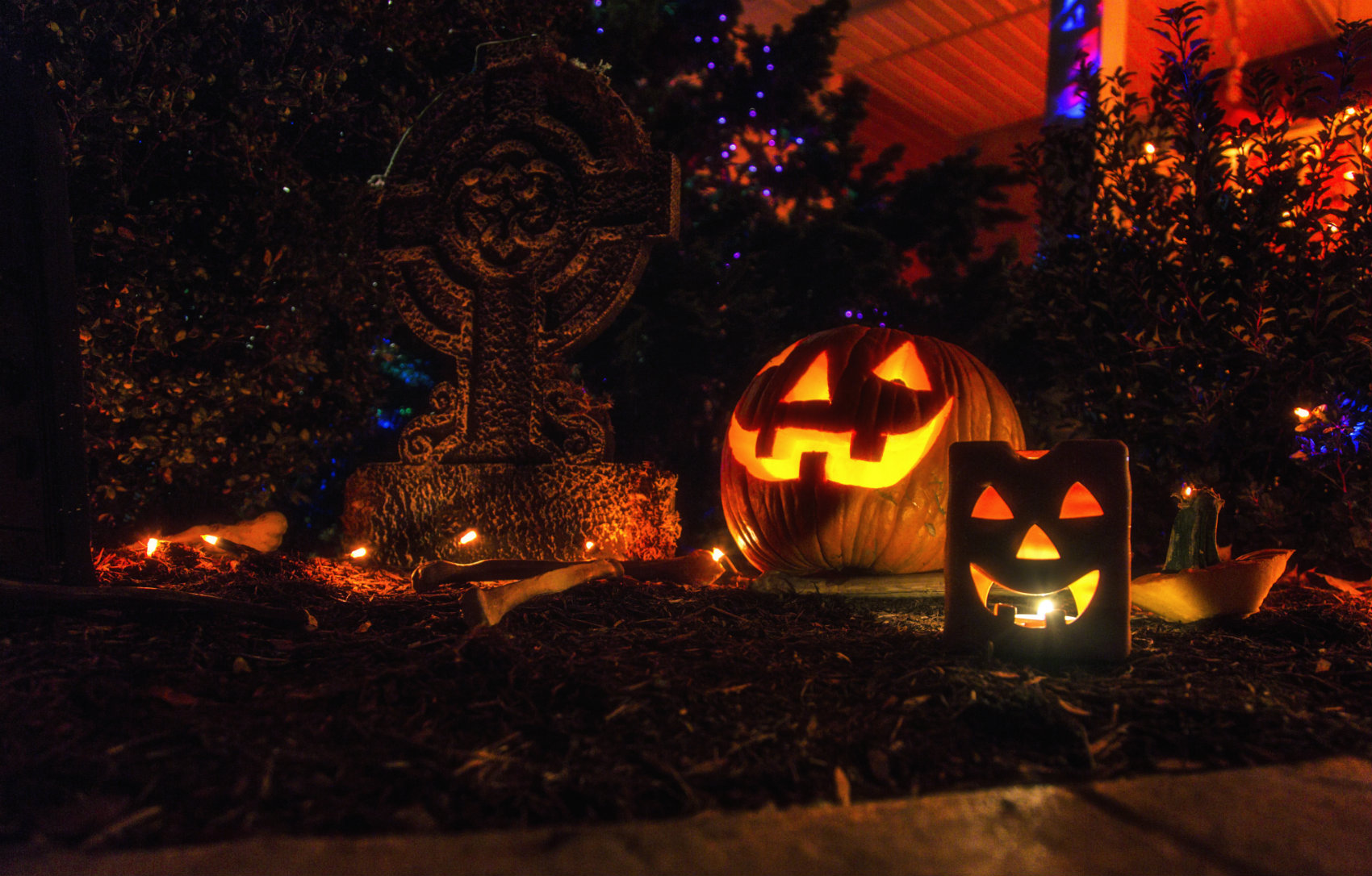 Let's creep it real: for restaurant owners, Halloween can be a little scary.
The good news? With the right marketing strategy, you can set up your restaurant for success and achieve spooktacular results.
There's no magic to it—only data. We've crunched the numbers from over 10,000 bars and restaurants. The result? Eerie-sistible insights to help you make this Halloween a night to remember, from an increase in takeout sales to staggering numbers for pumpkin-related items.
In fact, bars open last Halloween saw a 15% increase in total sales and a 26% increase in total number of tickets, making Halloween this year even more promising.
Let's look at a few marketing ideas that you can use this Halloween to generate more business.
Revamp your menu
Halloween is a great time to highlight autumn flavors on your menu. Speak with your chef about including seasonal ingredients like pumpkin, sweet potato, butternut squash and apple, for example.
You can run a special prix fixe menu throughout October. Or try a Halloween menu for the week before October 31. You can also have unique items available on Halloween weekend with pricing per item.
Offer a takeout special
Taking into accounts all types of restaurants, there was an increase of 11.37% in take out sales on Halloween Monday 2022 compared to Monday prior. That's all the proof you need to boost your takeout offerings this year to further satisfy hungry customers. That could include:
Offering discounts on popular takeout items

Buy-one-get-one specials

Takeout-only items
Don't forget the
boos
!
Cocktails are key. A quick online search will reveal loads of Halloween-themed cocktails that use ingredients most bars already have.
In fact, Lightspeed's report on Halloween 2022 showed shots and mixed drinks are most popular among patrons. In North American bars, spirit sales grew by nearly 68% compared to the prior week. Cocktail sales grew by 34%–and wine sales dropped by 17%.
With that in mind, here are a few cocktail ideas to get you started:
Here are a few to get you started:
Grenadine to imitate the look of blood in layered drinks or shots

Cranberry juice adds a crimson tone to vampire-themed drinks

Dry ice is safe to consume and leaves a gorgeous trail of smoke
No time? No problem. You can also temporarily rename a few bestsellers to add a little Halloween flair.
In the days leading up to Halloween, use your POS to generate reports that show which items sell the most. Simply renaming a few menu items will give your restaurant a fun Halloween vibe. Don't be afraid to get punny with it, like so:
Edamame becomes Edamummy

Transform your cold cuts into a char-cut-erie board

Chicken wings are bat wings

Add adjectives like "haunted" or "frightful" if you're stuck
Bone appétit!
Partner with local businesses and attractions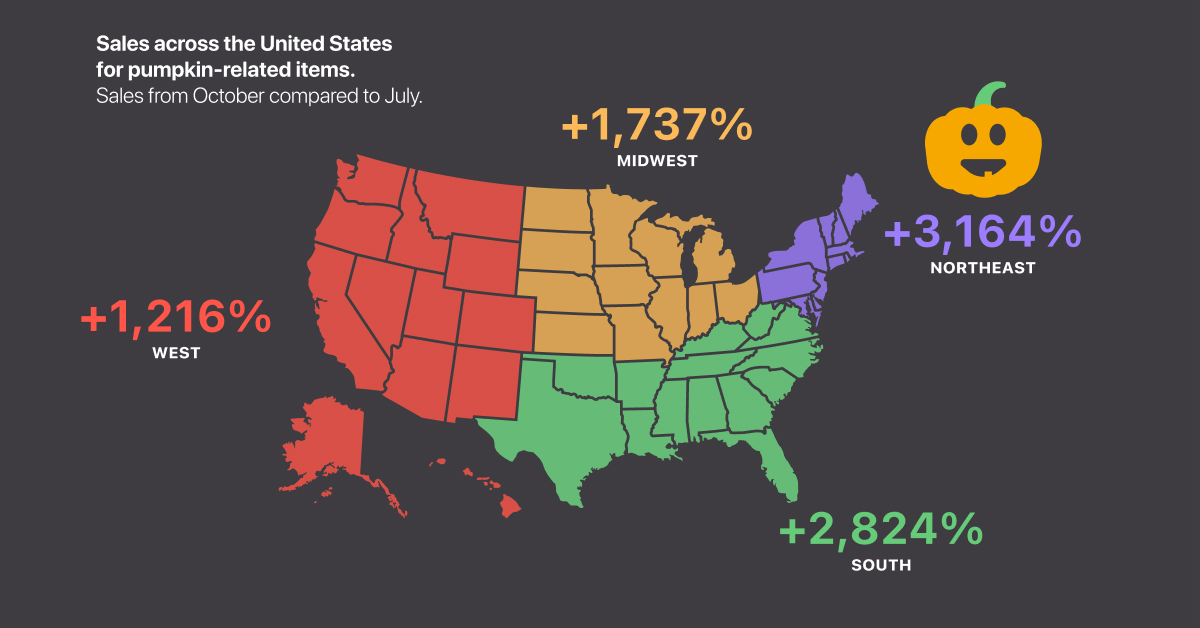 Halloween is a great time to team up with local attractions that feature seasonal activities. And it's no secret that consumers love anything pumpkin. That's especially evident in the Northeast US, where sales of pumpkin-related items increased by 3,164% in October compared to July. In the South, sales of such goods surged by 2,824%, and in the Midwest, 1,737%.
No need to be the ghost with the most, either. Some simple ideas include:
Every purchase of a table d'hôte meal comes with a discounted admission to the local haunted house

Sell reduced price tickets to a pumpkin patch in your restaurant
If there's a costume store in your area, offer to keep rebate flyers on your bar. In exchange, these local shops can promote your restaurant.
Working with other local businesses builds community. It also expands your customer base and sets up future partnerships.
Decorate your dining room
Here's your chance to get extra creative.
For an eerie vibe, dim the lighting and set up a few artificial spider webs. For a more farmhouse feel, it's a gourd idea to use small pumpkins—either plain or painted—as centerpiece decorations.
Ready to kick things up a notch?
Hang paper skeletons from the walls

Place jack-o-lanterns around the restaurant

Sprinkle plastic spiders on your tabletops
For extra inspiration, visit a decoration store before Halloween. Check Pinterest for more ideas if you have a general sense of what you're trying to achieve.
Cue the music
Your dining room can also feature seasonal sounds. If it's appropriate, you can pipe creepy sounds at low volume, or create a party vibe with a themed playlist. Check Spotify to see if they have anything already curated. Just remember to make sure to give it a listen before you play it for your patrons!
Style your staff
Asking your staff to dress up for Halloween can be a great way to create a fun and memorable experience. Many neighborhood restaurants celebrate Halloween with costumed staff members. It's a great way to get some word-of-mouth publicity.
You can choose a theme for your staff's costumes, or let them pick their own get-ups individually. Either way, you'll be showcasing your restaurant as the place to be for Halloween.
Dressing up can boost morale and primes everyone for a night of great service.
This year, as always, bars and fast casual restaurants are preparing for the Halloween rush with events, promotions and increased staff.
"We are ready for it," says Rohit Sharma, General Manager and Operations Partner at Bar 404, a speakeasy in downtown Toronto. "There will be a lot of guests coming at the same time, [and we] want to make sure we have more hosts to accommodate [everyone]."
Sharma also encourages employees to get in on the fun, creating seasonal cocktails and wearing costumes to work.
If your business is less suited to a costumed experience, you can also encourage your employees to wear orange and black. It's a subtle way of getting into the Halloween spirit.
Host a fang-tastic event
Have a Halloween party at your restaurant to boost sales and encourage repeat business.
Adults also love Halloween. Do you want a kid friendly or family-focused party? In any case, there are dozens of activities patrons can join:
The classic costume contest o

r its cute spinoff, the pet costume contest

Pumpkin carving contests

Guess how many candies are in a jar
Winners can claim prizes like gift cards, vouchers or a bottle of wine.
Hosting a halloween party lets you focus your marketing efforts (like decorations and a custom menu) into one night.
Your event doesn't have to be competitive. In Branson, Missouri, Table Rock Coffee Roasters host a pumpkin painting night for their customers.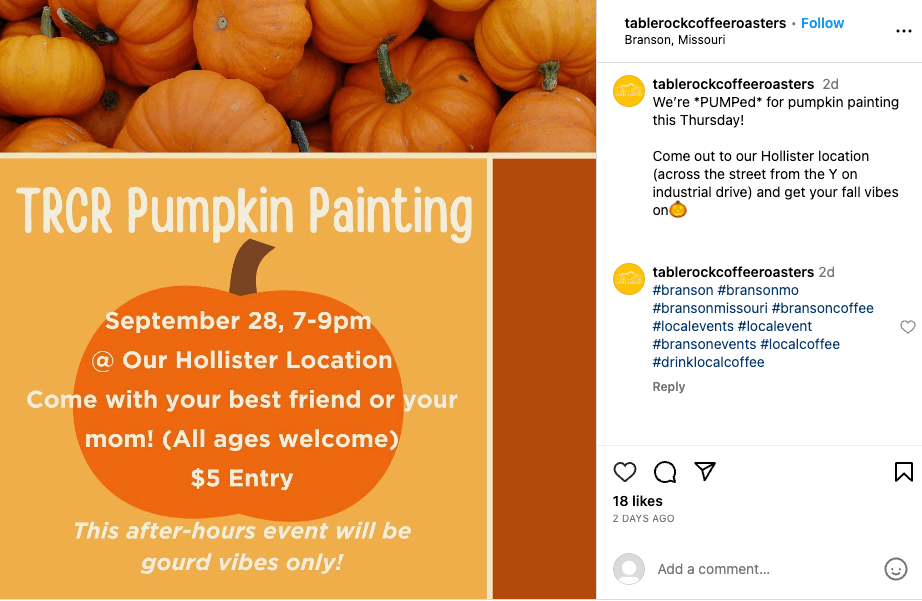 Promote in-store and online
There's no magic spell for drumming up business. Luckily, you can tap into two powerful forces instead: word of mouth and social media.
If you plan to offer a special Halloween menu, you can tease its arrival with printouts. You can also give them to other businesses in the area.
Social media is a great way to announce Halloween happenings. Tell followers about your plans across all the platforms you use for your business.
Recess—home of Chicago's largest patio—is hosting a Nightmare Before Christmas-themed event.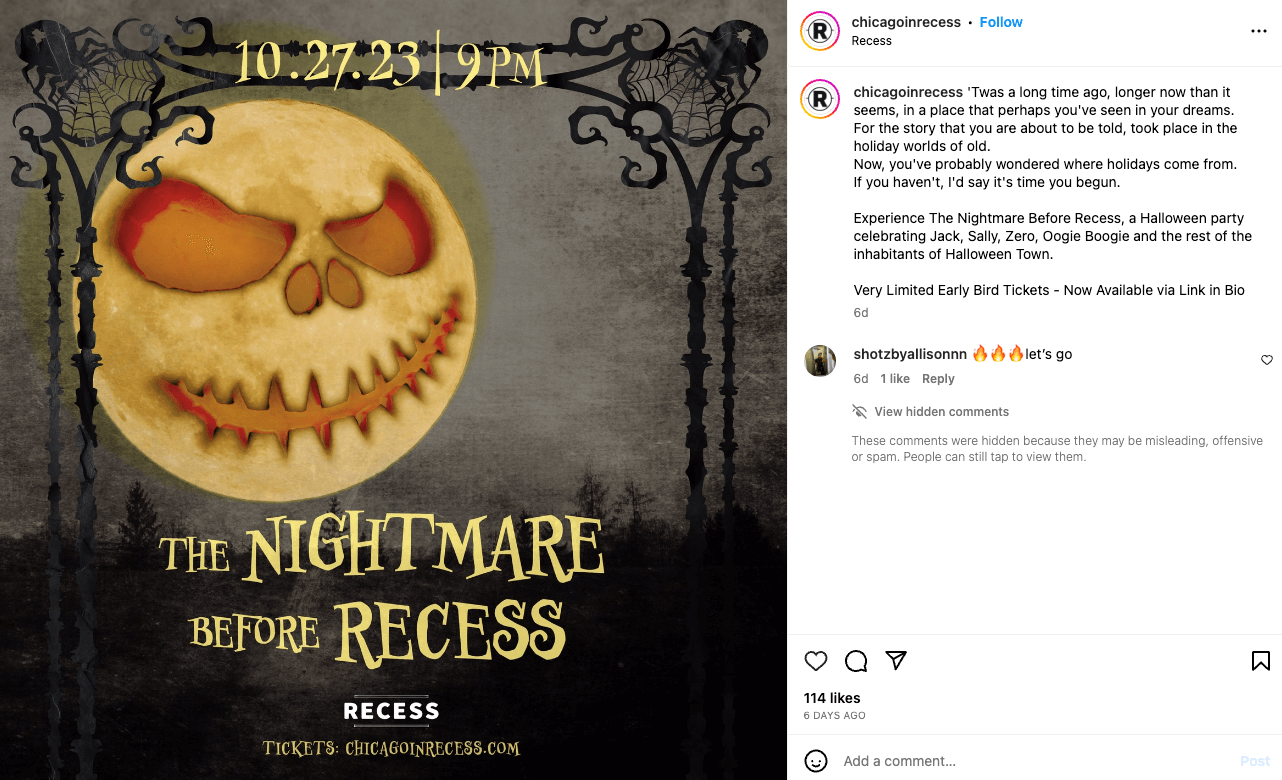 Entertain trick or treaters
Get ready to give the neighborhood pumpkin to talk about!
Is your business in a residential area? Giving candy to the local kids is an eerie-sistible way to generate goodwill towards your restaurant. And it can be a way to create compelling user-generated content.
If you make treat bags, be sure to include your business card.
Leverage user-generated content
It doesn't have to drive you batty. User-generated content ("UGC") is, simply put, social media content that your customers put onto the web.
It's one of the most effective ways to build social proof. It's scary how effective it is. There are lots of ways for restaurants to use UGC to build their brand.
Participating in community events (or just by giving Halloween candy to local kids) typically brings user-generated content to your fingertips.
You can create a hashtag and promote its use on your menu board. Or tag customers and encourage them to do the same in their pictures and videos of your restaurant.
Launch Halloween promotions
Our latest Halloween data report shows that people love to go out on Halloween night. For instance, in Los Angeles last year, bar sales increased 107%, while sales in Brooklyn and Jacksonville, Fla., increased 46% and 65% respectively.
That means October is a great time for a promotion.
You can offer 13% off certain menu items

Have a "buy three get one free" promotion

Include a free dessert for every $31 purchase
Have fun out there
Halloween is an opportunity to try new marketing ideas for your restaurant. Get creative and enjoy!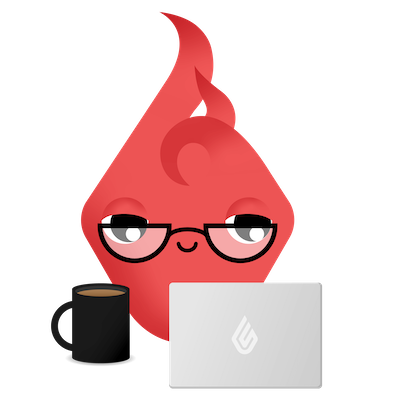 News you care about. Tips you can use.
Everything your business needs to grow, delivered straight to your inbox.