Data and Insights
High Spirits: New Lightspeed Data Reveals Halloween Spike in Takeout, Liquor Sales for Bars and Restaurants Across North America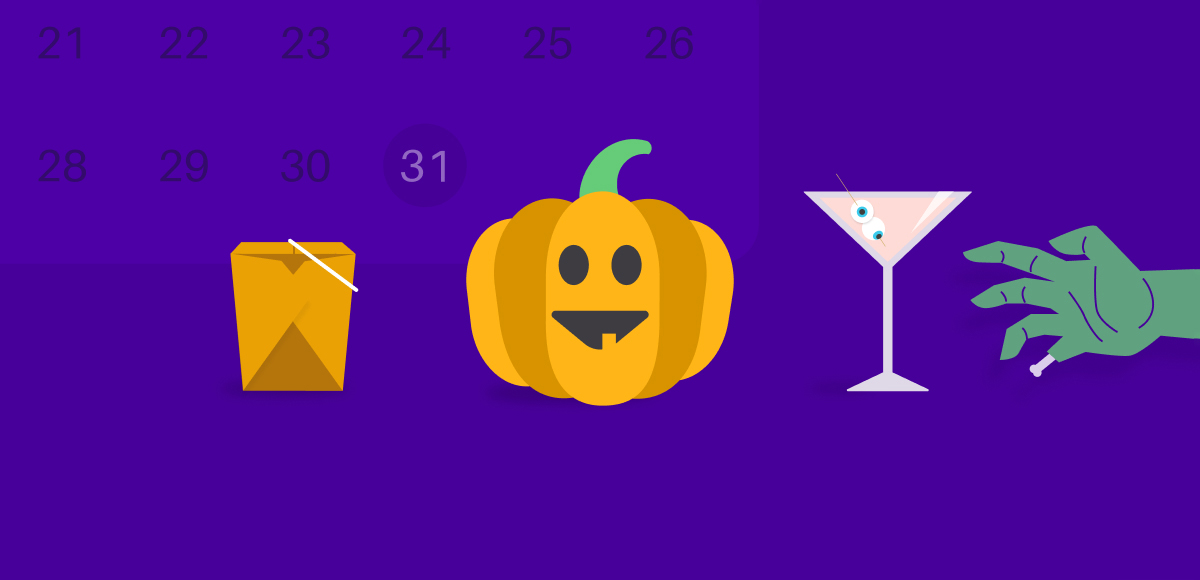 Bars open last October 31 saw a 15% increase in total sales and a 26% increase in total number of tickets, suggesting a busy Halloween Tuesday this year
Lightspeed Commerce Inc. released new data* showing that last year's Monday night Halloween gave a big boost to bar and takeout sales. The numbers, which are based on a sample of thousands of restaurants and bars powered by Lightspeed across North America, suggest a busy Halloween Tuesday may be on the horizon this year. Powering the world's best businesses, Lightspeed is the unified POS and payments platform for ambitious entrepreneurs to accelerate growth, provide the best customer experiences and become a go-to destination in their space.
Here are some key findings.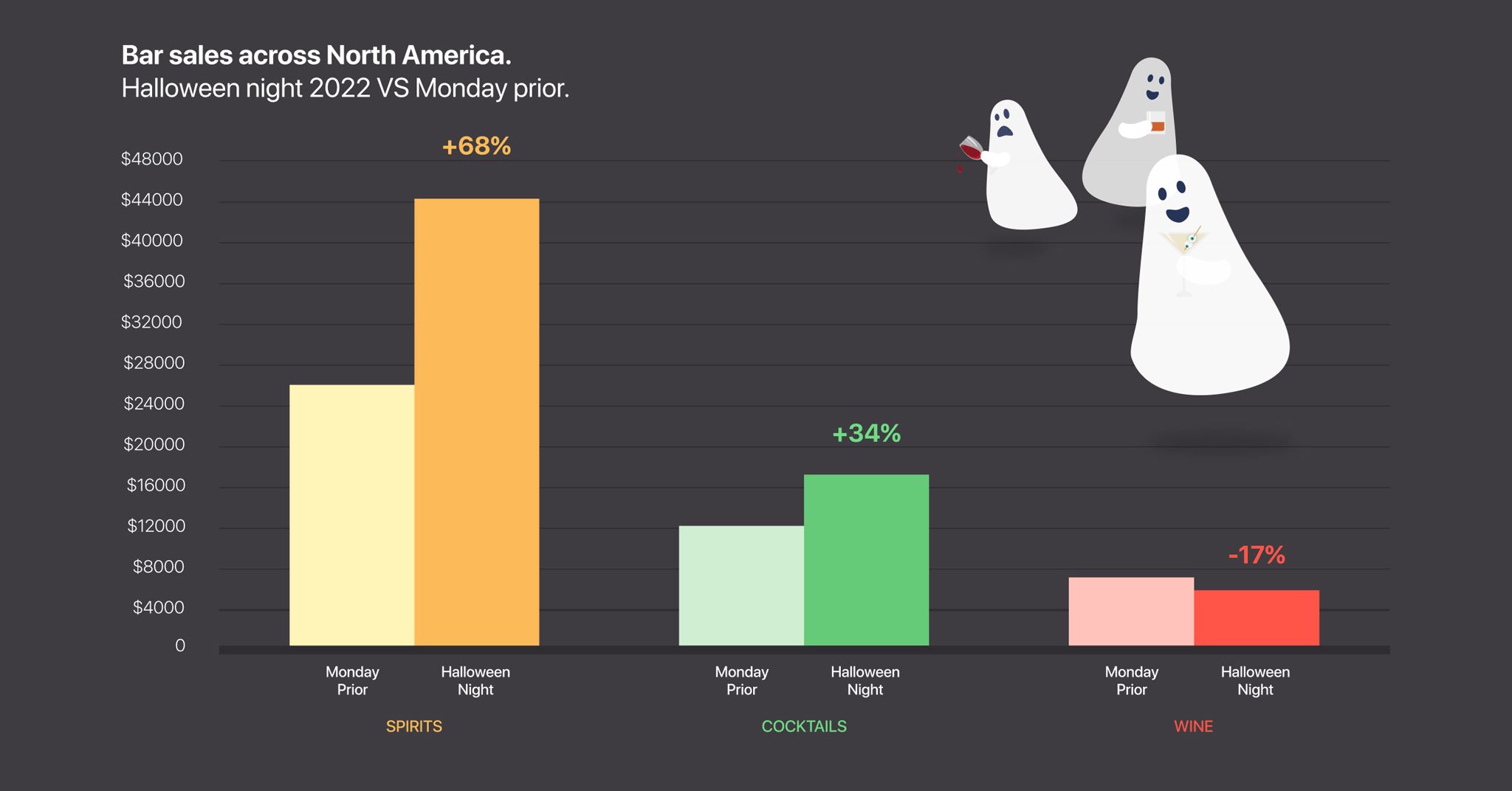 La-La Land loves Halloween.

Bars in Los Angeles were busy on Halloween night. They saw a 107% increase in sales compared to the previous Monday. Jacksonville came in second with a 65% jump from one week to the next. Brooklyn closes out the top three with a 46% bump. 

Coming in at the other end of the spectrum were Columbus, Key West and Minneapolis, where bars saw the sharpest decline in sales. Lightspeed data shows a 46% drop in Columbus and Key West, while Minneapolis saw a 49% slump in bar tabs.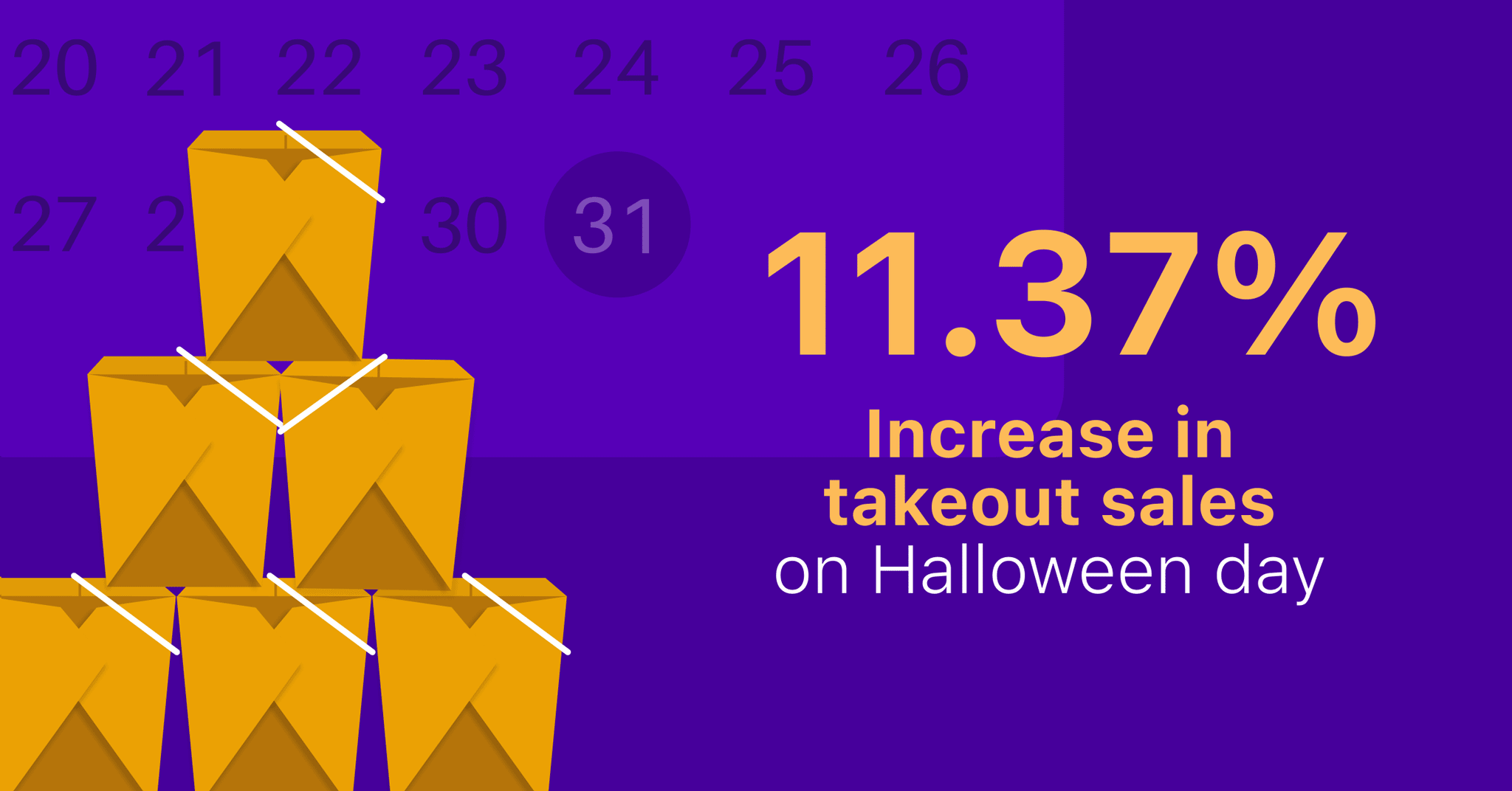 When Halloween is on a weekday, takeout orders surge.

On Halloween, restaurants across all categories—fast casual, casual, upscale or fine dining—saw an 11.37% increase in takeout sales compared to the previous Monday.  As October 31 lands on a Tuesday this year, restaurants can plan ahead to make the most of this takeout bump.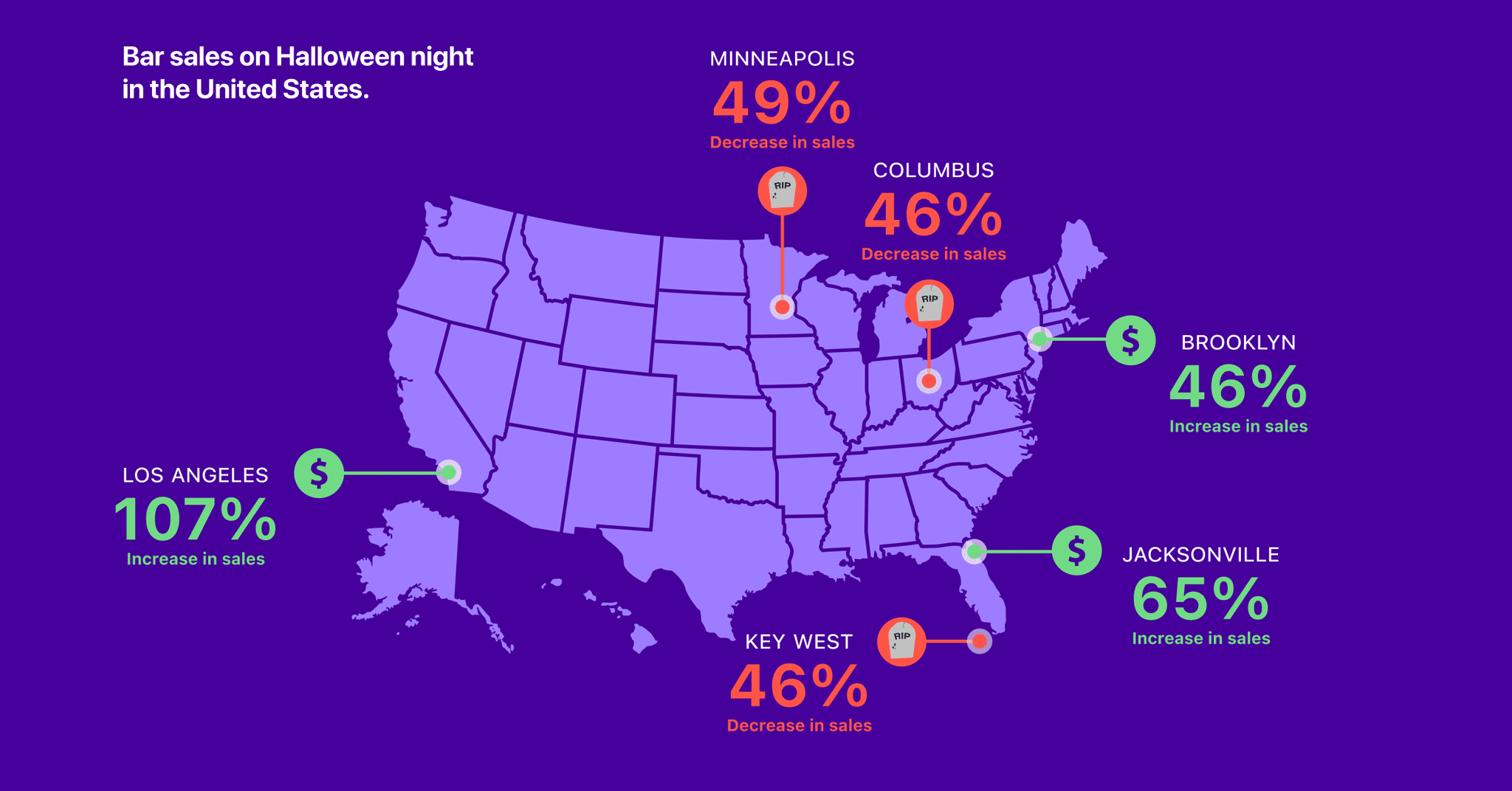 Shots and mixed drinks are the "boos" of choice.

In bars across North America, spirit sales grew by 68% on Halloween night 2022 compared to the prior week. Cocktail sales saw a 34% top up, whereas wine sales decreased by 17%.   While bars that plan to stay open on Halloween night can stay ahead of the curve by stocking up on the hard stuff, it appears many consumers still fear spilling wine on their costume.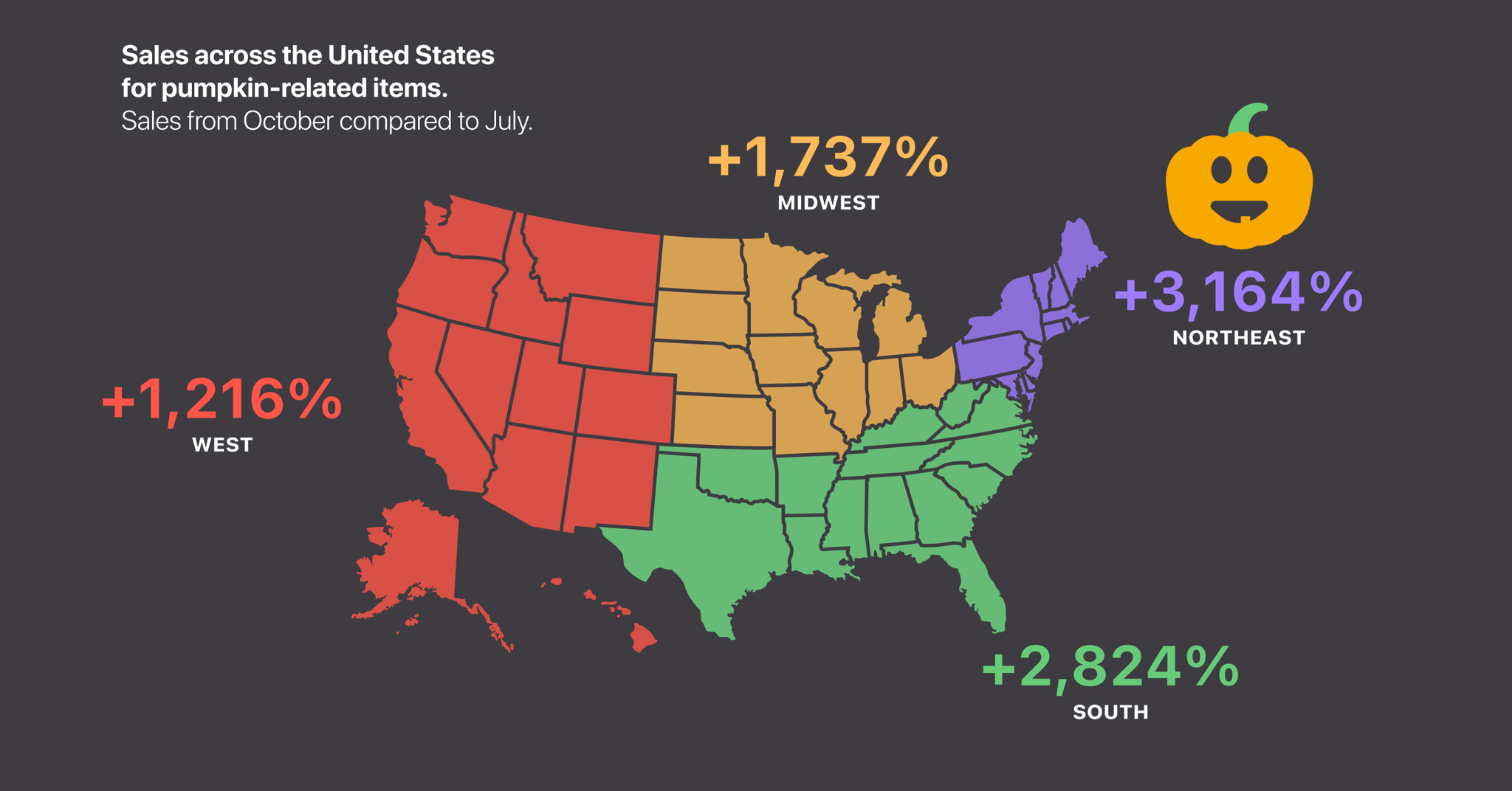 Across the United States, pumpkin still reigns supreme in the spooky season.

It's especially beloved in the Northeast, where sales of pumpkin related items grew by 3,164% in October compared to July. In the South, sales of pumpkin goods surged by 2,824% compared to a 1,737% hike in the Midwest and a 1,216% increase on the West Coast.

In a particularly pronounced case of pumpkin appreciation, Portland, Maine saw a whopping 46,275% increase in sales of pumpkin related items in October compared to July.
The data likely comes as no surprise to bars and fast casual restaurants, who are prepping for a Halloween spike with events, promotions and increased staff. "We are ready for it," says Rohit Sharma, General Manager and Operations Partner at Bar 404, a speakeasy in downtown Toronto. "There will be a lot of guests coming at the same time, [and we] want to make sure we have more hosts to accommodate [everyone]." Sharma also encourages employees to get in on the fun, creating seasonal cocktails and wearing costumes to work. 
Speaking to the uptick in business on Halloween night, Peter Dougherty, General Manager of Hospitality at Lightspeed Commerce, acknowledged that it's always been a popular holiday for bar-goers. "If last year's numbers are any indication, restaurant and bar managers who are open for business on Tuesday nights should make sure they're properly staffed on October 31. What's especially interesting for bars is how much of the ticket increase is driven by spirits and cocktails, with beer sales only rising slightly, when we've seen off-premise sales primarily driven by beer." Overall Dougherty sees the data as an opportunity for hospitality businesses. "With Halloween and the return of pumpkin season, our customers can really flex their creativity. We're seeing some amazing menu items," he notes. "I'm not just talking about baked goods. We're seeing pumpkin horchata, pumpkin espresso martinis and a huge amount of complex, spiced beers—it's incredible."
Lightspeed's Advanced Insights can help bars and restaurants anticipate busy nights. It identifies the most profitable hours and best-selling menu items so managers can optimize scheduling and menu planning. 
Lightspeed powers the world's best bars, including: Death & Co (Los Angeles), Mace (New York), Katana Kitten (New York), Service Bar (Washington, DC), Recess (Chicago), Collective Arts (Hamilton), Vin Mon Lapin (Montreal), Cloakroom (Montreal), David Rocco Bar Aperitivo (Toronto), Cubitt House (London), Maybe Sammy (Sydney), Sunshine Brewery (Gisborne) and In den Ouden Vogelstruys (Maastricht).
Read the full press release here.
*Methodology
Lightspeed analyzed internal data from thousands of hospitality businesses powered by Lightspeed Restaurant across North America. The analysis reviewed check size and other data points across cohorts of bars, casual, fine dining, upscale and fast casual hospitality businesses. In particular, Lightspeed focused on various sales changes from one Monday to the next when looking at Halloween itself. In addition, when analyzing pumpkin trends, Lightspeed compared data from July 1, 2022 to October 31, 2022.