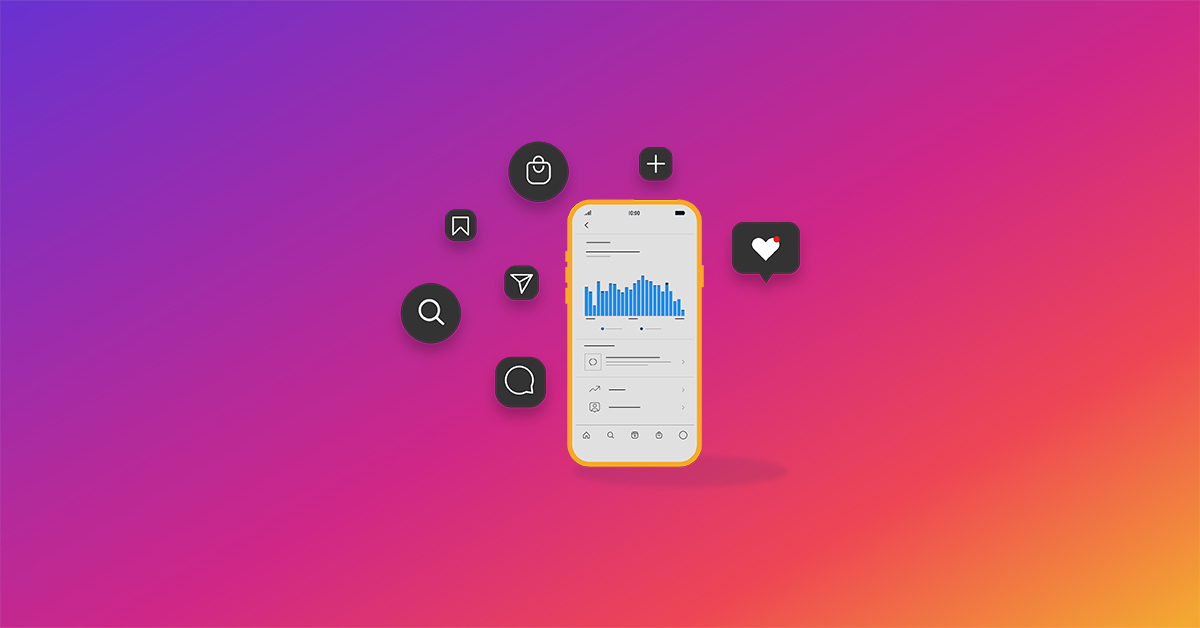 You can't deny Instagram's influence on shoppers and customers. The Meta-owned company is among the world's far-reaching social media apps for big-name retailers, mom-and-pop shops, and budding ecommerce entrepreneurs.
Instagram's data claims 90 percent of people on the platform follow a business account. And 50 percent of people on Instagram are more interested in a brand when they see ads for it on the platform. If you're ready to start an Instagram business account for your shop or online store, this article is here to help.
This article will cover:
Starting an online store?
Learn more in our guide to starting an ecommerce business.
What is an Instagram business account?
Instagram for Business is a tool that allows retailers to promote their products or services on the Instagram platform. It offers features such as insights, promoted posts and shoppable posts, making it easy for retailers to connect with their customers and drive sales. By using Instagram for Business, retailers can reach a wider audience, increase brand awareness and drive sales through the power of visual storytelling.
For example, Florida-based mattress business GhostBed has reported a lift in comments, shares, and follows since investing in organic videos specifically for Instagram (and TikTok).
"We believe this helps earn trust and credibility as the user gets to see a glimpse of the company from behind the scenes," said Jordan Seals, the company's paid social media manager. "It makes the relationship between brand and consumer feel more personal."
What Instagram business features should retailers use?
For example, Instagram allows retailers to host live shopping events, create ads within the app, and boost specific posts to reach the people who are most likely to buy your products. You can do much more too, as the business owners we spoke to have discovered.
Instagram Stories
For jewelry retailer Libby Diament, "Stories" are an Instagram favorite. Stories let people and businesses share photos and videos that disappear from the profile, social feed and messages after 24 hours. You can run these stories for longer if you add them to your profile as story highlights.
"We love doing polls and other features that engage users," said Diament. "We sell a lot of products through stories. Additionally, I think the 'shop now' feature on a post is really important. It can be difficult to set up though," she added.
Product tagging
The most helpful audience-building feature for ecommerce businesses and physical shops is the ability to tag products in your Instagram posts and make them function like an online shop.
"Shoppable posts allow users to make quick purchase decisions while allowing businesses to always be present at the point of sale, precisely where customers may convert," said Brian Crane, CEO of Spread Great Ideas, which invests in digital businesses and ecommerce startups.
Post scheduling
Another relevant feature is the ability to schedule posts through third-party apps much ahead of time while also providing auto-posting, added Crane. "This allows brands to create and design more thoughtful content while avoiding the need for manually doing it all and keeping reminders for posting," he said.
Content insights
An Instagram business account also gives you access to a feature called Instagram Insights, which analyzes the performance of your organic (free) and paid posts. "Data is always important when creating a social posting strategy as it helps you see what content is resonating with your audience. We love using this tool to track audience growth and post engagement," said Caitlin Dwinnell, social media manager at Purplegator, a mobile-first marketing agency based in Philadelphia.
"Young people are interested in the story behind the products—reels that show how the dress was made, a live Q&A to answer questions from potential buyers in real-time, a quiz in Stories to uncover little-known facts. With the ability to tag products across every format on Instagram, you can make any type of content an opportunity to show off your brand's products."
5 steps to set up your Instagram business account
It's not that difficult to get up and running with an Instagram brand account either.
Here's what you need to do.
1. Log in or create an account
If you're new to Instagram, start by downloading the app from Apple's app store or from Google Play. Setting up a personal account is simple—you just need to follow the app prompts. Do the following, if you already have a personal account, or if have more than one:
Ensure you're logged into the Instagram account you want to turn into a business one

Visit the profile of that account, by clicking the bottom right icon that looks like a little person in a sphere.
Once you're in the profile, click on the hamburger icon in the top right corner. You'll then see a list, topped by an option called Settings. Click that too, to see the screen below.
2. Improve your account security
Now, before you move on to the next step, check if all your security settings are up to scratch. You can do this fairly quickly by clicking the Security option in the list below. Then you can create a stronger password, add updated contact details and turn on two-factor authentication—a log-in method that better protects your account from fraudsters.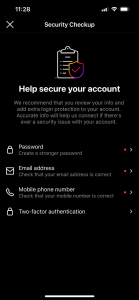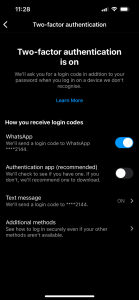 3. Switch to professional account
Once you've strengthened your security settings, return to the previous page and find the two lines of blue text at the bottom of your account page. Once you click on "switch to a professional account," Instagram will run you through some of the features of these accounts, as shown in the images below.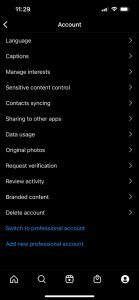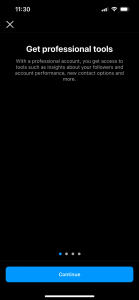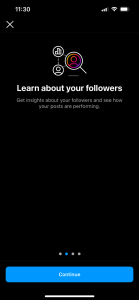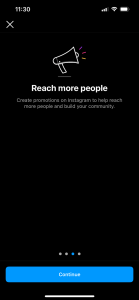 4. Choose your business category
Then, you'll be given the option to select a category for your business. Instagram will list some suggested categories. And you can also use a search bar to try to find something that more closely matches your store and products. Don't worry if you can't find an exact match, as you can use the broad "Shopping and retail" category instead.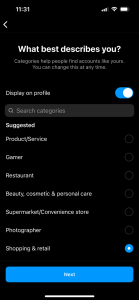 5. Tailor your business profile
You're almost there. Now it's time to tweak your business's profile information.
Write a clear bio and use a high-quality, relevant profile picture, like your logo. This will help people recognize your brand and increase brand awareness.

Don't forget to add a call to action button, like "shop products" or "contact us," to make it as easy as possible for potential customers to contact you and make purchases.
Create a simple content strategy for Instagram
"Put yourself in the users' shoes. What would they want to see? What type of content would entertain or educate them? Is the content you're posting good enough that they'll want to come back for more?"

— Jordan Seals, Paid Social Manager at GhostBed
Once you've honed your profile and made it easy for people to reach you, it's time to start thinking about your content.
Many retail businesses make the mistake of setting up an Instagram account without a thought-through approach to content, according to Ryan Mckenzie, co-founder and CMO of Tru Earth, which sells eco-friendly household products.
"Have a proper content strategy in place before you begin, as this will ensure your posts are properly optimized for maximum reach and engagement," he said.
Look beyond photos too. Consider if you should publish memes, videos or stories depending on what you offer and who your target audience is. "This will help to keep the content engaging, and make sure it stands out from other brands in the same space," said Mckenzie.
How to advertise your products on Instagram
Dwinnell believes organic [free] posting is great for building community loyalty and keeping your following up to date with your offers. "It's challenging, however, to rapidly increase awareness, post engagement and conversions through organic posting alone," she said.
For this reason, you might turn to Instagram's paid advertising features. You will need to create targeted campaigns based on customer profiles and interests, if you want to create sales opportunities through Instagram advertising. "For example," said Mckenzie, "you could create ads specifically targeting customers who have shown interest in similar products or services."
FAQs about business accounts and advertising on Instagram
Why should you create an Instagram business account?

Retailers need to go where the potential customers are. Instagram reports 70% of shoppers looking to their platform for their next purchase.

What's the difference between a business profile and a personal profile?

Personal profiles do not have access to Instagram's advertising or analytics tools. Business profiles also mean you can add a contact button, and publish 'shoppable posts,' which allow customers to purchase products directly from your post.

Which Instagram advertising metrics should retailers look at?

"Engagement rate will tell you how well the audience resonates with your messaging. Follower growth indicates the brand's overall popularity. And a clickthrough to your website tells you the user is interested enough to learn more, or possibly purchase from you," said GhostBed's Seals.
Discover more about Instagram business accounts
Want to learn more about Instagram business accounts before you get started? Meta has a series of beginner courses here, that take you through everything from account setup, to sharing content, to some creative ways to build ads with Instagram Stories.
Watch a Lightspeed demo to see why thousands of retailers grow their businesses with us.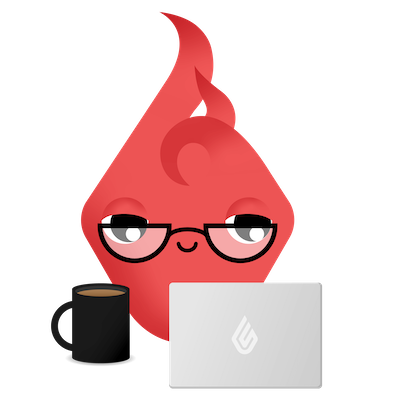 News you care about. Tips you can use.
Everything your business needs to grow, delivered straight to your inbox.