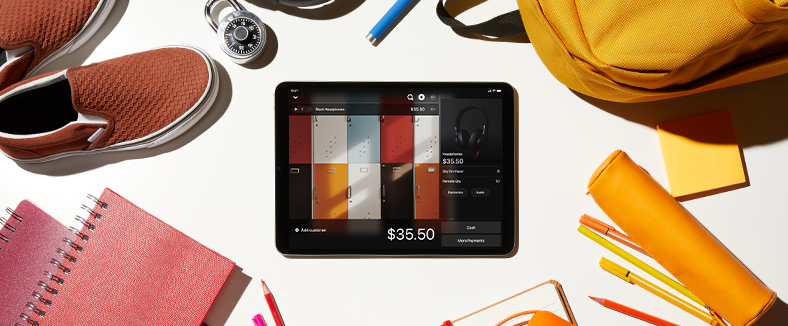 It's almost here: back to school season, one of the biggest retail sales events of the year.
We've got just a few more weeks before it kicks into high gear. So, to help you out, we've rounded up three quick—high-impact—last minute prep ideas to make sure your 2022 back to school season is the best yet.
Get the info you need to ace the season
What you need
While you're organizing your back to school stock and promotions, take a look back at last year's data. Determine what sold well during last year's back to school season and you'll have a good idea of what's likely to be popular in the next few weeks.
You might also want to look into who was shopping with you last August. If you have their contact information in their customer profiles, you can build an email list of customers who might be interested in hearing about your 2022 back to school promotions.
How you can get it
Customize reports in order to find your top sellers and previous back to school shoppers:
Set up your eCom store
What you need
Back to school shopping is just as important for ecommerce as it is for brick-and-mortar stores. Busy parents and college students are sure to shave time off the back to school rush by doing at least some of their shopping online, potentially even opting for in-store pickup to save on shipping.
If you've been busy organizing your physical locations, don't worry—it's not too late to get your eCom store up and running.
How to do it:
Getting up and running is easy, and you don't even have to do it yourself. Lightspeed can do the heavy lifting for you with our eCommerce Website Implementation services.
Our Pro Services team can get your webstore up and running in just 4-6 weeks.
Here's how it works:
Plan your promotions
What you need
Have you got your discounts set up yet? One great option is the legendary BOGO deal. Also known as "buy one get one," BOGO deals are proven to attract more attention than percentage discounts—and it's just fun to say.
While customers are riding high on your BOGO deals, this is also a great time to entice your shoppers to become regulars. Your secret weapon? A loyalty program with bonus points for signing up.
How you to do it
Lightspeed Loyalty lets you reward customers with points for special occasions, like signing up and birthdays—and for going dormant. It's an effective way to make sure the good impression from back to school means they pick you when they need something throughout the school year.
Getting started is simple:
Get ready for back to school with Lightspeed

News you care about. Tips you can use.
Everything your business needs to grow, delivered straight to your inbox.