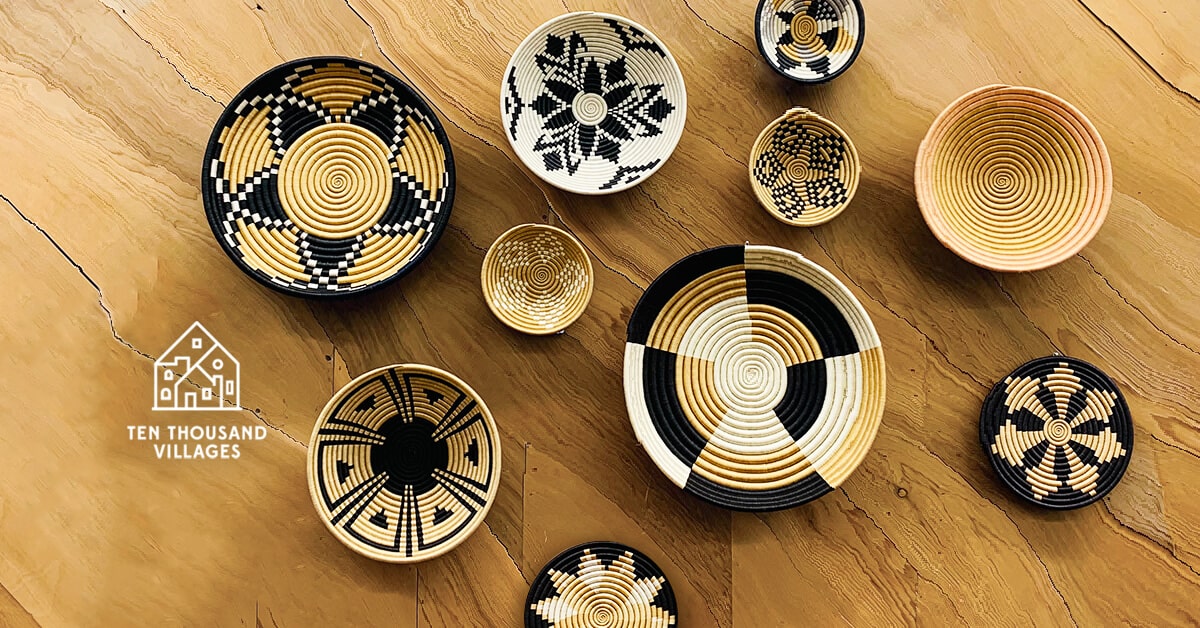 More consumers than ever are turning an eye to fair trade businesses. With 75 years of ethical business practices top of mind, Ten Thousand Villages isn't concerned with pushing profit margins or pleasing shareholders—their biggest priority is people.
The world's largest and oldest fair trade organization, many of their handmade gift items are sold with information about the artisan, the materials they used and how your purchase helps support global fair trade. You might also be surprised to learn that the majority of store employees are volunteers.
In June 2020—citing a shifting retail environment—Ten Thousand Villages Canada reluctantly announced the closure of its head office and distribution center. A handful of locations accepted the challenge of operating as an independent store—including Ten Thousand Villages in downtown Brandon, Manitoba.
Like most small businesses, Ten Thousand Villages Brandon was already facing difficulties from the weight of COVID-19. By the time Christmas rolled around, they were relying solely on curbside pickup, and without a web store, they were struggling to right the ship.
That's when store manager Meeghan Gavin dove into a wave of change.
This interview has been edited for length and clarity.
We love the concept of your store. Can you elaborate on the nonprofit background of Ten Thousand Villages?
Our mission is to help artisans in developing countries bring their products to the global north. We work with about 30 different countries worldwide whose products are certified through various agencies. We ensure they're paid a fair wage for their work while ensuring they have access to health care and education for themselves, their children and their community. Everything is handmade and unique.
Since Ten Thousand Villages Canada ceased operations, how are you accessing items from artisans?
Sometimes we'll purchase from the artisan directly, and sometimes we source items through North American fair trade wholesalers. We've discovered new artisans to feature in our store, but we also continue to maintain relationships with groups we met through Ten Thousand Villages Canada.
Christmas is a busy season for retailers under normal circumstances. What did your holiday rush look like with the added stress of a COVID-19 lockdown?
Simply put: We were unprepared for the constraints of COVID-19—especially since we didn't have a web store.
All of Brandon was under lockdown for the 2020 holiday season. Consequently, we were overwhelmed by emails, phone calls and Facebook messages asking for information or requesting curbside pickup. It didn't take us long to realize that showcasing 3000+ products for sale using social media alone wasn't going to cut it. We needed a web store.
When researching the options available to you, what made you zero in on Lightspeed?
Lightspeed's integrated web store feature was something that caught our attention. I'd say there were a lot of features we were interested in, but what's been a lifesaver for us is the matrices for categorizing product variations. In the past, with our old system, it was difficult to import items, which made inventory management quite time-consuming and labor-intensive.
For inventory management, Lightspeed has made a huge difference in saving us time.
With your POS and eCommerce system up and running, what does the lead-up to Christmas look like this year?
This year, Lightspeed has helped us keep track of orders and get them shipped out—it's just so much simpler. We're already experiencing higher sales, and we're selling out of tree ornaments a lot quicker than we had last year. Customers are browsing online before coming into the store, which has also helped boost our sales.
Plus, when prepping for holiday pop-ups, we can now ensure we're not packing away items that are needed on the website or in our physical store.
The future is merry and bright
Through dedication to the cause and hard work, Meeghan Gavin and her team made bold moves that stand to benefit Brandon, the Ten Thousand Villages artisan partners and their global south communities.
Does Gavin have any advice for retailers facing a hectic holiday season? "Have as much up online as possible before the season begins so that you're not scrambling to update your website."
Are you ready to transform your retail business with Lightspeed's one-stop commerce platform? Talk to one of our experts to get started.
News you care about. Tips you can use.
Everything your business needs to grow, delivered straight to your inbox.