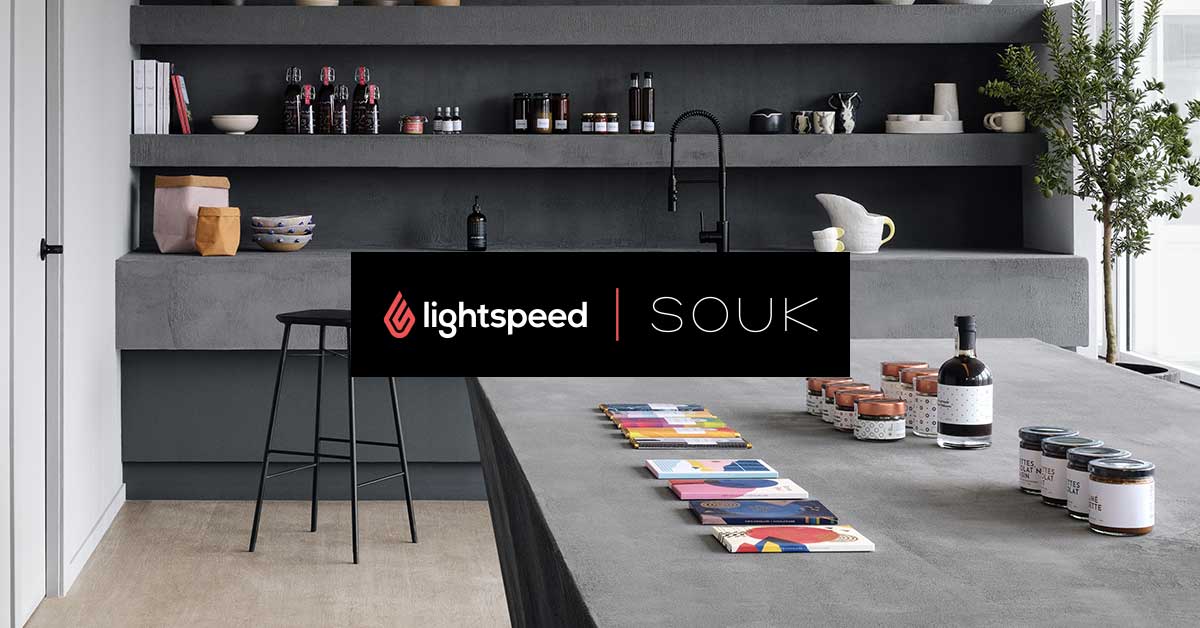 The Quebec holiday season wouldn't be complete without its yearly salute to arts and design, the uniquely curated designer event, SOUK.
This year, however, marked a stark departure from the usual crowded marketplace filled with merchants and shoppers. With COVID-19 halting events left and right, SOUK founder Azamit had to rethink all of the original plans for the 17th edition and find a way to rise above restrictions while keeping customers safe and retaining the integrity of the event intact.
Taking place from November 17 until December 17, the newly reinvented SOUK brought together design, art and technology in a completely new format, taking the design bazaar to new heights and blurring the lines between digital and physical.
Bring your store to the digital age
Take your products online and start selling fast with our foolproof quickstart guide.
eCommerce meets design
SOUK isn't new to reinvention. After moving from their home at the SAT to the RCA building of Montreal and shifting from pen and paper to digital in their 16th edition, SOUK's forward thinking organizers were always finding ways to take their event to the next level. However, when it came to their 17th edition, they were about to face an even bigger challenge than they could have anticipated: bringing a design marketplace to life with strict limitations on in-person capacity.
"The first few months of the pandemic were a bit unsettling. It was a bit difficult because the first thing that came to my mind is that we wouldn't be able to have gatherings like we have every year," says Azamit.
Coming into 2020, Azamit had to find a way to overcome the physical restrictions of shopping in a marketplace, while still keeping the design bazaar ambiance intact. "Having an online platform was the first most obvious answer, but we wanted to showcase and highlight the products and storytelling," she added.
Making sure that the website would bring out the unique interaction, creative narrative and branding that revolves around the event was essential in maintaining the purpose of the marketplace alive. "We worked on two websites at the same time. First we highlighted the local design team and their stories and the second one was the eCom section which is what we developed with Lightspeed," says Azamit.
Breaking into digital with Lightspeed
Starting an eCom website from scratch can seem daunting if you don't have the right partner.
After deciding the next steps for their digital venture, Azamit worked with Lightspeed to get everything up and running for the big day. "If the Lightspeed team hadn't been there while we were trying to launch our eCom page, we would have never made it on time," echoed Azamit.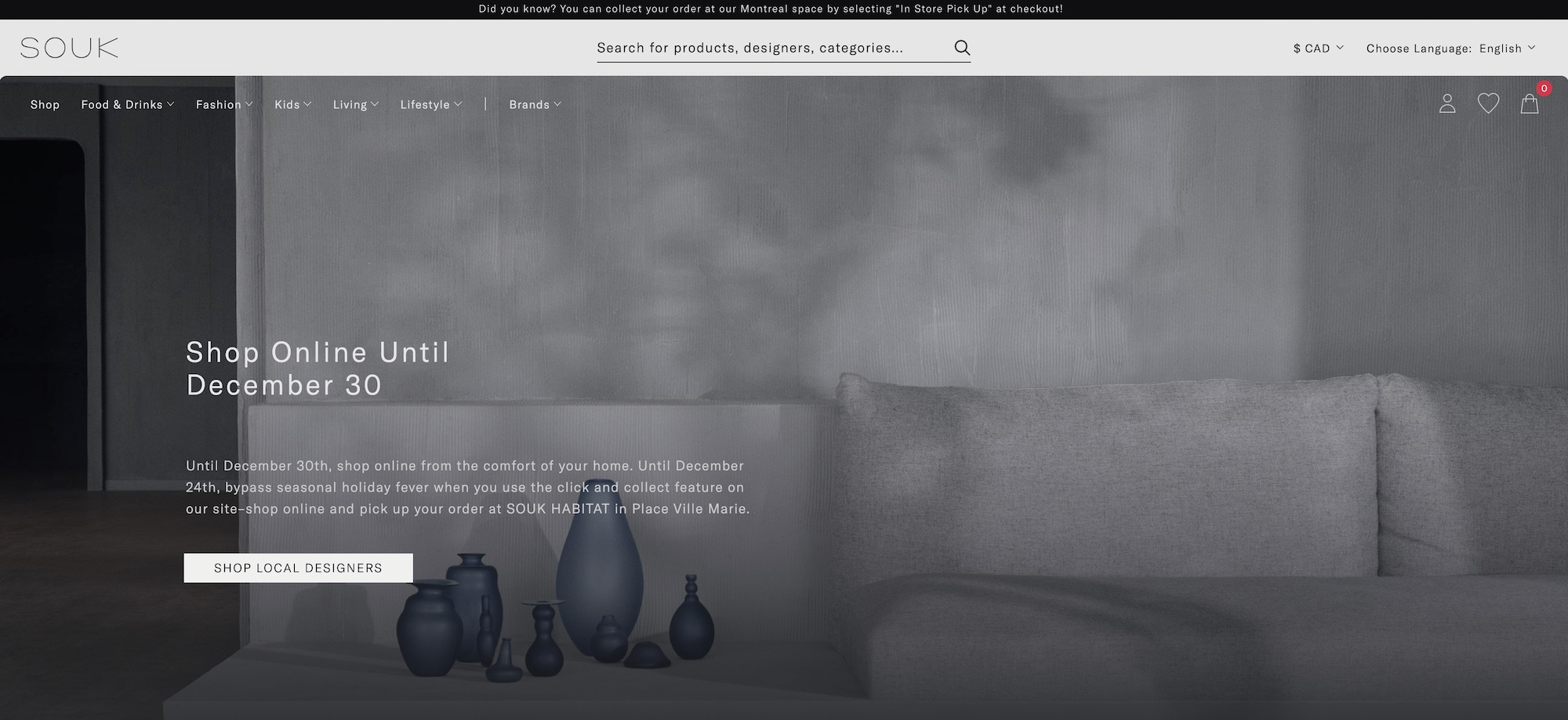 From designing the website to mimic SOUK's aesthetic to putting the finishing touches and getting the eCom shop up and running, Lightspeed and SOUK worked together to bring this new digital design space alive.

"You have no idea how amazing it was to have someone support you and be able to answer your question and having someone wake up at 5:00 AM to help with the launch. It's been an amazing experience. Can I have a lifetime partnership with Lightspeed?" —Azamit, Founder, SOUK
Bringing curation online
Curation is a critical aspect of SOUK, and something that Azamit wanted to make sure would translate in every channel.
While the products sold at SOUK are all previously selected by a jury of interior designers and creative directors, Azamit wanted curation to shine in this new digital sphere. "People want to feel that they are getting something that's curated and well filtered, because there's so much noise. A platform like SOUK that already filters the designers lets customers know that they are getting the best design or quality. When you land on the website and when things are filtered for you on exclusivity, and also lets you know if it's local or eco-friendly, it helps the customer that's completely lost," adds Azamit.
One of the great features of the website is the ability to filter products by three unique categories: eco-friendly, exclusive and local. By clicking on each icon, shoppers get access to products filtered specifically under those categories, allowing them easy access to unique finds that fit their needs and interests. Almost like having someone guiding you through the shopping journey.
"Exclusivity can be a new product, different color or even collaboration with another designer. We've tried as much as possible on the website to add items that are locally made and eco-responsible. We've created these three icons that you can filter, and when you're going through the products one by one you'll be able to find what you're looking for." —Azamit, Founder, SOUK
Creating the perfect space
But of course, it wouldn't be SOUK without the immersive touch of a physical space.
For Azamit, it was all about building that unique design experience that SOUK is known for, minus the crowds.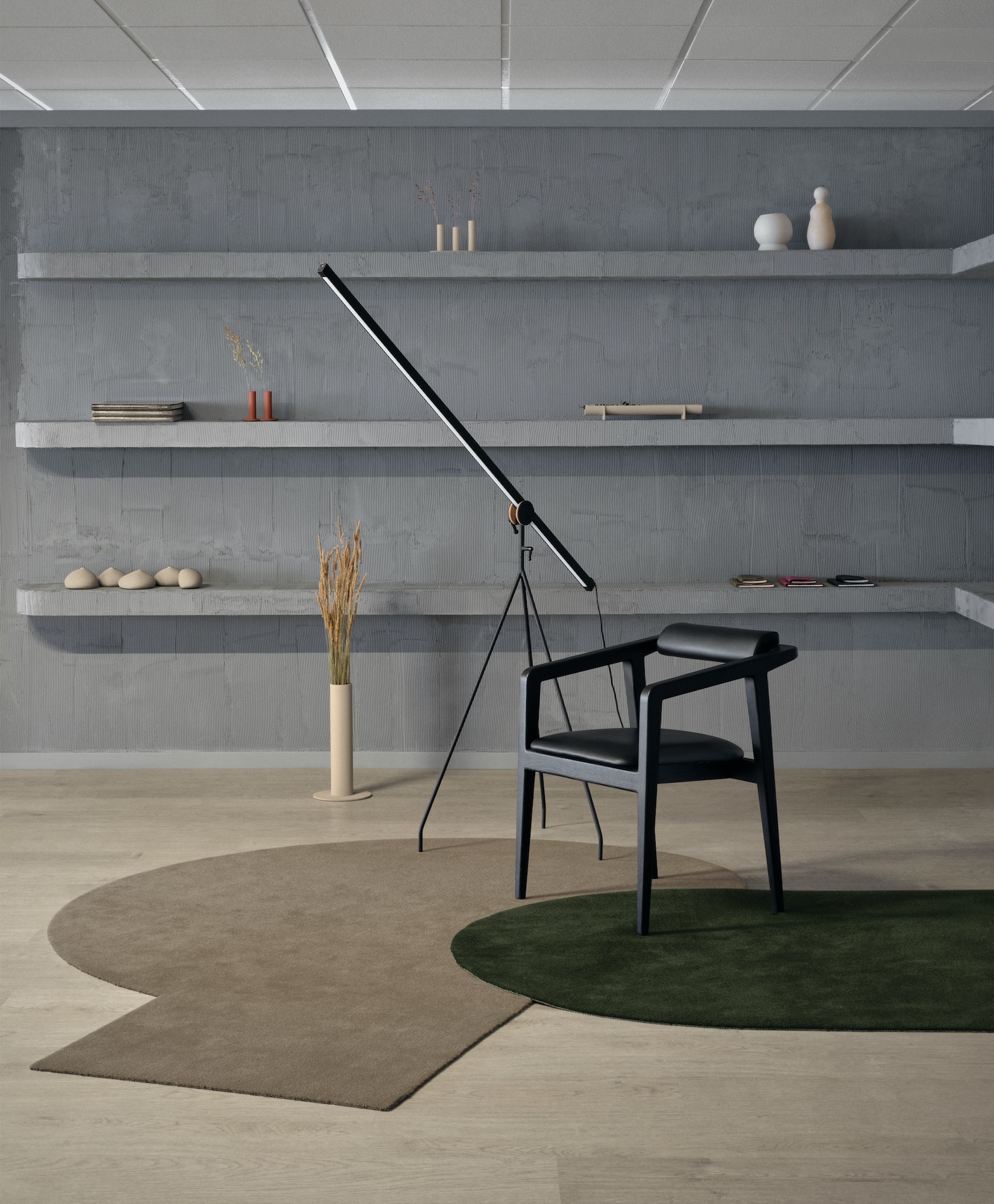 This year's SOUK takes visitors through a completely different journey. Instead of a bustling marketplace, they're guided through SOUK Habitat, a beautifully designed and decorated apartment in the heart of Montreal's downtown in Place Ville Marie.
According to Azamit, this idea was a long time coming. "The apartment concept has been a 17 year dream since SOUK's beginnings in 2003. The idea behind it was walking through someone's apartment and seeing something you like. That's how the Habitat concept was first born," says Azamit.
Building this meant creating something that draws the visitor in and makes them feel like they're part of something special. "We wanted to create an immersive experience versus an event type of an experience. The sounds, the music, the smells, everything has been thought of so that when you come in, you're totally in a somewhat intimate space. The space was designed with an interior point of view," explains Azamit.
"We were inspired by most of the Montreal iconic buildings in concrete that have that brutalist feeling. It's an all-grey space, so your eye is automatically drawn to the product or the interior of the design, since that's supposed to complement the products." —Azamit, Founder, SOUK
Bridging the gap between physical and digital
Having SOUK Habitat and a new ecommerce website, meant the design marketplace could reach a wider range of customers, while still counting on a physical space to create in-person connections.
Most importantly, however, was creating synergy between both spaces.
According to Azamit, they needed to find a way to provide some interaction in digital. "We didn't know how we were going to be able to take our clientele that's used to having the physical experience to a more digital one. The more we spoke with Lightspeed, we realized that there were tools that we could integrate to make it more conversational and we were able to integrate booxi," explains Azamit. With booxi, website visitors could schedule appointments to visit the physical space.
What was first an intimidating move into eCom, became a harmonious balance between physical and virtual. "For a first time launch where our customers are mostly used to only having a physical event it was really a success," says Azamit. And with 450 unique customers, 506 sales and 1,298 units sold in their eCom shop, we have to agree.
Creating that connection between their online shop and the SOUK Habitat answered the omnichannel trend that many consumers have become accustomed to. "Having the physical space really helped. It allowed customers to shop on the eCom site and have it delivered or see it online and then come to the physical space to experience it and buy it. So it was really helpful to have both. People would be able to find everything that is online in the physical space and vice versa." By offering delivery options and in-store pick up, SOUK has started taking the leap into the world of omnichannel.
Adding seamless technology
Adding eCom and creating a new physical experience weren't the only new additions to the event.
According to Leonard Villamaux, Team Lead of the Omni Pro Team at Lightspeed, some of the changes this year included adding Lightspeed Payments. "This year it was all automated and much easier to deal with as they would just send it to the terminal and get the payment. They are very happy with the fact that they have Payments and it was also easy for them to go with our payment solution for eCom," says Villamaux.
Having this ease of use and control over payments helped create a more seamless experience for the customers and organizers.
Taking control of the experience
Unlike previous years, where merchants were heavily involved in the day-to-day interactions and sales, this year SOUK has been in control of everything from creating the website to selling the products.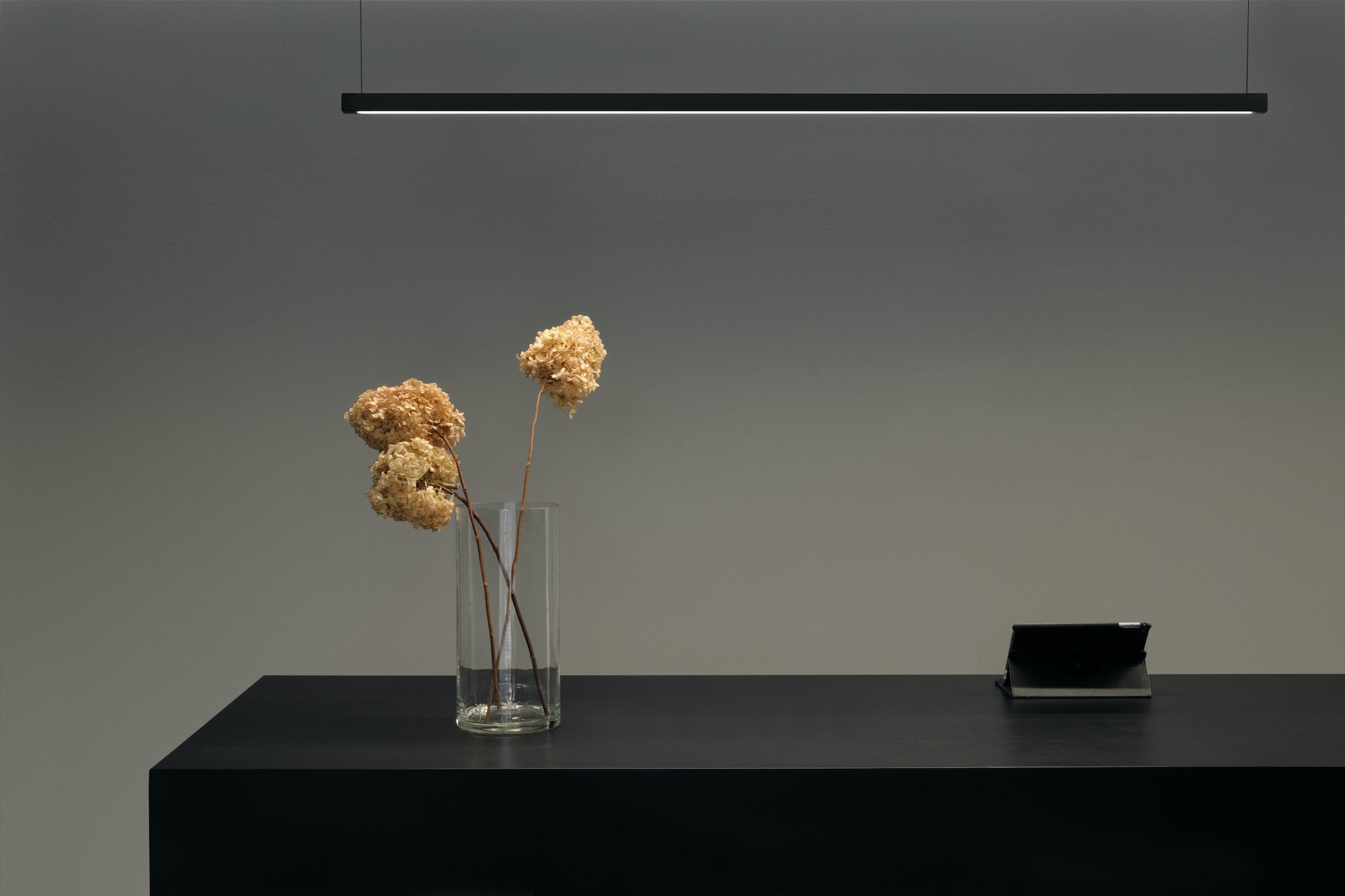 "This year SOUK is a distributor, they are getting all the items, they're taking the pictures and they are putting them on the website. Our main connection with designers is mainly through our weekly reports to them," explains Villamaux.
While interacting with designers was traditionally an important part of the event, in a time where social distancing and limited capacity is a priority, having full control of the event and interactions with customers is essential for SOUK.
Fruitcake vendor, Le Mélèze, participated in the event in the 16th edition, and was selected for the 2020 edition. According to Le Mélèze owner, Marc-Antoine Arrieta, "this year it was really easy for me and less work because before I had to be there full time all week." While he feels his fruitcakes shine when people are able to try them, he sees a lot of potential in the online component. "I'm really curious to see how it will turn out. It could go really well because everyone in Quebec can now order things as they are not limited to having to go to the actual space. I think continuing to have an eCom site and a physical space could be an opportunity for SOUK in the future," adds Arrieta.
Creating a unique experience for the future
Planning a design event of this magnitude can be a challenge on a good day, but when once-in-a-lifetime world events take control, the only way to move forward is to get back to the drawing board and find a new way to bring it to life.
Azamit and the SOUK team did just that.
By looking back at SOUKs beginnings and revisiting those early dreams of what the event would one day be, they were able to create something unique, that still felt like the SOUK we know and love.
Through SOUK, Azamit wants us to enjoy a piece of sanctuary. "SOUK is our way of saying this is an intimate space and it's ok for people to come in, even if they're strangers," says Azamit.
Bringing together the physical world with our new virtual reality, SOUK gave us a glimpse into a new living room through our screens.
"The idea is to embrace how, ever since we've been locked at home and looking through our screens, we have a view of someone's intimate home, I wanted it to be something more positive. Why don't we turn it into something more where we can help people highlight local products and do their interior in a local way?" —Azamit, Founder, SOUK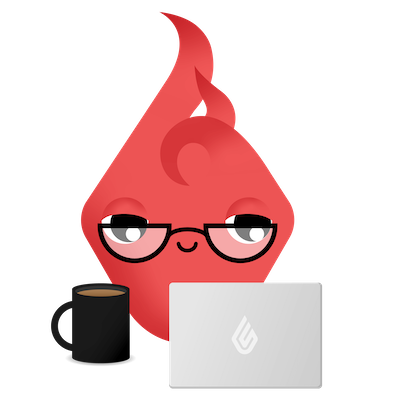 News you care about. Tips you can use.
Everything your business needs to grow, delivered straight to your inbox.