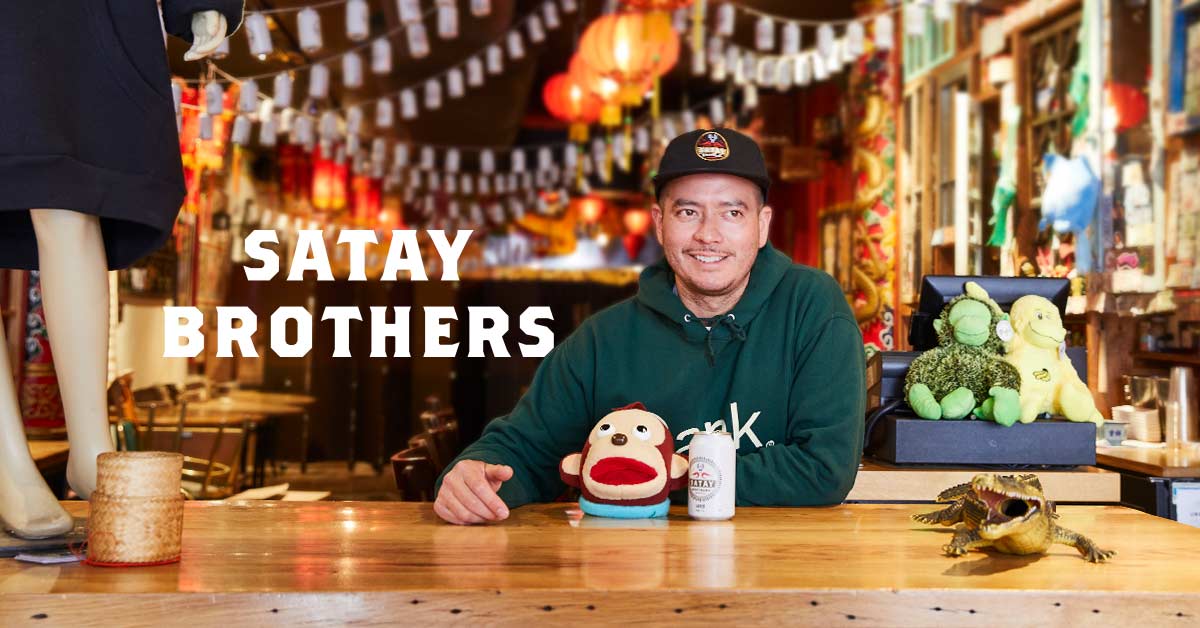 What started out as a small hawker stand in a busy market has grown into a three-location staple of the Montreal restaurant scene. Created by Alex, Mathieu and Kim Winnicki, Satay Brothers has become a well known name for Montreal foodies with its popular kiosk in Atwater Market, hip indoor dining restaurant in St. Henri and its inspired hospital location.
Mostly known for their Singaporean street food and Southeast Asian flair, Satay Brothers has also made its mark by supporting one of the communities' hardest working members: health care workers. In 2016, the Kim Jen Ming location was born in the McGill University Health Center's Glen site and was inspired by their mother's hard work and dedication as a nurse. For six years, the Cantine Satay Brothers has been redefining the notorious concept of hospital food with Southeast Asian delights like papaya salad, rice rolls and pandan chiffon cake.
With hard work, a strong connection to their roots and a dedication to their craft, this family business has been a constant source of good food and good vibes to a community when it needed it most.
We spoke with co-owner Alex Winnicki to find out more about this Southeast Asian success story.
Future-proof tips for the new era of dining
Find out how to help your business thrive in the new era of hospitality with our guide.
Tell us about how everything began. How did Satay Brothers come to life?
It was 2010 and we were growing up in St. Henri. I had already been working at the Atwater Market for years and my brother had also worked in various businesses in the market. At the moment we were studying and working in different fields, but we always came back to work at the market. That's around the time when the market started putting up the idea of the food court. One of the people that wanted to rent the spot opted out at the last second and we had an opportunity to set up a type of hawker stand, which you find in Asia a lot. It was kind of like an outdoor grocery store.
We set up at Atwater Market first and we had four to five items on the menu. That's kind of where it all started. There's a lot of traffic in the market and we were doing something completely different so we got a lot of free press and positive reviews from customers.
That sounds amazing. Where did the concept originally come from?
Our mom was Singaporean, but we were never able to find Singaporean food in Montreal growing up. It was kind of like an unrepresented food. We even had trouble finding Southeast Asian cooking in general. And that's kind of where the idea came from. We grew up Singaporean, definitely influenced by my mom, but also very much Montrealers. We were always big on the food culture and we also wanted to bring something different to the table.
So how did you expand from the hawker stand at the market?
We had a production kitchen on St. Jacques street where we would make the food and bring it to the market. Basically we would cook at night and make more food for the next day. When the summer season closed, we opened the production kitchen for our customers. We had about 18 seats inside and we were there for a couple of years. Because of the small capacity we had line ups all the time and it was hard to manage to make enough food for all the people. Which is a fortunate problem at the end of the day.
Around seven years ago, we started building our location on Notre Dame street. We got a lease there and the place was much bigger than our previous spot. We built the restaurant with a professional kitchen and that's where we've been working from for the past six-seven years and where all the food comes from. We currently have our location on the Atwater market, the hospital location and our flagship location on Notre Dame street and everything is cooked by the same people at the restaurant, whether you're eating at one place or another.
Let's talk about the hospital location. How did that come about?
Our mom was an oncology nurse for 35 years so we spent a lot of time in hospitals when we were in school. We would go meet our mom and just wait there until we would go home. So we thought we could do something that would make people happy.
Often when you're at the hospital it's a tough environment for the staff as well as for the patients. We decided we wanted to bring good food to the hospital and maybe we could snag the title of best hospital food and shift the mentality away from the slushy hospital food people have become accustomed to.
There are some people that need to be there every day and they're just really happy that there are other options in the cafeteria food. So that has been probably the most rewarding thing for that location just to be able to make people happy and offer some healthy, good food at the hospital.
Managing a restaurant stand in a hospital must be so different. What were some of the challenges of running a hospital location?
We've been at the hospital for over five years already and we have a partner, Fred Vaillancourt, and he takes care of our daily operations and really enjoys the people. That's where we have the Lightspeed system set up.
Some of the food we had to adjust because Singaporean food has certain spices. We decided to offer different things, still with a lot of flavor but maybe less spice or no spice. The other thing is the ambiance. In this location we're not in charge of things like the music, the ambiance and the vibe that you're feeding off of while you're enjoying the meal. Even though we can't control the environment, Fred has been amazing. He knows most of the customers since it's a lot of the hospital staff that eats there often. He even knows them by first name. He's done an amazing job at bringing a bit of the environment back.
What was it like running a hospital restaurant location during a pandemic?
At the beginning, everyone was concerned. A lot of places were closing out of precaution, but it was different at the hospital. While everything was closing and people were staying away, the hospital staff didn't have the luxury of not going to work. We closed for about five days and once we made sure all our staff was healthy, we felt it was our responsibility to open up as usual and be there to offer the food to the workers that were having to work these crazy shifts and having more stress in their lives. We operated after that week of closing, and then it was business as usual. We wanted to be there as much as possible to feed everyone that was going to the hospital and needed that good food.
Our hospital location is more of a takeout counter over there. We had to make changes in our other locations however. We ended up putting all the food in takeaway containers which is something we've never done before since our pleasure is putting the food on the plate and seeing people enjoy it. At the hospital they would pick their containers and just go sit in the cafeteria. At some point, the cafeteria was completely closed and customers would have to eat in their office or room. Our hospital setup was already made for that kind of takeaway. So that didn't change all that much.
Why did you choose Lightspeed for the hospital location?
We went for Lightspeed for our restaurant point of sale because we knew the company and we had even catered for them in the past. The technology is there, it's easy. I'm not a big technology guy and in the restaurant we're incurring astronomical amounts of money and expenses. We've used Lightspeed at the hospital for the counter service, for the fast punching and closing bills. They're pretty happy with it. You get all the reports online and everything. So we went straight to Lightspeed for the hospital location.
What does the future of hospitality look like for you?
A year and a half, in the big scheme of things, isn't going to change that much—at least I hope not. We are all social creatures and when things begin to reopen, people are going to want to enjoy a meal with their friends, their family and their loved ones in a restaurant. They're just going to sit at a bar and talk to a stranger and get service. You know that everything tastes better when somebody else is making it for you. Even if you have a drink at home and you go to a bar and somebody makes you the exact same drink, for me, personally, it tastes better.
There's something just magical about restaurants and the feeling that you get when you're out eating and having a good time, so I really hope that things will go back to the way they were. I think they will slowly over a period of time. In five years from now I really hope that everybody is just going to be having a good time, enjoying and talking about this in the past tense.
Bringing positivity to the future of dining
Throughout the years, Satay Brothers has become a strong member of the Montreal community. Their passion for good food has also become a passion for great service. This year, Alex Winnicki was nominated for the Best Service award sponsored by Lightspeed at Les Lauriers, an event that promotes Quebec gastronomy by honoring the industry's talent. A well-deserved nomination that reflects the years of service and dedication to the community that we've come to know.
While the last year has been difficult, Winnicki is looking to the near future and looking at the bright side of things. His advice? "Keep your head up as much as possible and be positive. Better days are coming and we're looking forward to serving customers again."
Are you getting your restaurant ready for reopening? Talk to one of our experts to find out how Lightspeed can help.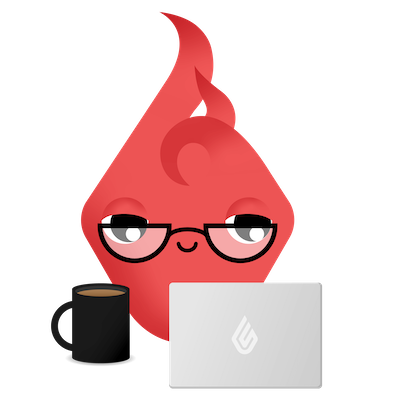 News you care about. Tips you can use.
Everything your business needs to grow, delivered straight to your inbox.