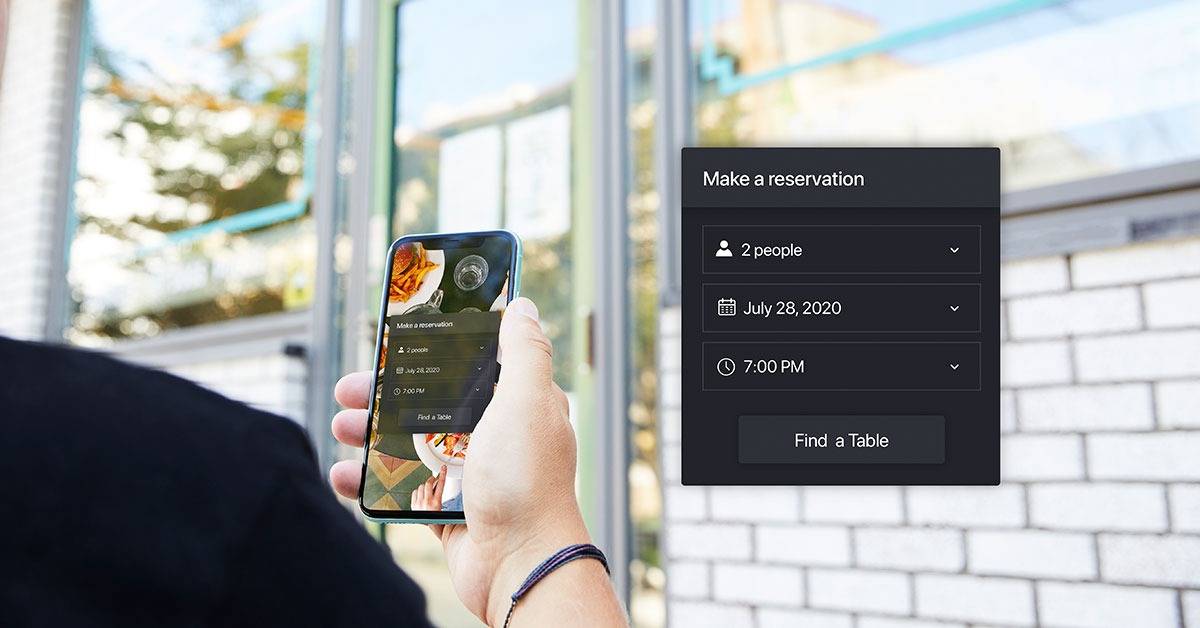 In-restaurant dining has never before seen a period of such rapid change. Covid-19 has forced thousands of restaurants to close their dining rooms, and with many now looking to reopen, they face new challenges and are continuing to adapt to the fast-moving situation.
Reservation platforms have been rolling out new features to cope with distancing requirements, like taking bookings for bar area seating and helping restaurants manage numbers in the face of limits on dine-in capacity.
OpenTable recently gathered data showing that its community of 60,000 restaurants are facing "unprecedented challenges". The data shows that dine-in guest numbers are down up to 60% year over year. Unsurprising, but no less devastating for the industry.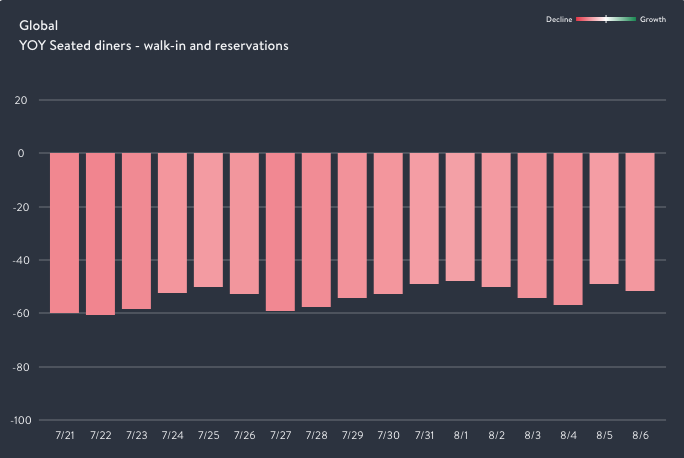 This novel situation has above all else produced a heap of uncertainty and put a whole lot of fear and trepidation into consumers. Reservations are an increasingly viable solution for restaurateurs that want to add a little more certainty to their operations; to fill their available tables, maintain proper social distancing and forecast food inventory needs.
"Reservations are an increasingly viable solution for restaurateurs that want to add a little more certainty to their operations; to fill their available tables, maintain proper social distancing and accurately forecast food inventory costs."
Let's take a deeper look at the extent of the change post-COVID and talk to some industry experts and restaurateurs who are trying to overcome these challenges to see how they are faring.
Reinvent your business for short and long-term success
While the hospitality sector reopens across North America, owners and operators face a whole new set of challenges. Download our free playbook and learn how to build a more resilient business post-pandemic.
How have things changed since Covid-19 struck?
Covid-19 has pushed back against the no-reservations trend, as restaurants look for more certainty and are unable to rely on walk-in traffic. Reservations are becoming increasingly important in an uncertain world.
"Reservations are always important but especially now as it helps our team to plan for staffing and kitchen needs accordingly," says Natalie Bowers, Business Development Manager at The Lynhall, a multi-function food-centric community space and restaurant in Minneapolis.
The team takes reservations over the phone, by email and via booking software. Reservations offer restaurateurs another opportunity to reassure guests and communicate how they're reducing the risk of transmission, says Natalie. "By making a reservation, you will also receive information on what our current guidelines are and how to plan for your visit to our restaurant."
It's fair to say full-service restaurants have been among the worst hit. Although many have quickly and admirably pivoted to provide meal kits and takeout options, the loss of dine-in guests has been hugely damaging to their cash flow.
Pedro Passinhas founded London pop-up restaurant Denim and Dine, which offered guests a multi-course fine-dining experience in a working denim factory. He now runs a similar business, Co: Lab, inside a multi-functional film and arts space in Stockholm with plans to open a full-service restaurant in the city next year.
As a chef and restaurant owner with experience in some of the world's top Michelin star eateries, including The Fat Duck and Le Gavroche, he understands the industry better than most.
"What I've seen at the higher-end restaurants is they quickly shifted the business to takeout." Pedro reveals, "They need to use an online platform that supports takeout orders and meal kits that customers can cook at home. Others are using systems where you order on the app so you don't have to talk to the waiter."
But as well as the ability to adapt, he also sees the necessity for reservations: "A lot of establishments that didn't take reservations are not going to manage [to stay open] now. They're going to have to put some kind of system in place."
"A lot of establishments that didn't take reservations are not going to manage [to stay open] now. They're going to have to put some kind of system in place."
Jessica Jensen, Chief Marketing Officer at reservation software provider OpenTable, provides insights from the tech side of the business. She explains that as restaurants reopen they face new challenges "such as managing guest flow, tackling overcrowding and communicating health and safety protocols they're taking to reopen."
From her point of view, Jessica sees a totally new landscape for in-restaurant dining: "As a new way of dining out takes shape, reservations have never been more important."
What are the biggest issues and how are restaurants dealing with the challenges?
Dealing with no-shows
The problem of cancellations and no-shows is even more relevant now. Restaurants are trying to combat the problem in several ways from taking deposits to using platforms like Tock where the entire meal is paid for in advance.
At The Lynhall, the team try their best to avoid no-shows altogether. "We definitely always ask that you let us know if you are unable to make your reservation time," Natalie says. "It is especially important these days to contact us if you are canceling as we are trying to plan as much as possible and have limited capacity."
At this difficult time for restaurants, it's more important than ever to limit the financial impact of no-shows and last-minute cancellations as Natalie explains: "It is hard to lose a reservation that could have otherwise gone to another group. Every piece of business counts now more than ever."
Jessica explains that OpenTable has a strict policy aimed at eliminating no-shows at the booking stage: "Those who no-show for a reservation four times within 12 months are prohibited from making future reservations via the OpenTable app and website," she says, "To help restaurants decrease cancellation rates and increase covers, OpenTable recently rolled out availability alerts—a new product feature that notifies diners when a table becomes available, now that capacity is limited."
Tackling consumer angst
While diners are generally eager to return to eating out, there is sure to be nervousness about returning to crowded spaces. A recent Harris Poll indicated that, while 40% of the 3,000 Americans surveyed would go out to eat within a month of the curve flattening, over 20% of them said they wouldn't go out to a restaurant within six months.
So you can imagine that among those who are ready to dine out again, there is going to be a sense of fear and trepidation. Pedro relays his experience in Stockholm, where there was no official lockdown, but there was still a general sense of anxiety about eating out when the pandemic hit.
"At the beginning, there was definitely a demand for takeout," Pedro reveals. "People didn't want to sit in the restaurant. Even though we have a massive space, they didn't want to be inside."
Natalie says that the biggest challenge they've faced at The Lynhall is dealing with the issue of masks. "Although wearing a mask is required indoors, not all guests abide by it," she says, "We want to ensure our staff and all of our guests are safe but we also do not want to put our staff in the position where they need to get into an altercation with a guest who isn't wearing a mask."
With masks such a contentious issue, restaurants must push forward with guest and staff safety as their number one priority.
Natalie gives an example of using the reservation process as a communication tool: "To help mitigate issues with mask-wearing we have posted signs, listed verbiage on our reservation page and have masks on hand to give to any guests who don't have them. Our state has now mandated mask-wearing so hopefully, that will help with this issue as we move forward."
Jessica also highlights the importance of good communication: "For restaurants looking to attract sit-down diners, letting guests know the steps they are taking to reopen safely and maintain social distancing is key."
"For restaurants looking to attract sit-down diners, letting guests know the steps they are taking to reopen safely and maintain social distancing is key."
Citing stats from the recent OpenTable survey, she paints a picture of a nervous public crying out for reassurance. "Nearly two-thirds of respondents said it was extremely important to see strict cleaning policies in place," she continues, "and 37% of respondents said that seeing staff wearing protective equipment such as masks and using hand sanitizer was 'extremely important'. In New York City and San Francisco, it was even more, with 42% saying this is 'extremely important'."
Jessica highlights OpenTable's safety precautions feature as an example of a tool that has been rolled out to deal with the new restrictions. "It's an easy and transparent way for restaurants to list out all of the health procedures they're taking to keep diners safe," she claims, "Diners will know ahead of time if a restaurant is spacing tables, offering contactless payment, whether employees are wearing masks et cetera."
You might also consider the benefits of a personal phone call to assuage the fears of your most loyal guests. Or a personalized email communication sent out to your list.
Coping with reduced capacity and distancing measures
One of the biggest problems facing dine-in restaurants as they reopen is the application of distancing measures and limits on capacity. Measures vary in different areas, but many restaurants are facing the prospect of limiting their capacity by as much as 75%.
This obviously has a huge impact on the bottom line for restaurants whose sales were largely predicated on table service, making it difficult to turn a profit. It also brings up new logistical challenges. For example, how do you keep track of the number of guests and ensure you don't overbook the restaurant?
Reservations systems have useful features built-in, like waitlist management tools, which were always available but have become particularly relevant now. Waitlists can be used to prevent crowding and give customers an accurate idea of when tables will be available.
Reservations platforms have brought out custom tools to help restaurant managers determine when the restaurant has reached capacity.
Jessica highlights the fact that venues like bars and wineries and casual walk-in restaurants that never took reservations before need ways to manage capacity limits and guest flow. She says, "To accommodate this shift, we rolled out our reservation technology to all drink-focused destinations including bars, wineries and most recently university dining halls."
As restaurants reopen and capacity limits remain in effect, it's harder to grab a seat at your favorite spot," she explains, "With our availability alerts, diners get notified when their desired table becomes available. This can help restaurants increase covers and decrease cancellation rates during dire times."
Can full-service restaurants bounce back?
Given the huge challenges they face, what does the future hold for dine-in restaurants?
Pedro shares his observations relating to fine-dining restaurants: "What a lot of places have done is they've taken away all the complicated menus and they've gone with really simple things. They've redesigned their menus and reduced the number of dishes available. They've sourced cheaper food inventory because they don't know how many people to expect per service and can't risk not selling it all and letting it spoil. They've gone back to basics."
OpenTable's numbers paint a cautiously optimistic picture, showing that reservations are increasing as restaurants open back up.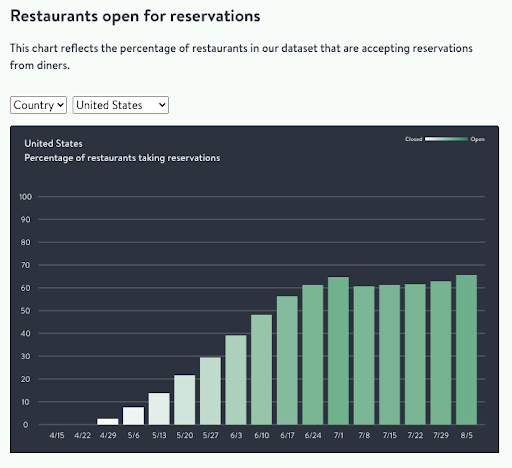 Undoubtedly, reservations software is playing a role in helping restaurants get through this uncertain and challenging time. But with the new measures in place, will dining out ever be the same for the customers?
Pedro believes there will always be a place for dine-in restaurants. "You go to a restaurant to socialize, to see other people, to be with other people, to hear the noise and you can't do that at home." Indeed, the social element that restaurants bring to communities cannot be replaced by dine-in offerings.
He warns that for the high-end restaurants that on table service to deliver a truly memorable experience, the pandemic has been especially challenging. "If you go to a gourmet place and get a take-home lobster meal kit to recreate at home, it's just not the same. You're missing the spectacle and ambiance." he says, "You eat it in five minutes and miss all the other components conducive to eating at an upscale establishment. I don't think the dine-in restaurant experience will ever be completely usurped."
He concludes that ultimately it's down to the public to support restaurants if they want them to survive. "It's down to people, you have to help your local restaurant," warns Pedro, "Because otherwise, you're going to be stuck with nothing but big chains because they're the only ones with the liquidity to survive."
Are reservations the answer?
Hyperbolic headings aside, there is no clear-and-cut, bulletproof way for restaurants to move forward. With that said, though, there are tangible benefits to opting for a reservation policy for dine-in guests.
Financially speaking, it helps gauge how much food inventory to purchase per service and reduce sunk costs. From the customer's perspective, it's another procedure that's put in place to keep them safe. Reservations assure that restaurants operate at their "new" maximum capacity while maintaining the appropriate distance between tables.
The data from OpenTable shows a clear trend towards restaurant reservations. Paired with an anxious public looking to safely get back to normal (whatever that may look like), reservations may very well be an important part of how restaurant operations moving forward.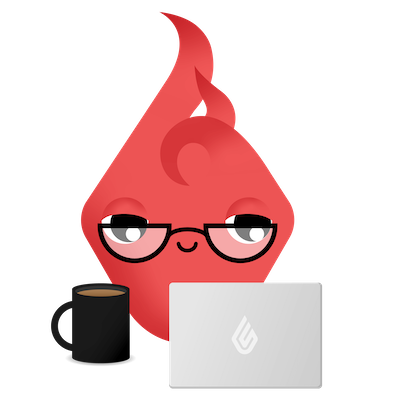 News you care about. Tips you can use.
Everything your business needs to grow, delivered straight to your inbox.