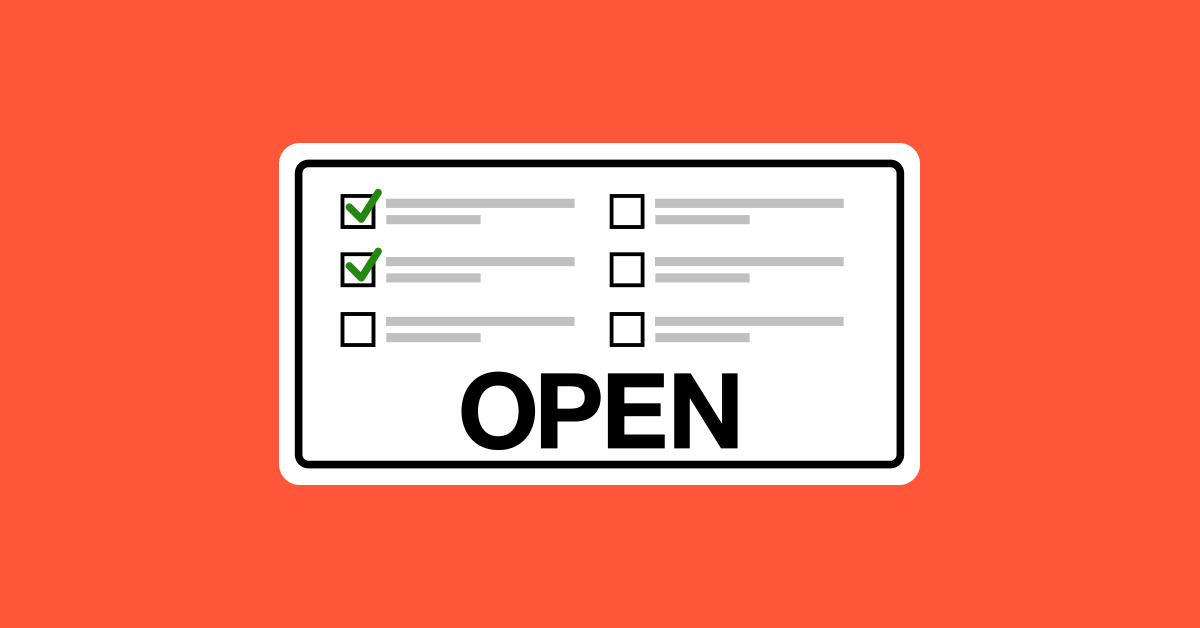 Before you open up for the day and after the last group of customers leave, there are two very important things that happen: getting the restaurant ready for opening and closing the restaurant once the dust has settled.
Cleaning and sanitizing your restaurant a top priority for the health and safety of both guests and staff, so operators need to assure that employees consistently keeping up with cleaning best practices. An opening and closing checklist is a helpful tool to keep staff accountable and assure that the day-to-day management of your business runs smoothly.
Opening and closing shifts at a restaurant are arguably the most important shifts of the day. There are a ton of things to get done, and it's helpful to build a clear checklist of tasks for staff to complete. An opening checklist and closing checklist assure that all tasks that are crucial for maintaining a clean and orderly establishment get done at each shift.
Best of all, checklists are cheap to create and easy to use. Most restaurants divide opening and closing tasks into three categories:
Restaurant opening checklists:
Front of house

Back of house

Management
Restaurant closing checklists:
Front of house
Back of house
Management
While the assigned employees aren't responsible for doing each task, they are responsible for making sure someone has done them.
In this article, you'll learn what tasks you should include in each of the three checklists. While this checklist uses guidance from the FDA and CDC, we recommend reaching out to your local authorities to ensure the tasks you include are complying with the relevant local and federal laws and regulations in light of COVID-19 and modifying your checklist to fit your unique needs.
Reinvent your business for short and long-term success
While the hospitality sector reopens across North America, owners and operators face a whole new set of challenges. Download our free playbook and learn how to build a more resilient business post-pandemic.
What is an opening and closing checklist?
A restaurant opening and closing checklist is a list of tasks that restaurant employees must complete at the start or end of the workday. These checklists are usually either printed on paper or made available and submitted digitally via a smartphone, tablet, or computer. Team members who work the opening and closing shifts check tasks off on the lists as they complete them.
Typically, restaurants create opening and closing checklists respective to each team and tasks they're responsible for: the front of house (FOH), back of house (BOH) and the management team.
What are the benefits of a restaurant opening and closing checklist?
Having a systematic process for tackling cleanliness before and after you've opened for the day is to both the benefit of the community at large; customers, employees, owners, everyone. According to research by P&G Professional, 85% of customers agreed that dining in a clean restaurant is just as important as food quality.
Here are some of the key benefits of having a restaurant opening checklist and restaurant closing checklist in place:
Helpful reminder
Running a smooth operation at a restaurant requires each team member working together towards a common goal. When there are lots of people doing things and many things to be done, however, even the most obvious tasks, like cleaning the door handles, can be forgotten. Checklists help staff members make sure that no task, big or small, gets forgotten. Checklists help staff members make sure that no task, big or small, gets forgotten.
Staff accountability
When you have restaurant checklists that employees have to complete and sign off on at the start and end of each day, you can hold these staff members accountable if something goes wrong or if a task isn't completed.
Whether you have one person fill out each checklist or assign them to multiple people and have them sign their initials next to each completed task, you'll be able to know who was responsible for what task on any given day.
For example, if you notice that your restaurant runs out of inventory anytime Jack closes, then perhaps you'll need to retrain him on how to count and order inventory.
Cost savings
An important part of closing a restaurant at night is turning off the lights and reducing the heat or air conditioning. This simple task reduces utility costs significantly. When this duty is part of the restaurant closing checklist item, then it's more likely that these tasks will be done. When gas and electricity use is lowered, your restaurant can save money and be more energy-efficient.
Increased safety
Another important closing task is locking up the restaurant, arming the security system and making sure that large appliances have been turned off. A break-in or fire could endanger staff and customers and lead to extraordinary expenses that could end the business. When these critical tasks are included in the restaurant closing checklist, they're more likely to happen, which increases restaurant security.
Now you understand why having a restaurant open and close checklists is so important. Include the checklists in the employee handbook so that employees can always find it.
Tips for implementing a restaurant opening and closing checklist
What's the best way to implement restaurant closing and opening checklists? Here are a few steps to make sure that your team embraces the checklist process.
Brainstorm tasks:

First, you need to come up with the tasks that will be on the checklists. Shadow FOH, BOH and management team members and write down the routine tasks that they do at the start and end of the day. Additionally, ask them which tasks they think should be a part of their opening and closing routine. They're the ones on the ground floor and their insights will help.

Create your restaurant checklists:

Create your checklists based on these tasks. Place a checkbox next to each item and have staff check tasks off as they do them, then sign off, date, and timestamp the checklist when it's completed. If you split up duties, ask team members to place their initials next to items that they've completed to increase accountability. Create separate checklists for opening and closing shifts, and for various roles in the restaurant (ex: FOH, BOH, management).

Share checklists with the team:

If you've never used checklists at your restaurant before, we recommend announcing them to the team in an all-staff meeting or via your team's communication tool. Explain how they'll be used and expectations for using them.

Stay organized:

Keep copies of the checklists in a binder in the office or in an area that's relevant to each function (ex: host stand for FOH, kitchen entrance for BOH, and office for managers). If you want to go completely digital, consider c

reating a checklist in your iPad's Notes application

and sharing it with whoever is responsible for assuring each task is completed.
If you follow these steps, you'll have an effective opening and closing checklist protocol up and running in no time.
The 3 types of restaurant opening checklists
Daily opening restaurant checklists help you and your team set up for a successful day. Here are three lists for the same roles as in the previous section but for opening shifts.
1. Front of house and bar opening checklist
The FOH team needs to ensure that the restaurant is ready for customers when it opens. Check out this server opening and closing checklist to help your team prepare for a day of service.
Set up

Set tables with place settings

Put out fresh flowers, newspapers, etc.

Clean and sanitize the windows, tables and all surfaces

Assure that trash bins are empty

Clean the bathroom thoroughly

Organization

Fold napkins and place table settings

Restock

Restock tabletop necessities (sugar packets, jam and butter, ketchup, etc.)

Set up mis en place at bar

Restock liquor at bar

Stock bar with clean glassware
If your restaurant is focused on takeout and delivery rather than dining in, customize this restaurant daily opening checklist to focus on delivery-fulfillment-focused tasks.
2. Back of house opening checklist
Because the BOH team's closing duties help staff prepare for the opening shift, most of what's left to do in the morning is prepare kitchen stations and restock inventory.
Cleaning

Wipe food preparation surfaces

Mise en place

Chop ingredients for kitchen stations

Put tools at each station

Inventory

Restock incoming inventory

Put food in proper places

Take stock of incoming items

Organization

Put tools in their proper places

Put incoming inventory in its proper place
Can you think of other important tasks that your cooks can do to make kitchen operations more efficient?
3. Restaurant manager opening checklist
What does a restaurant manager have to do to prepare for a successful day? They're focused on starting up the restaurant's POS system organizing daily specials, leading staff meetings, taking care of the restaurant's finances and analyzing sales and employee reports.
Staff meeting

Set an agenda for the staff meeting

Establish goals for the day

Menu education

Explain daily specials to staff

Review menu items

Staff tasting of new menu items

Finances

Pay bills

Answer payroll questions

Set daily sales goals (your

sales reports

can help you establish those)

Organization

Answer emails,

respond to reviews

and social media posts

Organize any incoming inventory deliveries

Coordinate any maintenance appointments to fix the premise or equipment

The 3 types of restaurant closing checklists
Introduce these three restaurant closing checklists to your team to ensure that tasks get done by the right people.
Under each checklist example below, we've included task categories that your checklist should include and examples of some tasks that could fit into those categories, but each restaurant is different. Customize and expand upon our restaurant open and close checklists to make them fit your specific needs.
1. Front of house and bar closing checklist
During a closing shift, the front-of-house and bar teams are responsible for making sure that the restaurant is cleaned, well-stocked, organized and safe. They typically also have the important duty of locking up the establishment overnight.
Cleaning

Wipe down and sanitize all surfaces

Tuck chairs back into place

Sweep entryway

Wipe down and sanitize menus

Bar
Safety

Set security system

Lock doors

Close all windows

Organization

Put tools and equipment back in their designated spot

Finances
2. Back of house closing checklist
The kitchen team has to do a lot to ensure the cleanliness and safety of the back of the house. These are the tasks we recommend having on your BOH restaurant closing checklist.
Cleaning

Wipe down and sanitize all surfaces

Wash dishes

Throw out trash

Food safety

Disinfect food preparation surfaces

Put food back in proper storage places

Check that tools and appliances are working properly

Check for bugs and rodents

Make sure fridge and freezer doors are closed

Inventory

Take stock of inventory

Donate ingredients that can no longer be used to homeless shelter or soup kitchen

Organization

Place tools in proper places at each station in the kitchen

General safety

Check that ovens, stoves, fryers and other kitchen appliances are turned off

Make sure back door is closed
Make it easy for your team to access this checklist by placing it in an obvious, highly visible spot in the kitchen.
3. Restaurant manager closing checklist
Managers oversee daily operations, finances and staff needs, which is why their restaurant open and close checklists are separate from that of server opening and closing checklists and cook checklists.
Staff

Check staff schedule for next day

Check clock-in and clock-out times

Take notes on staff performance

Organization

Put things back where you found them

Tidy up office

Finances

Make sure bills are paid (rent, utilities, etc)

Make sure payroll is paid

Keep track of overtime scheduling

Assure that cash registers are balanced

Safety

Lock POS systems

Log off computers

Activate alarm system

Lock doors
For more tips, check out our guide on how to be a good restaurant manager.
Restaurant opening and closing checklist 101
Assuring that your restaurant is organized, clean and well-stocked is integral to a pleasant and safe dining experience for customers. Having checklists in place for your staff to use as part of their daily duties ensures that these important tasks get done.
Create your own custom checklists for your team members. Use our examples as templates, then customize them to suit your restaurant's needs. Place copies in the employee handbook and in easy-to-find spots throughout the restaurant. Watch a demo to learn about other ways Lightspeed can help you streamline your restaurant operations.
News you care about. Tips you can use.
Everything your business needs to grow, delivered straight to your inbox.