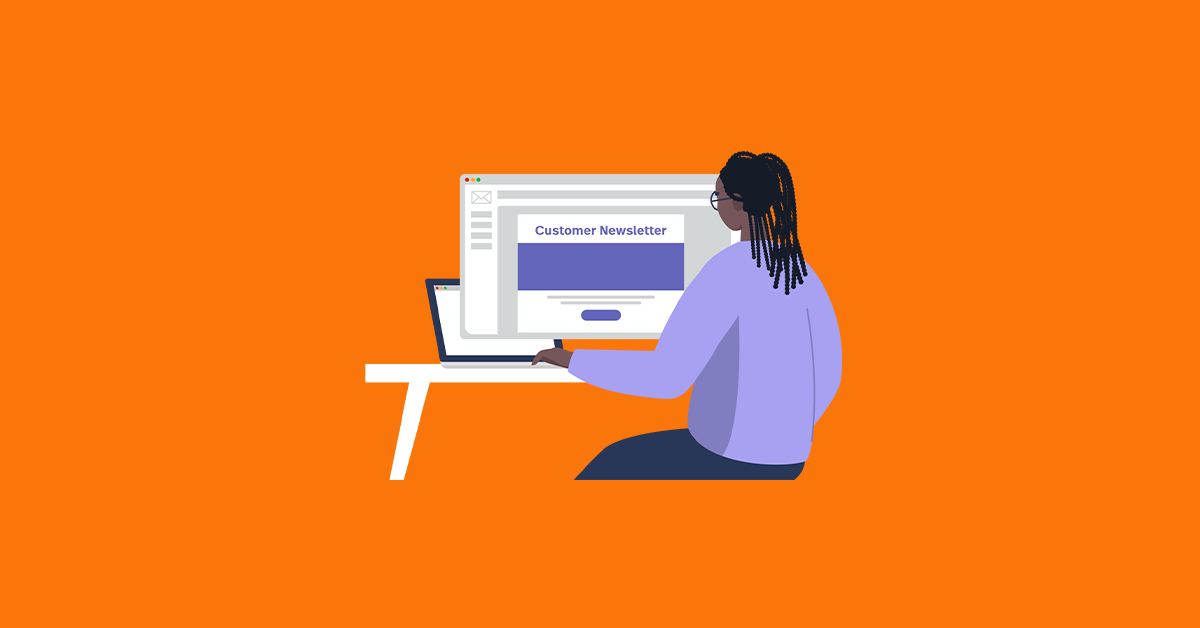 With a bit of strategy and planning, an email newsletter can grow to become one of the most profitable forms of marketing for your retail business. Unlike social media posts and videos, emails are not dictated by an algorithm, making them fairly straightforward to optimize.
Whether you're just getting started with email marketing or have been at it for a while, these tips will help you build brand awareness, create engaging content and increase the conversion rates of your email newsletter.
Get the ultimate Black Friday checklist for retailers
Black Friday and Cyber Monday are almost here—are you ready? Download our free guide to make sure you're prepared for one of the biggest shopping weekends of the year.
Start with your subject lines
The subject line is one of the most important parts of any email. 38% of consumers say they open an email based on the subject line alone. Aim to create a catchy or enticing subject line in order to encourage as many opens as possible.
Try playing around with these email subject line best practices to see if you can increase your open rates:
Incorporate brand elements into your design
Design elements are great for establishing consistency and affinity for your brand. When designing your emails, consider incorporating your brand's fonts, colors or other imagery that your customers will be familiar with.
Lightspeed Loyalty's email builder will let you save the email designs you create as templates, so you can use them again and again to keep your communications on brand.
No matter how you decide to design your emails, make sure that you optimize for mobile devices. Most studies have concluded that at least 50% of emails are opened on mobile phones rather than desktops or laptops. Use your email building software to send a test email and open it on your mobile device to see how your content stacks up before sending it out officially.
Keep it concise
With emails, less can actually be more. According to research from The Atlantic, the optimal length for emails is 50 to 125 words. If your email is too long, email clients like Gmail may cut off part of your message
Of course, there is always a chance that your audience may prefer to read emails that are shorter than 50 words or longer than 125 words. You can test different email lengths to find what works best for your particular audience.
Make sure you have a clear call-to-action
With every send, you should have a particular goal or objective that you want your audience to take. Whether you want them to buy a certain product, register for an upcoming event, or drive them to a specific blog article, the action is entirely up to you—but whatever it is, make it easy to find and do.
Design-wise, your CTA should ideally be a button with a somewhat bright color at the end of your email. The text on the button should be clearly readable (choose a contrasting color from the button) and enticing. Here are some examples of CTA messaging to inspire your next emails:
Shop now

Order now

Save now

Get free shipping

Keep reading

Learn more

Join us

Sign up

RSVP now

Take me there

Reserve your seat

Book now
Take advantage of holidays and current events
Coming up with different ideas for your newsletter can be tough. A great place to start is the major holidays and seasonal changes, i.e. Black Friday, Cyber Monday, Presidents Day, Independence Day, and Back to School, since these are the most popular annual shopping days.
For each holiday or season, think about how many emails you'd like to send and go from there. For example, a big retail holiday like Black Friday/Cyber Monday may warrant two or three separate emails, but a seasonal announcement may only warrant a single email.
Another useful resource is the National Day Calendar, which outlines when days like National T-Shirt Day happen annually. Consider using this calendar to inspire email content and special promotions.
Use personalization and segmentation to your advantage
Personalization and segmentation are two of the biggest boons to email marketing. Personalization refers to including personal details about the customer within the subject line or body of the email, such as their first and last name. Segmentation is when email addresses are grouped together based on a shared characteristic, for example, customers who live in the same city or have birthdays in the same month.
Personalization can increase conversion rates six-fold and segmentation has been reported to boost revenue by up to 760%.
Most email builders will let you personalize and segment your emails. With Lightspeed's retail commerce platform, you can easily store and include personalized details like names as well as create segments based on sign up date, location and more.
Send campaigns out regularly
Sending your emails on a regular basis is a great way to get your audience more engaged and familiar with your brand. If you send emails sporadically, the impact of your messaging might be diminished or lost.
How often you should send varies widely depending on your exact industry, audience and goals. Research suggests that aiming for bi-monthly email sends is ideal. If you find that once every two weeks is too frequent, try sending monthly emails instead.
Be careful not to overdo it—sending emails too frequently over time may make your emails go to spam.
Analyze performance and keep iterating
Looking at your email performance is a crucial step in building a profitable list. The main key performance indicators (KPIs) you should be examining are:
The open rate: the percentage of people who opened your email. The average open rate for email marketing across industries is

21.33%

.

The clickthrough rate: the percentage of people who clicked a link within your email.

The conversion rate: the percentage of people who "converted" i.e. took the desired action that the email was intended to inspire.

The bounce rate: how many emails "bounced" back, meaning not delivered to the recipient's inbox successfully.

The unsubscribe rate: how many people decided to stop receiving emails from you.
Ideally, you want your open, clickthrough, and conversion rates to be as high as possible and your bounce and unsubscribe rates to be low as possible. Pay close attention to where these metrics fall after each send and use it to inform future sends to improve performance.
Invest in stronger marketing tools for your business
Email marketing, when done strategically, can become a solid revenue generator for your omnichannel retail business. Using a loyalty program that directly connects to your email marketing software can help you streamline your marketing efforts and set your business up for long term success.
Chat with our experts to learn more about what Lightspeed's one-stop commerce platform can do for your business.
News you care about. Tips you can use.
Everything your business needs to grow, delivered straight to your inbox.