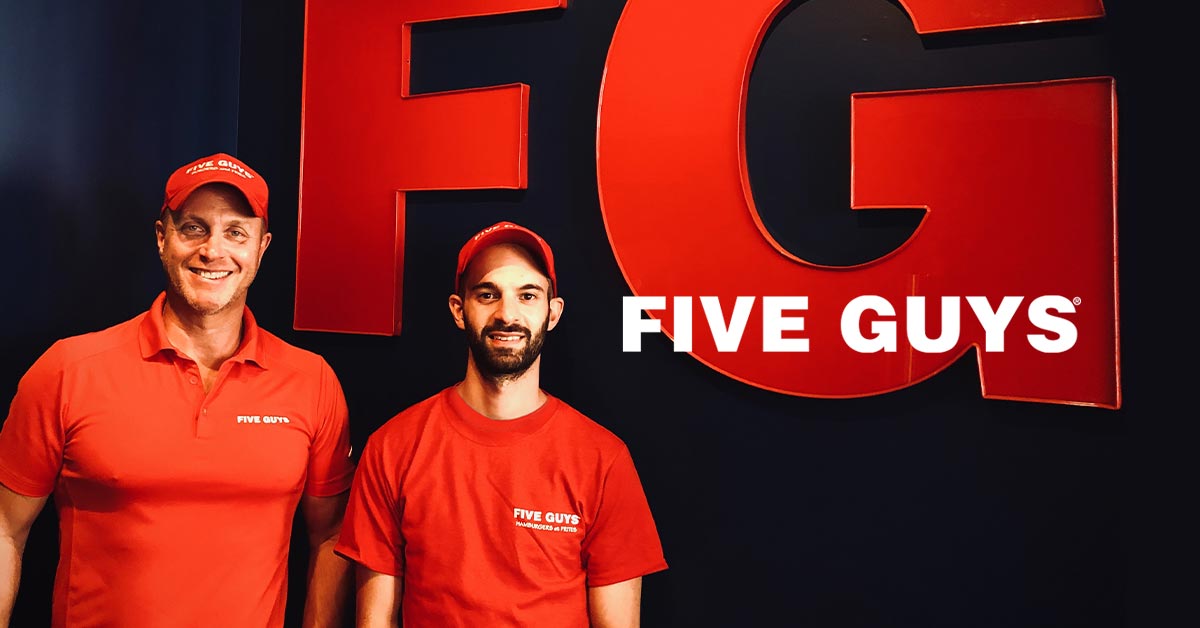 Five Guys has carved out a niche in a crowded market. With fresh, never frozen hamburgers and infamous fries cooked in peanut oil, their menu is crafted for serious burger lovers.
This American fast-casual restaurant prides itself on freshly prepared ingredients and—almost unheard of in the burger joint industry—free, unlimited burger toppings. With this level of unrestrained customization, this chain needed a POS that could give them the same freedom to run their business how they want. Aubert Prévost, president at Koeppel Companies, and project coordinator Joey Pearson operate 15 Five Guys locations across Canada. After numerous issues with their legacy system—including long periods of system downtime—they knew they needed a modern solution they could count on. In 2019, they upgraded to Lightspeed's cloud-based solution.

We caught up Prévost and Pearson to find out why they decided to make the switch, what Lightspeed features have made the biggest difference in their business and how they've been thriving during a global pandemic.
The new era of hospitality is here
It's time to break up with your traditional point of sale and prepare your restaurant for short and long-term success.

What problems were you looking to solve when you decided to switch to Lightspeed?
Prévost: Customer service with Micros was a big issue for us. We would have to open tickets and wait, wait and wait. We spent countless hours on the phone. The whole system would go down and we couldn't reboot, so when we faced major issues, we had a tremendous loss of sales. With Lightspeed, this hasn't occurred yet—and we're confident that it won't.
With the adoption of new technology, questions are bound to come up. Can you speak to Lightspeed's support team and onboarding process?
Pearson: I'm very grateful to have Etienne, our Lightspeed agent. He's basically assigned to us—which is something we would never get with Micros. When I send him an email, he responds right away so we rarely have an issue that's not fixed within a day.
Prévost: What's been very nice is that since day one, we've had a good communication line between us and the support team at Lightspeed. We've been having weekly calls, touching base on what works, what doesn't work and what we can tweak, etc. So we've had a really good channel of communication that I didn't think about earlier on when we were looking for a new POS—but the fact that Lightspeed is local to us in Montreal, come to the store and validate any issues that arise. That's been a big plus for us.
As a franchise with multiple locations, how does Lightspeed help you better understand your business as a whole?
Prévost: We want to expand. Our goal is to get to about 30 locations so it's very important to understand the nature of our business and all aspects of our business. We're counting on this POS system to feed us a lot of data from employee hours to sales to all sorts of revenue analysis, so reporting is very key. It's been easy to generate all sorts of reports, whether they come from Lightspeed or we create our own.
When COVID-19 impacted businesses globally, how did Five Guys react and pivot in this new world of hospitality?
Prévost: We've learned a lot through this pandemic from the start. We were hit pretty bad—we had to close down seven locations out of 13 at the time and didn't know if and when we would be reopening or if there would be more closures. We took everything day-by-day, trying to understand what we could do to survive to navigate through all this.
In the first couple of weeks, everybody moved out of their office and started working from home. We decided as a company to keep the entire support team on payroll and active. We kept all our managers, we deployed them in locations that were open, we kept the leadership team, either from operations or the support team, hard at work trying to figure out what we should do next. Even though we didn't have a task force, we did have people working on how we could survive with what we had and what we needed to do to keep our heads above water. We had coffee break zoom calls and meetings just to see what everybody was up to at home, so we kept the communication lines wide open and that really played an important role in the continuity of our business.
Did you find new revenue streams during this uncertain time?
Prévost: We started offering online ordering as well as a curbside service as an option for customers who wanted to stay in their car in the parking lot. The curbside service is now integrated in the online service, which is great. Before, customers would have to call the stores or order and now they can order through the Five Guys Canada website. We also deployed more delivery service providers and our delivery sales today are 400% what they were last year.
In regards to your customers, has Lightspeed helped you keep your customer relationships strong during COVID-19?
Prévost: Because of COVID-19, we could only open one post at a time. We were limited with the capacity of customers in the stores so we didn't want to cram the store. With Lightspeed, we were able to take a tablet and go in line or even go outside and start taking orders. That was something that we didn't even think we had the ability to do.
With large teams in different locations, how has the training process been for new employees?
Prévost: It's very simple for the team to use the basic iOS platform. A lot of them have iPhones and iPads so it's easy. When you tell them how to delete or add a product, an item or modifier, you don't need to show them twice.
Finally, how have you been managing the COVID-19 safety guidelines and sanitization procedures?
Prévost: What we learned from the pandemic was that, regardless of having tables or not in the stores, our in-store sales were still quite high which means people were just grabbing food and eating in their car or outside. So when the government told us that we could reopen our dining rooms, we chose to put less tables and chairs in which I think customers are appreciating
We've been very keen about the necessary sanitary measures in our stores. Five Guys is known for very strict brand standards in terms of store cleanliness and food safety, and we apply the same standards with the sanitary measures.
Making the switch to a cloud-based POS
Simply put: Legacy systems can't keep up in this new world of retail. Five Guys were held back with outdated technology, limited capabilities and unavailable support teams, so they decided to make the switch.

Now, with 24/7 support, mobile payments and free, automatic software updates, Five Guys is in a better position for the future. "The Lightspeed team including the customer service specialist and developers have helped us build our business to what it is now with its ease," said Prévost.
In a business where customization is key and customer satisfaction is crucial, Lightspeed's suite of digital solutions meets every need.
Looking to modernize your business and make the switch to a point of sale that's right for you? Let's chat!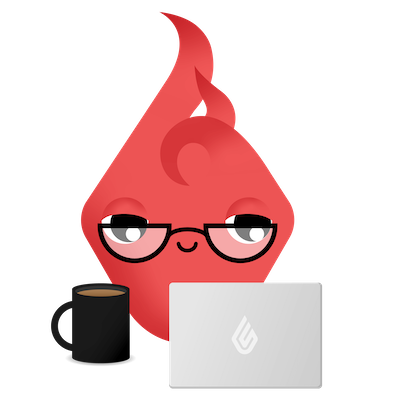 News you care about. Tips you can use.
Everything your business needs to grow, delivered straight to your inbox.