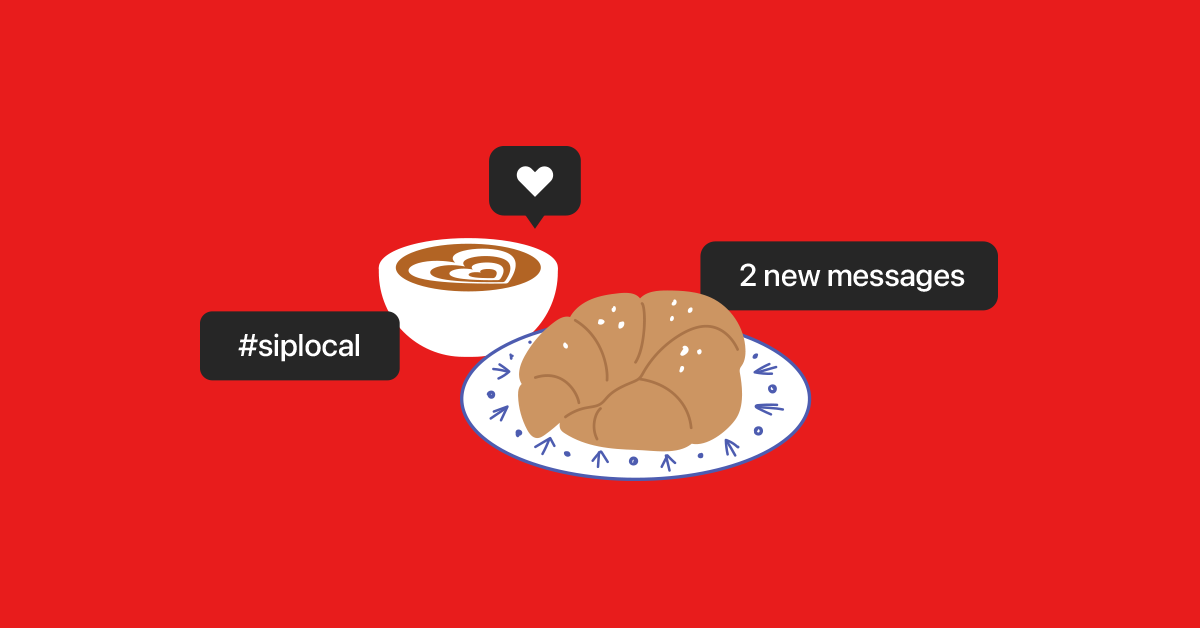 Many national coffee shops are lucky enough to benefit from regular, loyal customers. They enabled Dunkin' Donuts to become one of the largest franchises on the East Coast and Starbucks to dominate every city block. But how did these coffee shops go about building customer loyalty—what are their coffee shop marketing tactics?
The benefit of being a small independent coffee shop is that a large portion of the coffee-drinking population prefers not to purchase from the big guys and instead want to support local business. But, if you're that small independent coffee shop, how do you start convincing locals to switch from the chains and start drinking locally?
As a first step, a good restaurant point of sale system can help you identify everything from your best sellers to your most loyal guests so that you can craft a marketing plan. To help, we've listed seven coffee shop marketing examples to boost sales and create more repeat customers.
Take your cafe to the next level
Build a winning marketing strategy for your coffee shop with our free Marketing Guide. Discover the latest trends, for social media to technology to traditional tricks that haven't lost their magic.
7 Tips for Coffee Shop Marketing
1. Offer wifi at your cafe
You might think wifi is a feature rather than a coffee shop marketing tactic, but the strategy is to put a big wifi sign in your window. Offering wifi says two things about your business: you don't mind people coming in and working, and you probably have enough space for people to stay for a while. These are all considered mental benefits to people who walk or drive by your coffee shop. The timing is in your favor. Many jobs became fully remote during the pandemic, and, people working from home will require a good spot to shake off the cabin fever.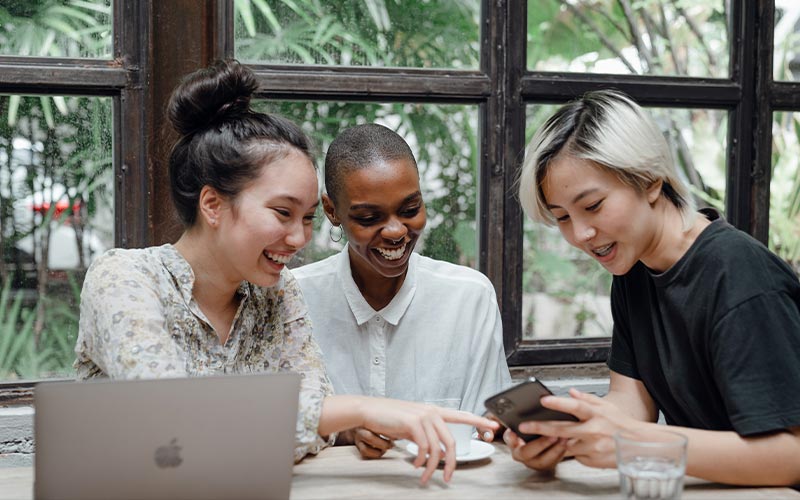 2. Get social about coffee
There are very few businesses that can speak casually and in person with their social media followers. Coffee shops are one of them, and this is a great way to build customer loyalty and retain your regular customers. This is because you already have your own vibe and personality that your customers recognize. Especially as a small coffee shop, you have the ability to show off a single distinct voice.
Since coffee is such a general interest, you can attract all kinds of different people and talk about any subject. Movies, coffee, tea, music, you name it. Make sure that your Instagram, Twitter and Facebook URLs are front and center at your counter. When someone gets a great latte, they can say, "I'm drinking the most amazing latte from @YourCoffeeShop", rather than just simply "I'm drinking the most amazing latte" without attribution.
3. Get personal
As we've mentioned, the greatest advantage you have over the big franchises and chains is the ability to inject whatever personality you want. Jesse Burke from Posie's Cafe in Portland, OR, learned this quickly when she blogged about Groupon in Retrospect and earned herself a solid spot on TechCrunch.
Jesse also wrote a heartfelt blog about her mom on Mothers Day, and another about the emotional rollercoaster of owning a business (and taking criticism along with it). Comments always support and offer personal doses of genuine gratitude for Jesse and her coffee shop. Readers and customers truly appreciate her brave transparency. You have a personality, so use it!
4. Introduce yourself and your coffee to nearby businesses
This is a great tactic explained personally by Chris Lamb from Crimson Cup in Ohio:
"Greg [Ubert, Founder] visited each and every business, large and small, in a targeted area. The targeted area was much bigger than the few blocks around our store, but it was still within a few miles of the coffeehouse. When Greg would visit he would introduce himself to the owner or manager of the business and offer free drink cards for all the employees.
The camaraderie and support he received was energizing and led to some important community partnerships. The time Greg spent networking was extremely valuable and it helped raise the level of awareness for our store in the local community. The coupons were very effective in bringing in new customers and it was a great way for us to track the return on time and money invested in the project. This coffee shop marketing idea has been a huge success and something we encourage other coffee shops to consider trying."
5. Know your audience
45% of 18-23 year olds spend more on coffee than investing in retirement. You have more people coming into your coffee shop than planning for their house in Florida when they're 75 years old. That's why it's important that your coffee shop POS can keep up.
Coffee is a ritual that many people aren't willing to give up. People will go out of their way to get a cup of joe every morning many at the same establishment.
The "work-from-home" group has grown 140% since 2005, meaning there is a large group of people looking for a place to get stuff done that isn't in a cubicle. There is also a subsection of this group: 4.3 million people who work remotely half of the time. You may not have opened your shop wanting to be a home base for bloggers and remote workers alike, but that's what the coffee shop industry is leaning towards. Prepare your wireless internet and latte foam art.
6. Leverage video marketing about coffee
One of the most successful marketing strategies in the coffee shop world is video marketing. There are 5,500 people per month searching for "latte art" according to YouTube's keyword research tool. There are also 10,600 searches for "how to make coffee" in the YouTube search engine—seeing any missed opportunities? Someone at Cafe Yala started making YouTube videos demonstrating an array of latte art, earning over 10,000 hits on several of their videos.
Below are three examples of coffee shops that are doing great things with video.
Thinking Cup, Boston Massachusetts: The Thinking Cup in Boston, Massachusetts, has a short promotional video highlighting the sexiness of their coffee shop. Chromed out espresso machines, artisan baristas forming designs out of cream – you can practically smell freshly ground beans in this video. Have a go at using this same style of video for your coffee shop. Highlight what you do best and don't worry about your competition.
Boston Coffee House, Multiple Locations Massachusetts: This video from Boston Coffee House in Waterford Lake is the funniest in the bunch. It's a musical about their coffee shop. It's silly and, in some parts, downright ridiculous. It looks like a fun place to grab a cup. Use humor in your videos to show off your silly side, because who knows, your video may go viral. This is also a great example of a store separating itself from sister stores.
Equal Exchange Cafe, Boston Massachusetts: If you ever need to see a mission statement in the form of a video, this quick video from Equal Exchange Cafe is the one to watch. Equal Exchange coffee effectively demonstrates what they're all about. After watching this video, you feel like you know the baristas and know without a doubt that Equal Exchange Cafe cares about coffee and the customer experience. This type of video can be very influential to potential customers. It's also the most difficult to produce if your heart and soul aren't completely into what you are doing.
Having videos on your website is one of the best ways potential customers can preview your coffee shop before visiting. Your videos will influence their buying decisions, so take the time to decide the messages you want to convey. Is it a promotional video highlighting your store in general? Maybe you want to show off your friendly staff. Your video is a reflection of you and your business. Show them passion and they'll reward you with customer loyalty.
7. Offer creative drinks to increase sales
Here are some of our favorite takes on the classic iced coffee.
Lavender Latte
This light and refreshing iced coffee has a unique kick that will keep you sipping. Each place makes them a little differently, but it's up to you how lavender-y you really want it. The most mainstream way of making it is to create a lavender simple syrup and use that to add the floral flavor while giving it a sweeter taste. Proceed to make the rest of your iced coffee as usual.
Nitro Iced Coffee
It seems like everything can become nitro-ified now. But if you're going to try one nitro thing, make sure it's a nitro iced coffee. It's cold brew served from a nitro tap, which is as crazy as it sounds. It looks like a stout but tastes like the best coffee you've ever had. The nitro gives it fizz with a smooth mouthfeel and a creamy texture.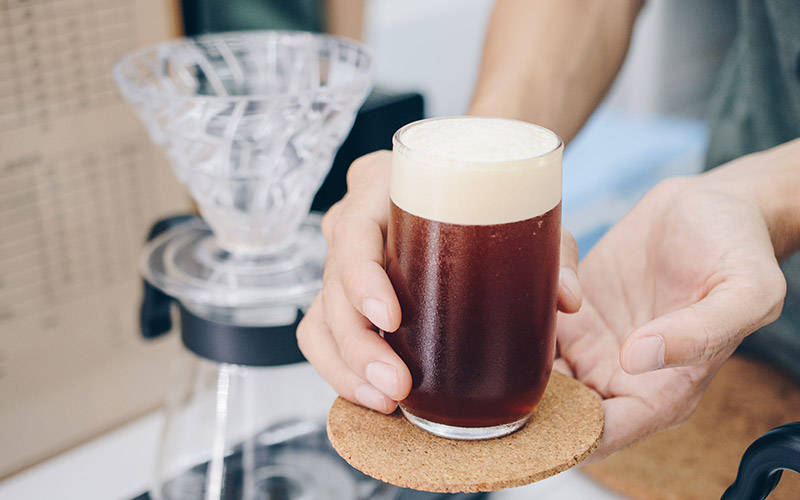 Espresso Tonic
Fizz, fizz, everywhere. Adding a little carbonation never hurt anyone, and what better way to spruce up your summer drink than by slowly pouring it over tonic? Everyone has their own twist to this basic idea, but the most barebones is that you pour espresso over tonic water, using a spoon to make a layering effect. From there, you can add whatever flavors you want—a common addition is some orange bitters to add a bit of zest!
Cold Brew
You can find a classic cold brew anywhere nowadays, and that's because it's that good. What makes cold brew different from your regular iced coffee is that it's actually brewed by steeping the grounds in cold water for about 24 hours, then straining and serving. They now sell a cold brew syrup at most grocery stores where you mix it with water to have a quick and delicious iced drink at home, and it cuts out all the waiting time!
Vietnamese Iced Coffee
The key to a solid Vietnamese iced coffee is making sure your coffee is strong enough so it doesn't end up cloyingly sweet. To make, add two tablespoons of sweetened condensed milk to a tall glass and fill with ice cubes, then pour your strong hot coffee over and stir, stir, stir! It's a perfect way to start the day, or even a great way to end it—just don't forget to use decaf!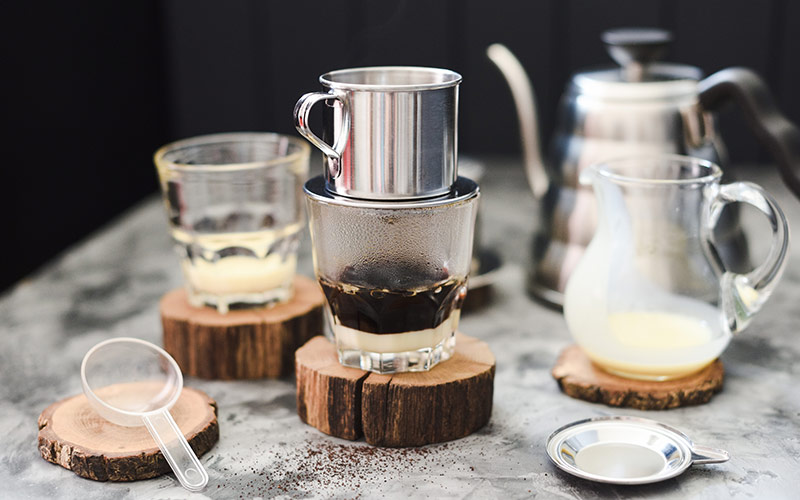 Of course, there are plenty of other ways to market your coffee shop. Offer a special on one of the many geolocation mobile apps, start a customer loyalty rewards program, heck you might even want to build a drive-thru.
If you'd like to learn more about how Lightspeed can help you run your coffee shop, talk to one of our experts.
News you care about. Tips you can use.
Everything your business needs to grow, delivered straight to your inbox.