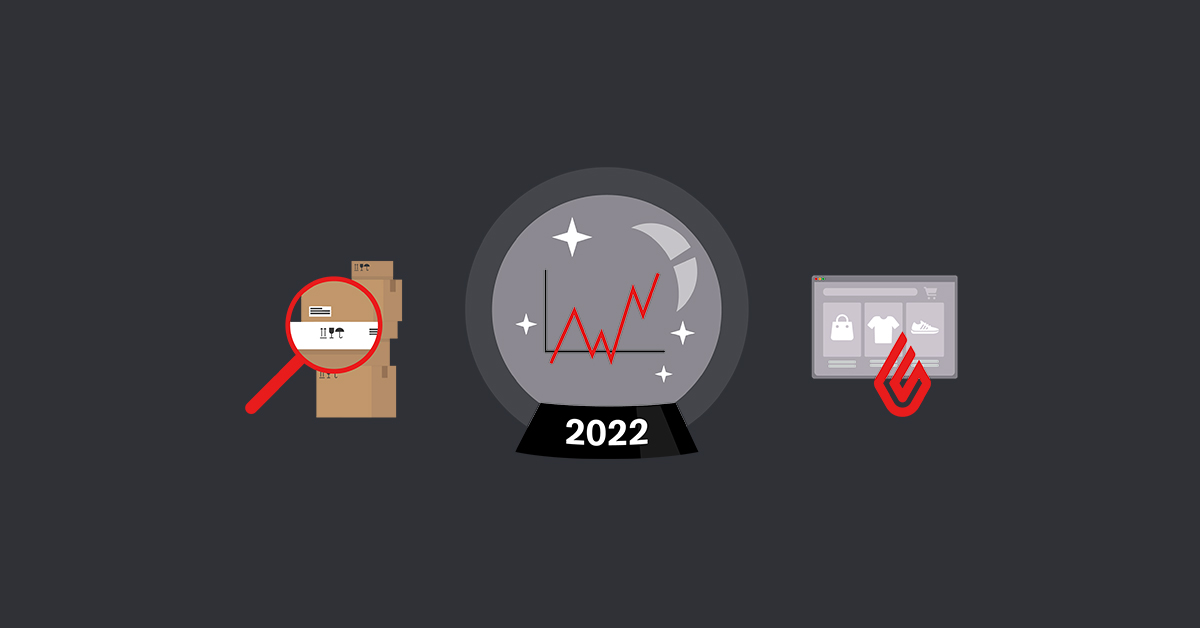 As the holiday season and post-holiday sales wrap up, it's time to look back at the past year, as well as cast our eyes forward to the retail trends that will define 2022.
As you close the year and start strategizing for 2022, consider baking next year's trends into your upcoming plans.
In this article, we'll go over:
The 4 biggest retail trends in 2021

Ecommerce continued to grow as shoppers and retailers redefined in-store experiences

Hiring struggles and worker burnout led to labor shortages

Supply chain delays disrupted commerce

POS systems evolved to better serve retailers

Top 5 predictions for 2022 retail trends

Shopper behavior will continue to evolve

Retailers will get creative in addressing hiring struggles

Technology and automation will define shopping experiences

BNPL will move in store as ways to pay change

Supply chain struggles (and creative solutions) will define the first half of 2022
Say goodbye to traditional retail
Retail has changed, so your strategies should change, too. Learn how to navigate the newest retail trends and innovations with our free guide.
The 4 biggest 2021 retail trends
To say 2021 was an eventful year is an understatement. Retailers saw continued lockdowns, the introduction of vaccines, changing shopper behavior and supply chain disruptions that meant the only reliable prediction month-to-month was that there was no telling what would happen next.
Now that the dust has settled and we can look back, here are the four biggest trends that defined the year.
1. Ecommerce growth continued, though at a slower pace than 2020 as retailers and shoppers felt out new in-store experiences
Ecommerce continued to see growth throughout 2021, albeit at a slower pace than 2020's record-breaking 32.4%. This trend comes as no surprise, as stores gradually reopened when lockdowns eased up, but it also indicates that pandemic habits aren't going anywhere.
Similar things can be said for buy online, pick up in store (BOPIS), with 64% of consumers now using it, and 20% saying they use it regularly, making this a top retail trend in 2021.
However, despite the shift to eCommerce, 2021 proved that most consumers still love shopping inside a physical store. and Local inventory advertising and shopping -by -appointment gave customers the option to findlocal retails and shop safely for the best of both worlds.
2. Retailers struggled with hiring as workers grappled with burnout
2021 saw what has been dubbed "the Great Resignation." With as many as 4 million U.S. employees quitting their jobs in July 2021, companies have scrambled to find workers to fill a record-breaking 10.9 million open positions.
The root cause of the Great Resignation stems from subpar working conditions, such as low/unlivable wages and very few to no benefits. Many retail workers experienced burnout, and ultimately decided to leave their jobs in search of better opportunities.
For retailers, the labor shortage has translated to shorter hours of operation, which has directly clashed with shoppers' pent up demand for in-store shopping.
3. Shipping and supply chain delays emptied shelves and caused friction for eCommerce
In this painful retail trend, shoppers kept shopping, but unfortunately, retail supply chains were not always able to meet demands. Shipping ports were gridlocked and mail systems were overloaded. As a result, many retailers saw wait times and shipping costs skyrocket—the cost to ship goods from Asia to the US ballooned from $2,000 in 2019 to $25,000 in 2021.
4. POS technology continued to develop to help retailers keep up with their new reality
The onset of the pandemic brought a need for technologies that work together to create a seamless shopping experience across the board. Customers wanted to shop easily both in store and online, and retailers had to invest in the right tools to ensure stability and consistency across channels. Legacy POS systems just didn't cut it anymore.
2021 saw a continuation of this retail industry trend. The best POS systems were the ones that were able to let their retailers adapt to new changes fairly quickly and easily. Commerce platforms took this another step further by giving retailers the power to manage their entire business from one place, including their sales, inventory and analytics.
Top 5 predictions for 2022 retail predictions
In 2021, we didn't see the great post-pandemic reopening we'd all hoped for. Rather, we saw a series of localized, on-and-off reopenings while shoppers and retailers grappled with the challenges in front of them.
Here's how 2021's speed bumps and evolutions will trickle into 2022 and what else you can expect in the coming year.
1. 2021's top retail trends will continue to influence how shopper behavior evolves in 2022
Consumer behavior has shifted dramatically in just two years, and will keep evolving. Customers have grown to love online ordering as well as local delivery and pickup almost as much as they love shopping in person. Similarly, alternative ways to pay (which we'll cover more in detail below) have become more and more commonplace.
This means that small to mid-size businesses that haven't already invested in these fulfillment options or payment methods should aim to do so as soon as possible. Customers now expect retailers to offer more convenient, flexible options to shop and those who cannot meet these demands may miss out on sales.
2. The aftermath of 2021's hiring struggles will give power to workers, and retailers will step up in creative ways
The Great Resignation has sent a clear message: provide better conditions to your employees to get them in the door and to entice them to stay.
To increase retention, some big box retailers have started to increase hourly pay and provide education benefits. For example, Macy's announced that it's raising its minimum wage for new and current employees to $15 an hour nationwide. Macy's, Target and Walmart are also offering education-based perks, like free or reduced college tuition.
The good news is you don't need to be a big box store to offer better perks to your workers. "Better" can be anything from offering higher pay to more predictable or flexible schedules or clearer opportunities for career growth and development.
Finding out what would make your employees more motivated to work at your store and implementing those benefits will go a long way. Design your perks to be mutually beneficial for you and your employees, whatever that may look like.
3. Technology and automation will be crucial to the shopper experience, in and out of the store
Technology will be a catalyst for growth both in store and online. In store, this could be as simple as giving each store associate with an iPad to offer customers a more sophisticated, personalized shopping experience. With robust data at their fingertips, like customer purchase histories, employees can use a commerce platform like Lightspeed to drive sales and increase customer loyalty.
Since larger retailers have shipping networks, robots and other expensive technologies they can use to their advantage, it's in a smaller retailer's best interest to get as close to offering an "always on" experience as possible to prepare for this trend. By capitalizing on the ubiquity of smartphones, retailers can offer 24/7 shopping with both eCommerce and social media selling. 43% of retailers who sell on social media reported they generate half or more of their revenue from social platforms, so if you aren't currently utilizing either strategy, you'll likely see growth after adopting.
4. Alternative ways to pay grow, with buy now pay later moving in-store
Buy now, pay later was hot in 2021, and will continue to be a hot trend in 2022. The main difference between last year and the coming year will be that BNPL options will be offered at registers in store, rather than just online. Customers are enjoying paying for their items in interest-free installments, so retailers and BNPL service providers are expected to make this trend more prevalent in person as a response.
In 2021, only 66% of small businesses in the U.S. accepted mobile payments and 58% accepted contactless payment methods. Compare this with 70% of customers demanding contactless payment options, and it's clear that retailers still need to adopt these technologies to meet expectations. Alternative payment types will be a critical area of growth and modernization for the retail industry.
5. Supply chain struggles continue into summer 2022 at least
As was the case with most things, the retail supply chain was not prepared to handle the onslaught of changes that COVID brought. Production and shipping timelines have been drastically altered, leaving inventory gaps in retailers in all industries and of all sizes.
Unfortunately, this is expected to continue until at least summer 2022 and may last well into 2023. However, retailers can still maintain some control over monitoring their inventory counts. For example, getting notifications about low stock alerts, or having the ability to move inventory between warehouses, multiple locations, and between your eCommerce and physical locations will be key to keeping customers happy. Offering flexible delivery and shipment options is also a smart way to ensure customers get their products as quickly and seamlessly as possible.
With supply shortages top of mind, another great way to reduce your reliance on selling physical goods is to focus more on selling services instead. This could take many different forms. If you're a musical instrument retailer, you could start offering music lessons. Likewise, if you're a sports apparel retailer, you could try offering fitness classes. These are great "items" to add to your existing offerings to bring in more revenue while physical inventory is less reliable.
Ready to take on 2022?
Retail is ever-changing. One of the best things you can do for your customers and employees is equip them with better tools to make shopping more accessible.
If you're looking to modernize your in-store and online experience, watch a demo to see if a commerce platform like Lightspeed would fulfill your needs.
News you care about. Tips you can use.
Everything your business needs to grow, delivered straight to your inbox.