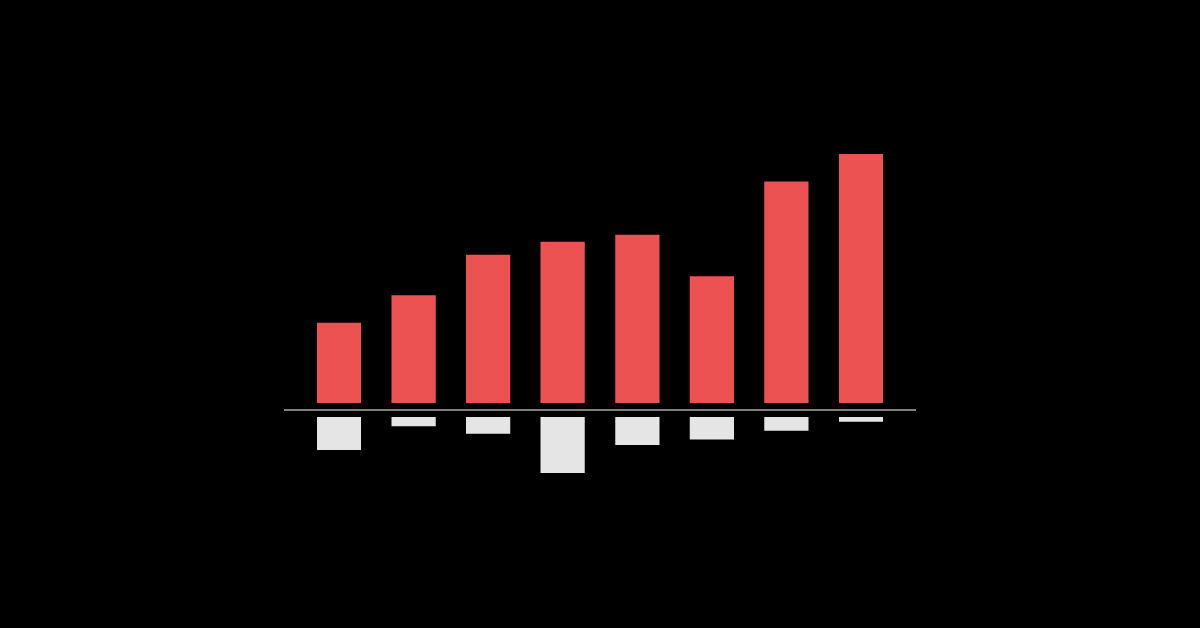 2019 has come to an end, which means it's time to look back at all of the major challenges retailers overcame and the wins of the past year. We compiled industry stats and data from our very own retailers to paint a picture of the retail industry today from a Lightspeed perspective.
Our retail year in review report will give you a quick recap of how sporting goods and health and beauty retailers fared in 2019, comparing Lightspeed merchants to overall industry sales benchmarks.
To make sense of the data, we partnered with Retail Minded Founder Nicole Leinbach Reyhle for her expert opinion.
Let's dive in!
Check out our 2019 American retail Year in Review
Find out how our American retailers broke records this year.


Download the Canadian version here.
Taking the industry by storm
The retail industry is constantly changing, which can make staying on top of the latest trends or even keeping your business stable a challenge. The constant battle between e-commerce and brick-and-mortar makes 2019 a year of transformation for retail, increasing the importance of shifting to an omnichannel strategy.
While many are concerned with the closures of brick-and-mortar stores around the world, according to Forbes, physical stores still play a key role in the sales process, now becoming part of a broader retail strategy. Omnichannel is becoming more and more vital for retailers looking to acquire new customers. As retailers begin adopting this type of strategy, providing customers with the right customer service remained one of the challenges to overcome in 2019.
Original forecasts called for retail sales to increase between 3.8% and 4.4% to more than 3.8 trillion in 2019. Amidst big industry changes and struggles, including the growth of e-commerce retailers and exit of well known big-name stores, the retail industry remained stable in 2019, without significant dips or leaps in growth.
Lightspeed merchants, on the other hand, saw growth across North America like never before. Our American retailers grew four times faster than the industry average, while our Canadian retailers took it a step further by growing six times faster than the industry!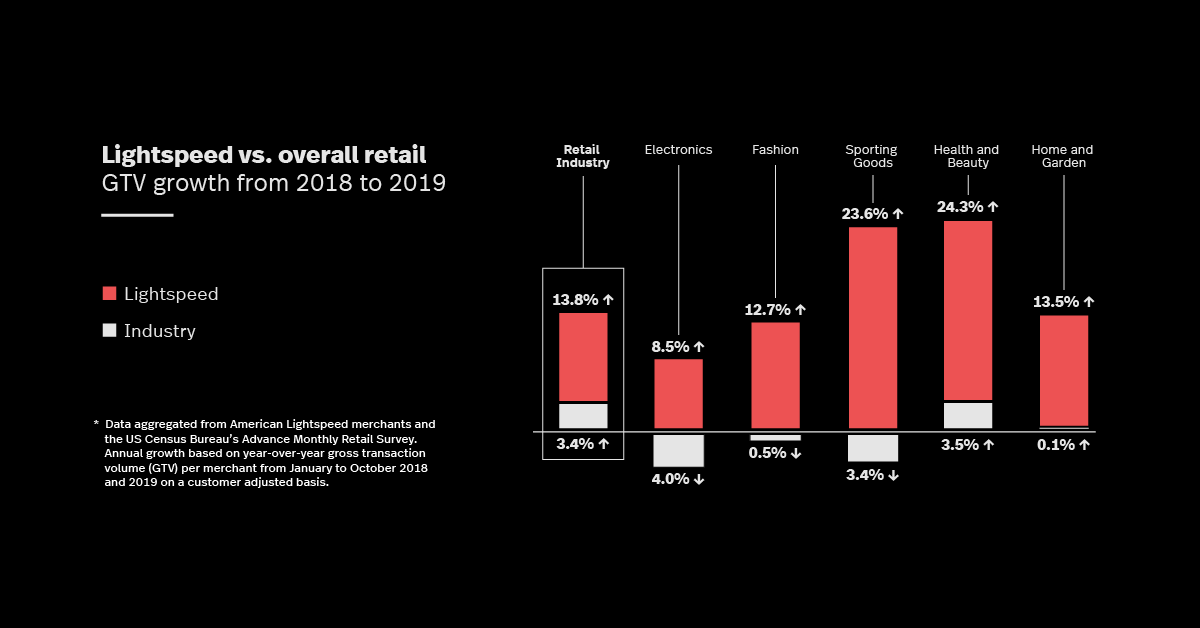 American Lightspeed retailers vs. overall retail industry
Not your average retailer
When it comes to our customers' stellar growth this year, Nicole explained that "there are so many factors that are going to influence a retailer's operation, but when you have a technology partner that is able to shift, respond, react and support you in all the complex touchpoints, you are better positioned to be successful."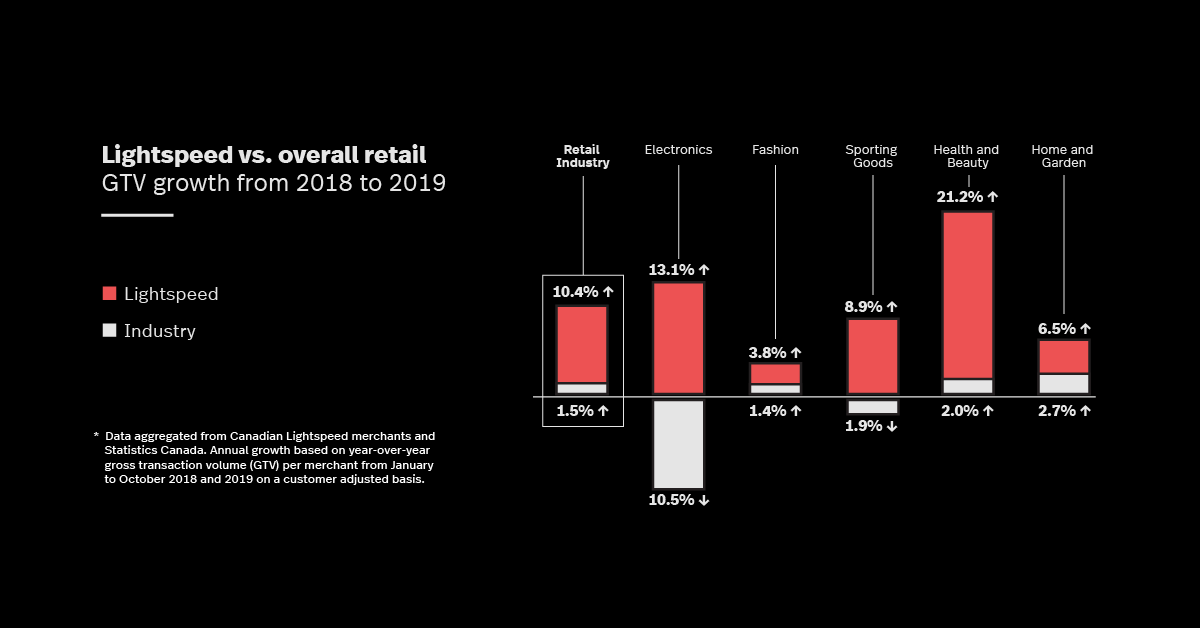 Canadian Lightspeed retailers vs. overall retail industry
Our customers are the best in the business. Many Lightspeed customers are early adopters with sophisticated business needs, which means they're constantly looking for the best tools to help them accomplish their goals.
According to Nicole, most retailers are complex, but "many retailers don't recognize their complexity." Our customers understand the need to find the right solutions to help them make the intricate aspects of their business manageable.
Winning across verticals
In our retail year in review report, we also took a look at some of our verticals and their performance in North America compared to the industry. Our retailers outperformed the industry in sectors like electronics, fashion, sporting goods, health and beauty as well as home and garden.
Our big winners this year? Health and beauty and sporting goods.
Health and beauty took home retail gold
Currently valued at $532 billion, the health and beauty industry has been sky-rocketing in recent years. With major celebrity brands like Kylie Jenner's Kylie Cosmetics propelling the industry forward, it's not a surprise that this industry is doing more than well.
In 2019, our health and beauty retailers grew sales by a stunning 23.8% compared to 2018.
The rise of beauty vloggers and influencer marketing, as well as the incorporation of shoppable ads within social media giants like Instagram and Pinterest, are some of the reasons behind the growth of the industry.
This growth has attracted other players too. Brands from other verticals have started to notice the opportunity and want a piece of the pie. Lululemon, traditionally an athleisure apparel retailer, is now entering the health and beauty sector, with the introduction of their collection of self-care products.
A shift in customer preferences
One of the bigger shifts within the industry? The need for a real-world, hands-on experience. Customers are craving interaction and want to experience products first hand. While brands like Glossier grew and thrived in the e-commerce ecosystem, they've found themselves incorporating brick-and-mortar into their arsenal in recent years. This shift demonstrates the importance of knowing your customers and how having brick-and-mortar and e-commerce provides the necessary balance retailers need. Something our Lightspeed retailers have been able to achieve.
With Lightspeed, our retailers can take advantage of different tools like reporting and loyalty programs to really understand what their customers are buying, create bundles and motivate them with exclusive deals and personalized messaging, ultimately helping them increase their average basket value and size.
Nicole's tip for you? Other sectors can also take advantage of this boom in health and beauty. "The growth of health and beauty is actually exciting for other industries because it falls into an upsell opportunity. Fashion retailers could introduce health and beauty add-ons into their mix to help boost basket size and overall sales."
Sporting goods sold like never before
Sporting goods are our next star vertical. This sector has seen many changes in recent years, with the lines between sportswear and casual wear becoming more and more blurred and new health trends coming into the picture. Our retailers took advantage of the latest consumer trends and put them to work.
This year Lightspeed sporting goods stores increased their average transactions by 22.3% compared to 2018.
A changing industry
When it comes to growth, sporting goods retailers are not stopping. With an expected $700 billion in revenue by 2026, the rise in the number of health-conscious consumers has helped push the growth of the industry like never before. However, health isn't the only thing shifting in this industry, sportswear brands are now moving towards more lifestyle-focused labels and styles, changing the identity of the industry altogether.
By expanding their offering with things like athleisure gear, additional services and repairs, our sporting goods retailers have stayed competitive in a changing market. These retailers worked hard to understand industry trends and keep their customers top of mind.
Customer-centric tools like loyalty programs are the gateway for improved customer satisfaction and sales. For Nicole, "the core of any retail business is inventory management, CRM and loyalty, and those are essential factors that any retailer needs to have in order to be profitable in the long term."
Out with the old, in with the cloud-based point of sale
One thing that our customers have in common? They're all using technology to their advantage to improve their business.
As the retail industry moves to bridge the gap between e-commerce and brick-and-mortar and begins transitioning out of old school systems, retailers are looking for solutions that can accommodate a range of needs. It's not just about calculating transactions—retailers are looking for tools that will help them tackle a myriad of tasks from inventory management and reporting to customer relationship management.
Traditional points of sale simply won't do. According to Nicole, "savvy merchants are now able to apply more clarity to their business. Old fashioned systems simply don't offer that." Having technology like a cloud-based point of sale that can help your business reach its potential is key in succeeding, even when the industry is stagnant.
As Nicole puts it, "with Lightspeed POS… you have a trusted partner to help bring you the clarity you need to understand your collective business operations."
And we couldn't agree more.
Congratulations to all the big retail winners this 2019, and on to an even better 2020.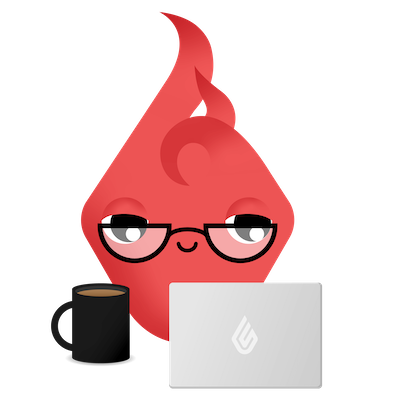 News you care about. Tips you can use.
Everything your business needs to grow, delivered straight to your inbox.