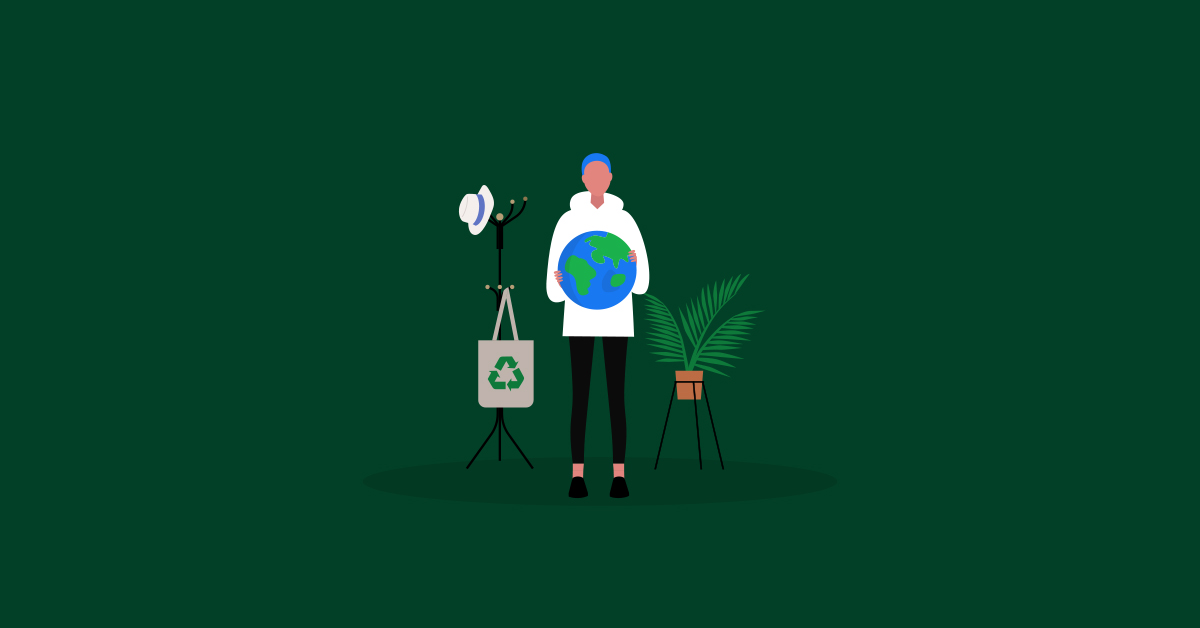 Until recently, sustainability was a niche approach in retail. But in the past few years, we've seen corporations take on Corporate Social Responsibility (CSR) initiatives as a way to lessen their environmental impact.
These efforts often include tactics to reduce the environmental impact of retail operations, as well as addressing social and economic issues such as fair labor practices and ethical sourcing.
Retailers are increasingly recognizing the importance of sustainability not only from an ethical perspective but also as a key driver of business success.
In this article, we'll explore the ins and outs of sustainability in retail. We'll share examples of sustainable retail initiatives in action, and offer suggestions that you can incorporate into your business.
Let's dive in!
Run your store smarter
Let's face it, the retail world is evolving fast. Our free guide can walk you through the steps to future-proof your business and keep it thriving.
Why invest in sustainable retailing?
Why should you pay attention to retail sustainability? Because it's what consumers want. Issues such as climate change, excess waste and unethical labor practices are much more salient than they used to be. This has a knock-on effect when it comes to our purchasing habits.
Data cited by Statista shows that 44% of shoppers are willing to shift their habits to reduce their environmental impact. What's more, more than half of shoppers check a brands' sustainability practices.
All to say that brands today need to demonstrate that they are making credible efforts to be more sustainable.
Here are a few retail and sustainability ideas to consider.
1. Be sustainable in everyday retail practices
There are several actions you can take in your day-to-day operations to promote sustainable retail.
These include:
Choose energy-efficient equipment, lights, and appliances
Start by opting for appliances, lighting, and equipment that save energy.
You can, for example, swap out your traditional incandescent light bulbs with energy-saving options like CLF and LED lighting. You'll find that the latter not only requires less energy (which in turn lead to lower greenhouse emissions), but you'll save money in the process.
According to Energy.gov, a 60 watt traditional incandescent light has an annual energy cost of $4.80 and has a bulb life of 1,000 hours. Meanwhile, an energy efficient option such as 12W LED light, not only has a lower annual cost at $1.00, but it also lasts longer. These bulbs have a lifespan of 25,000 hours.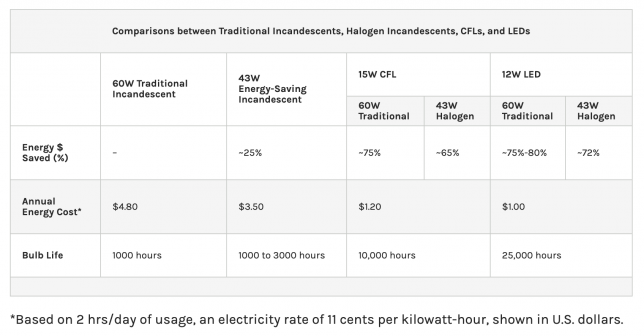 Implement the same practice in your other equipment or appliances. If you're planning to replace your AC unit, for example, make sure the next one you buy is energy efficient. To make this easier, choose products that are ENERGY STAR certified.
Minimize paper usage
Reduce the amount of paper that you use in your organization. Identify tasks or processes that require a pen and paper, then work to digitize them.
For instance, if your employee handbook still lives in a physical binder, consider moving the content online and just sharing it with your employees digitally. Doing so will make the handbook much more accessible, as it allows your employees to access is using their own devices.
Another idea? Digitize your inventory management procedures. If you're still conducting inventory counts using pen and paper, switch to an app like Scanner which lets you count and track products using your smartphone. Scanner also syncs with Lightspeed's inventory management software and reduces the need for manual product entry.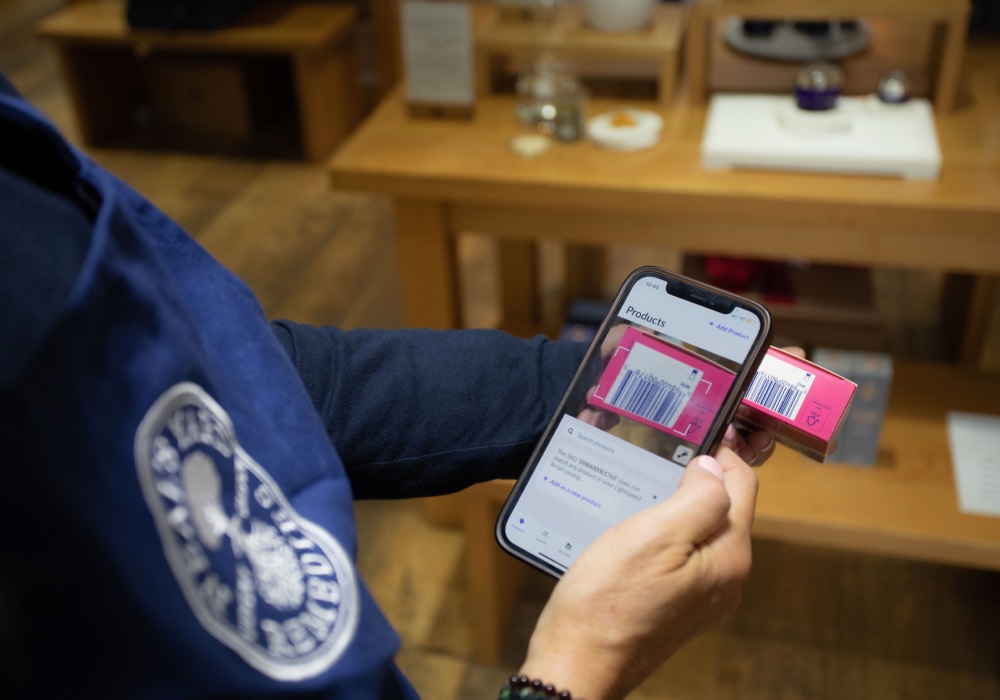 You can also reduce paper usage by opting for digital receipts. Ask shoppers if they prefer that receipts be emailed to them. Industry data shows that 89% of consumers would like retailers to offer digital receipts as an option, so you'll likely get a favorable response from your customers.
Same goes for your loyalty marketing assets. Swap your card-based loyalty program with digital one, that streamlines rewards tracking and redemption—all while helping you be more eco-friendly in the process.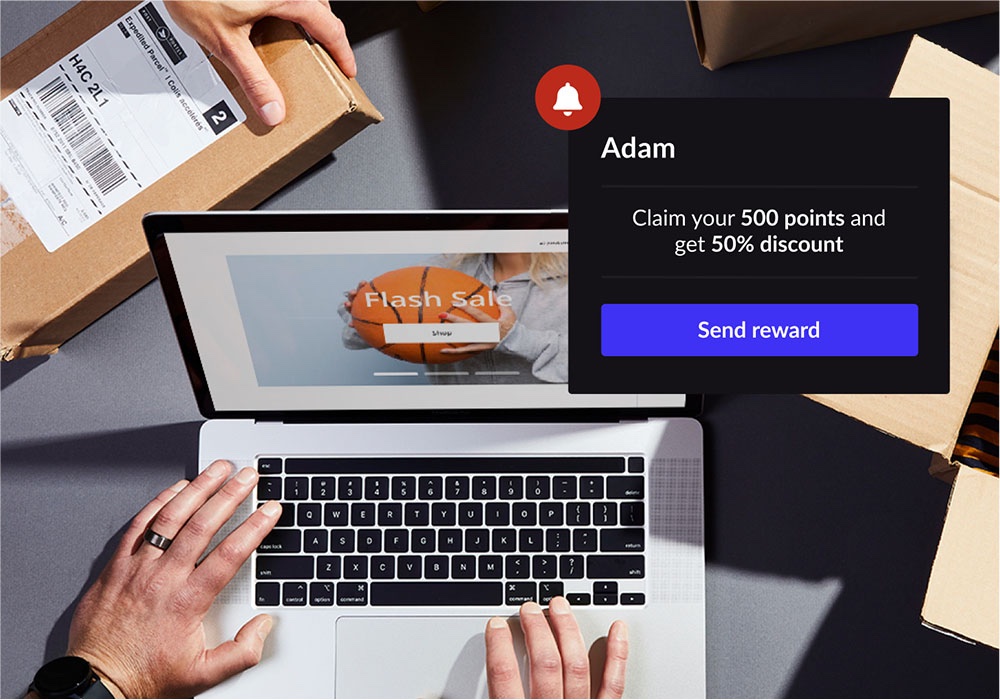 Dispose of waste properly
You should be mindful of how you dispose of waste in your business. A good first step is to minimize trash by choosing to reuse items whenever possible, or to donate things that are no longer needed in your business.
And if you must dispose of something, make sure you and your team are placing trash items in the right bins and always follow our local guidelines around recycling and composting.
2. Switch to sustainable packaging alternatives
Packaging is likely to be a necessary expense for your business. This is regardless of your size, and whether you have a physical or an eCommerce retail presence. However, many conventional packaging materials are extremely damaging to the environment. David Attenborough's nature programme Blue Planet most recently gave consumers a shocking insight into how plastic pollution is degrading ecosystems and wildlife.
So, eco-friendly packaging is some of the most credible evidence of a sustainable outlook. According to Coleman Parkes Research, 88% of consumers want packaging to provide more information about sustainability, and 92% of consumers would choose paper-based over plastic-based packaging.
Of course, a target of "zero packaging" isn't realistic. Businesses need to transport goods efficiently and protect them from damage. Packaging also presents an important branding opportunity for businesses.
You can start making more environmentally conscious packaging decisions by incorporating the3 Rs—reduce, reuse, recycle.
Perfumery Jules & Vetiver made "luxury without waste" their founding principle, due to the excessive packaging that is commonplace in the industry.
"We were very tempted to follow suit and just do a fancy perfume box. But it never sat right with us, philosophically. We knew that just because that's how it's always been done doesn't mean that we can't find other ways to impress, ways that are more focused on sensible sustainability."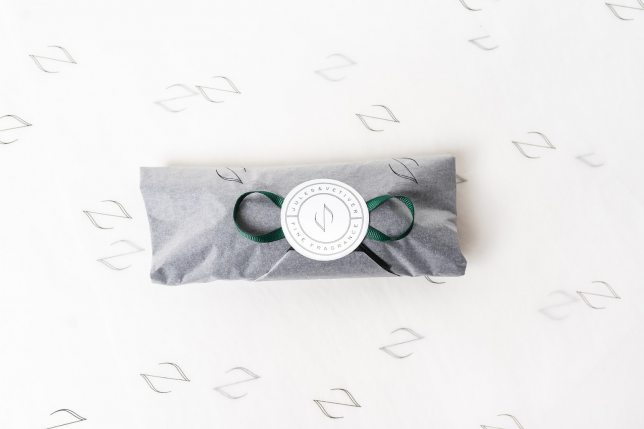 So, sustainable packaging doesn't just lower your environmental impact. It's also a fantastic way of differentiating your brand from competitors!
For Emma Gash, the founder of Australian cosmetics brand Byron Bay Bath Bombs, reusable packaging was the best way to demonstrate her commitment to sustainability. "Along with the custom tissue paper, I use a paper sticker on a cardboard cylinder. These are both recyclable, and the cylinder can be repurposed for many things; as a pen holder, a planter box, and some local customers even return them!"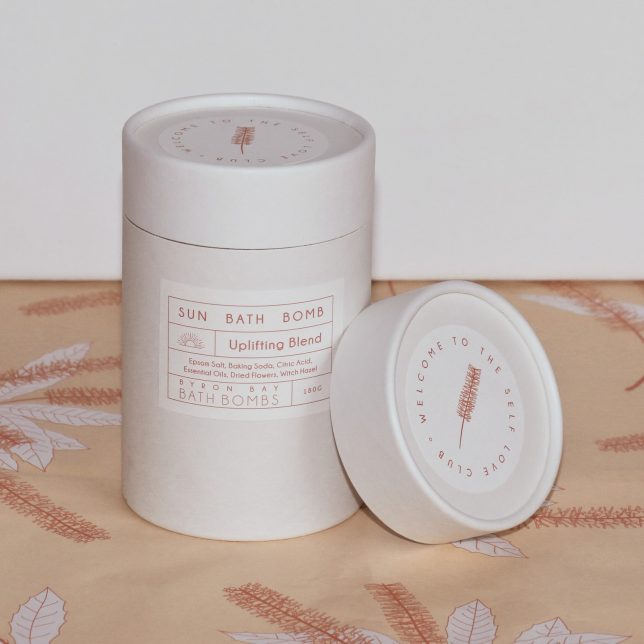 So, integrating a more circular economy where your packaging is concerned will go a long towards reducing your waste output.
3. Help your customers offset their impact
When people want to be more sustainable, many turn to their purchasing decisions as a way to make their mark. In fact, 88% of consumers want brands to help them lower their footprint.
So, helping your customers to offset the impact of their retail habits is highly beneficial to your own sustainability efforts. By helping people to feel more empowered as consumers, this will likely have a knock-on effect on their daily habits. It also gives them confidence that your business is out to make a difference long-term!
A great example is the reusable coffee cup business Keep Cup. They are committed to 1% for the planet, a non-profit that aligns businesses with charities who share their environmental goals. Participating businesses pledge 1% of their total profits each year to the cause. In particular, Keep Cup focuses on alleviating the impact of disposable items such as straws, grocery bags and (of course!) coffee cups.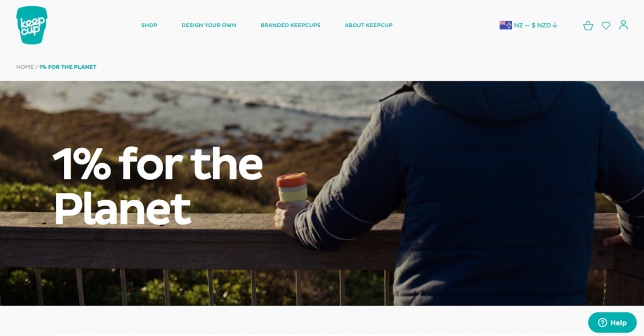 noissue, a company that provides customizable and sustainable packaging has an eco-packaging alliance programme. With each order, customers can plant trees in areas of the world suffering from deforestation. Participants are given their own eco-packaging alliance badge to put on their website or store window. This way, they can advertise their commitment to finding sustainable solutions to their business needs.
By tying your initiatives as closely to your retail sector as possible, you are showing your commitment to changing your industry from the inside out.
4. Make sustainable retail a part of your brand story
Your efforts will only go so far if you don't publicize your involvement in sustainable initiatives. You need to let consumers know what they (and the planet) stand to gain by supporting your business.
To do this, you need to incorporate sustainability into how your brand communicates with customers. After all, this won't be the only reason that your customers support your business; to create a well-rounded brand, you need to show consumers how sustainability fits seamlessly alongside your other selling points as a retailer.
This is where content marketing comes into play. The messaging on your online channels plays a big role in transforming your sustainability efforts into a core part of your brand identity. This is a space for you to answer the bigger questions about what led you as a retailer to embrace a more sustainable business model. At its heart, content marketing is all about storytelling, and focusing on the long-term value of your efforts to consumers and the environment.
Consider the following:
Who/what causes does your business benefit?

How do your efforts create a better product/customer experience?

How do your efforts link back to the ethos of your brand?

What do you hope to achieve long-term by becoming more sustainable?
The answers to these questions will provide you with a rich source of online content. For Audrey Migot-Adholla, the founder of African jewelry brand Yala Jewellery, this is especially important to emphasizing the positive impact of their initiatives on communities and local creators:
"Yala works with over 150 artisans in Kenya, ensuring that they receive fair wages, safe and healthy work environments, and real recognition for their talent. Their stories and photos are prominently featured on our website, as we want customers to put names and faces to the people who made the jewellery they enjoy."
Other strategies such as co-marketing with other sustainable brands, blog posts, social media and email marketing are a great way to keep your customers up to date with your efforts. By continuing this over the long-term you integrate sustainability into the essence of your brand, rather than as a heart-tugging sales pitch.
5. Help your customers be sustainable
Shoppers are looking to be more sustainable, and they need your help to do it. Industry data shows that 88% of consumers want brands to help them be more eco-friendly.
To that end, see if you can educate your customers to be more sustainable. You can, for example, use environment-friendly packaging with a note reminding customers to recycle or reuse the materials.
Today's Modern Bebe, a kids fashion retailer, did just that when the company used noissue's recyclable Kraft mailers to ship its products.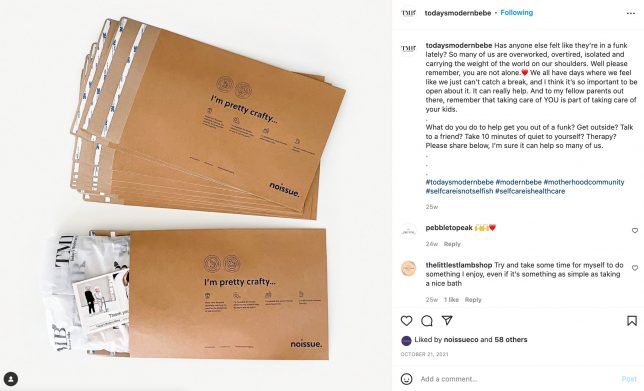 6. Avoid "greenwashing"
Greenwashing isn't a new trend, but it's become more prevalent as sustainable brands and products become more popular. Greenwashing is where businesses make misleading claims about how sustainable their business model or products are. This happens when businesses treat sustainability as a trend, rather than a long-term strategy. To increase sales, it's tempting to make this a part of their brand identity without actually walking the walk.
A famous example is The Honest Company, founded by Hollywood actress Jessica Alba. The Honest Company produces "natural" household cleaners, baby and beauty products. It has been hit by multiple lawsuits due to misleading advertising and dishonest (ironically) labeling of ingredients. Their settlement totalled over $1 million, and their brand credibility was seriously damaged.
The takeaway? Today, there is a strong demand for businesses to prove their eco-friendly credentials. Slapping the word 'sustainable' across your branding isn't going to cut it. 'Fake it till you make it' simply doesn't work in this area (and it isn't ethical either). The more thorough you can be with your supporting evidence, the better.
Make sure that your products are well-labeled. Correct labeling is vital if you are to avoid misleading your customers. Even if it's unintentional, this can still damage your brand. Make sure that you are clear and forthcoming about what your products do or do not contain.
A study by Asia Pulp & Paper found that over 80% of Americans have checked for sustainability information on labels, and 51% were more likely to recommend a brand or product if it includes sustainability information. So, this is also a really important part of your marketing strategy.
Get third-party certifications. Most industries have authoritative bodies that maintain product quality and ethical standards. Making the effort to meet the requirements for these will make your brand much more trustworthy in the eyes of consumers. Sustainable stationery brand Notely, for example, uses only Forest Stewardship Council-certified paper for her notebooks, as this assures her customers that her products have been sourced in an environmentally and socially sustainable manner.
Final words on retail and sustainability
The best part of taking part in retail industry sustainability, is it makes you a part of the solution. Sustainability has become a powerful value proposition to increasingly conscious consumers. It shows that you are aware of the social and environmental issues facing society, and want to alleviate the ways you contribute to them as a retailer. This is a win for your brand, and for the planet.
Lightspeed offers various features that can assist you in minimizing paper waste and simplifying your business processes. With features like paperless receipts and digital inventory management tools, Lightspeed has you covered. Watch a demo and see for yourself.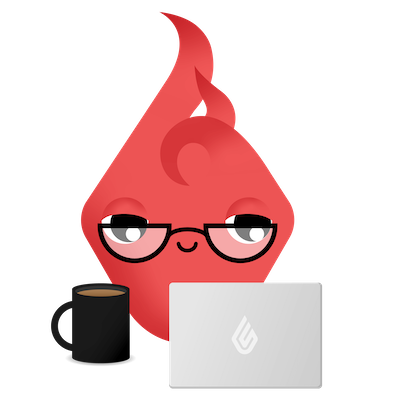 News you care about. Tips you can use.
Everything your business needs to grow, delivered straight to your inbox.