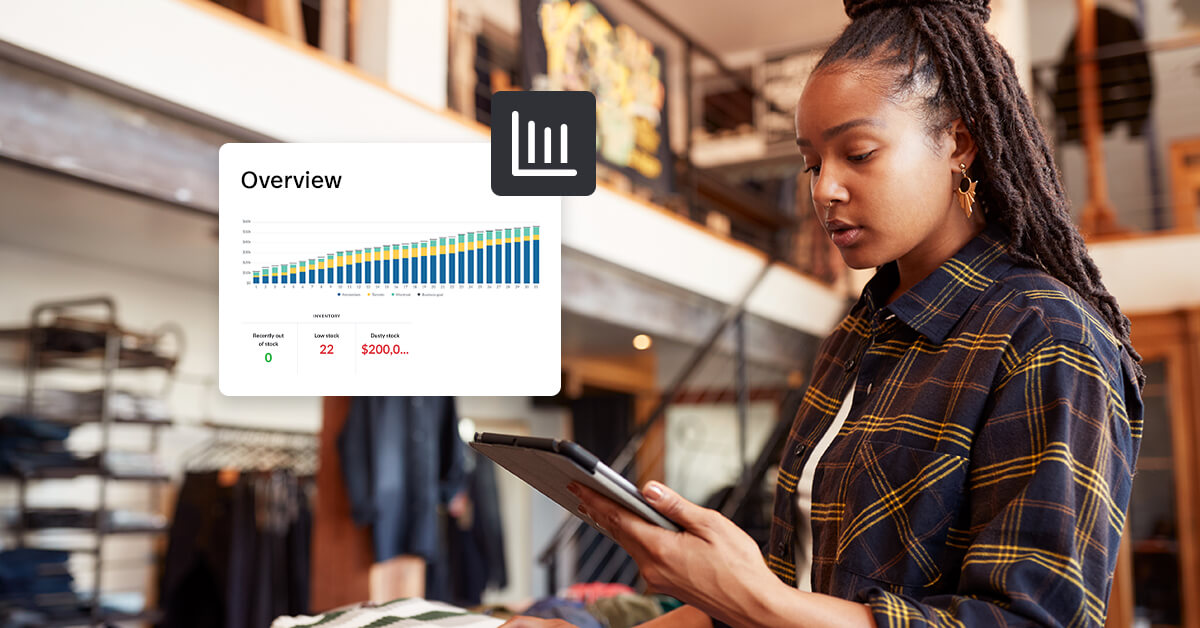 What gets measured matters. And that's why retail metrics are a great way to get a good grasp of your store's performance.
Gone are the days when retailers like you had to rely on instinct to understand how many products are being sold, how many customers are repeat buyers and how much revenue you can reliably expect over a predictable period of time.
What are retail metrics?
Retail analytics are about much more than hard figures on sales, revenue and expenses. Good analytics help store-owners and merchants make better decisions for a store's future.
Top 7 retail metrics for you to watch
So let's take a closer look at the metrics that merchants, store owners and retail executives alike should be watching throughout 2021 and beyond.
1. Gross margin return on investment
Gross margin return on investment (GMROI) just might be the most important retail metric of all. GMROI refers to your return on every dollar invested after your expenses have been removed.
Tracking how your GMROI ebbs and flows over time can tell you where your pricing might be off, where you can achieve greater margins, how much profit you have left, how your costs have been accounted for and how smooth your inventory management is.
"GMROI shows how much money you're making versus how much you invested in inventory, giving you your actual profit," said Chelsea Cohen, Co-Founder of inventory management platform, SoStocked.
2. Recurring revenue
Calloway Cook, President of Illuminate Labs, believes recurring revenue is another key metric for retailers to monitor. Recurring revenue shows you what revenue your store can expect to receive on a monthly basis from customers.
"Sales can be erratic and seasonal, especially for small businesses, which makes it hard to budget. Recurring revenue is consistent which is why it's so valuable," he said.
For example, Illuminate Labs offers an 80 percent discount to first-time subscribers to incentivize sign-ups. And it's working. Subscriptions have doubled since January, according to Cook. "A stable subscription customer base allows online retailers to make better financial decisions, which is why it's our main area of focus in 2021," he said.
3. Revenue per visitor
Revenue per visitor is another useful metric. Sarah McVittie is the Co-CEO of Dressipi, a revenue optimization software for fashion retailers. Many retailers look at conversion rates to see how well they are shifting their products online. But this comes with a risk, said McVittie.
"For most categories, like books and electronics, an increased conversion rate equals increased revenue, which in turn equals increased profit. But with fashion that isn't always true. If you are in a category that can be heavily discounted with high return rates it can actually be negative even at the gross revenue level."
4. Average transaction value
Or ATV for short. You can work out this metric by dividing the total cash value of all your transactions by the number of transactions. It's a good metric to understand, because it can give you a rough sense of how much you can expect to make on each typical sale.
"ATV has been a big focus for us," said Phuong Ireland, Co-Founder and CEO of WkndNation, a fashion brand selling home, work and social clothing. " As a new and relatively unknown brand, traffic is hard to come by. So when we do get people in on our site or in our stores, we want to make sure we're maximizing that traffic."
5. Customer retention rate
Pooneh Ramezani, CEO of Dr. Brite, said retailers can also evaluate the quality and effectiveness of their store and products with the customer retention rate. "This reveals your total customer service performance as well as your clients' loyalty to your business," said Ramezani.
Andrew Priobrazhenskyi, CEO of ecommerce business DiscountReactor, agrees. "It's an important metric to track because a company's success is dependent on it. It is less costly for companies to retain their existing customers rather than attract new ones," he said.
This is why improving your customer connections is so powerful, suggests Ramezani. "Create a centralized customer service training program for your complete team. Provide individualized shopping assistance where appropriate, and develop a top-notch client loyalty program," she said.
6. Store website engagement
What about eCommerce? Well, conversion rates, bounce rate, and shopping cart abandonment rates are just three of the metrics you should be watching closely here.
Store website conversion rates
Your conversion rate is one of the most important KPIs for brands to track. A good conversation rate leads to an increase in revenue per visit, cuts customer acquisition costs, and enables brands to obtain more value from their existing customer base. Site speed has a significant impact on conversion rate. Every second you can shave off your store's page load times can give you a conversion lift on mobile and desktop, while also reducing bounce rates.
Store website bounce rates
About bounce rates. They refer to the percentage of all website visitors who leave after viewing just one page. "High bounce rates can be a sign of users struggling to interact with your website or uninterested in your content," said Julie Woon, Marketing Manager at eCommerce web development and user experience (UX) design agency, Codal.
By optimizing your online store for speed and performance, you can give shoppers a better digital experience.
Store cart abandonment rates
High cart abandonment rates are often a sign your online store has a poor online purchasing experience. Customers dislike the experience so much, they're willing to stop shopping altogether — even after finding the perfect product. Often, payment processing is to blame.
"High abandonment rates might mean you aren't attracting the right shoppers," said Nick Drewe, Founder of ecommerce shopping and discount platform, Wethrift. "Online shopping is not a numbers game like many small retailers assume. It's much more profitable to attract primed shoppers with high purchasing intent to your site. Even if that means a fraction of the overall site traffic you want or expected to see," he said.
"Shopping cart abandonment shows users are interested in your product and ready to buy but hit a wall before submitting," added Woon. She suggests retailers analyze where potential customers dropped off in the final purchase process to understand whether price, shipping speed, user experience or another factor is the problem.
7. Retail sales KPIs to watch
You'll want to keep an eye on your sales metrics too.
Here are two different kinds for you to monitor.
Retail sales per employee
Tracking your retail store's sales per employee gives you a real-time picture of how well your salespeople are doing, said Naomi Stone, Development Manager of Room Service 360. "This information can be used to establish labor schedules and sales incentives. You'll notice opportunities for training and individual recognition as time goes on."
Stone suggests exploring your POS analytics to track each associate's daily, weekly, and monthly sales. You'll need a POS system, like Lightspeed, that assigns a sign-in code to each employee to do this.
Retail sales per square foot
Sales per square foot measures and compares your store's revenue with the amount of floor space in your store. This metric allows you to understand the productivity of your store and the effectiveness of your merchandise layout.
If one area is performing better than another, you could experiment to find out if the higher performance is affected by the product range or their location in your store.
Hosea Chang is the Chief Operating Officer of tween fashion brand Hayden Girls. Change said larger stores should place more value on sales per square foot, because it ties into commercial real estate costs. "Larger retailers need to maximize their floor plan to pack in the optimal amount of inventory," said Chang. "Remember, you can't sell product if it is sitting in boxes in the back of the store."
How Lightspeed can help you master retail metrics
Lightspeed can help you understand each and every one of the metrics we've been talking about. With Lightspeed Retail Analytics, you can:
Use stock well:

Check if you're keeping the right inventory on hand. See what's selling and what's not with customizable reports.

Build customer loyalty:

See how often your best customers shop and identify their buying habits to promote products to the right people.

Track staff performance:

Identify the strengths and weaknesses of your sales staff by tracking KPIs to ensure you have the right amount of people working on the right days.
Use retail metrics to grow your store
Here's the beauty of retail metrics. You no longer need to rely on gut instincts to shape the future of your online and physical store. Exploring the metrics we've talked about in this article can help you become a deeper expert on your performance and future prospects of growth.
Talk to a product expert about Lightspeed's Analytics suite to see how you can put retail metrics to work for your store.
News you care about. Tips you can use.
Everything your business needs to grow, delivered straight to your inbox.