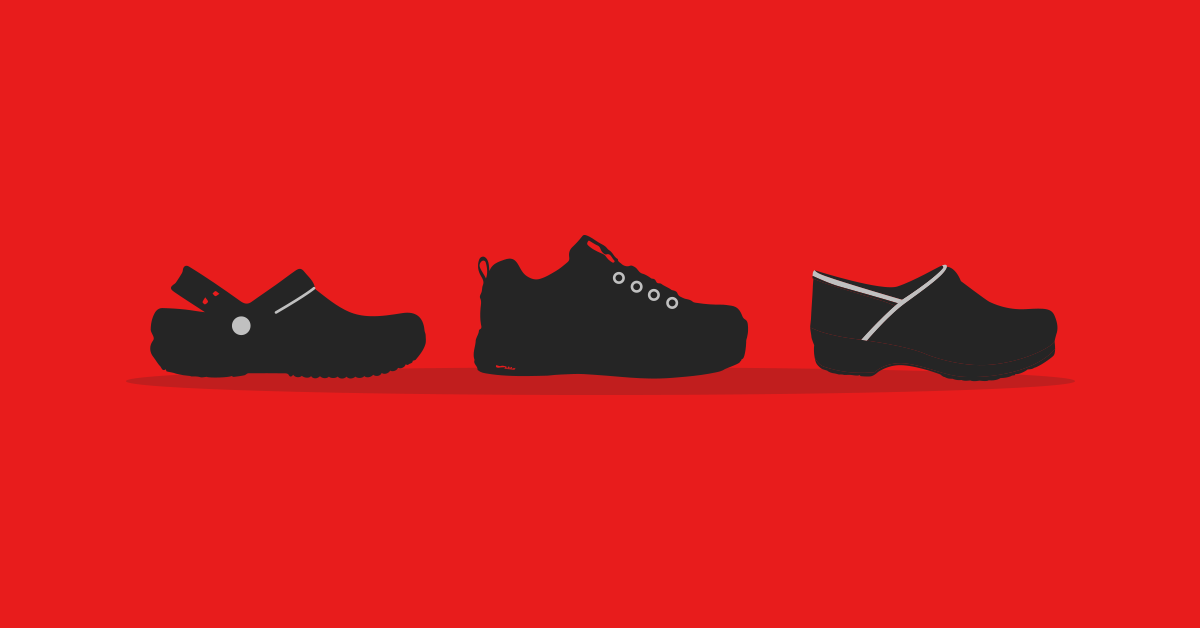 Restaurant life is no walk in the park. From running back and forth between tables and your restaurant POS to standing in the back-of-house all day, long shifts can give your feet all the feels. Hosts and hostesses, servers, bartenders, cooks and chefs should make the best restaurant shoe choice. If not, slips, fatigue, back pain and knee problems could be the issue du jour.
In this article, we cover:
Restaurant Employee Handbook Template
Standardize your restaurant's policies, guidelines and processes with your custom restaurant employee handbook.
Advice from a podiatrist on how to choose the best restaurant shoes
We tapped Dr. Miguel Cunha, New York-based podiatrist and founder of Gotham Footcare, for tips on choosing the best shoes for restaurant work. He walks us through the most important considerations: comfort, support and traction.
"A food server is constantly on their feet and can easily take over 10,000 steps a day at work," says Cunha, adding back-of-house workers typically stand on their feet most of their shift. "It's important to select shoes that are appropriately sized, comfortable, supportive, shock-absorbent, and slip-resistant."
To give you even options for the perfect restaurant shoes, we've included additional recommendations that not only meet the necessary criteria for a great pair of restaurant shoes but also have been highly rated by professionals who spend long hours on their feet. Whether you're a chef, a waiter, or part of the cleaning crew, these shoes can help keep you comfortable and safe throughout your shift.
Identify comfortable non-slip restaurant shoes
Cunha recommends buying shoes at the end of the day when your feet are most swollen. "If they feel comfortable at the end of the day, most likely they will feel comfortable throughout the day," he explains. Make sure the toe box is wide enough to accommodate your toes with enough room to slightly wiggle.
Also, look for a comfortable footbed to support the arch with memory foam or an EVA (ethyl vinyl acetate) anti-compression insole. "An outsole made of rubber will help alleviate the impact of each step far greater than a shoe with a hard sole," he adds.
Look for restaurant shoes with arch support
One of the most common server injuries is sore feet. According to Cunha, this is usually caused by wearing unsupportive shoes. "Our feet naturally pronate [walk with most weight on the inside edge of the feet] during the gait cycle.
When we wear unsupportive shoes, we pronate for a longer period of time, which then alters the biomechanics and distribution of pressure and weight across the foot," he explains. "This imbalance increases the progression of underlying foot deformities, such as bunions and hammertoes leading to soreness of the feet and painful conditions, such as arch/heel pain, shin splints/posterior tibial tendonitis and Achilles tendonitis." This can progress to knee pain and backaches.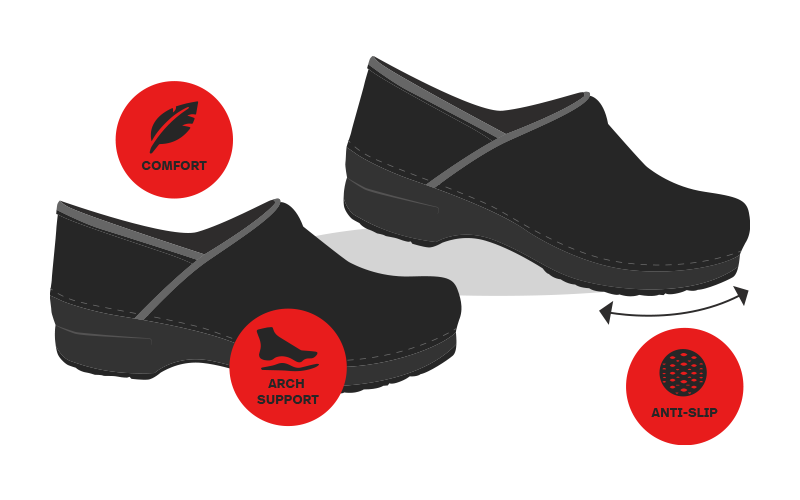 Employees who stand for long periods of time need good arch support, which will equally distribute body weight across the plantar (bottom) of the feet. Cunha's simple way to check if shoes are supportive is to try and bend them in half. If they bend, back on the shelf they go.
Make sure to purchase son-slip or non-skid shoes
"Servers can fall over when they're carrying plates and trays because they can't see where they are walking, or may slip, trip, and fall over floors that have been soiled with water, stews, soups and other liquids," he says. A slip can easily result in a severe ankle or leg sprain, fractures and other serious injuries. Look for slip-resistant work shoes with high traction rubber outsoles.
It's also important to consider whether a shoe is water-resistant or has hard uppers. Spills and dropped objects are common, and a protective shoe can prevent or minimize injury, and shoes with black leather or polyurethane uppers are not only waterproof but can also be cleaned easily and quickly.
The 19 best restaurant shoes and where to buy them
Note: we are not receiving compensation for any of these products. Recommendations are based on research and unbiased feedback from restaurant professionals.
1. Dansko XP Clogs
Arguably one of the most well-known shoe brands among people who work on their feet all day long, Dr. Cunha specifically recommends Dansko's XP Clogs. They're slip-resistant, have great arch support, and are cushioned for added comfort and protection.
Where to buy: dansko.com
2. Dickies Apex
Dickies Apex non-slip restaurant shoes have a MICHELIN®WCX channeled shoe tread that provides traction with a self-cleaning design that evacuates liquid and debris.
Where to buy: dickies.com
3. Birkenstock professional slip-resistant work shoe
These simple clogs are slip-resistant and made of one molded piece of lightweight polyurethane, making them both durable and water-resistant as well.
Where to buy: birkenstock.com
4. Croc Bistro Clogs
The Croc Bistro Clogs are essentially the same as classic Crocs minus the holes on top, so on top of being lightweight, slip-resistant, easy to clean and supportive, they also keep your feet safe from spills.
Where to buy: crocs.com
5. New Balance 510v3
Another Dr. Cunha pick, he recommends these restaurant shoes for their even support, non-skid treads, breathability and lightweight design. One downside, however, is that they won't protect against spills.
Where to buy: amazon.com
6. Sanita
Similar to the Dansko clogs, Sanita's are becoming more and more popular in the restaurant industry. Reviews on Amazon and the company's website show that many have relieved back, foot and knee pain while wearing these clogs.
Where to buy: sanita.com
7. Clove
A newer brand, Clove sneakers are designed with healthcare professionals in mind but are also perfect as restaurant shoes. These shoes feature "liquid-repellent and stain-resistant Clarino™ fabric [and] odor-fighting, machine washable insoles from Ortholite®" according to the Clove website.
Where to buy: goclove.com
8. Vans "Made for Makers"
Vans has created a restaurant shoe that looks just like their classic low-top and high-top skateboard sneaker with added water resistance, support and slip-proofing.
Where to buy: vans.com
9. Snibbs
Another new brand on the block, Snibbs positions themselves as "The last work shoe you'll ever need." Designed by an orthopedic surgeon, Snibbs feature top-of-the-line Ortholite® insoles, soles that are slip-resistant to both liquids and oils, breathable and supportive. They also offer a 30-day trial period, so you can return them for a full refund if they don't work for you.
Where to buy: Knibbs.co
10. Dr. Scholl's Work
The brand famous for comfort and support has a line of clogs, sneakers and slip-on shoes designed for anyone on their feet all day. The Dr. Scholl's Work line features a slip- and oil-resistant outsole, plus memory foam inserts and breathable materials for all-day comfort.
Where to buy: drscholls.com
11. Emeril's Footwear
Yep, that Emeril. Like any good kitchen footwear, these shoes are resistant to slips, spills, odors and stains, and feature insoles that include their patented B.A.M. Technology. (What else would you expect?)
Where to buy: emerilsfootwear.com
12. Keep Company
Designed and tested by chefs, Keep Company's line of non-slip, water-resistant, supportive shoes are also stylish, vegan and ethically produced.
Where to buy: keepcompany.com
13. Skechers
Skechers, a globally renowned brand, offers the Ghenter Bronaugh shoe that combines comfort, durability, and slip-resistance. It's equipped with a soft fabric lining and cushioned comfort insole that makes long shifts less tiring. The shoe also features a rubber slip-resistant outsole for reliable traction and is lace-up, ensuring a secure fit. Skechers, a well-loved brand in the US, understands the demands of the workplace, making this a trustworthy option for anyone on their feet all day.
Where to buy: skechers.com
14. Reebok
The Reebok Work Men's Sublite Cushion Work Shoe is an example of a restaurant shoe that's both functional and stylish. It has an athletic design that merges efficiency with aesthetics, ensuring you look good while getting the job done. Made from leather and synthetic material, it offers breathability, comfort, and durability. The shoe is equipped with a slip-resistant outsole and a cushioned footbed for all-day comfort.
Where to buy: reebok.com
15. KEEN
or those seeking a high-end option, the KEEN Utility Men's PTC Slip-On II is the right fit. It's a shoe specifically designed to meet the demands of chefs. With its stain and water-resistant leather and non-slip sole, it guarantees safety in a fast-paced, accident-prone kitchen environment. The shoe also includes a compression-molded midsole for superior comfort.
Where to buy: keenfootwear.com
16. Merrell
For fast-paced work environments, the Merrell Men's Jungle Moc Pro Grip is an excellent choice. It's constructed with a durable, full-grain leather upper, and features a slip-resistant outsole for superior grip, making it perfect for restaurant workers constantly on the move. The air cushion in the heel also absorbs shock and adds stability, making it comfortable for long hours of use.
Where to buy: merrell.com
17. Fila
The Fila Men's Memory Workshift Slip Resistant Work Shoe is a budget-friendly option that doesn't compromise on quality. It's designed with a solid rubber slip-resistant outsole for excellent traction, a memory foam sockliner, and midsole for added comfort, and a durable leather and synthetic upper. It's a reliable and cost-effective option for daily use in a restaurant.
Where to buy: fila.com
17. Timberland
The Timberland PRO Women's Renova Slip-On is an investment that pays off in long-term comfort. It features anti-fatigue technology that offers all-day standing support, leg and back support, and superior shock absorption. It also has a slip-resistant sole and is made with microsuede upper linings and an antimicrobial treatment for odor control.
Where to buy: timberland.com
18. Mozo
The Mozo Women's Mavi Food Service Shoe is a fantastic option for female servers, balancing style and functionality. It offers a slip-resistant outsole, gel insoles for fit and cushioning, and quilted lining that adds a touch of fashion to its practical design.
Where to buy: mozoshoes.com
19. Rockport
The Rockport Men's Eberdon Loafer is perfect for front-of-house staff who need to maintain a smart appearance without sacrificing comfort. It combines a stylish leather exterior with an EVA outsole that provides lightweight shock absorption, designed to reduce foot fatigue. Plus, it includes a breathable lining and cushioned footbed.
Where to buy: rockport.com
The right restaurant shoes will help decrease fatigue, injuries and ailments that might otherwise leave you or your staff out of commission. To keep things running smoothly, make sure everyone from the host to the kitchen staff are wearing proper footwear, along with practicing other safety precautions.
Looking for a technology partner to help you and your staff streamline operations? Learn more about how Lightspeed can help by watching a free demo.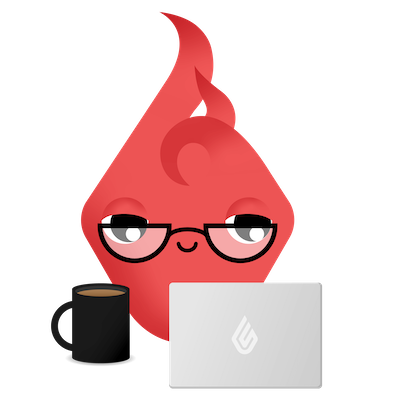 News you care about. Tips you can use.
Everything your business needs to grow, delivered straight to your inbox.