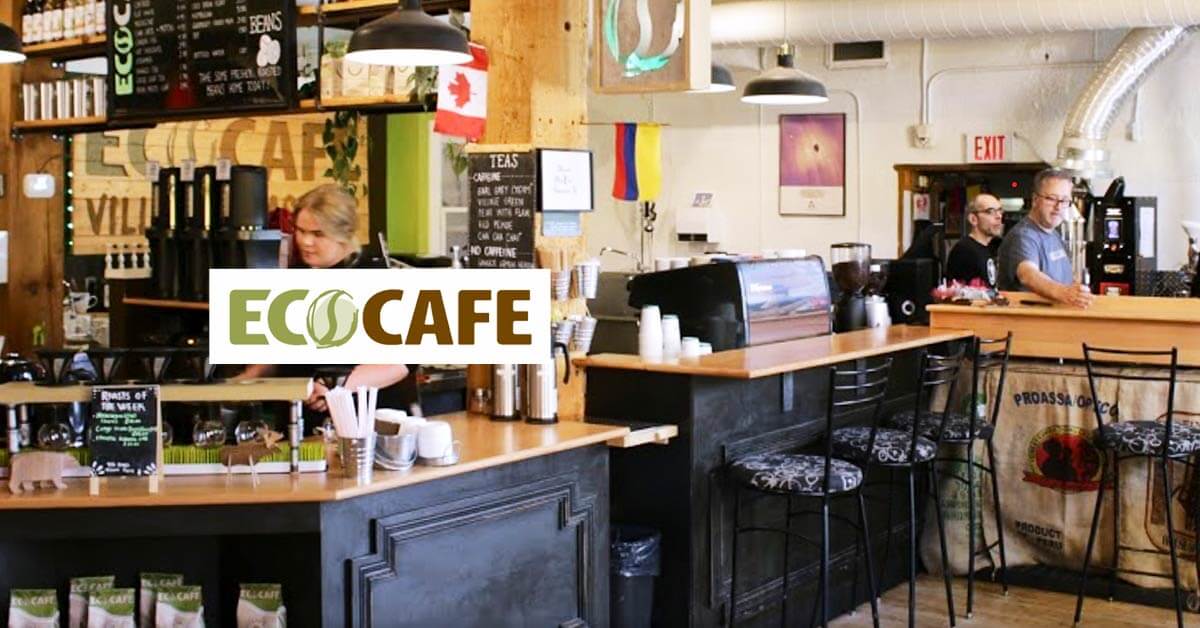 Since 2003, EcoCafe has been serving great coffee and small-town charm to residents and tourists in the quaint village of St. Jacobs. A roaster at its core, EcoCafe has always had aspirations that stretch beyond the cafe and center on creating a connection between coffee and the community. For almost two decades EcoCafe has prided itself in providing Organic, Fair Trade, Direct Trade and Rainforest Alliance coffee beans all year round.
But when the pandemic hit communities globally in the spring of 2020 and tourism came to a screeching halt, EcoCafe founder and owner Edward Denyer had to think fast. To avoid becoming a statistic and closing his doors, he started getting creative, rethinking methodology, adopting new technologies and redesigning the cafe space. Denyer managed to beat the odds and thrive by serving coffee to a small population of 2000 residents.
We talked to Denyer to find out how a coffee shop in a small village pushed boundaries and physically reinvented itself to withstand one of the biggest challenges any restaurant could face.
Get your restaurant ready for the future of dining
With 2020 behind us, restaurateurs need to look to the future, stay ahead of trends and adopt the digital strategies that kept retailers selling through last year's unprecedented challenges. Find out how to help your business thrive in the new era of hospitality with our guide.
Talk to us about EcoCafe. How did you get started?
I started EcoCafe in 2003. We're actually on our fourth iteration of the cafe as we've been in different locations. We're currently going into our third year of this particular EcoCafe version and this is the one that I really wanted but never had the ability to either build or make in the past. Back when we started, we were in a farmer's market in a little booth, then we got into the back end roasting.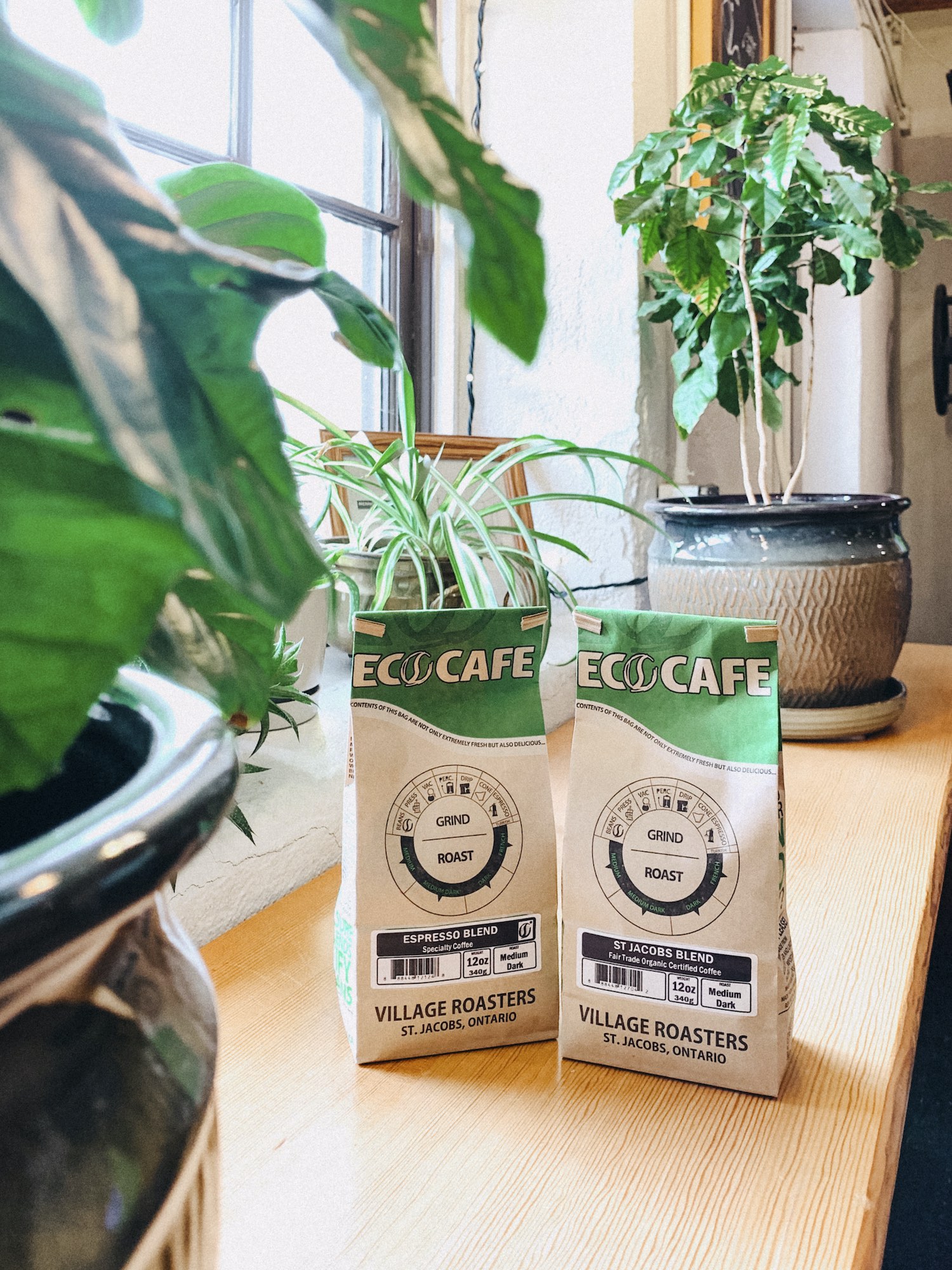 We've always been a roaster and it's always been our core business. We had a warehouse facility for four years that fed our booth in the farmer's market. Eventually, we moved out of the city and into where we are now in St. Jacobs.
Finally the location that we wanted, which is the one we have now, became available and we were able to build the cafe that I've always wanted. It was the right space, the right fit and the right design. It was an empty shell that we were able to design and apply all the lessons we learned over the years. This location has access to the main street, it's in the tourist town, it has the facility to allow people to sit and it also has the roasting facility built-in so you can even see the coffee being roasted while you're drinking a cup. It married all the concepts together, both front end and back end.
I see you're located in a small town. How were you able to build and grow your business with such a small population?
St. Jacobs is a very famous name in tourism in Canada. It's that quaint little village that everybody at some point should visit. It's the home of the Mennonite culture and it also has the largest farmer's market in Canada so it has these unique features that are very special and we built that into the cafe. But for me it was always about building the community and then tourism would become the overflow. As long as you have a community, you can build a cafe. But if you don't have a community, tourism isn't going to do it—and I'm saying these things because that was kind of the premise. It was always about building up a following in a small community and then building an infrastructure that would withstand having a tourism component.
There was a strong tourism component, particularly in the summer, of people coming out to farmer's markets and extending their stay in this quaint little community by coming to the village after. The cafe is located in what used to be an old flour mill, which was kind of the central purpose of the village originally.
I built the cafe knowing that we have up seasons and down seasons for tourism and you can't rely only on tourism. In the dead of winter, which is usually when everything goes really south here and when all you see is a Mennonite car driving by once a day in the bitter cold, no one is coming around. This is a town that has only 2000 residents, so you have to build that community first and that's what I built this place to be—to be that community space, that place to come breathe and to just to take a break and have a coffee.
Once the pandemic hit, what were some of the main changes you had to make to keep serving customers?
When the pandemic hit and we went into lockdown, it was at the end of the winter season. All we really did at that point was just close it down.
We did, however, have a window in our coffee shop. It wasn't even an open window. It's a window that's about 130 years old. I thought to myself, "I wonder if I can open it," and I cut the paint off and opened it and I was like, "wow, it does open." So we ended up building a little tray and adding a board on top of the flower box and we started taking orders through the window. Since it was warm here we were able to go on. As the weeks went by, even though we were in lockdown, we were just transacting with people that were coming to the window.
We also shifted the cafe around to fit this new service model so the internal space kind of went awry. It just was a mess, but we just focused on being able to serve people through this window. We provided full espresso service and our online site, which had been very, very low volume, went through the roof. All of a sudden, we started selling online like crazy. Offices were closed and people couldn't go out, yet they still wanted good coffee. They found out about us through word of mouth and all of a sudden the orders started coming in so we started doing curbside pickup, deliveries and doing window takeout.
Then all summer long people kept coming here because you weren't in the city, you weren't in that congested area. People felt safe coming to places like this to walk around so we took it a step further and closed off the parking lot area, built an outdoor patio, bought a bunch of picnic tables and even worked with a tree company locally. They brought some trees and we just made this little green space in the parking lot at the front of the mill. Customers now have an idyllic backdrop and outdoor space. We started playing music out there and it was great. We milked that all summer since we couldn't welcome our customers inside.
How did you adapt EcoCafe indoors to accommodate the new reality of the hospitality industry and the cold Canadian winter?
Even during the summer, I knew that there was going to be a second wave. For me, it was very clear. Most people would say, "it'll pass, it'll be okay" and a lot of restaurants or cafes didn't pivot to withstand what was going to happen.
I had this vision of, "how do we serve people safely indoors?" So we decided to take out everything that was in the seating area and built a wall that allowed us to separate our HVAC completely. We isolated ourselves from the public and now we have our own air circulating.
Basically we created a little alleyway. I was trying to create an outdoor space inside so that people could come in and not be freezing cold in the minus 20 temperature. They would also be able to wait in a distanced manner. I set up a window inside with a microphone like the old-style movie theaters so people can speak into the mic and we can take their orders.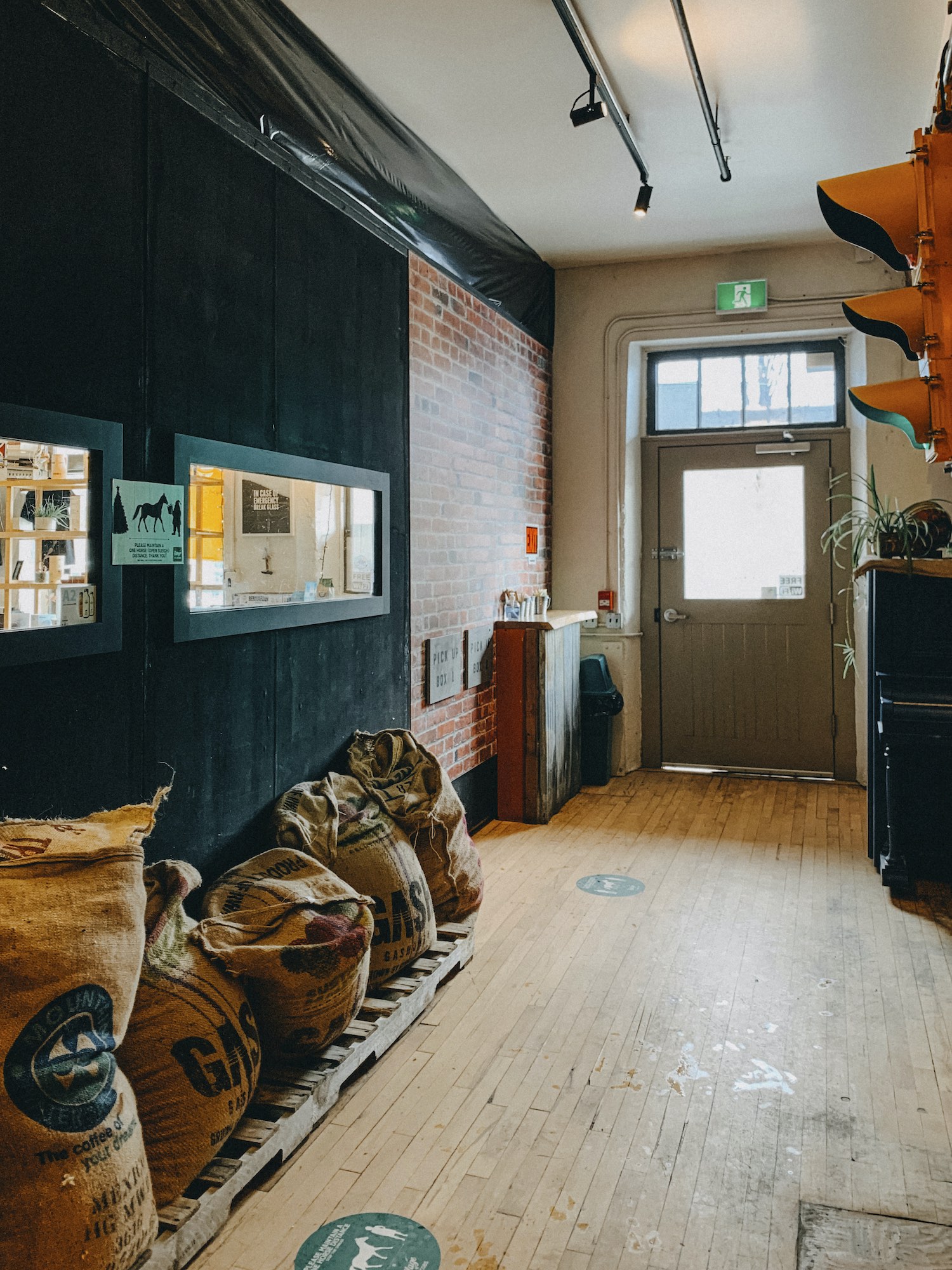 For me, it was about creating an experience for people. How do you make it fun, engaging, interesting and provide people with a creative experience? That's the difference maker. Anyone could have just put up plexiglass, worn masks all day and had an interaction with the bare essentials. But I thought, "what if I could take it a step further?" What I've learned from being in a tourism environment is to engage in the customer experience because that will bring people back and it will also differentiate you from others. We also took that into consideration with how we display our products. I had the idea to build drawers that would come out of the wall. I took a filing cabinet, cut it in half, flipped the other side upside down so it's basically a filing cabinet offering goods through the wall out to our customers.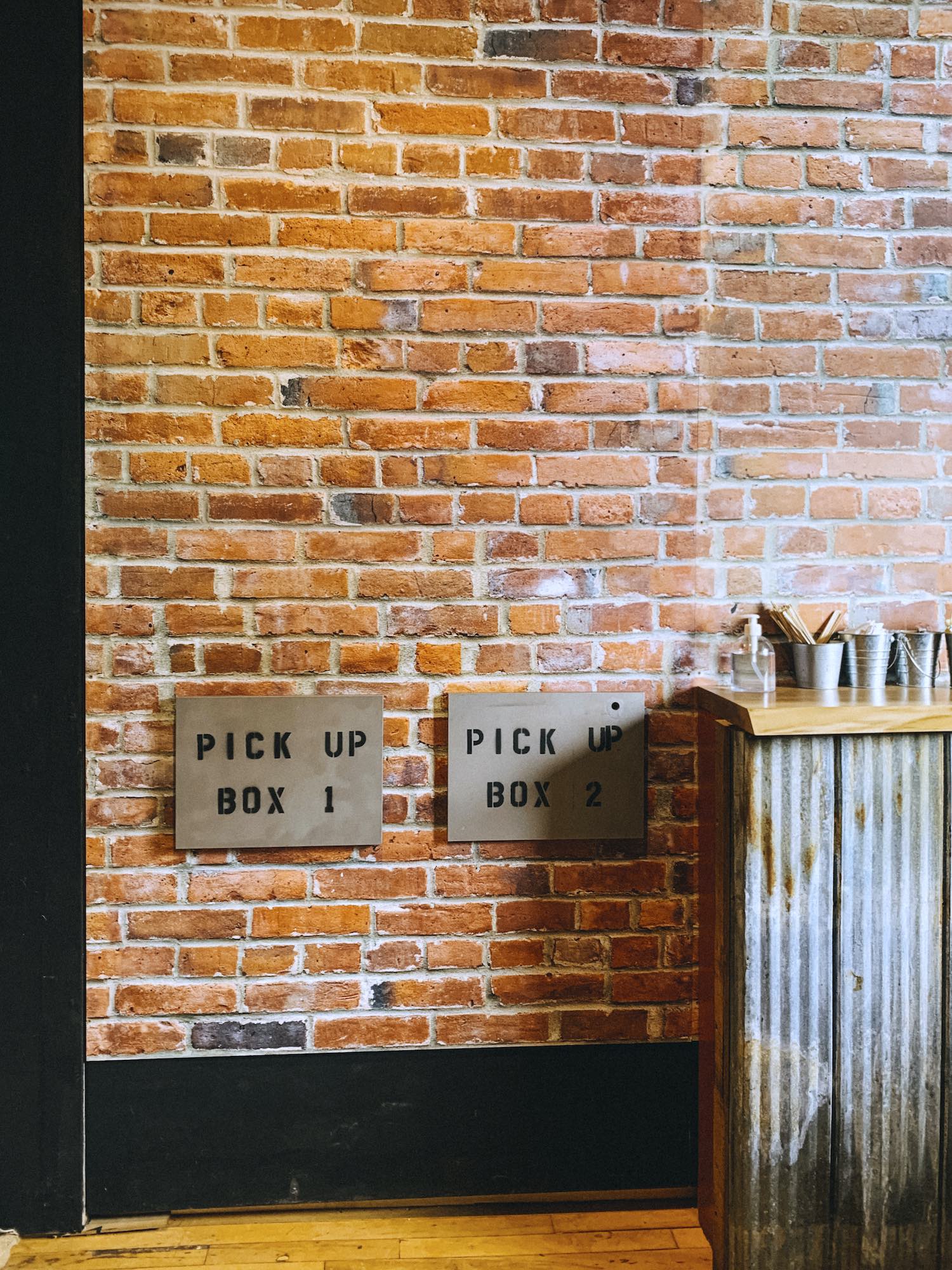 You really adapted and completely converted your interior in a super creative way. Tell me a little bit more about the transformation. Why did you choose to make it a coffee alleyway?
There's some symbolism to all this—a method to my madness. The mural was done by one of my staff and it depicts two women. One is an indigenous woman in a coffee-growing society and she's drinking a big giant cup of coffee. The second image is that same woman in our modern society with a mask on and that's where we are today—it's in the modern world now, where this is the kind of dichotomy that we're faced with. We had this old world that we used to live in and now we're in this new place, which is kind of dark and kind of depressing. So I wanted this whole alleyway to depict that darkness, but in the end, you go back out the door into the light. So the symbolism for me was there.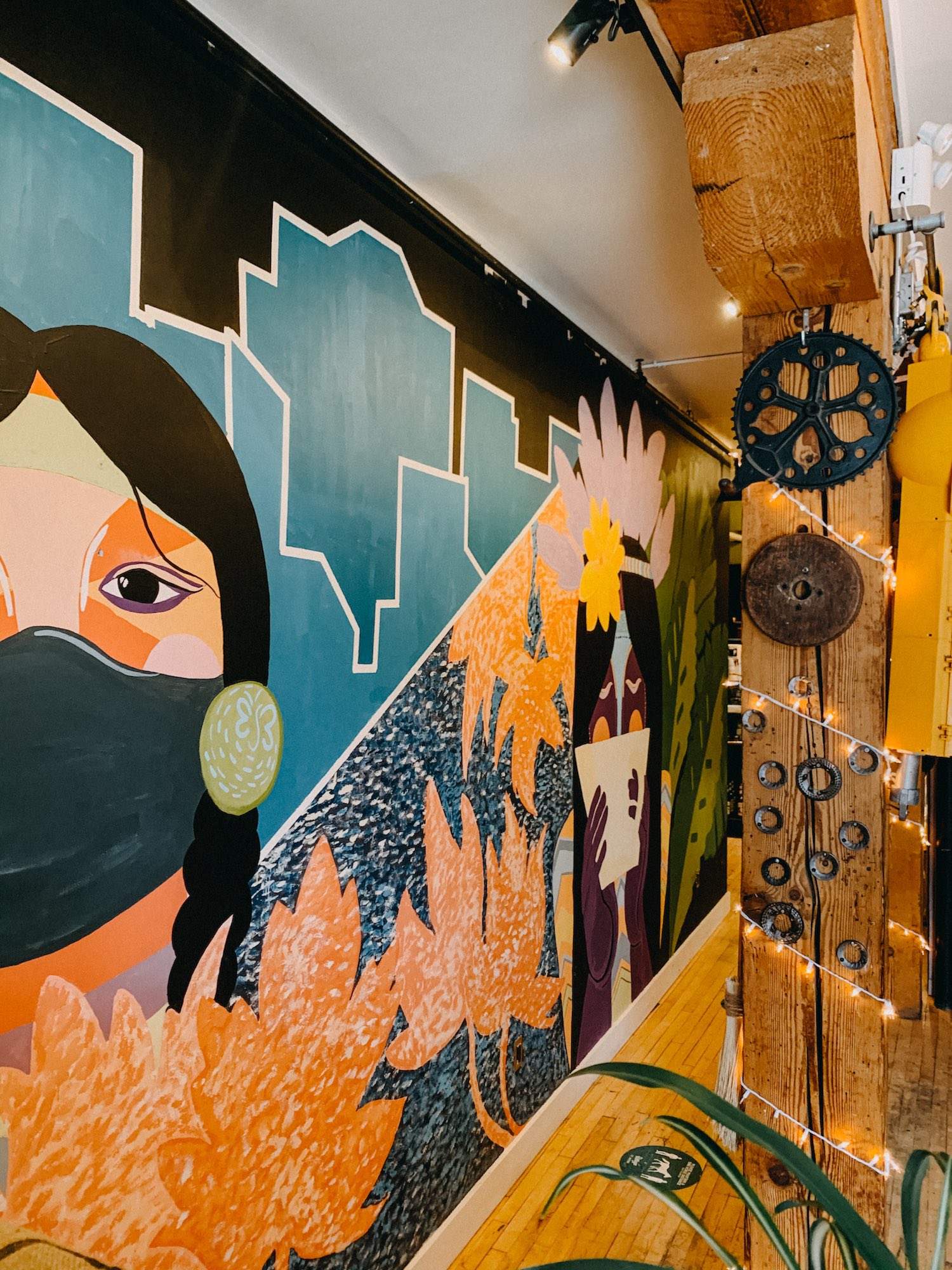 It was a way to express myself, express my feelings, but also offer my customers a safe option to have a moment, an interaction with someone out of the norm and have an experience that's positive.
How have these changes affected your business?
We're just a small company, but I think that if you're open minded to change when faced with problems, there's still ways to produce. So you pivot, you change, you modify, you tweak it, but you make it engaging and interesting. Long story short, and without getting into the numbers, we're ahead of where we were last year in terms of financials as a cafe. The business as a whole suffered because we lost a lot of our wholesale business when offices shut down.
If you look at just the cafe, we're seeing less people, but have a higher transaction value. Percentage-wise, we're doing above our numbers from last year in the middle of a pandemic. You look at your transaction value, there's less transactions but higher value because people are buying coffee for home, where maybe in the past they didn't or maybe they were getting their coffee consumption through the office or another place that they were frequenting. Now they're buying a pound of coffee to take home for the week and then they'll come back once a week to have the experience, to get something fresh, to just have someone serve them or even just to say hi.
Let's talk about technology. How has Lightspeed helped you roll with the punches and adapt?
With Lightspeed, it's been great. It's been adaptable and interactive while we made changes to our operations. Initially, we had a till in the center of the cafe and one person could manage the checkout counter on slow days and take someone's order. They'd just take the order, turn around, make a drink and hand it to them. When we split it all up and made this alleyway, the till is down one end of the shop and the espresso machines are on the other. You can't move an espresso machine, that's not an easy fix, so we weren't sure how to manage this.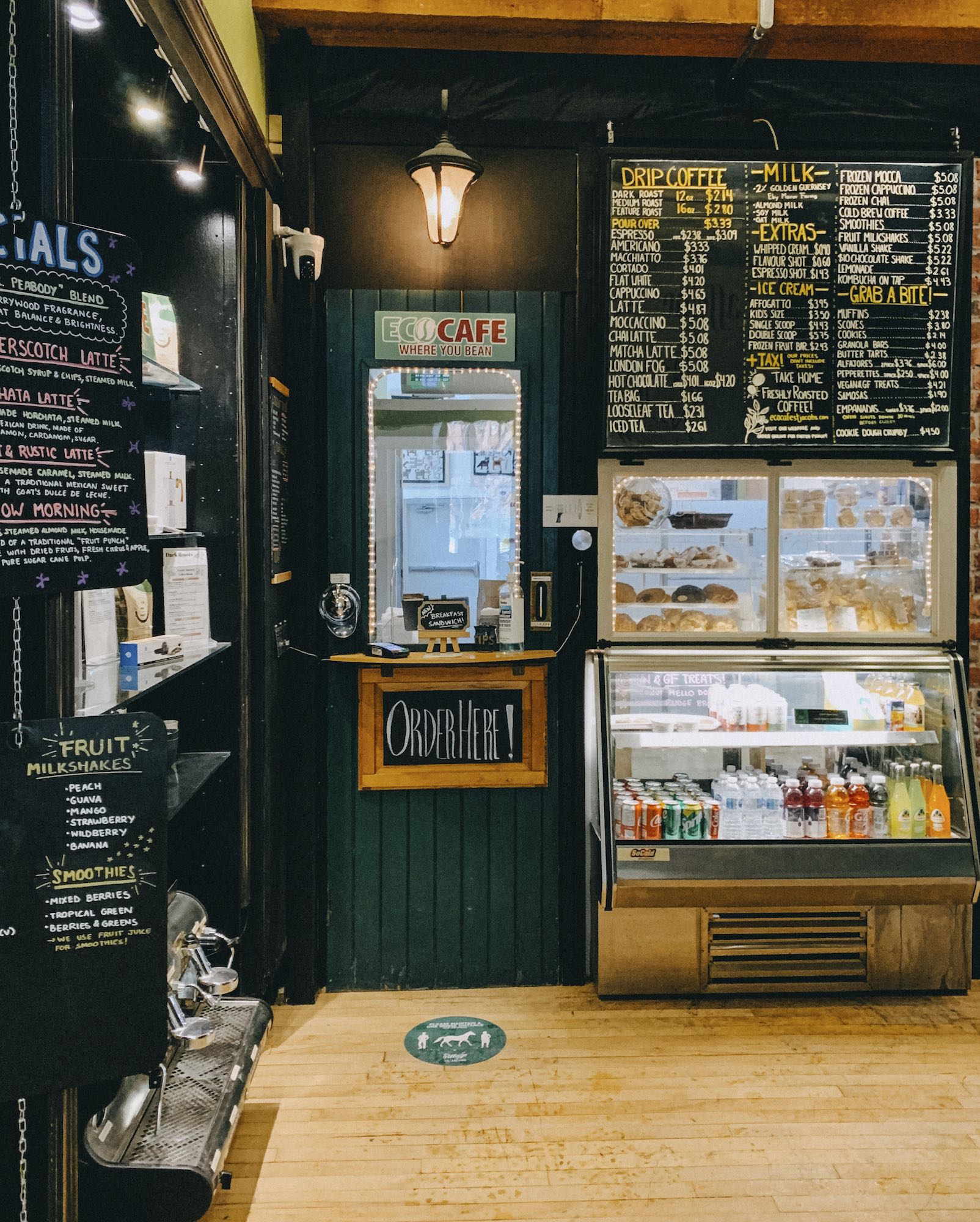 At first it felt like we didn't have the methodology. We take an order, print a ticket, give it to the customer, they run down to the other end, give the person the ticket and then all of a sudden we are inundated with papers. We thought, "there's got to be a better way." That's when we implemented the Kitchen Display System and all of a sudden I thought, "this is amazing. This makes so much sense. Why didn't we do this before?" But we never had the need. Now what we've done lately is we're incorporating the Order Ahead system so that's something that's new to us that we just launched.
Tell me a little more about your community. Since you're part of such a small town, how have you been able to collaborate with other businesses in the community throughout the pandemic?
With the changes, we decided to try something on our menu that's easy, accessible and that people want. We started with breakfast sandwiches and then decided to do a collaboration amongst several of us in the community.
Across the street, there's a little pizza company and they're making English muffins for us. They make the fresh dough, we buy the eggs locally and then we have a milk and cheese supply from a local farm. There's also a local organic pork farm and we buy bacon from them. We're adding schnitzel and a couple of the products that they have, but eventually we all collaborated and we put the sandwich together. We make it fresh every morning—it's local, organic and it's produced in a collaborative method. We sell them from 8 AM to 9 AM in the morning and we sell them at cost.
Oh wow! What's the reasoning behind selling the sandwiches at cost?
We decided to forgo any profit on these because within all these things that have happened, who's still out there working? The laborers, the electricians and the plumbers still have to go do their thing. These people typically all live outside of the city and they're heading in to do their work. They come through little villages like this to get there and I said "well, why don't we just give it away to them at cost?" That way they get something that's healthy, fresh and made to order. It's a way to pay it forward. It's not about having them pay $7 for a sandwich. It's about $2.50 to cover costs and they get something fresh. Now they can even order ahead and don't even have to come inside. They can go to the takeout window and we just hand it to them since it's already pre-paid.
So, how does the future look for EcoCafe?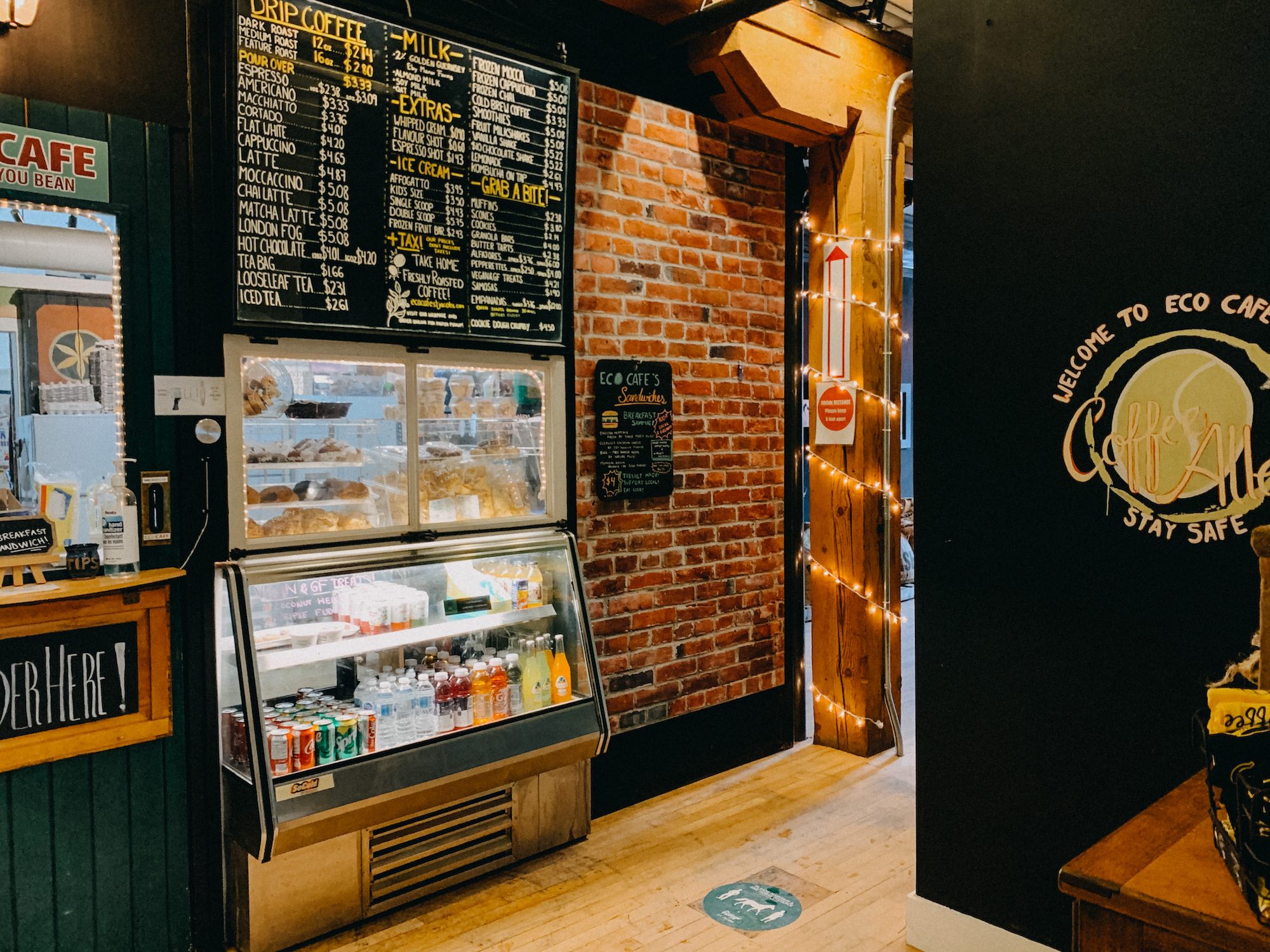 I think that in the future we have an opportunity to grow the roasting side of the business. The online sales have proven that we have a viable opportunity to grow, so I may consider reopening or expanding that side of the business. We would need bigger infrastructure, bigger machinery, maybe a separate location and having basically a back-end warehouse again. I've always wanted to have more EcoCafes, but that's one of those things that might be difficult since I'm in my mid-50s, I have a 10-year-old, I have a family, I live in a small community and I'm the chair of the business association—I just don't have the energy to create a franchise model. It's something that I've always wanted to do and maybe under a partnership with someone I would consider that. It's still in the back of my mind and if I find the right partner, maybe we could do something of that nature.
I have a proven model that most don't. I have an advantage that shows that, not only did we do this, we did it in the middle of a pandemic and we've excelled at it. A franchise would be the big dream.
What do you think lies ahead for the future of hospitality and how can restaurants adapt to meet the new era of dining head on?
That's a tough call. I think that, particularly in the restaurant or hospitality industry, we're going to see a boom in two years. I think once we find a way towards the end of the pandemic, you're going to see a giant upswing in hospitality. It's going to be the new guard.
The old guard were the ones that fell by the wayside and I believe you're going to see there's a bunch of 20 year olds that are out there saying, "wait a minute, it's there for the taking." They have new ideas, new concepts, new ways of looking at things, new technologies and they're going to go after it and go after it hard. It's going to be like the Roaring Twenties again.
Restaurateurs are going to have to engage with that new mindset. If people are willing to change the way they do things and if they're willing to evolve and look at things in a new way, I think they'll succeed. I also think that people that have been in these businesses for so long have become complacent. This pandemic was the one thing that exposed all of the festering wounds that were beneath the surface.
The business owners that were raring to go or had the energy to change can succeed and we're proof of that. If you want to succeed, you can. You just have to open your mind to change.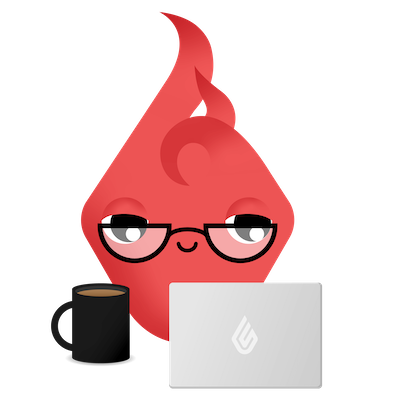 News you care about. Tips you can use.
Everything your business needs to grow, delivered straight to your inbox.