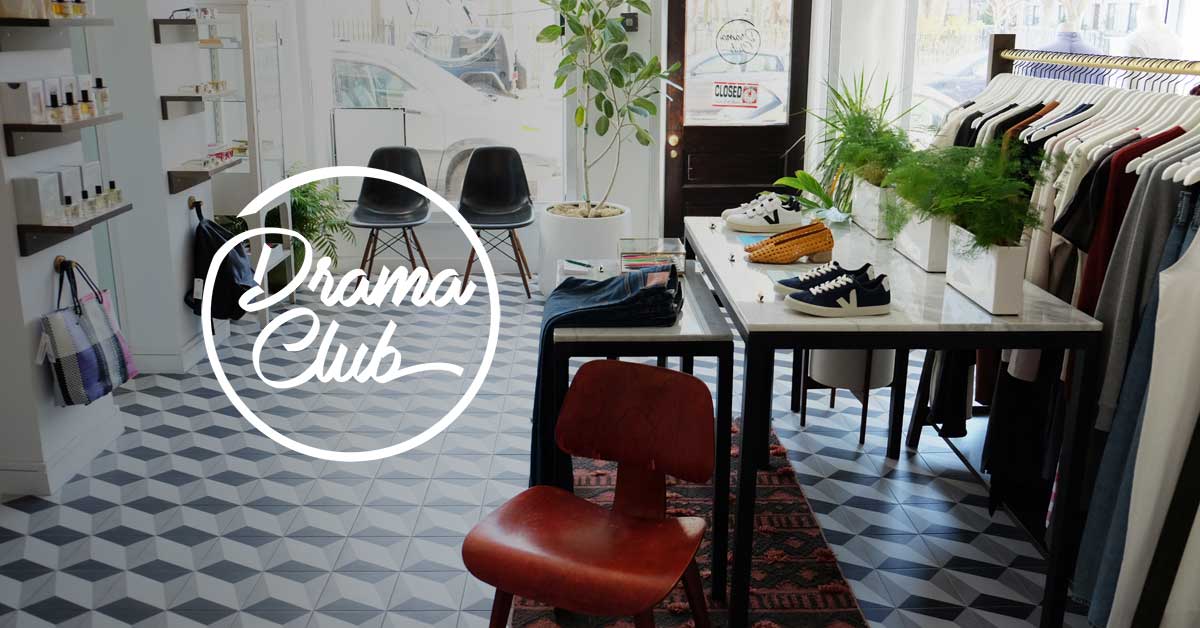 Drama Club's clean, white walls and overhead dome lights set the stage for a curated selection of men's and women's clothing, accessories, gifts and home goods.
Situated between live music venues and galleries in the hip Greenpoint neighborhood in Brooklyn, NY, Drama Club is a general store for the local cosmopolitan, as their website states. Their street level shop windows frame neatly organized racks, beautiful bottles of fragrance and carefully chosen pairs of footwear. Behind a trendy neon sign hanging from the door, owner Jack Sachs' retail experience as well as his career in acting and filmmaking is front and center.

With over a decade at Barneys New York, OAK and Bird, Sachs decided to open his own shop doors in the beginning of 2017. Drama Club is a nod to the exclusive, luxury retail of his past while also creating a space welcoming to anyone looking for a new, unique experience.
We caught up with Sachs to learn about his financing experience with Lightspeed Capital powered by Stripe, why he chose his POS before he'd even decided on the shop's decor and his passion for storytelling through the products he sells.
Can you tell me about Drama Club and why you decided to open this shop?
I spent the better part of my younger years working for other people in their stores here in New York City, and over time, that career became that I was running other people's stores. My specific resumé has been Director of Retail Operations for a New York independent multibrand fashion retailer. My background was in operations, sales and staffing—all to service both product and customer. I loved that very much and felt that there was a way to take that skillset, feature the product and tell what stories are most compelling to me in a small scale environment.
It's been about five years now since we opened up a small brick-and-mortar neighborhood-style shop that's intended to showcase some of our favorite brands from around the world. The bulk of the business is done in-store but the website is an essential part of that business—not only for the growth potential we see but also because in the past 10 years, customer habits have changed.
We knew that the integration between brick-and-mortar and eCommerce was essential even for our local customers. I meet people all the time who are only a block away and they shop online before they come in the store, so my goal was to create a webshop experience that matches our unique in-store experience to service product and customer alike.
You moved to New York in 2005 as an actor and a filmmaker. How has this influenced your retail career and/or visa versa?
I think that any experience you have before working in retail that primes you to appreciate a customer presentation and service of the story you're telling will only make you better. I can make analogies between audience and customer that don't take much imagination, but the same goes if you've worked in a restaurant or done anything customer facing.
The business of presenting a product to a discerning customer is the same business of telling stories—of connecting with people and doing so in a compelling fashion. If you can't make it compelling and don't love the business of telling good stories, then I wouldn't recommend retail. If you love people and things and care deeply for communicating the truth of goods and services, I can't think of a better place to be, especially with everything that's been happening with the global COVID-19 pandemic.
Last spring, a lot of the retail businesses had been deemed nonessential and I don't necessarily disagree with that, but when I see people come back into the store and see how thoughtfully they select their products with so much joy, it's a testament to their endurance. I think that there's something incredibly validating in the business of consumer goods, and especially for us, where we care profoundly about the quality of design, the integrity of production time and the things we carry.
You adopted Lightspeed Retail and eCom in 2016—the year before you opened Drama Club. Why did you make the decision so early on?
My background is in retail operations and one of the main responsibilities I'd had was to overview our point of sale software and its eCom integration. I wanted my store to have a point of sale system that was fully and competently integrated to the work we do. I know that as much as a system can be a benefit when it works, it can also be a major detriment when it doesn't. So almost before I picked out the floor and the lamps, I picked out our point of sale software—Lightspeed was a primary initial partner.
I've had experience working with everybody from Shopify and Teamwork Commerce to Retail Pro, eCom components, Magento and Square's attempt to do that. I knew I wanted something that was powerful but my budget was not for something fully custom. Lightspeed's foundation to be a point of sale that is in the same breath connected seamlessly to eCom, I knew it would be an essential efficiency machine for our scale of business.
Why did you decide to commit to Lightspeed?
When I had the opportunity to do something for myself, I knew I wanted it to work from day one. That's why I needed something that was effectively an all-in-one solution. We're not talking about plugins, we're not talking about migrating and integrations because we all know that eCom integrations are cute and clever, but eventually if it's not offered by the same creator, one side might be sunsetted without much fanfare and suddenly the retailer who spent all this time and money building internal systems around technology is left holding the bag. So I wanted somebody who was going to be able to go to bat for themselves.
This brings us to Lightspeed Capital. You're now financing through the same technology partner that powers your business. What was the process in deciding to go with Lightspeed rather than approaching a traditional financial institution?
As a small but growing independent business, the ways we seek funding is as complicated as it is essential. While it's all well and fine to imagine that you can go to the bank they'll give you money, when you're not of a certain size, they are less likely to do so.
So in the past, we'd looked into and worked with some alternate lending, which can have poor integrations, lack of sympathy and outrageous rates but does promise cash fast. They may deliver on that in a lecherous and, I should say, usurious way.
When I came to understand that Lightspeed was beginning to work in this growing arena of payment processing and supported funding, it seemed worth exploring. The amount of capital available seemed fair and fine and the overall cost of that also seemed a fathomable investment.

What do you see as the biggest benefit of trusting Lightspeed for financing?
There was some anxiety about connecting the funding repayment to a fixed percentage of our naturally variable daily sales- how would this affect cash flow versus a flat weekly payment like some others offer?
I actually had the fortune of having a friend who is investigating for a big bank whether they should provide this because they are a payment processor. I worked through it with him and, ultimately, I saw that the ability to have my repayment connected proportionately to my sales allows my better week's performance to benefit the cost of the product overall in terms of its relative APR (annual percentage rate). So I learned through some modeling that I can have a package that gives me the cash that I need and that I repay it in a way that will be better the better I did. I'm incentivized to spend wisely and to make the sales that repay the product in order to remain in good business with you all.
The best money is always free money. However, I found the funding and structure were painless and the repayment structure was quick. That takes away some of the stress and subterfuge of other people's processes. I would recommend it to someone who saw sufficient ability to make use of the funds, because there's not a simpler, safer way to get quick capital.
I know you had to shut your doors for a temporary period of time within the past year. How has this time been for you and your business?
The time we were closed was interesting. I did try to take the opportunity to find what's working best and emphasize that.
We certainly took time to make sure that the website best reflected the in-store experience, not that it's a separate thing, not that it's a limitation, but that it is as much a whole recreation and reflection of what we emphasize so much in our brick-and-mortar experience.
That positioning is something that I need to hold on to. We never looked at the website as secondary but maybe as more adjacent than a simultaneous spotlight. To have a nice website isn't the same as to be able to afford an exorbitant marketing budget that allows you to play in the same incredibly competitive game of online shopping, so independent of our marketing aims, my goal is still to make the site the best it can be for those who click on it.
Trusting one provider to grow your business
Coming from his years of retail experience, Sachs knew he wanted a one-stop commerce platform with a central point of contact. From running his brick-and-mortar and selling online to financing his business, he found everything he needed in Lightspeed.
As a user of Lightspeed Payments, Sachs was able to access cash flow with fewer barriers than traditional financial institutions. The approval process is quick, the repayment plan is flexible and reporting is directly built into the platform—no need to leave the POS. Sachs can invest more back into his business as the world of commerce continues to reopen.
Are you ready to grow your business with Lightspeed's one-stop commerce platform? Talk to one of our experts to see how you can get started.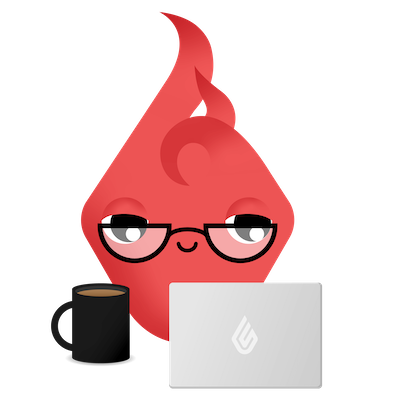 News you care about. Tips you can use.
Everything your business needs to grow, delivered straight to your inbox.