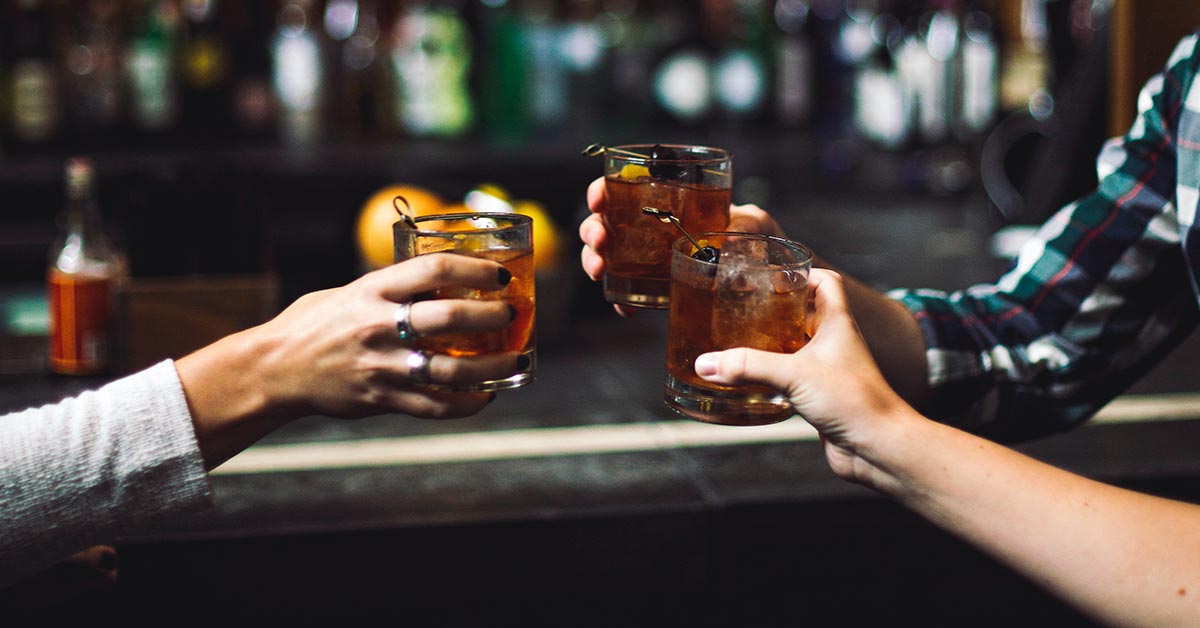 Drinksgiving. Drunksgiving. Blackout Wednesday. Thanksgiving Eve. Whatever you call it, the night before Thanksgiving in the US has become a time for celebration before turkey, stuffing and pumpkin pie. As college kids and hometown heroes return to their family homes in the days leading up to Thanksgiving, people of all ages flock to their local watering hole for a drink (or three) with friends to reminisce about the good ole days.
For bars and restaurants, this night has the potential to be as big as St. Patrick's Day or Super Bowl Sunday. The informal holiday got its nickname "Drinksgiving" from the uptick in bar patrons joining together after months—or years—to indulge in their drink of choice before celebrating Thanksgiving. With practically everyone having Thanksgiving Day off work and no reason to wake up before football, it's clear why this night has become a cultural phenomenon.
As with all things in the restaurant industry, Drinksgiving 2020 is going to be a lot different than in years past. But just because COVID is preventing guests from packing into your bar in droves this year, that doesn't mean you can't offer them options for socially-distanced reunions with family and friends. To help you prepare for Thanksgiving Eve, we tapped into data from over 10,000 bars and restaurants to see just how much these customers are drinking—and what they're ordering—on the night before Thanksgiving. This data can help restaurants make the decision to increase inventory, plan promotions, assess staffing needs, and maybe hire some security in preparation for one of the biggest drinking nights of the year.
The Restaurateur's Guide to Food Delivery Service
Open up new sales channels and future-proof your restaurant with our comprehensive guide.
Thanksgiving Eve Statistics
Even though there won't be any packed houses this year for Drinksgiving due to COVID, an increased number of guests will still be looking for in-house and to-go options for food and drinks. Looking at the trends from the past couple of years can help you see what guests were craving in the past so you can be best prepared for whatever this year brings.
Most popular Thanksgiving Eve drinks: Shots! Shots! Shots!
In 2019 there was a 173% increase in shots sales on Thanksgiving Eve compared to the Wednesday prior. We can't expect the same for this year because of the lower in-house crowds, but you can still give the people what they want by offering in-house and to-go cocktails featuring the most-ordered types of alcohol below.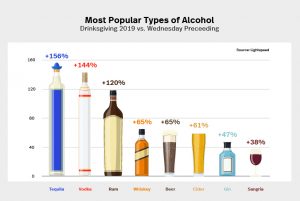 Thanksgiving Eve sales statistics: western states need to catch up
When we compare 2019 Thanksgiving Eve sales to the Wednesday the week before, sales increased across the board by 31% on average, up from a 23% week over week increase for the same time period in 2018, and the total number of tickets increased on average by 32%.
Our biggest eaters and drinkers in 2019 were from the Midwest, Northeast and South with our friends in the West bringing down the team average.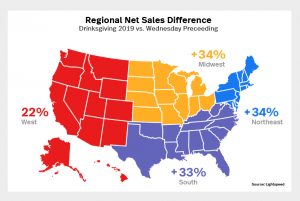 Thanksgiving Eve online ordering statistics: pickup or delivery?
When it came to to-go orders in 2019, there was actually a slight decrease in delivery orders despite a 43% increase in online orders for takeout. Perhaps guests were running out to pick up some last-minute groceries and decided to save a few bucks on delivery fees? However, since more people are inclined to order their groceries online and avoid crowded grocery stores, it's smart to have your delivery drivers on hand this year.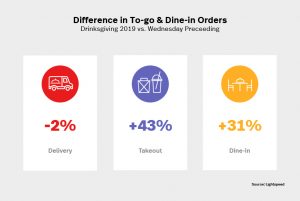 Online ordering menu trends: comfort food is back
When we pulled online ordering data for 2020 we found that the trends for popular menu items changed drastically from what we saw in 2019. From fine dining to quick service, guests wanted more simple and comforting foods this year, and restaurants had to meet those demands while also simplifying menus and adapting items to retain quality for to-go orders. When building your Thanksgiving Eve online ordering menu, keep it simple and straightforward.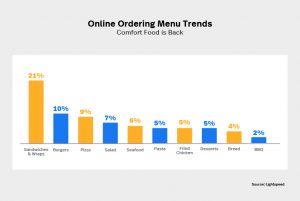 Best practices for a safe and socially distanced Thanksgiving Eve
While online ordering and to-go is the name of the game for 2020, many bars and restaurants will still be welcoming in-house guests at limited capacity and/or for outdoor seating. We spoke to three brewery and bar operators who have managed to increase their 2020 sales compared to 2019 despite the restrictions and asked them for their tips on thriving during a pandemic.
To keep sales up after pandemic restrictions went into effect, the team at Eavesdrop Brewing ramped up their marketing and branding efforts first. In addition to their social media manager increasing their postings to three times a day, they also made sure that the 60,000-70,000 cars that drive by the brewery daily were well aware that they were open. "We improved our signage in the front and made the brewery's logo a lot bigger so people would notice it," says Sam Madden, Eavesdrop's General Manager.
Once they were allowed to open at 50% capacity, the Eavesdrop team utilized their large outdoor space to open up for in-house service and brought in guests with socially distanced events like trivia and rooftop yoga. However, once they reopened, they were selling out of beer faster than they could make it. Since reopening for in-house dining, they have decided to stop all to-go orders and only focus on in-house guests. "It definitely sucks when people are asking. It kind of tears my heart out when I have to say no, but it is what it is," says Madden. "We have to keep everything on-site or we would just run out of beer completely." This has created somewhat of a "good problem" for the Eavesdrop team; as they get ready to winterize their outdoor space and adjust for the colder weather, they are also shopping around for a new brewhouse to keep up with the demand.
At the start of the pandemic, many businesses were pushing gift card sales as a means of bringing in some cash to stay afloat while they had to slow operations or shut down completely. As many restaurateurs know, only 80% of gift cards are redeemed on average, so 20% of gift card sales are pure profit. While pushing gift card sales has dwindled for many restaurants that are now open in some capacity, Brickyard Hollow has found a way to utilize them to bring in new customers and give back to the community. They sell their gift cards to charity organizations at a discount, then the organization re-sells them at a profit to raise funds. "We're not really having community nights anymore, so we're selling gift cards to these organizations at 20 percent off. Gift card sales to help bring cash in, help their organization, and it's free marketing too," says Brian Medeiros, Brickyard Hollow's Operations Manager.
Looking ahead to the cold Maine winter, Medeiros has invested in a large outdoor tent and heating system to keep in-house guests coming back throughout the winter months. "It was a big capital investment," he says, "but the way I look at it is that you really can't afford not to have it."
While many businesses have made the bulk of their COVID revenue from to-go orders, The Night Owl expanded their outdoor patio and added some food items to their menu, which allowed them to thrive with in-house sales averaging 150% more than their 2019 sales. While this works for summer, Partner Alex Strauss' plan for the cold New York winter is to keep adapting by maintaining socially distanced seating indoors, beefing up their menu offerings to attract more customers and looking to adjust their operating hours if needed.
Strauss credits much of their 2020 success to his staff's dedication and adaptability. Virtually overnight The Night Owl staff pivoted from a team of bartenders to taking on serving, hosting, floor management and other roles needed to implement COVID guidelines. "I could not be more proud of my staff; I have to give all the credit to them. They immediately took on the challenge head-on," he says.
Five Thanksgiving Eve restaurant marketing ideas
Beyond stocking up on beer, rum and tequila, there are a few more ways that you can make this year's pre-Thanksgiving celebrations the best yet.
Plan a take-out promotion.

Thanksgiving Eve is already huge for to-go food orders since everyone's ovens are preoccupied with pies for the next day. With pandemic restrictions and people going out less, it will likely be the bulk of your Drinksgiving sales this year.

Run a social media giveaway.

Step up your

restaurant social media strategy

and get a few extra customers in your bar on Drinksgiving with a contest on Instagram. Besides general advertising and brand awareness on the social media platform, running a giveaway can help customers engage with your brand. Offer a gift card that's good for the night of Thanksgiving Eve or a BOGO drink ticket to customers that participate in the giveaway.

Target college alumni groups.

Thanksgiving Eve is huge for reunions. Partnering with a local college's alumni group has the potential to make your bar the go-to spot for those who attended their hometown college. Making this connection with local institutions and showing them that your bar is a good time will make them want to come back every year.

Offer discounts on appetizers.

While your customers are enjoying your delicious cocktails, it's important that they remember to eat. Soaking up the booze is key to a hangover-less Thanksgiving, so offering appetizer discounts with the purchase of an adult beverage is a great way to keep your customers happy while they're sipping on their favorite brew. This will also help to-go sales if your state is one that requires a food item to be sold with all to-alcohol orders.

Offer a holiday discount on bottles, cans and growlers.

If you're a bar or brewery that offers to-go drinks, do a special BOGO offer for the holiday so your customers have something fun to wash down all that turkey.
Three ways to prepare for Drinksgiving
Once you have your promotions planned and posted for Thanksgiving Eve, it's time to focus on how to make the night go as smoothly as possible. Besides stocking up on inventory for the night and making sure your restaurant staff is ready for the influx of orders, there are a few more things to prepare for.
Stock up on plastic cups and to-go containers.

Make sure you have enough to-go containers on hand for both food and beverages to meet the higher Thanksgiving Eve demand. While it may not be as pretty, it's also a good idea to serve in-house drinks in plasticware at your bar to prevent the spread of germs and reduce the amount of work for your bar staff.

Schedule extra front of house staff for the night.

Whether you think you'll need bouncers or just an extra floor manager on staff, and extra person in the FOH to help maintain social distancing and ensure no one is being over-served will help the night run smoothly.

Make sure every guest has a designated driver. Although most people have rideshare apps like Uber or Lyft on their phones, it won't hurt to have a backup plan for those who are too drunk to get behind the wheel. You can also check with rideshares to see if they will create a custom discount code that you can display in your bar.
---
Lookback: 2019 Thanksgiving Eve drinking statistics
Restaurants and bars saw a 23% increase in guest count on Drinksgiving 2019 when compared to the previous Wednesday in November 2018. When comparing 2018 to 2017, more people were drinking beer, wine and liquor in restaurants on Thanksgiving Eve, suggesting that the night is only rising in popularity.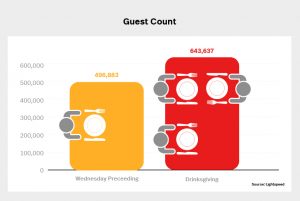 More people = more money. Bars and restaurants also saw a 23% increase in sales and a 25% increase in tickets on Thanksgiving Eve when compared to the previous Wednesday.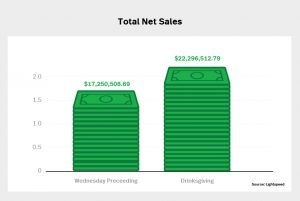 Despite the dramatic increase in sales and guests, these bars didn't slow down: Average table turn time went up 3%.
Across over 10,000 restaurants, beer, liquor and wine stand out as the drinks of choice on Drinksgiving. Year over year, beer was the highest performing menu item for bars, with liquor and wine neck and neck for the second spot. Despite wine's popularity on Thanksgiving Eve, it was lower-performing compared to the previous week.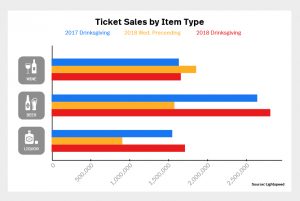 Although alcohol gets all of the attention on Thanksgiving Eve, there's still an opportunity for restaurants and bars to capitalize on the day for those who don't feel like cooking. With plenty of turkey, potatoes, veggies and pie to cook (and eat) on Thanksgiving Day, it's no surprise that more people opt for takeout on Drinksgiving. When compared to the previous Wednesday in 2018, restaurants saw a 20% increase in to-go orders.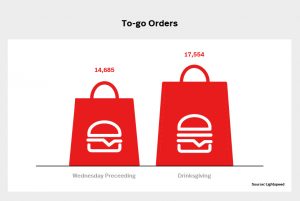 Regional Thanksgiving Eve drinking statistics
Across the country, Thanksgiving Eve means more to some regions compared to others. The Midwest and South love their Thanksgiving Eve reunions with 34% and 31% increases compared to the previous Wednesday in 2018, with the Northeast and West trailing behind at 27% and 23% increases.
Looking for a technology partner to help get you through the busy holiday season? Chat with one of our experts to learn more about Lightspeed's one-stop restaurant management system.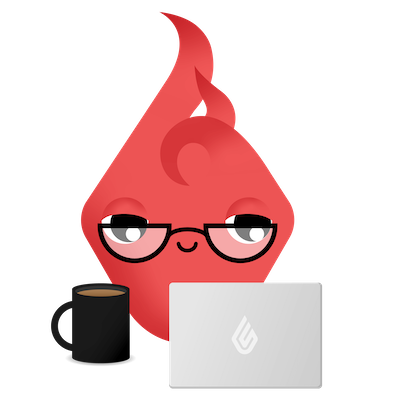 News you care about. Tips you can use.
Everything your business needs to grow, delivered straight to your inbox.