Restaurant
Interview With Zoya de Frias on Sharing her Love for African Gastronomy with the Community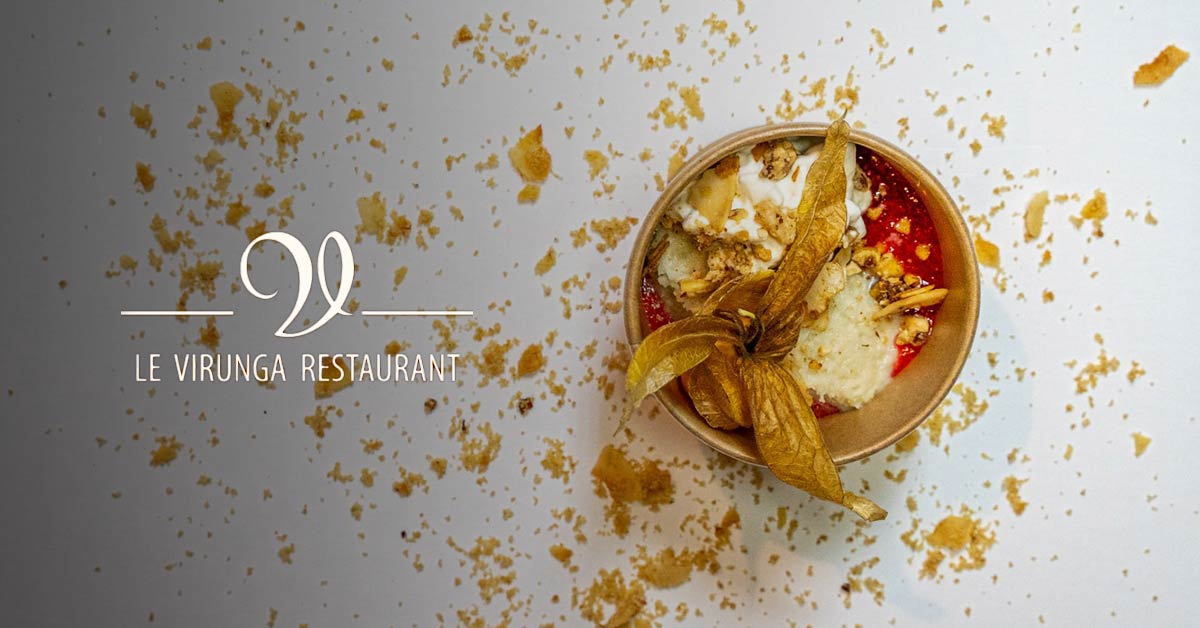 When Zoya de Frias and her mother Maria-José opened Le Virunga four years ago, they wanted guests to feel as though the culinary experience and unique tastes transported them to sub-Saharan Africa.
Named after the Virunga National Park located in the Democratic Republic of the Congo, this Montreal restaurant is a marriage of African gastronomy and products local to Quebec. Home to a vast mountain range on the border of Uganda and Rwanda, its highest peak can be climbed from both countries.
The expansive national park was the perfect namesake for Le Virunga restaurant, a sub-Saharan concept born from a desire to blend inspiration and ingredients from various countries. At Le Virunga, you'll find a Guinea fowl bobotie (meatloaf) from La Rose Des Vents farm in Quebec with Cape Town flavors. By honoring the philosophy of using local products, Le Virunga has curated an unmatched experience that takes you from Montreal to Africa and back in one dinner.
We caught up with Zoya de Frias to find out how she emulates this cross-country adventure in one bite, what it was like to introduce a new cuisine to the community and how she adapted her restaurant during a global pandemic.
(This interview has been edited and condensed for clarity).
Reinvent your business for short and long-term success
While the hospitality sector reopens across North America, owners and operators face a whole new set of challenges. Download our free playbook and learn how to build a more resilient business post-pandemic.
You've just celebrated your four year anniversary. What inspired you and your mother to open Le Virunga?
We really wanted to bring people together and help people discover African gastronomy. What we offer isn't the traditional cuisine—it's modernized and revisited. We blend different cultures within the sub-Saharan part of the continent so you might find side dishes from one country served with a protein that's traditionally served in another. It's a blend of inspirations with our own twist.
It's a mix that encourages exchange and discovery. In the same dish, you're served something you may be comfortable with, like a poutine, but also get the opportunity to discover something entirely new at the same time.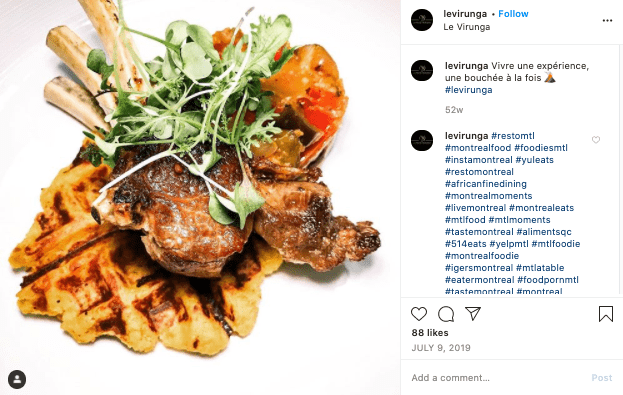 We love blending recipes together and are embracing the African culinary philosophy of using locally sourced ingredients. If we were based in the Republic of Congo or in Kenya, I'd be using products native to that region; since we're based in Montreal, it just makes sense for us to use Quebec produce to create dishes inspired by our heritage.
In Montreal, there aren't many African gastronomy restaurants. Was that something you actively sought to change in opening Le Virunga?
We traveled quite a bit on the continent and wanted to bring those flavors to Montreal. At the time, there was a very narrow snapshot of what African diaspora is available to Montreal diners and we wanted to change that. That was our mindset behind opening Le Virunga: to be a platform for people to discover African-inspired cuisine.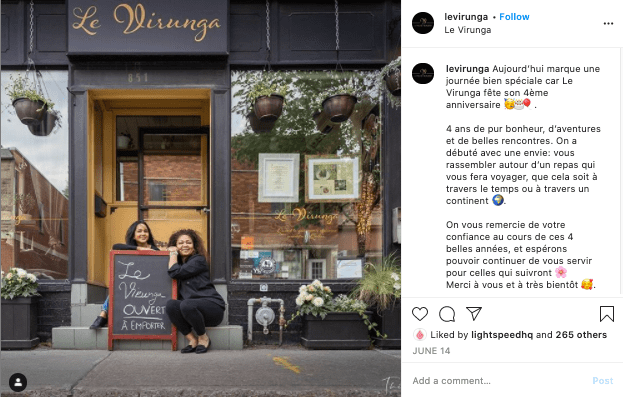 Left to right: Zoya de Frias and her mother, Maria-José
When we started four years ago, our restaurant's concept was not something we saw on the market. We started with basically no community because even the people we were catering towards weren't really sure what we were doing. It was new for them as much as it was for people who didn't know much about African cuisine. So it took a little time to build that following.
We're a family-operated business. My mom and I started very much on our own and I think that, because of the amount of support we got and how quickly we got it, we realized how important our business was.
What was it like introducing new types of cuisine to the Montreal community?
One of the reasons that made us love Quebec is how welcoming and open-minded its people are. This is what made it so fun to operate here.
I've learned so much over the past four years. I've had customers that have traveled to Africa and we've shared our stories and experiences with one another. Even for the customers who are of African descent—because what we do here is a fusion, they might not be familiar with our dishes and their flavor profiles. But it's all about stepping outside your comfort zone and discovering something new.
Since COVID-19, how has your restaurant adapted to the changes that have rippled across the entire food sector?
We didn't do takeout before the pandemic because the whole concept behind Le Virunga was to provide an experience. For us, we felt like we couldn't provide this through takeout, but because of the circumstances and because we had a lot of requests, we decided to jump into it. We find comfort in knowing that we can make our customers happy and it [takeout] helps us reach new ones.
We also started offering a picnic package. We put a special menu together, complete with African print tablecloths and everything you need to enjoy our food and some sunshine in the park.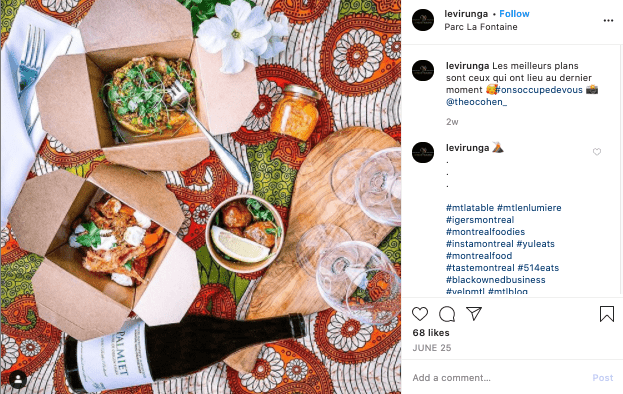 The way people are buying and enjoying food has obviously changed. While it required some adjustments on our part, we're happy to provide comfort to people in multiple formats: from takeout and picnic baskets to our standard table service.
What does preparing and serving food to the community mean to you during these times?
When COVID-19 first hit, we closed our establishment for about two months. Our friends and staff started texting us wanting food, which made us realize that, despite not being physically together, serving the community is our way of showing love.
We're grateful to be able to share a piece of our home with the community and provide them comfort in our own way.
Have you started thinking about reopening your dining room and what that will look like?
We are listening to government recommendations and looking into how things are going to evolve. Because of all the restrictions, we don't want to put our team under stress or risk their safety or that of our customers.
Restaurants are places where the community gathers and right now, we're in a strange grey zone. We don't want to have to police people and ask if they're from the same home. We want to wait until the path forward is concretized and that both our customers and staff can safely enjoy their dining experience. We don't want to rush things to the detriment of the people who are putting their trust in us.
What does this restaurant mean to you?
It's everything. It's a place where you dress up to celebrate a birthday or anniversary. We've seen families growing, we've seen couples grow from dating to getting married and having kids. We're part of these peoples [customers'] histories and memories.
Le Virunga gives us a purpose. It humbles us so much and makes us want to fight even more to keep it alive.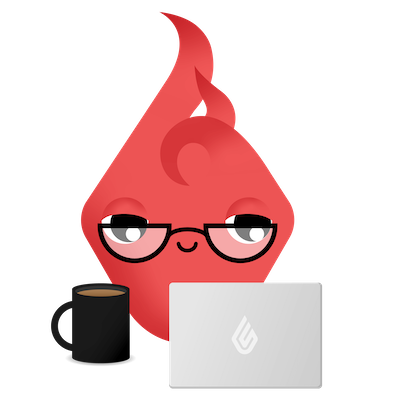 News you care about. Tips you can use.
Everything your business needs to grow, delivered straight to your inbox.