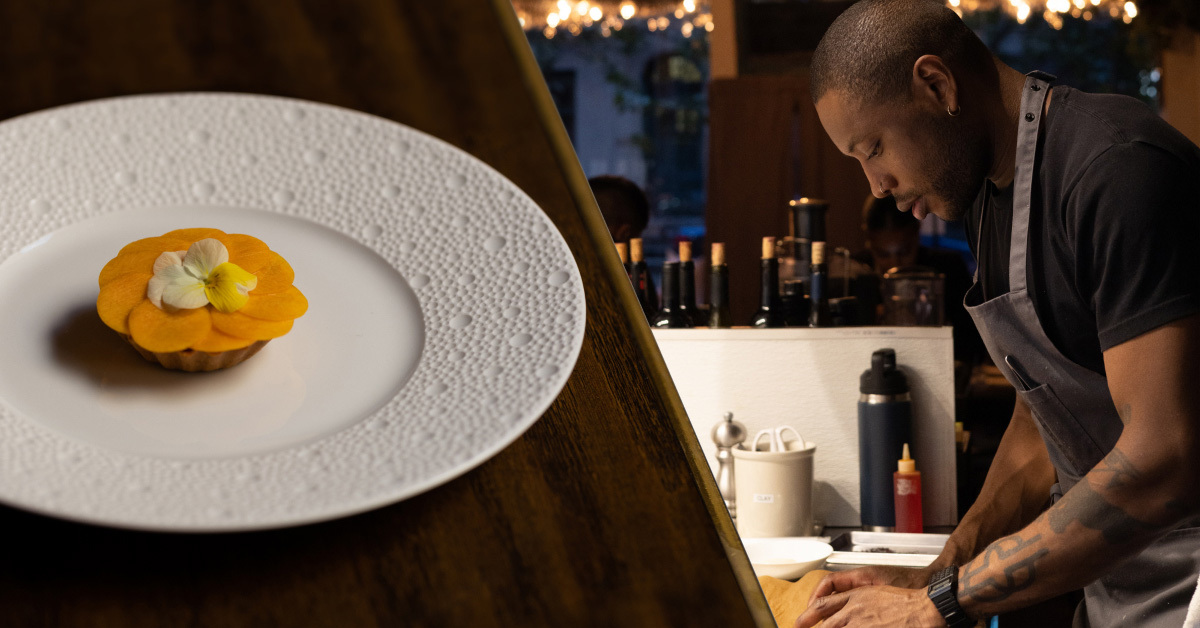 A conversation with the executive chef of Clover Hill
Charlie Mitchell, one of the most promising chefs of his generation, arrives to work in a cozy green hoodie, commuter coffee cup in hand. "I don't need to get into my chef's apron, do I?" he asks almost immediately. Soft-spoken and unpretentious, he seems hesitant to talk about himself—his focus is on his craft and restaurant—but you get the sense that fame is coming for Mitchell, whether he wants it or not.
Mitchell is the co-owner and executive chef of Clover Hill, an intimate fine dining restaurant in Brooklyn that earned its first Michelin star in October. The distinction made Mitchell the first Black chef in New York, and only the second nationwide, to earn a Michelin star. The accolades keep coming. Clover Hill was recently nominated for a James Beard award. Mitchell won the NY 2022 Young Chef Award, also from Michelin. It's a dizzying amount of recognition for a restaurant that has been open for less than a year.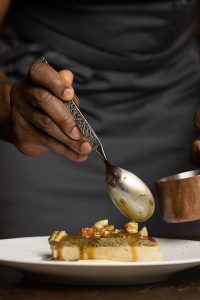 How does Mitchell feel about making culinary history? "Being the first Black chef in New York City to receive a Michelin star obviously means a lot," he says, seated in Clover Hill's artful dining room, surrounded by cascading greenery and vintage artwork against painted brick. Like many rising stars in New York, Mitchell is a transplant, hailing from Detroit. "I wanted to challenge myself to see if I could cut it in a city like this, with some of the best restaurants in the world, some of the best chefs in the world. So to move here with that mindset, and then be able to make a splash in the culinary community, is awesome. And then for me to make a splash like that in my community is priceless."
Clover Hill, an intimate fine-dining establishment with only 34 seats, is nestled on a slope in one of the wealthiest neighborhoods in New York City. Celebrity residents include Matt Damon and Amy Schumer. The seasonal, fixed menu at Clover Hill includes Spanish Octopus and Farro Porridge & Perigord Truffle. Growing up, Mitchell wasn't exposed to this world. He didn't attend culinary school, instead working his way up to legendary kitchens like Eleven Madison Park and Jônt, where he honed his craft.
"I grew up eating Southern food, intertwined with Midwestern meat-and-potatoes kind of food. Once I was around these beautiful, fine-dining kitchens, a lot of these ingredients, I had no idea what they were. Even some things that were very simple, and I should have known what they were, I didn't grow up eating any of that stuff. And then I was obsessed with French and Italian cuisine, and I just had so, so much to learn that I felt like I was really behind."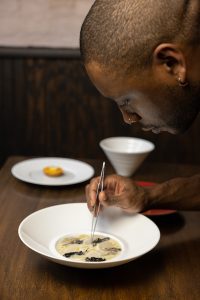 Fine dining is infamous for its lack of diversity. A 2015 survey found that 81% of management positions in fine-dining restaurants were held by white people, and even Mitchell was surprised by how few Black chefs hold Michelin stars. But it's Mitchell's background that instilled in him a love of food and hospitality, and he speaks about it like a superpower. "I would say my background influences my food the most by the way I want people to feel when they eat food. I speak a lot about home-cooked meals, I speak a lot about family, I speak a lot about nostalgia. So that is a big focus of mine, to make people feel some level of warmth and comfort when they're eating the food. Even if we're using luxury ingredients, or we're using imported ingredients from whatever part of the world, I still want to make sure that once it's translated on the plate, you feel like someone just cooked it for you, and you're excited for that. As opposed to trying to be overly whimsical or too interesting with ingredients, I want people to feel very comfortable, not intimidated by the food that's in front of them."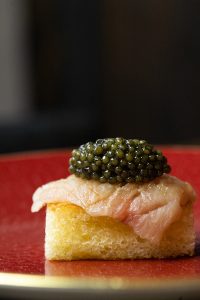 In many ways, Clover Hill is a reflection of Mitchell's values. Dishes are beautiful and flavorful, made from ingredients you can largely pronounce. The ambient music consists of songs you recognize. And the environment is decidedly relaxed. "Good morning, chef," his staff say casually as they enter the warm, beautifully lit restaurant from the plummeting temperatures outside. It's almost 9:30AM and the kitchen is waking up.
"It takes 10, 20 years to be a great chef, you know," says Mitchell, who is 30. He wants chefs to take better care of themselves, to pay attention to their physical and mental health in a taxing industry. "The advice I would give to young chefs is to just take yourself very seriously and take being a professional seriously. Our industry used to have a reputation about chefs and cooks and certain behavior was accepted. So I would say, just keep your head down and work very hard. Keep in mind how you carry yourself and be professional and also be open to learning the business. A lot of times you're taught that you can just cook your way to your own restaurant, but you should be a little bit more well-rounded than that."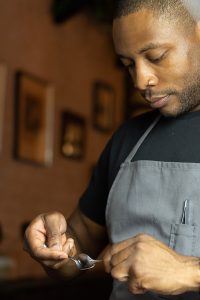 Despite all the recent attention, the focus that got Mitchell to where he is now is unwavering. "I just want to be a chef that people can rely on for a great time for years to come," he says. And making fine dining history as one of the few Black Michelin-starred chefs in the world is just the beginning. "I have chefs reach out to me all the time and I'm very grateful for it and I hope I can continue to be a great example for what we can do in any space."
Photography by Natalie Black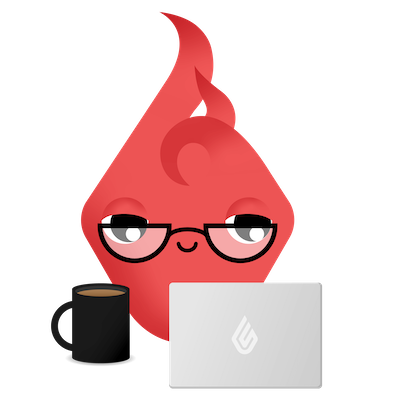 News you care about. Tips you can use.
Everything your business needs to grow, delivered straight to your inbox.