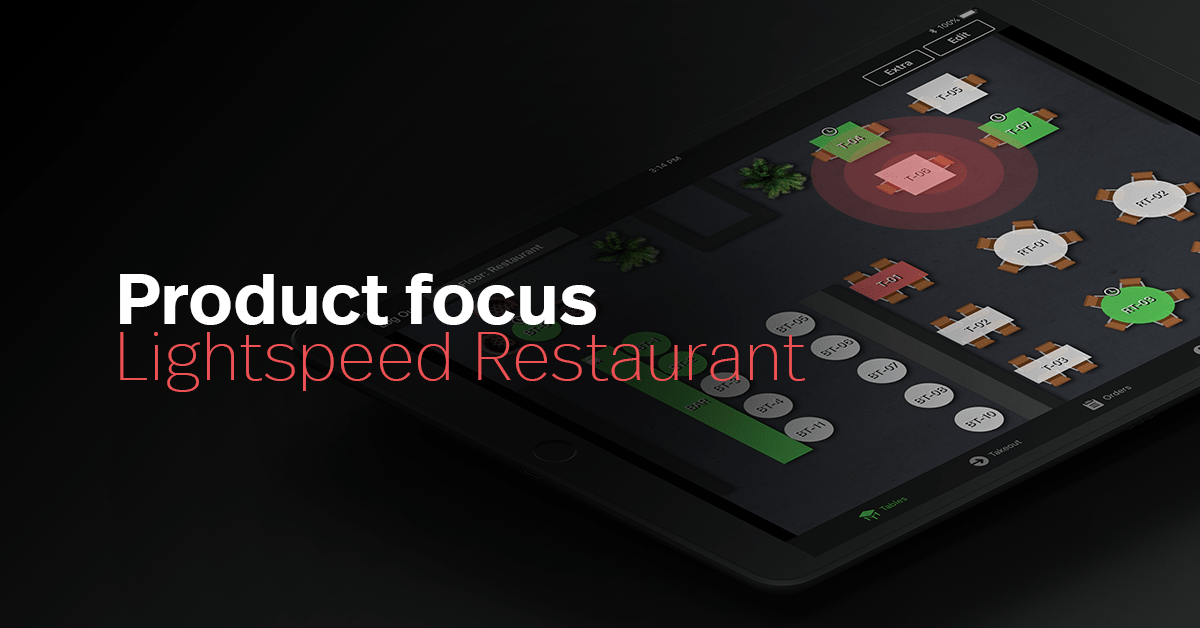 Psst: Don't feel like reading? Watch our Facebook Live tutorial instead!
At the end of the day, your most valuable asset is your loyal customer base. The ones who come in daily to grab their first coffee of the day, or grab takeout on their extra busy lunch hours, or choose your restaurant for celebratory meals and special client dinners. Whatever the reason for their visit, you know exactly who your regulars are and you need to hold on to them.
The way to do that is with a loyalty program that rewards customers for their consistent behavior. The benefit of using an integrated loyalty software is that it's easier to manage because everything you need you can find directly in your POS, plus it gives you instant access to the data you need to make more informed decisions.
These are the 3 ways Lightspeed Loyalty can strengthen your loyalty strategy:
1. Use points and rewards to create habits
Lightspeed has built-in reports that give you better visibility on your customer visit cycles, how you can influence them, and ultimately, how you can increase their frequency.
Lightspeed Loyalty enables you to give customers points for every transaction. These points add up over time and every visit brings them one step closer to unlocking a reward.
How to choose rewards
We recommend a tiered approach to your reward system; a balance of quickly attainable, smaller rewards and more desirable ones as they gain more points. This could be positioned as a VIP bracket.
For example
Many coffee shops offer free coffees or muffins. Free treats are a great way to get customers to try new menu items.
If you want to go the extra mile, instead of giving your customers discounts, start offering them an experience. These Experience Rewards should be categorized as top tier and should cost a significant amount of points to redeem. Use your imagination and come up with rewards that get your community talking.
For example
We had a coffee shop who offered a tour of their roasting facility. The kicker? The two winning customers turned out to be major league baseball players and the whole event generated some press for the shop. It cost them nothing but their time. We're not saying this is guaranteed to happen to you too, but luck is when preparation meets opportunity (or something like that).
How to create a campaign
Open up your Lightspeed Loyalty platform and follow along as we create a campaign, then assign points and rewards to it.
Campaigns then Manage Campaigns
Pay + Earn
Rewards then Manage Point Rewards
Add a Reward
Add Reward Name
Points Redeemed
System IDs or Add Category
Go to Campaigns in your left-hand side menu, then click Manage Campaigns.
Next, turn on the Pay + Earn toggle to assign points to purchases and choose how many points-per-dollar you want your loyal customers to receive.
Now, let's create a reward tier.
Go to Rewards then Manage Point Rewards. In this example, we'd like to offer a free burger in exchange for 20 points.
Let's proceed to Add a Reward, at the top left of the screen. A pop-up window will then appear.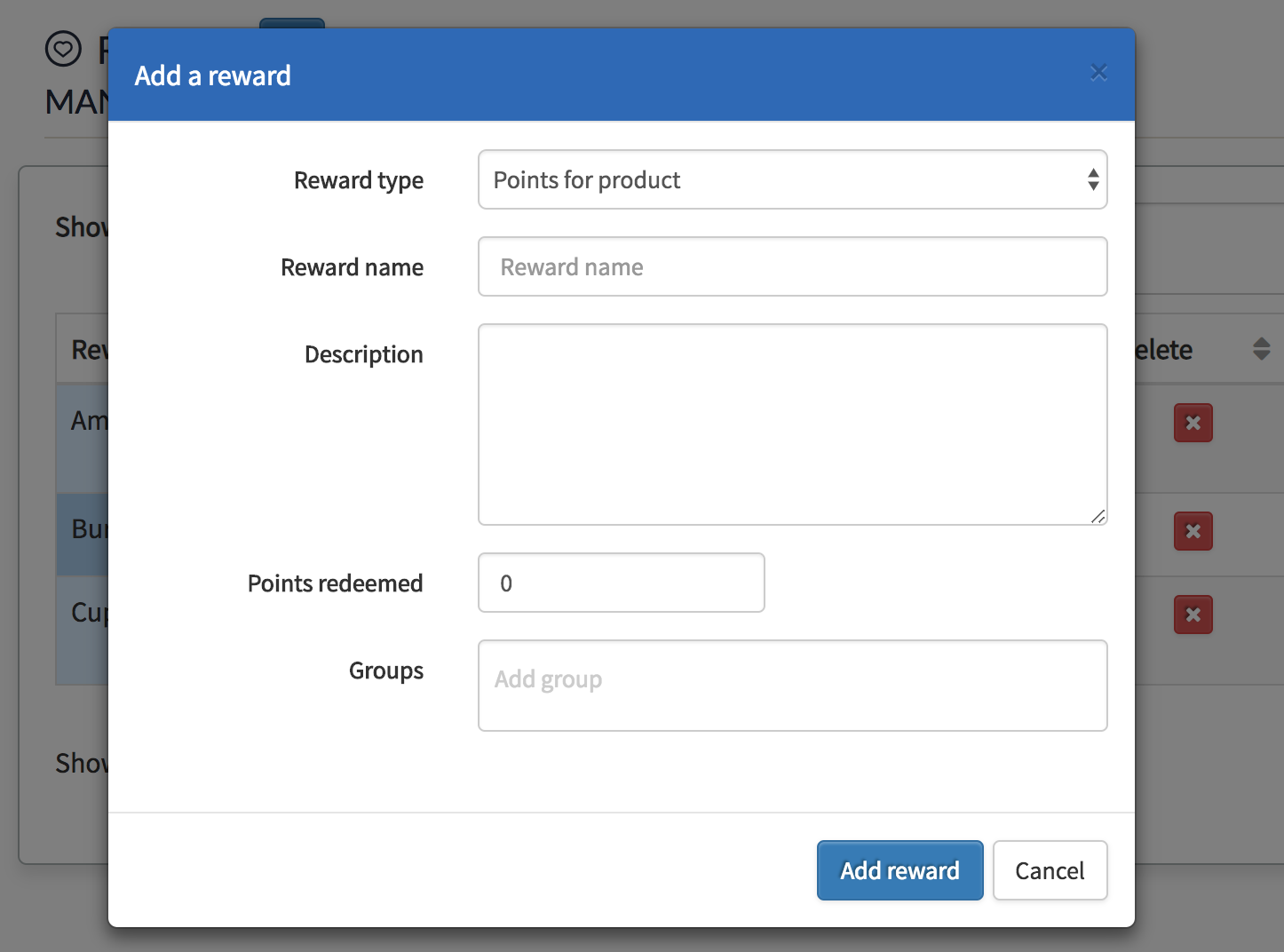 The Reward Type, in this case, is Points per Product. You can also add a discount to an entire transaction.
In the Reward Name field, give a name to the reward you've created, e.g. Burger on us. In the Points Redeemed field, we'll add 20 points, since we've chosen 20 as the number of points needed to redeem this offer.
You can also choose whether or not you want to offer this to everyone in your loyalty program or select specific groups instead. Then, click Add Reward.
In your list of rewards, scroll down until you find your newly added reward (in this case, a free burger). Product IDs allows you to add individual items affected by the reward or you can apply your reward to a whole category, for example, Main Dishes.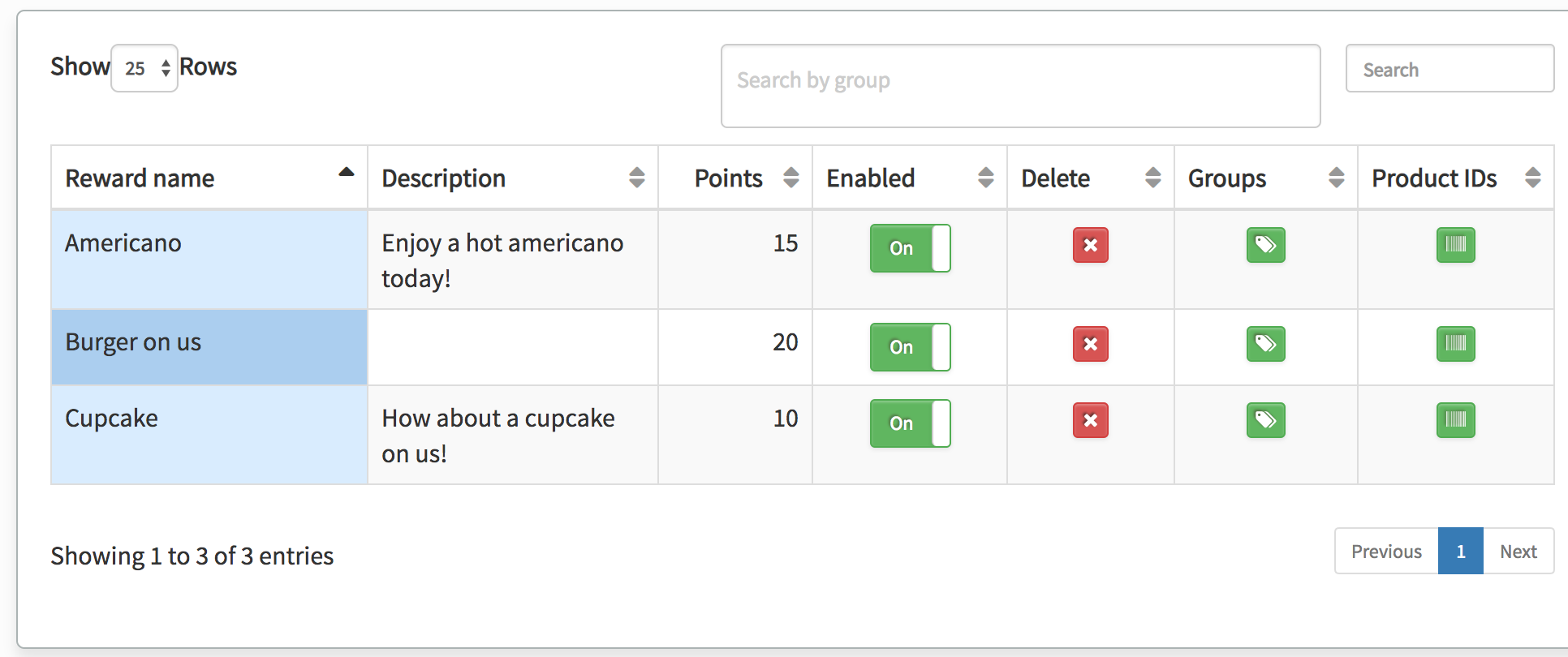 In our example, we're going to click on Add Category.
Select your category, in this case, we only want Meal Trios. We'll put the percentage at 20%, and save.
2. Reach customers directly with SMS messages
SMS messages are ideal for reaching your customers directly.
You can send texts about your promotions, of course, but there are other topics you can use as a reason to reach out, too. Like an upcoming event, or a new/limited time menu item.
Keep it short and catchy
Remember, with great power, comes great responsibility. Our research shows that text messages have a high engagement rate. However, because you're connecting with your customer directly, be mindful not to over-do it. Keep it short, and don't be spammy. Because if you're not strategic about what you send and how often you send it, engagement will drop faster than you can say "new promo" – and that's really hard to build back up.
Send information that will actually interest your customers.
For example
Let your regulars know that your seasonal lobster risotto, a popular dish, is back on the menu.
How to create a mass text
Psst: This tutorial is also featured in that video mentioned above!
Marketing
SMS Marketing
Groups (optional)
Send
Go to the Marketing section of your sidebar menu, then select SMS Marketing followed by Send Marketing SMS.
In this example, we're going to let our customers know about our new brunch menu available. A simple, non-invasive message.
Send your text message to everyone in your loyalty program, or send to preset groups you've put together.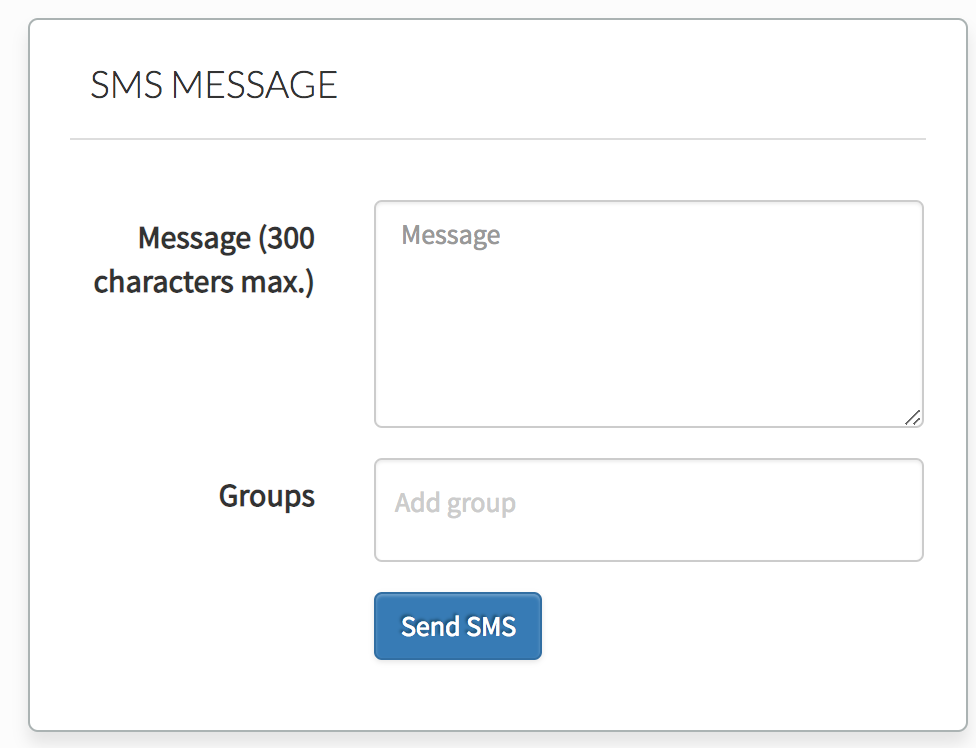 3. Engage with your community through email
Businesses that thrive today are the ones that go the extra mile. When it comes to loyalty, it's about more than making good food, you're building a community, too. So start acting with the mindset of a community hub: engage in fun activities in your city, get involved in charities or causes, and let your customers know about it to encourage them to tag along with you.
We recommend emails over texts for this type of message because you can use images and fonts to best capture the spirit of the event.
How to send a templated email
Psst: You know the drill by now. Hop back into that video tutorial if you don't want to read.
Marketing
Email Marketing
Templated Email
Pick a template
Email Name, Subject, and Send to
Design review
Reward or points (optional)
Send
So! Hop back over to Marketing, then Email Marketing. We could send a Plan Email (start from scratch) or a Templated Email. We've selected Templated Email because this is where the fun is.
In this example, many customers at our fictional cafe love cats, so we've decided to host an event called Cats & Cappuccinos (feel free to steal our idea).
We'll select a Template and in the pop-up window, we'll add the Email Name (Cat Evening). Next, the Subject Line.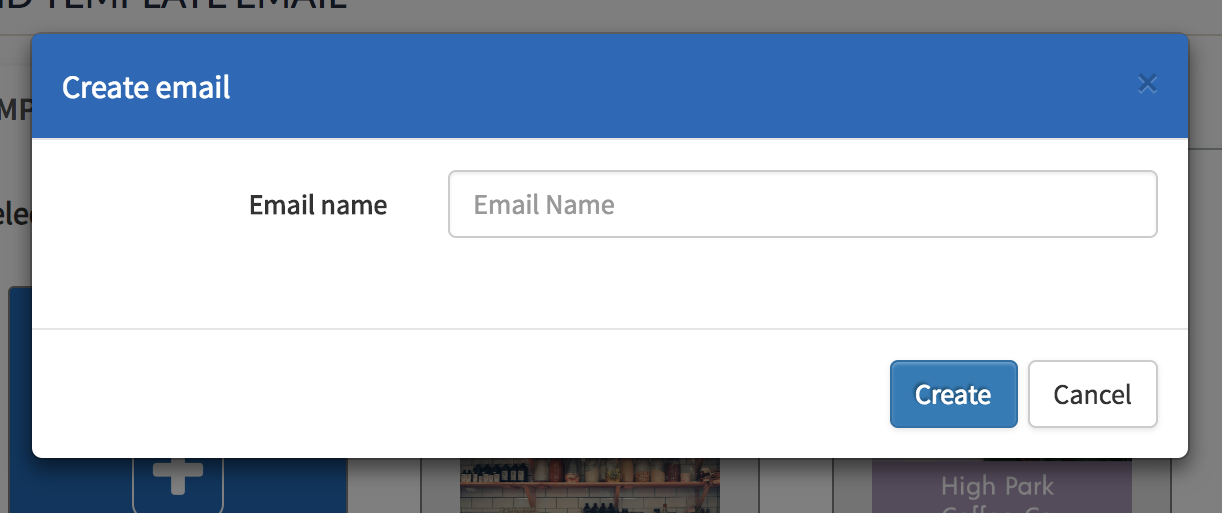 Like the SMS messages, you may Send to everyone or a select group. In this case, we've created our group of cat lovers ahead of time.
You could offer a reward in your email, for example, a one-time reward redeemable at the event only. Or, you can simply choose to inform your customers about your event without added incentive.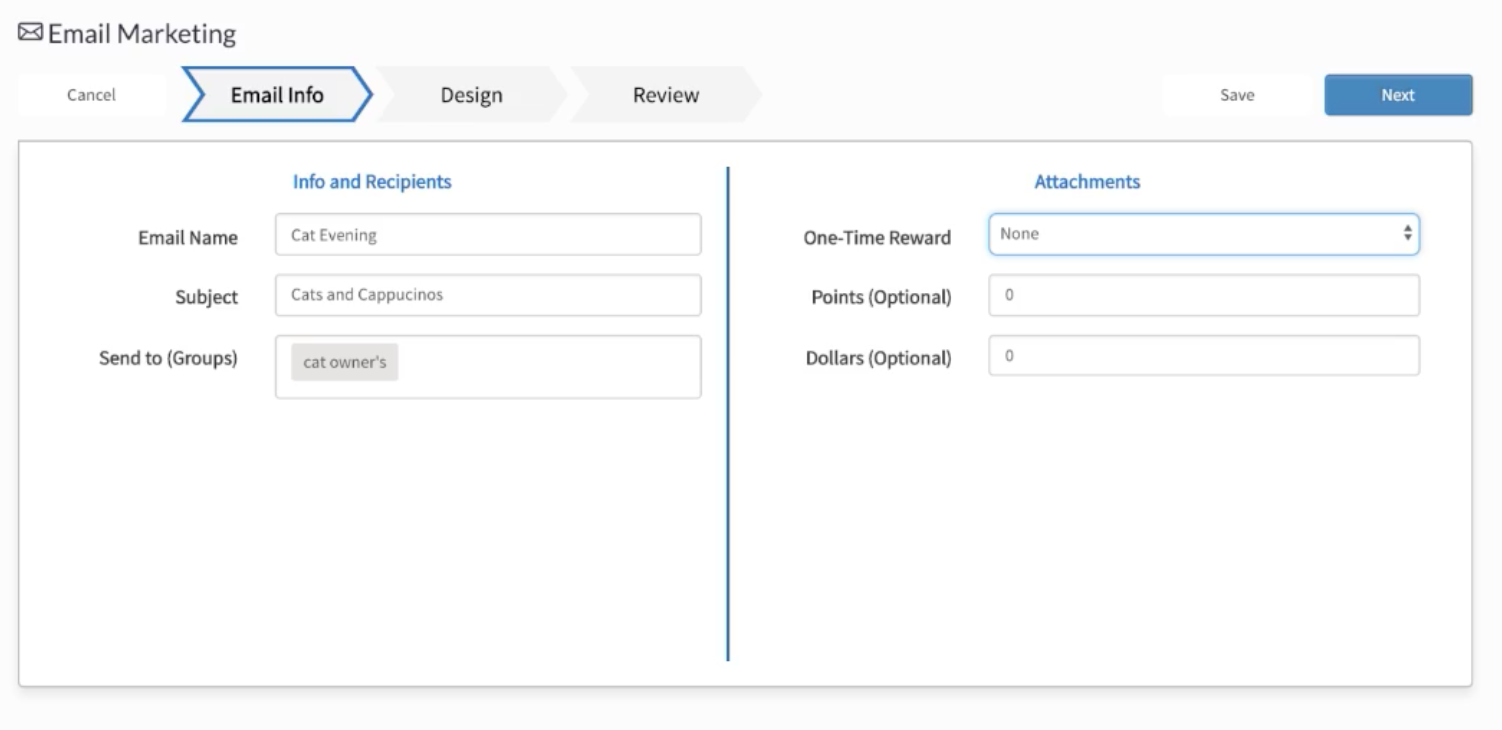 Next, go to the Design tab. It's simple to customize, so in our example, we're going to add an image for our Cats & Cappuccinos event.
Review your email details one last time. Looks good? Now, we're ready to send our email to our cat-loving patrons.
Once you send your email, Lightspeed Loyalty will start tracking those open rates. This is important and you need to monitor them. If open rates are down, keep in mind that this could be because of your subject line, not necessarily for lack of interest in your event.
Our tip?
Run your subject lines on sendcheckit.com before you send your email. They give great tips and tricks on how to improve them (if needed) and on how to avoid getting your emails categorized as spam. (This happens a lot!)
If you missed the link up top, make sure to watch our Facebook Live to see how easy it is to create and track a loyalty campaign with Lightspeed Loyalty.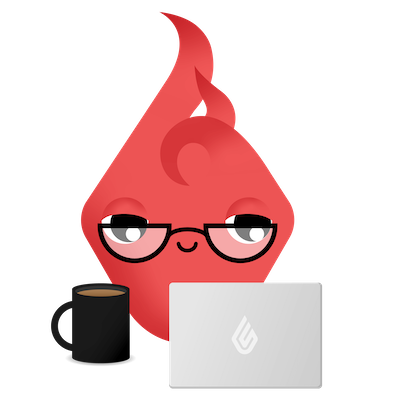 News you care about. Tips you can use.
Everything your business needs to grow, delivered straight to your inbox.