Exclusive Lightspeed Data Shows How Bars and Restaurants can Seize on Thanksgiving Eve Trend 'Drinksgiving' to Drive Major Sales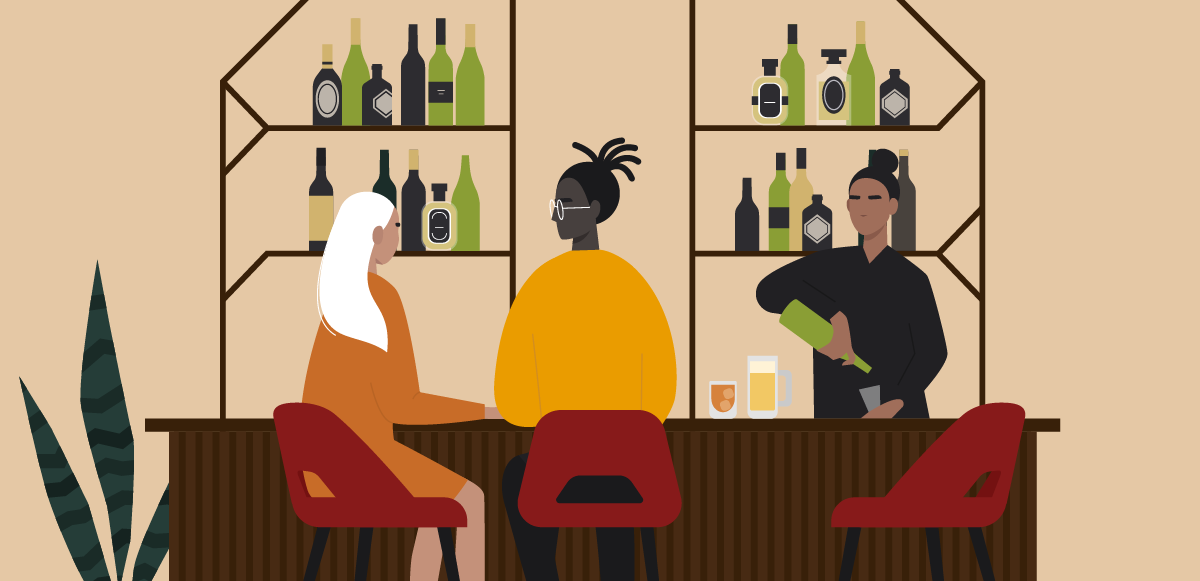 Unique data from Lightspeed's Advanced Insights module, reveals that last year business doubled for bars compared to the previous week; total number of transactions across all restaurant categories grew by 39%
Lightspeed Commerce Inc. published a new report sharing insights on the potential sales boost available to American bars and restaurants who open on Thanksgiving Eve—otherwise known as 'Drinksgiving.' With Advanced Insights built directly into the Lightspeed Restaurant platform, the company is in a prime position to turn everyday data into actionable steps that help restaurants accelerate growth, provide the best customer experiences and become a go-to destination in their space.
The data, which is based on a sample of thousands of restaurants and bars powered by Lightspeed across the U.S., shows that business owners who are keen to increase their competitive edge should stock up on liquor, comfort foods and staffing levels for November 22, 2023 a.k.a. Drinksgiving—one of the biggest nights of the year for bars. Highlights include: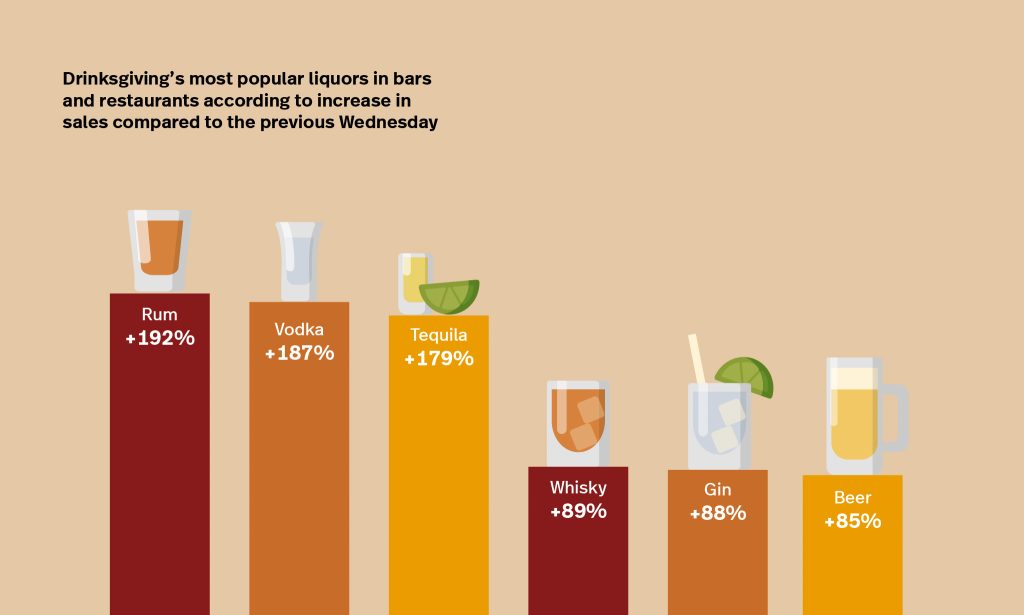 Last year, liquor orders grew by 156% compared to the previous Wednesday. And "beer before wine" is more than an expression—beer sales went up by 85%,cocktail orders surged by 69% and wine saw a small bump at 6%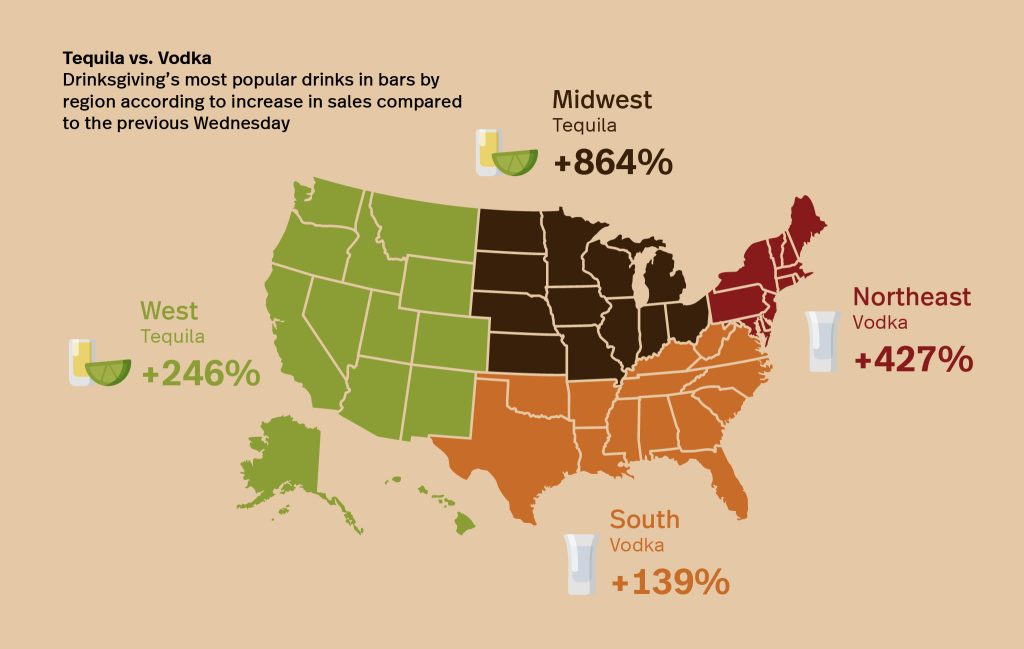 Tequila sales in the Midwest in particular skyrocket on Drinksgiving, with sales of tequila increasing by 864%, compared to 246% on the West Coast. Meanwhile, in the Northeast their love of vodka proves strong, with a +427% increase in sales on Thanksgiving Eve. 
Kitchens across the U.S. should also prep for a surge, with Lightspeed's Advanced Insights data showing that:
The number of takeout orders increased by 21% on Thanksgiving Eve compared to the previous Wednesday, with a 16% increase for dine-in orders.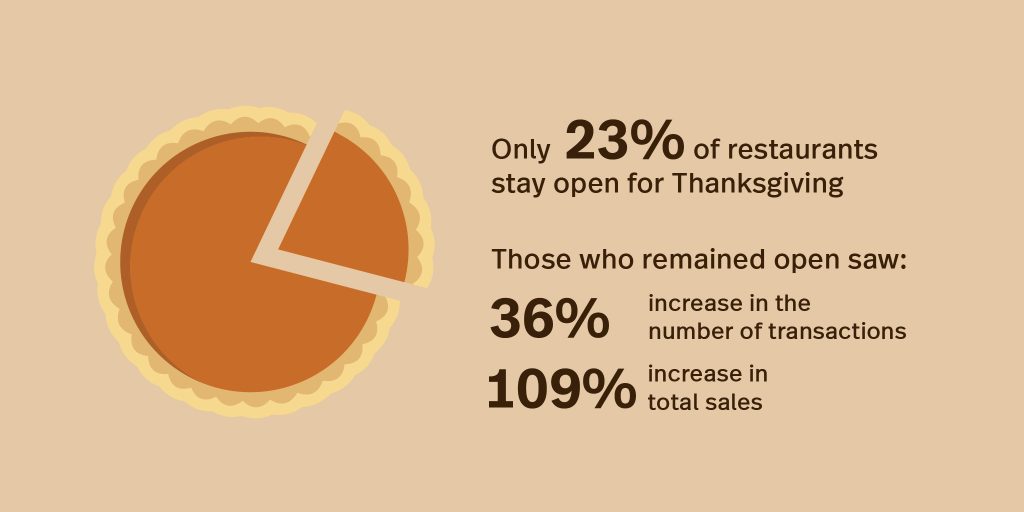 And for restaurants considering staying open on Thanksgiving Day itself, the data shows it can be lucrative. Restaurants who were open on the holiday saw a 36% increase in the number of transactions and 109% increase in total sales compared to the previous Thursday. Dine-in tip percentages for restaurants that stay open on Thanksgiving hold steady at around 18%.
Peter Dougherty, General Manager of Hospitality at Lightspeed Commerce, points out that beyond encouraging businesses to prep for Thanksgiving Eve, the data also debunks the industry myth that patrons who dine out on Thanksgiving Day are bad tippers. "This echoes what we've seen in the industry overall—that people are tipping their waitstaff more than in previous years," notes Dougherty. "Added to the relative increase in sales, Thanksgiving could prove to be a profitable day for both servers and restaurants." 
Still, Dougherty warns, given labor shortages and retention challenges (75% jump in employee turnover year-over-year, according to the latest Lightspeed data report), staying open on the holiday "might not be the best for staff morale. And as we head into December, hospitality businesses will need all hands on deck to handle the holiday rush—especially on Saturday, December 9, which based on last year's numbers could be the biggest sales night after New Year's." 
For more insights into how restaurants and bars can jump on the Drinksgiving trend to increase sales, visit Lightspeed's blog.  
Read the full press release here.
*Methodology
Lightspeed analyzed transactions from thousands of hospitality businesses across North America powered by Lightspeed Restaurant. The analysis included diverse business categories such as bars, casual dining, upscale, fine dining venues and fast-casual businesses. The analysis compared various sales trends and menu items' popularity between Wednesday November 23, 2022 and the Wednesday in the previous week.