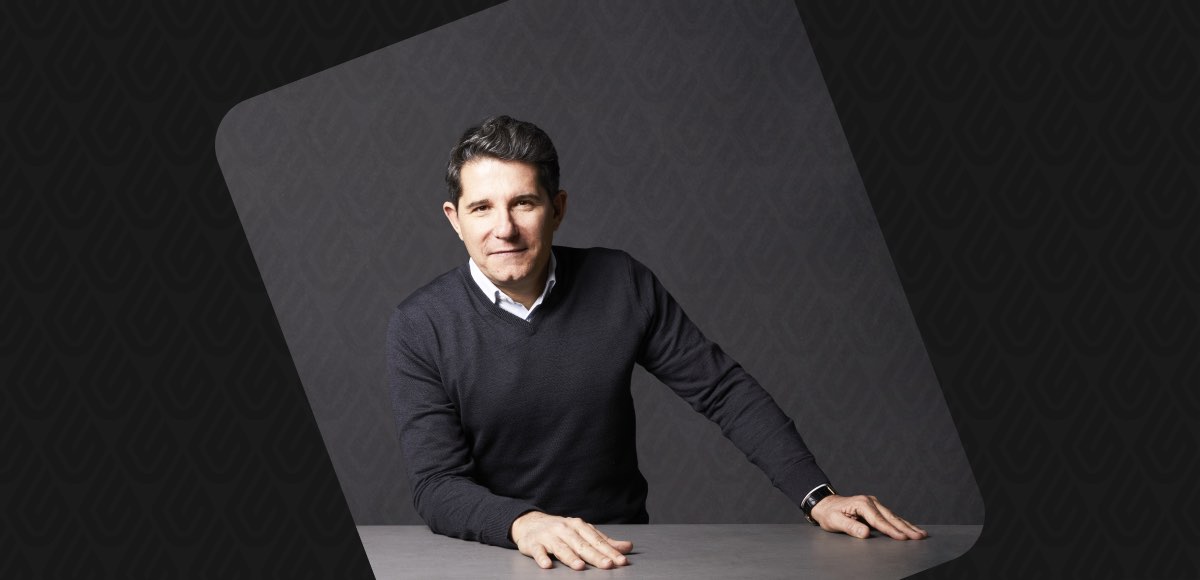 We've reached the halfway mark of our "Year of Execution," and the momentum we're seeing is a direct reflection of this year's theme. 
Notably, we've reached some incredible milestones: in addition to delivering the lowest net loss in 10 quarters, for the first time since we became a publicly traded company, we delivered positive Adjusted EBITDA in the quarter – a significant achievement for Lightspeed. 
We've also hit significant financial markers in the past three months, registering $230.3 million in revenue (a 25% year-over-year growth that exceeds our previously-established outlook). ARPU increased 26% year-over-year. And we've seen a 59% increase in GPV2 ($5.9 billion) and GTV2 of $23.5 billion—thanks largely to the Unified Payments initiative. 
I encourage everyone to read the press release for the full story. But first, let me highlight some of the results that show why Lightspeed is the right commerce platform for ambitious entrepreneurs looking to innovate and scale.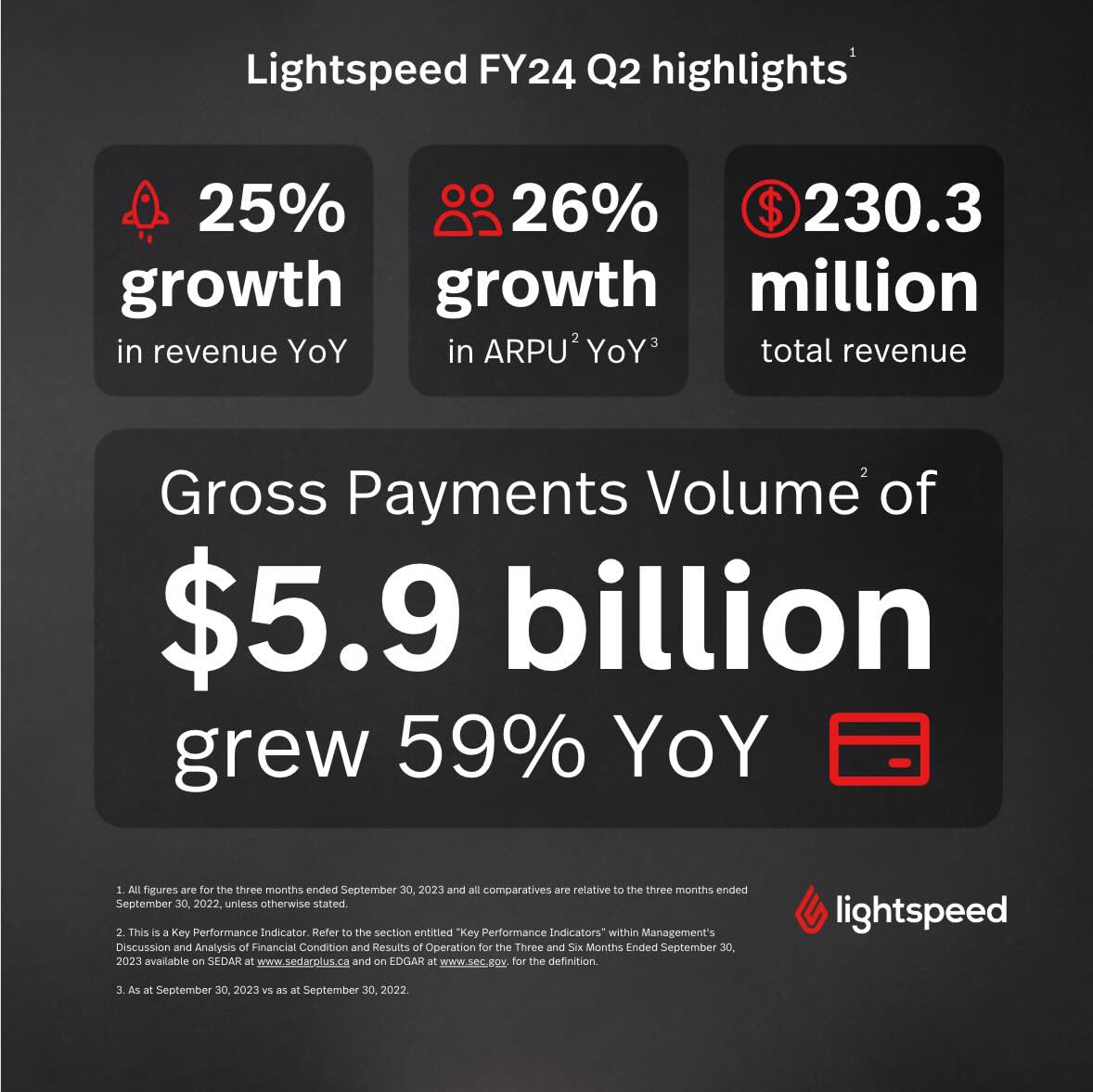 Industry-leading products with global reach 
After completing nine acquisitions in three years, we've taken the strongest features of all these products and built two powerful flagships on the best modern code base we've ever delivered: Lightspeed Retail and Lightspeed Restaurant.  We simply could not have developed these features—or assembled such an enviable depth of talent—in such a short period of time without our acquisition strategy, and I am so proud of both the teams and the products we've built.
By the end of the quarter:
Our new flagships accounted for approximately a third of our overall customer locations

GTV from flagships grew 35% year-over-year

Total revenue from flagships grew 124% year-over-year
Fewer products means faster, more focused innovation efforts, and we're already delivering more speed, simplification and customization to our products:

In Lightspeed Restaurant, we launched Smart Items

: An AI-driven feature that lets you build menus in seconds (versus hours) by generating compelling product information and pictures, plus instant translation. We also expanded our

Magic Menu Quadrant and Staff Performance insights tools

globally, giving restaurants real-time insights that let them

optimize menus and their front-of-house.



In Lightspeed Retail,

we delivered new Omni-Channel capabilities for multi location merchants that accommodate complex workflows around inventory management for physical and digital customers. And for NuORDER by Lightspeed, we enabled

Vertical Assortments

which allows brands with their own retail locations to merchandise, assort and visualize their own products.



With industry-leading products that have scale and global reach and our continuously improving financial performance, Lightspeed is in its strongest position ever.  
This is helping us attract more established, sophisticated retailers and restaurateurs, globally. We also welcomed some big names to Lightspeed, such as:
Joël Robuchon International

, a culinary legend with locations globally,

selected Lightspeed Restaurant's offering

to manage their complex workflows and payment systems.

Gustoso Group

, a major player in Germany with over 100 restaurants, for which we started to rollout Lightspeed Restaurant to a number of their locations and

Kensington Street

in Sydney, Australia, for which 9 Asian-inspired food vendors, 2 bars, 2 event spaces and 6 full-service restaurants, are now operating on Lightspeed Restaurant.

GetBoards

in California (3 locations),

Blue Star Eyewear

in Australia (4 locations), and

Les Jumelles

(2 locations) in Belgium have all adopted Lightspeed Retail. 

In Golf,

GreatLIFE Golf

(14 locations) and

Blue Star Resort

(15 locations) have selected Lightspeed for multiple offerings—covering their dining facilities, pro shops, and of course, Lightspeed Payments.

We also extended our Supplier Network this quarter, welcoming new brands such as

Jordache

,

Ashley Lauren

, and

Esprit

.
Growing financial services to power efficiencies and scale   
Our efforts to onboard all eligible customers globally onto our unified POS and Payments offerings is making major strides: our close rates are stable, our teams are onboarding a record number of customers to payments and churn remains in line with historic levels. This strategy is also accelerating our revenue growth, with transaction-based revenue up by 36% year-over-year.
Best yet—we're receiving feedback that shows the tangible benefits this offering brings to our customers' businesses. For example, Tyan Parent from Le Brande Groupe in Montreal, Quebec, tells us that:
"From the time we decided to switch to Lightspeed Payments to the time we were set up and ready to sell, it was less than 24 hours. Since then, we've saved so much time at checkout thanks to the fully integrated system. It's just so simple and user friendly. I can now travel and still be connected to our data, make better-informed decisions and correct mistakes from anywhere for all our three stores, directly on my phone. We switched for efficiency, and that's been the biggest value, but as a bonus we're now paying less in fees too." 
This offering has been successfully rolled out in North America, and has started to launch in Europe and Australia. We're excited to continue growing financial services —both through Lightspeed Payments and Lightspeed Capital—globally. 
I'm proud of what our team was able to achieve this quarter. And from delivering industry-leading products to solving the pain points of sophisticated businesses to building powerful, integrated financial services, I'm more confident than ever in Lightspeed's ability to help the world's best businesses thrive.
This is a Non-IFRS measure. Refer to the section entitled "Non-IFRS Measures and Ratios and Reconciliation of Non-IFRS Measures and Ratios" within Management's Discussion and Analysis of Financial Condition and Results of Operation for the Three and Six Months Ended September 30, 2023

available on SEDAR at www.sedarplus.ca and on EDGAR at www.sec.gov. for the definition and reconciliation of the Non-IFRS measure to net loss, which is incorporated by reference herein.

This is a Key Performance Indicator. Refer to the section entitled "Key Performance Indicators" within Management's Discussion and Analysis of Financial Condition and Results of Operation for the Three and Six Months Ended September 30, 2023 available on SEDAR at www.sedarplus.ca and on EDGAR at

www.sec.gov

for the definition. 

Excluding Customer Locations attributable to the Ecwid eCommerce standalone product.

Excluding Customer Locations attributable to the Ecwid eCommerce standalone product.